Alan Barnes' "Copperfield" – A Dickensian Jazz Suite | December 2022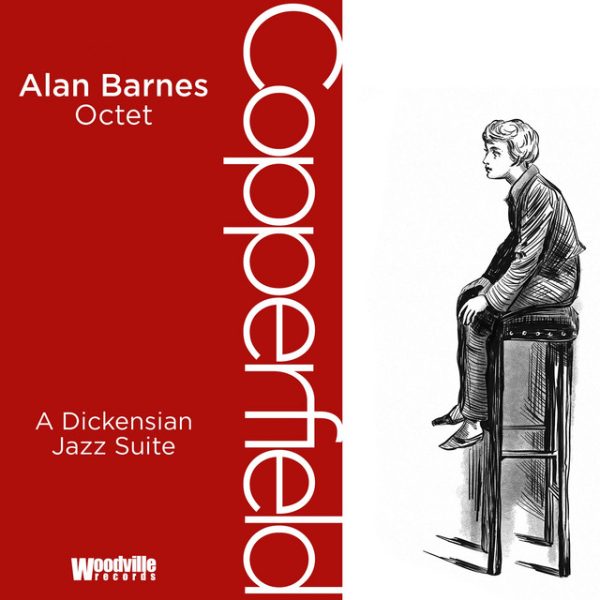 Progress Theatre, Reading, Friday 16 December 2022
Alan Barnes alto saxophone, clarinet, bass clarinet, composer, arranger | Robert Fowler tenor saxophone, clarinet | Karen Sharp baritone saxophone, clarinet | Bruce Adams trumpet, flugelhorn | Mark Nightingale trombone | Dave Newton piano | Simon Thorpe bass | Clark Tracey drums
One day, cultural historians may study the link between lockdown and creativity. Meanwhile, with the same lineup and personnel as his 2019 visit here, Alan Barnes returned to a practically full house with his Suite from that time.
There's a lot to digest in his writing for octet. All the pieces feature changes in tempo, and metre, alternation of unison and harmony, and varied voicing across brass and reeds. Each song is structured into several sections, with interludes of diverse length, and solos are backed in many different ways. Or… you can just sit back and enjoy.
'Copperfield Theme', the opening number, depicts David's home life in three sections. A slow, pretty melody with clarinet lead, gives way to a punchy theme in triple time. Solos from brass and reeds follow, then unison, and harmonised ensemble, before a reprise of the first melody.
'Mr. Peggotty's Boathouse': David is sent off to Yarmouth: an uptempo piano intro, then a lively jazz waltz, lead on to a trumpet improvisation with skyscraper passages, next a contrasting very relaxed piano solo. Finally the waltz returns, and to end, soft riffs, and a quiet, muted trumpet.
'Mr. Barkis': a return home for DC, and a bass feature for Simon Thorpe. He starts with the theme statement, then walks with the orchestra. Some stop time, and trumpet solo, take us to a bass solo with piano and drums accompaniment, before the final ensemble.
'Creackle and Tungay': David's school days, and portraits of teacher (Bruce Adams) and  caretaker (Karen Sharp). A latin intro from the rhythm section goes into a swing feel with fine baritone and trumpet solos. There's a baritone /trumpet duet, before a final piano note, that slowly rings out to nothing.
'Tommy Traddle's Skeletons': billed as a 'danse macabre' for David's school friend who drew skeletons, the piece starts with the suitably 'sparse' sound of Robert Fowler's clarinet accompanied by bass. Two high register clarinets play a later section, and, after a clarinet solo, complete the song.
'Murdstone and Grimby': David is sent to work in the bottling plant of the title: Mark Nightingale plays the first partner, Alan Barnes the second. There's a virtuoso solo by the leader on alto, with a lot of double time over a 'two' feel. More solos follow, and an ensemble with baritone and bass in unison.
'Mr. Dick Flies His Kite':  back on the coast, we meet a minor jazz waltz, realised by trumpet and trombone. A pretty, but sad melody, leads to, as Barnes explained, a "more uplifting" passage, before "coming down to earth".  Solos are spread across the band.  A tinkling piano diminuendo describes the kite's descent.
(Interval)
'Mr. Micawber': Alan Barnes' "Copperfield" – A Dickensian Suite | December 2022a jaunty jazz waltz represents the character who provides lodging for David. Rising and falling baritone lines may suggest Micawber's mood swings, and solos from the leader on clarinet, and piano take us back to the theme.
'Little Em'ly': Barnes' early career often found him playing Klezmer music:  a plaintiff minor melody depicts David's childhood sweetheart and the arrangement reflects that ethnic tradition. Bruce Adams on plunger-muted trumpet plays her seducer, Steerforth. Rob Fowler gives a most expressive tenor solo, as we move into a medium swing tempo, before a reprise of the mournful theme.
'James Steerforth': a stately melody depicts the public face of the character, before a passage on alto gives way to an up-tempo latin section. Baritone and bass play a repeated unison figure. In turn a swing theme is introduced. Mark Nightingale delivers an agile double-time solo. Piano chords and bass accompaniment end the return of the original slow theme.
'Uriah Heep': Barnes' bass clarinet portrays the oily character David meets, with a slippery, triplet-based theme. Clark Tracey sets up the number by an intriguing high-pitched meandering. A Duke-ish voicing of two clarinets, muted trumpet and trombone provide some background, before instrumental conversations, and bowed bass ending.
'Dora and Jip':  tempo movements between triple time and 4/4 unfold after the stacatto-ish line begins. Solos on reeds and brass describe the changing fortunes of Dora and David, and her dog, Jip.   A "canine cadenza" is cunningly voiced by Bruce Adams, tailing off in a sad whine…
'Agnes': a sweet ballad recalls the young Agnes' devotion to David. A warm statement on tenor is accompanied by responses from the alto. The trumpet picks up the theme, and there are solos around the band. A quicker feel follows, over the same tempo, and moves to a piano solo. Punchy to start with, the solo moves into a locked-hands, Errol Garner-type feel.
'A New Life':  a fast minor swing is the setting as the Micawbers and other characters emigrate to Australia.  There's a powerful unison passage voiced for the five frontline parts, on the standard 32 bar form, and a switch to latin for the middle eight. An ensemble where the lead moves between reeds and brass is punctuated by drum fills, followed by a solo from Clark Tracey.
Many thanks to the Jazz in Reading, and Progress Theatre team, for, as Alan Barnes added, "keeping the performing arts alive" in these testing times.
Review posted here by kind permission of Clive Downs
---