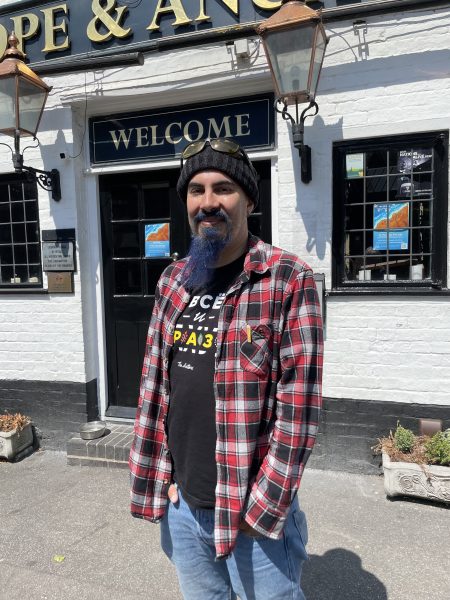 'I didn't set out to become a pub landlord,' explained Nader Kabouk as we enjoyed the glorious sunshine of a June morning in the serenity of the courtyard garden of the Hope & Anchor. 'My background is in electrical engineering and IT software.'
So how did he become the tenant of one of Wokingham's most historic pubs and set about establishing it as a hub for various forms of acoustic music?
'I guess it stems from the cultural heritage of my birthplace, Jordan,'  he continued. 'We take special pride in the warmth of our hospitality. Throughout my life I've tried to create opportunities to bring people together to share the pleasure of good food and music; looking after the Hope & Anchor is like a dream come true. '
It's a dream that Nader couldn't have imagined in his younger days. 'My father set me on a very different career path – a university education, professional qualifications and all that.'
Nevertheless, this pathway to a 'respectable' place in society took Nader to Russia, 'not a good place to hang out' and Saudi Arabia, where he added teaching in a school for the deaf to his credentials. More importantly, he met a group of people with a like-minded interest in music and landed himself a post as a DJ on an English-speaking radio station.
After further adventures he found his way to a software consultancy in Wokingham. 'By this time,' Nader remarked, 'I was yearning for something different; maybe something in hospitality that could involve music and bring people together?'
As if on cue, early in 2022 a friend in the 'business' with his own local restaurant and with whom Nader had shared his thoughts, declared that the tenancy of the Hope & Anchor was available. 'Why don't you try for it,' he encouraged.
Nader took his advice and on 1st April 2022 (Yes April Fool's Day) became the proud tenant of the Hope & Anchor. 'It was a dream situation,' Nader opined. 'Though my father had misgivings about my interest in the music industry, he viewed running a pub as a good business move. He approved – good for him.'
Not long into his tenure as custodian of one of Wokingham's most cherished local treasures a gentleman in his middle-years ordered a pint at the bar. 'I grew up in Wokingham,' he said, 'but moved away. I haven't visited the Hope & Anchor in years. It hasn't changed a bit. Great!'
Retaining the character of the 17th century coaching house, complete with its ship-timber beams, resident ghost, as well as a reputation for good food and drink, was and remains crucial to Nader's plans, but his driving ambition is to develop the pub as a community hub with music at its core.
Mindful that in by-gone days all pubs boasted a piano, Nader soon installed one, complete with an open invitation to anyone with the skills (and nerve) to play the instrument should have a go. A permanent drum kit is also set up ready for use by incoming bands to save the hassle of bringing their own equipment, and before too long he hopes to install a state-of-the-art plug-in sound system. What's more, everything is carefully positioned to the best advantage of both musicians and visitors enjoying their pie-and-a-pint.
The musical bill of fare covers most days of the week with an eclectic variety of styles. Graham Steel of Bracknell's  Acoustic Café takes the lead on Monday's, kicking off at 7.30 with a weekly showcase of talent featuring five acts performing 30 minutes each.
Singer/guitarist Stuart Hutton – aka One Eyed Man, has developed something of a cult following for his folk-styled appearances at weekday sessions, while the hugely popular Peach and the Prairie Dogs have brought their heady mix of Country, American and Southern to the enjoyment of Saturday evening revelers.
'Jazz brings a welcome and very different  vibe to the Hope & Anchor,' says Nader. 'I love the joy, spontaneity and exuberance that our regular band, P'Jam fronted by flautist Annie Parker, bring to the sessions on the last Sunday of the month. They're full of surprises; they might play a Miles Davis number one minute and follow it by something by the Beatles or the Great American Song Book.'
The court yard garden, once a busy stabling area in the days of coaching, lends itself to an outdoor performance area. 'We have plans for the first weekend in July,' declares Nader excitedly. 'I'm working closely with Graham Steel to put on a special show. I can't say anymore at the moment … it's a case of 'Watch this Space!'
'I am so lucky,' says Nader. 'I love this pub and its clientele. I've got a great team of people helping me, paid and volunteers. We have a darts team – the two ornate dart boards have to be seen to be believed, there's the  music and a guy lined up to become our artist-in-residence … there's a great buzz to the place!'
Why don't you head to the Hope & Anchor at the top of Station Road opposite the Council offices, to sample the atmosphere for yourself. You won't be disappointed. Its new website is coming soon.
Article by Trevor Bannister
Photo by Jim Wade