We promote the best in live modern jazz in the Reading and Thames Valley area. We're passionate about jazz and want you to share our enjoyment.
One of our supporters, Marc Edwards,  says: 'It's been a great pleasure to see Jazz in Reading growing steadily over the past ten years. Nowadays it seems like a we have a glorious jazz festival, the schedules spread generously over the year, with top-quality artists performing in close-up at the Progress Theatre, and numerous other venues in the area offering jam sessions and performances by local bands. We owe a real debt of gratitude to Jazz in Reading's small, but dedicated team of hard-working committed fans, who have taken risks and given their time to bring us the music they, and so many of us, love so dearly.'  Meet the team.
Jazz at Progress
Visit our Jazz at Progress pages for more information about gigs planned for later in the year – or Join our Mailing List and we'll keep you up to date.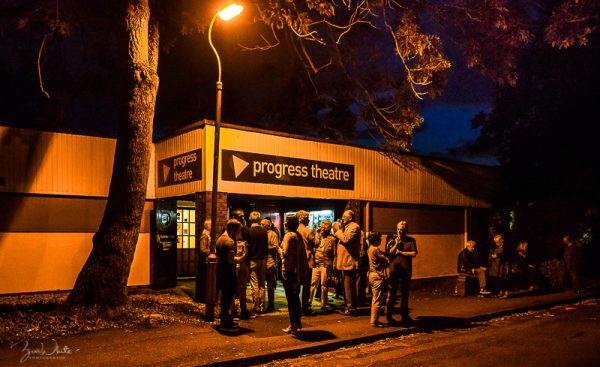 Jazz lovers in the interval break at the Progress – photo by Zoë White
The Progress Theatre has been beautifully described by the guitarist John Etheridge as a 'bijou theatrette'.  The convivial environment of the venue, with its excellent sound and lighting, has a special atmosphere. 'Audiences listen here,' commented one musician who regularly plays at illustrious jazz spots like Ronnie Scott's in London. 'We're not competing against people talking, plates clattering or glasses tinkling. We can just get on and play.' Jazz multi-instrumentalist Ben Holder said, after his outstanding gig at the Progress in November 2016: 'We had a blast; it's a great venue and a brill audience!' And award-winning jazz vocalist Ian Shaw opined after his gig in March 2017 'Groups like Jazz in Reading provide the glue that holds the British jazz scene together.'

---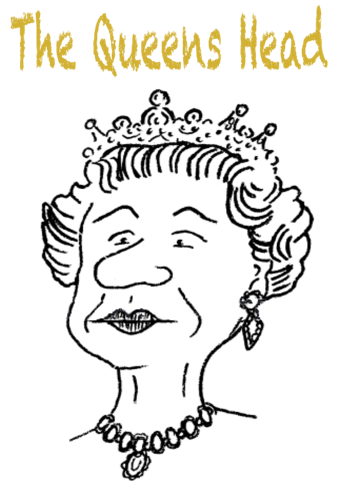 Preferred dining: We have a special arrangement with The Queens Head (a short stroll from the theatre at 54 Christchurch Road), offering an excellent range of food including a full à la carte menu and specials dishes. Just show your Jazz at Progress ticket for 7% discount off food and drink on the day of the show you are attending; tickets to be presented when ordering.
email: info.queensheadreading@gmail.com
tel: 0118 986 3040


---
Jazz Gig Calendar
When you're in the mood to listen to live jazz, check out lots of other gigs in the area in our Jazz Gig Calendar. The calendar listings are compiled and edited by our listings editors, Paul Johnson and Jim Wade. If you're a musician, promoter or venue owner, you can submit your gig to the calendar here.
Promote Your Gig
We can help you promote your jazz gigs, at a realistic and very reasonable cost. We have a growing mailing list of 860+ jazz fans in the Reading and Thames Valley area, and active Facebook and Twitter feeds, taking our reach to well over 1,800 jazz lovers in the region. Musicians, bands, venues and promoters can contact us to find out more here.
Book a party band
If you are looking for a jazz band for a party, wedding or other special occasion, let us know. We have extensive contacts in the jazz world and can help you find just the right band to suit your needs and budget.
Contact us to find out more here.