Public Statement issued by Jazz in Reading regarding Covid-19 via e-mail on Thursday 19 March 2020
Earlier today the Progress Theatre issued the following public statement regarding Covid-19:
 
'Following the latest government advice about Coronavirus, the Progress Theatre building is closed to the public from today, Wednesday 18 March and all productions for the rest of the season have been cancelled.
 
'It's with enormous sadness that we temporarily close our doors, but the safety of our audiences, members and visitors is of utmost importance. We apologise for the disruption and thank you for your support during this period of great uncertainty.'
 
Jazz in Reading has a close and valued relationship with the Progress Theatre and we wholeheartedly support this decision. Regretfully, it means of course, that we shall have to cancel the three remaining concerts in our Jazz at Progress season: Andrew McCormack's Graviton on 17 April, Vasilis Xenopoulus' Dexterity Quintet on 29 May and the Clark Tracey Quintet on 3 July.
 
We will make every effort to ensure that these groups are the first to feature once our activities are able to resume.
 
The refunds for the Graviton concert will come directly from our ticketing provider, Ticket Source.
 
The Jazz in Reading website will remain active. We look forward to seeing you in what we hope will be the not too distant future.
 
Best regards
The Jazz in Reading Team
---
Jazz in Reading
Jazz in Reading is a not-for-profit association of five 'nuts' who share a passion for jazz and seek to promote the best of live jazz across the Thames Valley on this website and to present regular concerts in the convivial surroundings of the Progress Theatre, Reading and beyond. Meet the Team
In the past year alone Jazz at Progress has played host not only to established stars of jazz like Gilad Atzmon, Henry Lowther, Tony Kofi, Orphy Robinson MBE, Steve Fishwick and Geoff Castle, representing a broad spectrum of styles from bebop to fusion, but also to the emerging talents of a new generation of musicians such as the eleven musicians who comprise Jonny Mansfield's innovative Elftet. Read reviews of past gigs
The Progress Theatre has a special atmosphere, beloved of audiences and musicians alike. 'Audiences listen here,' commented one musician who regularly plays at London's top jazz spots, while multi-instrumentalist Ben Holder said, 'It's a great venue. We had a blast. Brill audience!' The Progress also has a well-stocked bar!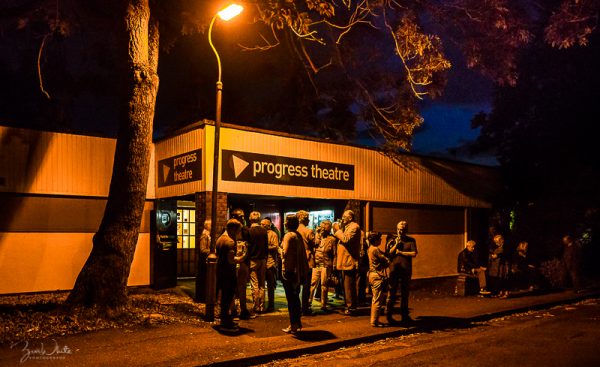 Jazz lovers in the interval break at the Progress – photo by Zoë White
---
Preferred dining: We have a special arrangement with The Queens Head (a short stroll from the theatre at 54 Christchurch Road), offering an excellent range of food including a full à la carte menu and specials dishes. Just show your Jazz at Progress ticket for 7% discount off food and drink on the day of the show you are attending; tickets to be presented when ordering.
email: info.queensheadreading@gmail.com
tel: 0118 986 3040


---
Jazz Gig Calendar
When you're in the mood to listen to live jazz, check out lots of other gigs in the area in our Jazz Gig Calendar. The calendar listings are compiled and edited by our listings editors, Paul Johnson and Jim Wade. If you're a musician, promoter or venue owner, you can submit your gig to the calendar here
Promote Your Gig
We can help you promote your jazz gigs, at a realistic and very reasonable cost. We have a growing mailing list of 860+ jazz fans in the Reading and Thames Valley area, and active Facebook and Twitter feeds, taking our reach to well over 1,800 jazz lovers in the region. Musicians, bands, venues and promoters can contact us to find out more here
Book a party band
If you are looking for a jazz band for a party, wedding or other special occasion, let us know. We have extensive contacts in the jazz world and can help you find just the right band to suit your needs and budget.
Contact us to find out more here