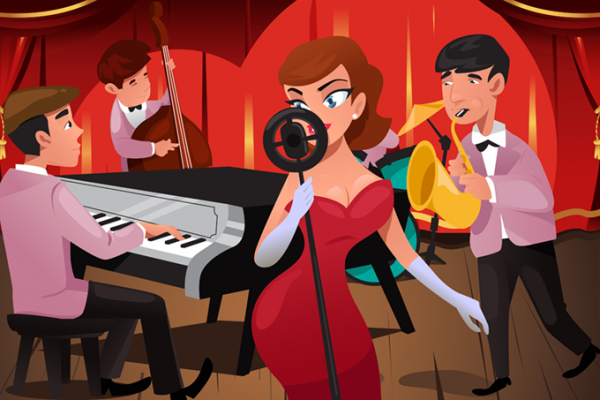 If you are looking for a jazz band for a party, wedding or other special occasion, let us know.
Maybe you want simply a pianist or guitarist to provide quiet background music; perhaps a vocalist with a trio or quartet to sing the great melodies of the American Songbook; or, for dancing, a funky combo; or even a full-scale big band.
We have extensive contacts in the jazz world and can help you find just the right band to suit your needs and budget. We will aim to get from you feedback like this:
"The band were great, I would highly recommend them. They arrived on time despite the rapidly increasing snow. The music was fabulous throughout and was enjoyed by all who attended. The members of the band were extremely polite and friendly. Thank you for the great night." – Bette Hunt, birthday party, Aldworth
"Jazz in Reading provides a fabulous service. Jim Wade made it so easy to get a group together and to bespoke the offering for our particular needs. The Abbey staff enjoyed the music and the musicians could have played on indefinitely. We highly recommend using Jazz in Reading for your event." – Craig Andrew, Head of External Relations, The Abbey School, Reading
"Finding the right jazz band for my party couldn't have been easier and more enjoyable than with Jazz in Reading. They understood what I wanted and simply made it happen. I felt supported all the way through in a professional and friendly manner. I was complimented by many friends about the music – some jazz players themselves" – Chiara Cirillo, Aldermaston
"Many thanks once again for making my Jazz and Pimms evening so special. Many of my guests complimented the band and I would recommend them to play for any event" – Lydia Bendall, President, Berkshire Young Farmers
"Words cannot express our gratitude for all the effort you made, in band formation, rehearsal and on the night, to make our wedding reception simply magical…. The best of wishes to you and hoping to see you very soon" – Mr and Mrs Steve Martin, Newbury
Contact Jim Wade at jim@jazzinreading.com or call 07788 6666 08 and let's see if we can help.