Reviews of Past Gigs
---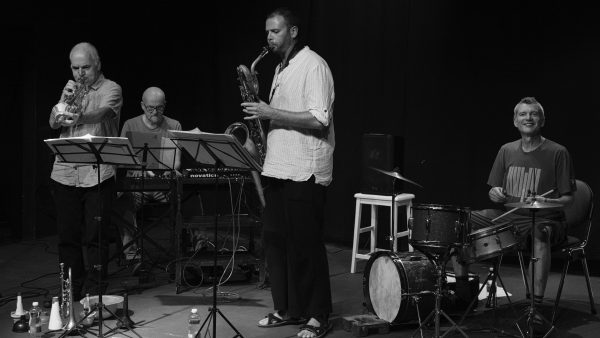 Progress Theatre, Reading Friday 15 September 2023
Chris Batchelor trumpet/cornet, James Allsopp baritone saxophone/bass clarinet, Liam Noble keyboards, Paul Clarvis drums
As I walked home from the opening concert of Jazz at Progress's new season on Friday 15 September, with my head swirling with the sound of Duke Ellington's music, I couldn't but marvel at how Pigfoot, a four-piece band with obvious limitations in instrumentation, could so successfully capture the sound and spirit of the great man with such authenticity.
Duke himself would have been proud of the achievement. Clearly, Pigfoot have lovingly immersed themselves in the tradition of Ellingtonia – the man, the music and the host of characterful figures who formed his orchestra.
An array of mutes scattered on the stage gave a clue to the range of effects Chris Batchelor can conjure from his cornet and trumpet. His whoops and growls were every bit as sensational today as they must have been nearly a century ago when legendary bandsman like Bubber Miley and Cootie Williams launched the technique on unsuspecting Cotton Club audiences. However, Batchelor's superb breath control and exquisite lyricism on the seldom heard cornet was even more impressive; an echo of the wonderful Arthur Whetsol who graced the early Ellington orchestra.
James Allsopp, doubling on baritone saxophone and bass-clarinet has a remarkable range and facility on each instrument, a spectrum of sound from Harry Carney's sonorous bottom tones, through Ben Webster's breathy tenor to the poise of Johnny Hodges gorgeous alto. At times one could even detect a likeness to John Coltrane at his most poignant. There are few musicians around who can handle these monster instruments with such ease and with so much depth of feeling. Allsopp's huge sound really hits the soul when an earthy groove is called for.
Liam Noble drew on the full resources of his keyboards to fulfil a multiple role within Pigfoot. As well as serving as the 'piano player', as Duke Ellington liked to describe himself, and 'walking' the bass, he created the glorious orchestral backdrops to give each piece its true Ellington flavour. When called for solo duties, his 'electronic' clarinet added a distinctive voice to the front line.
Duke Ellington used to describe Sonny Greer as 'our reluctant drummer' because he didn't like to take solos. Instead, he used his skills, honed in stage shows backing dancers and acrobats, to support individual soloists with colourful and perfectly placed percussive effects and to lay down a driving beat behind the full ensemble. Paul Clarvis fulfilled this role perfectly, though unlike Greer who surrounded himself with drums, vibes, tympani, chimes and even a gong, he uses a minimalist drum kit.
For all his remarkable gifts and the accolades he received from the great and the good, Ellington frequently came under fire for the programming of his concerts. Critics and fans alike would complain that there was 'too much old material' or conversely, 'too much new stuff'; 'too many solos and not enough from the full band, 'too many interminable suites' and worst of all … 'too many drum solos'. Rarely, if ever, did Ellington please all of the people, all of the time.
To my mind, Pigfoot, got the balance just right – a blend of familiar classics leavened with more obscure items, spanning the breadth of Ellington's remarkable career. Some pieces were first recorded with the full orchestra, others with small groups, while some fell outside the usual band umbrella altogether as one-off studio encounters. Bringing Ellington together with various guest stars.
'Rockin' in Rhythm' dating from 1929 and evoking the heady days of Harlem's Cotton Club set the programme in motion. Not surprisingly it remained in the book with various modifications for the whole life of the Ellington band.
A spell-bindingly beautiful 'La Fleurs Africaine' moved things forward to 1962 and the studio session with Ellington on piano, Charlie Mingus bass and Max Roach drums that produced the 'Money Jungle' album. Pure magic!
In complete contrast, 'Such Sweet Thunder', the title track of Ellington's 1957 Shakespearian Suite, summoned every ounce of power and energy available to evoke the nefarious machinations that underlie this tragedy. All great fun and oozing with sleaze.
'Just Squeeze Me', first recorded in 1941 by an Ellington small band led by Rex Stewart, bounced along in joyful fashion to a gentle shuffle rhythm with Chris Batchelor's cornet well to the fore.
'In a Sentimental Mood' was one of Ellington's earliest hit songs. This version, however, dated from a classic studio meeting with John Coltrane in 1962. One was impressed by the sense of stillness and quiet reflection the performance created and the extraordinary Coltrane-like tonal qualities James Allsopp drew from his bass-clarinet.
'It's a case of "Duke Ellington meets James Brown",' Chris Batchelor warned as Liam Noble, aided and abetted by Paul Clarvis, laid down an irresistibly funky groove to launch 'Blue Pepper,' surely the most spicey of all the tracks on the magnificent 'Far East Suite' of 1965. Topped by growling trumpet and wailing baritone the number closed the first set in a sensational manner.
'East St Louis Toodle-oo' opened the second set and took us right back to Ellington's earliest days and the signature tune he used until he adopted Billy Strayhorn's 'Take the A Train' in the early 1940s. Its menacing qualities are strangely mesmerizing. I can only imagine that it must once have accompanied a dramatic dance routine at the Cotton Club.
Pigfoot stepped slightly out of the Ellington pocket on 'The Mystery Song'. Although the number was recorded by the Ellington Orchestra in 1931, it is better known as a track on the Steve Lacy/Don Cherry album 'Evidence' from 1962. Played here with a Latin flavour, it swung along effortlessly in an open and invigorating style, allowing full rein for the musicians to express themselves.
The pared-down instrumentation of Pigfoot worked to perfection on 'Mood Indigo', one of Ellington's most famous pieces. Liam Noble added an extra voice to the trumpet/bass-clarinet front line with an 'electronic' clarinet to enhance the plaintive beauty of the tune.
'Klop' is something of an Ellington curiosity, a polka from the 'Uwis Suite'. In his album sleeve notes , Ellington recounts that his orchestra once played as the interval band for a Polka ball comprising eight polka bands. This short, snappy and thoroughly entertaining piece stands as a dedication to that bizarre event.
'It Don't Mean a Thing if it Ain't got That Swing' brought us back to more familiar territory. Amongst its many delights, Paul Clarvis' drum breaks, Liam Noble's groovy bass and James Allsopp's astonishingly high note on the baritone, represented the absolute highlights.
Chris Batchelor's thoughtful arrangement of Billy Strayhorn's 'Chelsea Bridge', combined strands from Ellington's 'Warm Valley' to create a tapestry of rich emotional depth. Again, all the resources of the limited instrumentation were used to tremendous effect.
Liam Noble unleashed a veritable storm of dust as he set the camels on a frantic rush across the desert. 'Caravan' may not have been written by Duke Ellington, those credits belong to his sometime valve-trombonist Juan Tizol, but no evening devoted to Duke would be complete without it. What better way to bring a wonderful evening of jazz to a tremendous climax.
Our thanks to Pigfoot for reminding us of Duke's enduring but even more so for the superb quality of their musicianship. We really are blessed with some incredible talents in this country!
Thanks also to the Progress team, as ever warmly hospitable and helpful, who ensured that the new season of Jazz at Progress got off to the very best of starts.
Review posted here by kind permission of Trevor Bannister
Photo by Stephen Foster Photography
---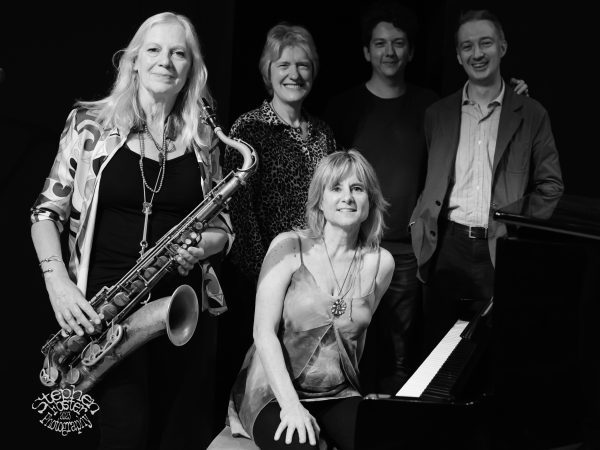 Progress Theatre, Reading 30 June 2023
Freddie Gavita trumpet and flugel horn, Clare Hirst tenor saxophone, Andrea Vicari piano, Marianne Windham bass, Matt Fishwick drums
An 'end of term' party atmosphere pervaded the Progress Theatre as the Horace Silver Project kicked-off the final Jazz at Progress gig of a hugely successful 2022/23 season with the unmistakeable tones of 'Sister Sadie'. Bearing the distinctive hallmarks of pianist, composer, bandleader Horace Silver, the 'Grandpop of Hardbop' to whom the evening was dedicated, this piece immediately set toes tapping and heads nodding. How could anyone resist the powerful rhythmic drive of five virtuoso musicians at the top of their form playing music drenched with an intoxicating blend of bebop, blues, funky soul and gospel, tinged with a delicate flavouring derived from Silver's family roots in the Cape Verde Islands? Horace Silver introduced this new recipe for jazz on unsuspecting audiences well-nigh seventy years ago. Its appeal and potent effect remain as strong as ever.
Silver's other great strength was in his choice of titles – simple, straight-forward, catchy and to coin a phrase, 'They tell you exactly what's in the tin!
'Pretty Eyes', from the 1966 Blue Note album 'Cape Verdean Blues' is a good case in point; a beautifully lilting evocation of 'pretty eyes' conjured by Freddie Gavita's lyrical flugel horn in combination with the warm tones of Clare Hirst's tenor saxophone.
The scorching 'Nica's Dream' moved up several gears to pay tribute to the Baroness Pannonica de Koenigswarter. This member of the Rothschild dynasty exchanged her aristocratic lifestyle in Europe to patronise jazz musicians, notably Thelonious Monk – and cats (306) – from her hotel suite in New York. Needless to say, this roller-coaster ride perfectly captured the spirit and eccentricity of this remarkable lady who once raced Miles Davis down Fifth Avenue in her pale-blue Bentley.
Andrea Vicari dug into her piano, especially hired for the occasion from Hickies's Music Store, ably assisted by Marianne Windham's bass and Matt Fishwick's drums to generate some heavy-weight funk on 'Jody Grind', and to set up a launching pad for Gavita's stratospheric trumpet. A truly Gospel 'Amen' brought this tremendous number to a close.
Clare Hirst took her place in the 'pulpit' to lead the sermon on 'The Preacher', Silver's attempt to 'reach back and get that old time, gutbucket barroom feeling with just a taste of the backbeat'. In no time at all, Hirst had her congregation eating from her hand and dancing with their feet.
The joyfully exotic 'Cape Verdean Blues', featuring amongst its highlights Andrea Vicari at her most compelling and an outing both visually spectacular and brilliantly imaginative by Matt Fishwick on his drums, brought the first set to a dazzling close.
Horace Silver gladly accepted the affectionate moniker of 'The Hardbop Grandpop' and used it  as the title track on his 1996 Impulse album which marked a return to the classic small group line-up after many years working with larger ensembles. It follows the jazz musicians' timed-honoured practice of creating a new melody over an existing chord progression – in this case via the old favourite 'Indiana' and its subsequent variation 'Donna Lee'. It all made for a straightforward, nicely paced swinger with a standout bass solo from Marianne Windham.
Clare Hirst, who shared mc-ing duties with Andrea Vicari throughout the evening, cast a knowing glance at the audience when she announced that 'this next number needs no introduction'. Indeed not. Eyes lit up with instant recognition as the quintet laid down the gently soulful introduction to 'Song For My Father', arguably Silver's most beguiling and often played composition. Freddie Gavita soloed to great effect, the beautifully placed notes flowing with crystalline clarity.
In contrast to the fun and danceable good spirits so far expressed, the next two numbers, 'Ecoroh' and 'Peace' revealed the emotional depth of Horace Silver's musical imagination. I found the dark edge of the first and the poignancy of the latter deeply moving.
'Nutville', on the other hand was a case of watching the touchpaper being lit ahead of the band taking-off on a voracious flight of invention. An explosive performance, especially in the percussion department where the ferocious complexity of Matt Fishwick's drum patterns belied his otherwise gentle and thoughtful demeanour.
First recorded by the Silver quintet in 1954 and with lyrics later being added by Jon Hendricks, the bluesy 'Doodlin'' has been covered by just about everyone from Ray Charles to Dusty Springfield. A further reminder of Silver's universal appeal and enduring legacy, it made the perfect choice to close a thoroughly entertaining and truly invigorating evening. All praise to the HORACE SILVER PROJECT and best wishes for future success. Promoters please note – THIS IS A FANTASTIC BAND!
As ever, thanks to the Progress Theatre, especially the Front of House Team headed by Stuart McCubbin and techno wizard Rich Saunders for sound and lighting. And a special thank you to our audience, particularly the youngsters we've welcomed recently. Your generous support makes it possible to continue presenting the very best of live jazz on the Progress stage.
Review posted here by kind permission of Trevor Bannister
Photo by Stephen Foster Photography
======================================================
Jazz at Progress will recommence on Friday 15 September when Pigfoot Plays Ellington.
Chris Batchelor trumpet, James Allsop baritone sax, Liam Noble piano and Paul Clarvis drums will present their unique interpretation of material drawn from Duke Ellington's fabulous repertoire.
'An entertainingly riotous, swinging, delicate, gnarly account of Ellington's legacy is promised.'
Watch out for details on the Jazz in Reading website www.jazzinreading.com
---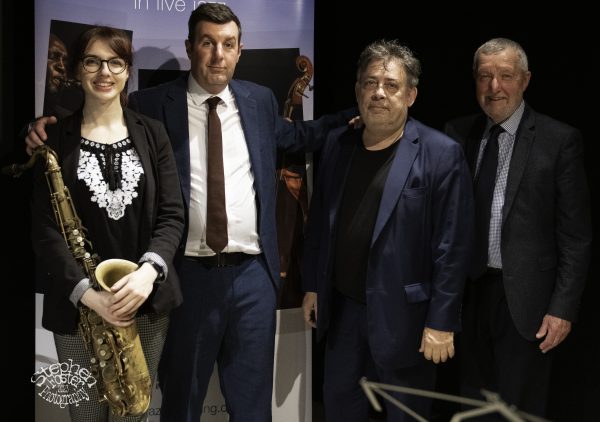 Progress Theatre, Reading 2 June 2023
Alex Clarke alto & tenor saxophones | Rob Barron piano | Dave Green bass | Clark Tracey drums
Whenever the naysaying purveyors of doom gather together to contemplate the lack of new personalities on the jazz scene and the imminent demise of the music, a new talent is sure to pop up and prove them wrong.
One such is saxophonist Alex Clarke. Voted Rising Star in the 2019 British Jazz Awards, a finalist in the 2020 BBC Young Jazz Musician Competition, a nominee for the Parliamentary Jazz Awards for both 2021 and 2022 and with a hugely successful appearance at the 2022 Swanage Jazz Festival, her career has progressed rapidly in a short space of time.
Though her versatility spans composition, teaching, session work and other music besides jazz, the classic format of her quartet reveals a passionate affinity for the rich heritage of the Great American Songbook and the jazz standards of the post-war era. That Alex is joined by three of the most accomplished musicians ever to grace the jazz scene, with a combined experience of something approaching a staggering 150 years, is a measure of the esteem in which she is held.
The expressive, beautifully toned quality of her playing and engaging personality immediately captured the imagination of the near-capacity Progress audience with Jimmy Heath's 'Sound for Sore Ears'. A beguiling, slightly haunting tenor introduction launched a flow of joyously swinging invention on the part of Clarke and Barron, with the sublime support of Dave Green's bass and Clark Tracey's drums. No one could doubt that the future of jazz is safe in Alex Clarke's hands.
A walking pace 'On the Street Where You Live', a smash hit from Lerner and Loewe's 'My Fair Lady', inspired the spirit of Sonny Rollins. I especially loved the way Clarke repeated the theme over-and—over-again with the subtlest of variations to create an 'edge of your seat' sense of suspense ahead of her opening solo.
As Clarke took up her alto sax and announced her intention to pay tribute to the great star of the instrument Phil Woods, a voice broke up the audience with a sudden cry of 'I like Phil Woods!' And why not? 'Brazilian Affair (Intriga Amorosa)' drawn from Woods' 1977 album 'Live at the Showboat' was full of searing Latin-American magic that set the toes tapping and the heads nodding. Great fun!
Dave Green and Clark Tracey took a well-earned breather from 'stoking the boilers' leaving Alex Clarke and Rob Barren to perform Billy Strayhorn's 'Ballad For Very Sad and Very Tired Lotus Eaters' as a duo.  Strayhorn's role of collaboration with Duke Ellington from 1939 until his death in 1967 and as composer of the Ellington Orchestra's famous theme, 'Take the "A" Train', tend to overshadow his remarkable gifts as a composer in his own right. It was wonderful to hear this example of his romantic and dreamlike imagination played with such sensitivity and feeling. Not surprisingly, it received rapturous applause.
With everyone reassembled on stage, and Clarke back on alto, the quartet played out the first set with a scorching interpretation of Charlie Parker's bebop classic 'Segment', featuring the dynamic drums of Clark Tracey.
Cole Porter reputedly composed 'Just One of Those Things' over one night as a last-minute addition to the score of the 1936 musical 'Jubilee'. Its gaiety and freedom of expression stands as an enduring reminder of Porter's genius. The highlight? The timing and gorgeous tone of Dave Green's bass solo.
Alex Clarke brought her own composing skills to the fore with 'Only a Year', a title she explained, dedicated to 'the time I spent at music college before I dropped out'. Once again, I was deeply impressed by the haunting tone of her tenor sax, Rob Barron's free flowing invention on the piano and the unity of the band as a whole.
Jule Styne's 'By Bye Baby', another nod to the influence of Phil Woods from the 'Showboat' album, hit an irresistible medium-paced groove and opened up the space for plenty of good-humoured '4s' around the band.
'Darn that Dream', the one success to emerge from Jimmy Van Heusen's hugely ambitious but otherwise ill-fated 1939 musical 'Swingin' the Dream', a jazz interpretation of 'A Midsummer's Night Dream', was an absolute object lesson in how a quartet should interpret a ballad. Individually and collectively the band knitted together perfectly to give full voice to Van Heusen's unforgettable melody. Also, Alex Clarke knows how to end a tune on exactly the right note!
Erroll Garner's bluesy 'Shake it But Don't Break It', driven along by Clark Tracey's compelling shuffle-rhythm, should have rounded off the evening. But there was no way that the band would be allowed off the stage without an encore. Amid thunderous applause, and 'Since you asked so nicely', they duly obliged with a swinging interpretation of Rodgers and Hart's evergreen 'Have You Met Miss Jones' to bring a truly memorable evening to a close.
'An extremely accomplished player now and a big star for  the future,' was just one of many positive comments overheard as the audience filed out of the auditorium. Enough said!
May I welcome Steve Foster to the Jazz at Progress team as House Photographer and as ever, thank the Front of House team for their warm hospitality and great service and  Rich Saunders for the excellent quality of the sound and lighting.
Once again it was a true pleasure to welcome so many younger members to the audience on this delightful summer evening. Who knows, perhaps they may be inspired to take up an instrument and one day become jazz stars themselves?
Review posted here by kind permission of Trevor Bannister
Photo by Stephen Foster Photography
---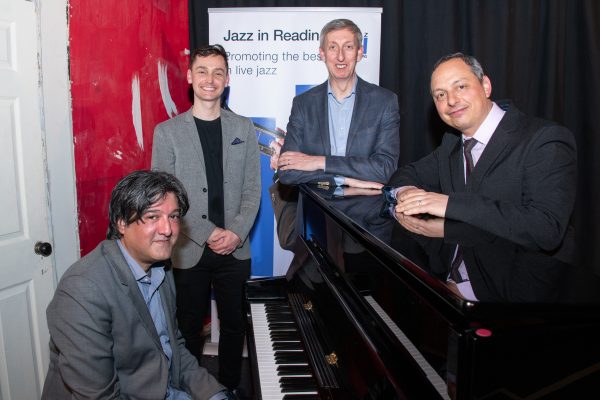 Progress Theatre, Reading, Friday 28 April
Leon Greening piano | Adam King bass | Steve Brown drums
Plus guest Alex Garnett alto saxophone
Leon Greening could have offered no finer memorial tribute to his late father, Alan, than his performance at the Progress Theatre on Friday 28 April. Emotionally charged with the grief of a loss suffered only twelve days prior to the concert, Leon raised his stellar talent to even greater heights for love of his 'dear Dad':  the inspiration and guiding light for his career in jazz.
It was entirely appropriate that he should open the gig with his trio and one of his father's favourite tunes, Bobby Timmons' 'This Here'. 'Dad would play this on his turntable, 'Leon recalled, 'and I would do my best to play along in unison with Bobby. Listening to that great music with my Dad was how I became a jazz musician.'
And what a jazz musician! All the hallmarks of Greening's remarkable style were evident in this gospel soaked piece set in swinging  3/4 time; an irresistible mix of emotional power, knife-edge tension, unfailing invention and effervescent swing that sweeps you along in its wake. The contributions of bassist Adam King and drum 'maestro' Steve Brown ensured a matchless quality to the cohesion of the trio.
At this point Leon welcomed his 'big brother' and special guest to the stage in the person of the wonderful Alex Garnett, a world-class musician equally adept on any member of the saxophone family, but on this occasion playing alto. The blistering heat of 'The Loop', a composition by fellow altoist Vincent Herring, recalled Leon's 2011 visit to New York along with Alex and Steve, when they played with Vincent on his home territory and recorded the album 'Cookin' in Brooklyn'.
Alto saxophonist and bandleader Julian 'Cannonball' Adderley was another favourite of Leon's father and became an enduring influence in his own career. 'Wabash', from Cannonball's 1959 album 'The Cannonball Adderley Quintet in Chicago' (in reality the Miles Davis working band of the day, including John Coltrane but minus Miles), bounced along with its delightfully melodic theme fused with a deep feeling for the blues. Adam King produced a standout solo on the bass accompanied by the hand-drumming of Steve Brown.
Billy Joel's '52nd Street' album bore homage to the 1.9 mile stretch of Midtown Manhattan roadway once known as 'Swing Street', where a proliferation of steamy basement jazz clubs played host to the giants of jazz  – such legendary figures as Billie Holiday, Lester Young, Art Tatum and Charlie Parker – in the 1940s and 50s. Greening's interpretation of 'Rosalinda's Eyes', with Garnett's searing alto to the fore,  captured the free-wheeling, boundary pushing spirit of those now far-off days.
'Hindsight', a beautifully reflective piece composed by Cedar Walton – one of Greening's latter-day heroes with whom he spent much treasured time in conversation – achieved a perfect balance between sound and emotion, which lingered in the mind long after the final notes had faded away. Superb!
An improvised foot-stomping, rip-roaring blues, with Greening's two hands rolling the piano keys, brought the first set to a resounding close. He later dedicated the piece to everyone at Progress on that evening, under the title 'Blues in Progress!'
On his return to the stage with his trio, Leon recounted how his father, who loved Bud Powell, had annotated an album of Bud's music with a post-it note saying, 'Bud Powell, the true genius of modern jazz piano'. As a young teenager Leon would sometimes be presented with a transcription of one of Bud's solos which he would practice incessantly until he was note-perfect. 'I wanted to play like Bud,' he recalled, 'and impress my Dad.'
One of those pieces, 'Celia' which Bud wrote in 1949 on the birth of his daughter, Leon now dedicated to his 'darling Dad'. Taking a headlong plunge into Powell's charming theme and with King and Brown in full support, Greening allowed his imagination free rein to build layer upon layer of the most white-knuckle improvisations you could possibly imagine. This was jaw-droppingly superb!
With scarcely a pause for breath, the trio now joined by Alex Garnett, launched into 'If This Isn't Love' a flag-waving showstopper by Burton Lane and Yip Harburg which found fame in the musical 'Finian's Rainbow'. The subtle interplay between the musicians on this number was an absolute delight.
By contrast, Antonio Carlos Jobin's 'Corcovado (Quiet Nights of Quiet Stars)' captured the unique quality of reflective nostalgia that is so often a feature of Brazilian music.
By way of a clue to the composer of the next piece, Leon struck the instantly recognisable opening notes to 'Moanin''. Of course … Bobby Timmons! He then explained how the next composition came about on the recording of Bobby's 1966 'Soulman' album. "The great Ron Carter, the bass player on the session, turned to Bobby after they'd finished recording an as yet untitled track and demanded to know what it was called. 'Damned if I know', came the reply." In keeping with its title, the tune expresses a quizzical air of mystery. Alex Garnett added to the fun by dropping in a quote which kept me guessing where it was from until I returned home. A hasty scurry through Coltrane's 'Giant Steps' revealed famous origin – the enchanting opening to 'Syeeda's Flute Song'.
Garnett's impassioned alto was again to the fore in a swinging straight-ahead arrangement of Billy Joel's 'Zanzibar.
This object lesson in how to structure the dynamics of a piece and bring it to a perfect resolution – the closing notes gently distilling into the air, created exactly the right setting for Duke Ellington's classic ballad 'Prelude to a Kiss', a further deeply felt tribute by Leon Greening to his late father.
An emotional and unforgettable evening of music came to a close with a funky portrayal of Leon's favourite animal 'The Leopard ', a Greening original and a fitting final tribute to the father he loved so dearly.
On behalf of us all at Jazz in Reading we offer Leon and his family our deepest condolences on the death of his father Alan and thank him for so generously sharing his gift of music with us at such a difficult and sad time.
Leon, your Dad will be immensely proud of you and his spirit will remain with you through your music.
***
As ever, our thanks to the Progress front of house and lighting teams and a particular  thank you to the audience whose magnificent support meant that we could hire a 'real' piano from Hickies of Friar Street for this special occasion.
Review posted here by kind permission of Trevor Bannister
Photo by Colin Swain
---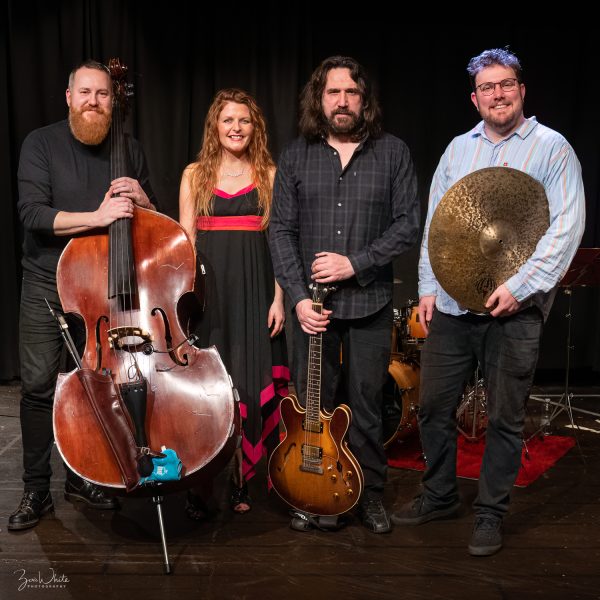 Progress Theatre, Reading, Friday 17 March 2023
Zoë Gilby vocals | Mark Williams guitar
Andy Champion double bass | John Bradford drums
If there were any signs of the travelling blues after a 300-mile, 5-hour journey from Newcastle-Upon-Tyne to Reading, they weren't visible as prize winning vocalist of the 2019 Parliamentary Jazz Awards, Zoë Gilby and her musical companions lit up the stage with their debut performance for Jazz at Progress.
By the second chorus of the opening number, 'Travelin' Blues', a 1961 recording by jazz legends Dave Brubeck and Carmen McRae, Gilby had the audience eating from the palm of her hand; her sense of swing and expression, the clarity of her diction and the unique qualities and range of her voice was simply enthralling. Clearly, this held the promise of being a 'special' evening. We were not to be disappointed!
Maybe the second number, 'In it Together' a delightful Gilby original in waltz-time gave the best possible clue as to what her approach to music is all about – sharing – a basic ingredient of all great jazz.
Nor should one forget humour, albeit in this case of the sardonic variety – a quality that permeated 'You Turned the Tables on Me', an enigmatic popular song first made famous by bandleader Benny Goodman and his vocalist Helen Ward way back in 1937.  The lyrics present a brave face on the reality of 'Being Dumped' and that 'I got what was coming to me'. Should there be any regrets? An astonishingly full-bloodied scat solo (closer in style to Louis than an Ella flight of invention) cut to the heart of the matter and left no doubt about Gilby's true feelings. Revenge!
In a measure of Gilby's versatility, she moved seamlessly from the 'killer-diller' days of the 'Golden Age of Swing' to the poetic magic of 'Aurora', a collection, one could say a 'suite', of her own lyrics set to the melodies of American trumpeter/composer Tom Harrell.
In the first three pieces to be presented, the titles alone – 'Ebb and Flow', 'Shadowed in Solitude' and 'Forget the Past' – evoke vivid images in the imagination. The subtle combination of words, melody and the sensitive support and inventive solos of Williams, Champion and Bradford proved to be absolutely spellbinding. One line in particular, from the joyfully optimistic 'Forget the Past' will remain with me for a long time hence, 'the adventure never waits'. What a message for getting on with life!
'Your Words', another original and also a tribute to vocalist Jacqui Dankworth whose performance at the Sage concert hall in Gateshead and encouraging words helped to inspire  a youthful Zoë Gilby,  packed a more direct emotional punch. A wailing solo from guitarist Mark Williams echoed the sorrow and bitterness of the vocal.
Everyone cut-loose for the final number of the first set with a romping, free-flowing  interpretation of Wes Montgomery's 'West Coast Blues', featuring a stunning solo from bassist Andy Champion and a hilarious scat from Ms. Gilby in honour of St Patrick's Day appraising the various merits of Guinness – the interval drink of choice which was apparently in short supply at the bar.
The huge, soulful Mingus-like sound of Andy Champion's bass came to the fore in a duo with Zoë Gilby to open the second set with Tom Wait's earthy 'Way Down in the Hole'.
This outstanding performance was matched in emotional impact by a deeply moving interpretation of Leon Russell's 'A Song for You' – a piece with special meaning for Gilby which she sang at her father's wake.
The enchanting 'Leap to the Limelight' took us back to the magical paring of a Tom Harrell melody with Zoë Gilby's lyrics. This captured the spirit, with marvellous interplay between the members of the band, of those who are simply born to dance.
'Secret Love'  demonstrated yet again Zoë Gilby's remarkable versality  with a tribute dedicated to Doris Day and Carmen McRae. Describing them as the 'Ying and Yang' of popular song, she proceeded to first sing the song  in the style of Doris, filling the auditorium with the soaring power of her voice and secondly in the more intimate, sassy style of Carmen. Brilliant!
The next number began life as the instrumental 'Concerto for Cootie ' featuring trumpeter Cootie Williams with the Duke Ellington Orchestra. Lyrics were later added by Bob Russell to create 'Do Nothin' Till You Hear From Me', performed here as a rather cheeky rhumba. The light and shade of John Bradford's drumming was especially effective. He has that rare quality of being able to swing without having to turn the volume control up to 11.
Zoë Gilby's creativity and love for words bore further fruit in 'Your Dear Heart, My Dear Heart', a beautiful reflection that love is simple, 'it's everything else that's complicated', based on Tom Harrell's melody 'Scene'.
Patrick Hamilton's 1929 novel 'Twenty Thousand Streets Under the Sky' provided the inspiration for 'The Midnight Bell', an evocation of a seedy East London pub inhabited by a rich variety of  nefarious characters whose stories the novel relates. The words and music captured the darkness of the atmosphere perfectly.
'Centerpiece' credited to trumpeter Harry Edison and ace-vocalist/lyricist  Jon Hendricks brought the evening to a swinging and rousing close.
The warmth, exuberance and creativity of Zoë Gilby's performance and the musicianship of her quartet will have secured a place in the affections of the Progress audience. Let's hope that it's not too long before they make a return visit to Reading. Meanwhile, check out her album 'Aurora' on this link https://zoegilby.bandcamp.com/album/aurora
As ever, thanks to our hosts at the Progress Theatre for the excellent sound and lighting and for taking good care of our safety and refreshment.
And finally, but by no means least, our thanks to House Photographer Zoë White who is relinquishing her role to concentrate more time in other pursuits including singing. Zoë has assembled a unique record of performances at Progress over the past eight years which grace the Gallery on the Jazz in Reading website – a wonderful reminder of some great jazz moments. https://www.jazzinreading.com/gallery/
Thank you Zoë … we shall miss you, but wish you every success in the future.
Review posted here by kind permission of Trevor Bannister
Photo by Zoë White Photography
---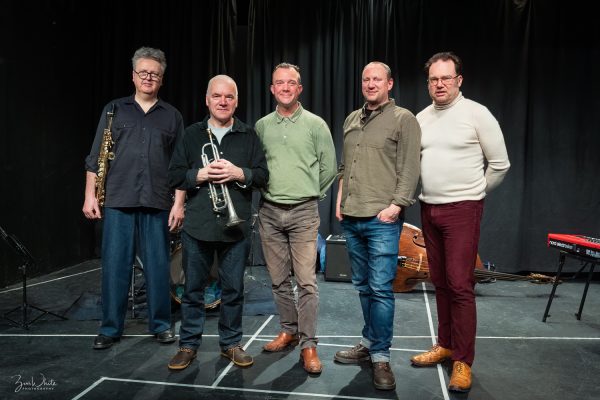 Progress Theatre, Reading, Friday 3 February 2023
Julian Siegel saxes | Chris Batchelor trumpet  | Gary Willcox drums |Oli Hayhurst bass | Gareth Williams piano
"Wow, what a brilliant gig, the best I've been to for a long while," was just one comment overheard as an enthralled audience made its exit from the Progress Theatre on Friday 3 February after two exhilarating hours of jazz at its most creative in the company of Gary Willcox's Drummer/Composer Project.
The advance publicity was absolutely spot-on; this remarkable tribute to the composing talents of drum legends Kenny Clarke, Denzil Best, Elvin Jones, Paul Motian, Peter La Roca, Tony Williams, Jack DeJohnette and Bill Stewart and their contribution to the evolution of jazz across eight-decades from be-bop to ECM and beyond, scaled the heights of "inspiring, in the moment playing".
Seasoned veterans all, but new to the stage of Progress, Chris Batchelor, Julian Siegel and Oli Hayhurst quickly made their mark amid 'Three Card Molly'', a veritable explosion of raw energy bearing  the unmistakeable hallmarks of its composer – Elvin Jones.
Gary Willcox revealed his own composing skills to spell-binding effect in 'The Arrival', its intrinsic lyricism heightened by the delicate interplay between Batchelor and Siegel over an atmospheric background conjured by the rhythm section. Willcox's use of hand-held bells and a single-stick snare drum roll was especially impressive.
However, imagine the shock and surprise of suddenly being transported from this trance-like state of sublimity to the heat and intense fury of Pete La Roca's 'Basra' – a real whirling-Dervish of a number. Talk about a 'wake-up' call! By all accounts, La Roca, along with his bassist colleague Steve Swallow, had taken LSD on their way to recording his debut album as a leader for Blue Note in 1965. As you might expect, it produced rather startling results in the studio – replicated here without, I might add, any stimulants others than Progress tea!
In his 1940/50s heyday Denzil Best was noted for the swinging quality of his brush work accompanying such piano stars as George Shearing and Erroll Garner. He was also a composer of some note with credits including the great bebop anthem 'Wee' (aka 'Allen's Alley'), 'Bemsha Swing' (a collaboration with Thelonious Monk) and most famously 'Move', which appeared on the classic Miles Davis album 'Birth of the Cool'.  On this occasion it received the full bebop treatment with everyone 'champing at the bit' to keep up the breakneck tempo. Great fun!
Paul Motian, a member of Bill Evans' groundbreaking trio of the early 1960s and a drummer of exceptional  sensitivity, was in an ebullient mood when he penned 'Mandeville'. Its infectious calypso spirit evoked the warm glow of Caribbean sunshine with 'dreamy'  solos  from Oli Hayhurst and Gareth Williams and a delightful closing duet from Chris Batchelor and Julian Siegel.
They continued to bounce ideas off each other in 'Think Before You Think', a quirky conversation piece for trumpet and tenor saxophone by Bill Stewart. This timely advice brought the first set to a resounding close and  a well-earned break for the musicians.
And so to the second set … Oli Hayhurst's expressive and increasingly intense bass lines led the way into 'Epistrophy' and an absolute masterclass in the use of time, space and melodic invention.  All praise to Gary Willcox and his Drum/Composer Project for interpreting this timeless classic, jointly credited to Thelonious Monk and drummer Kenny Clarke and dating from 1941, with such faithful attention to its original spirit. It was a joy to listen to: for me, the highlight of a very special evening.
Julian Siegel is shortly to be leading his own big band on a tour of major UK venues including Ronnie Scott's in London. He swapped his tenor for a soprano saxophone to soar freely above a melee of sound and rhythm in his portrait of 'Ahmed the Terrible', a track composed by Jack DeJohnette in 1982 for his band Special Edition.
The opening notes of Chris Batchelor's superlative introduction to 'Pee Wee' instantly caused the hairs to rise on the back of my neck. What a sound! An echo from Miles Davis's 1967 'Sorcerer' album. Solos by Julian Siegel and Gareth Williams perfectly sustained the mood of wistful reflection.
Tony Williams was just twenty-four when he composed this tune and already a veteran of five-years as drummer with Miles's second great quintet. He went on to compose many tunes for his own bands, including the Latin-tinged 'Sister Cheryl' which followed 'Pee Wee'. Tragically he died from a heart attack at the all-too-early age of fifty-one whilst undergoing a routine gall bladder operation.
A tiny spark of an idea, from the prodigious imagination of Paul Motian, lit the fuse for a volcano of free expression that had been threatening to erupt all evening. This joyous outburst of collective invention neatly summed up the spirit of the evening. It couldn't be matched, even by the flag-waving brio of the finale, 'Salt Peanuts'.
A fantastic evening that will stay etched in the mind for a long time to come. Don't miss this show if it comes to a club near you!
Our thanks first and foremost to the members of Gary Willcox's Drummer/Composer Project – Chris Batchelor, Julian Siegel, Gareth Williams, Oli Hayhurst and Gary himself. Also a special word for Jason Yarde who was originally scheduled to play the gig before he suffered a stroke in late 2022. We wish him a speedy recovery and look forward to his return to 'active duty'.
Of course, thanks to the volunteers of the Progress Theatre for their hospitality and technical skills in sound and lighting.
And finally, it was especially pleasing to see several young people in the audience (and I don't mean people who haven't quite reached retirement age). We hope they enjoyed the music and look forward to seeing them again. With friends maybe?
Review posted here by kind permission of Trevor Bannister
Photo by Zoë White Photography
---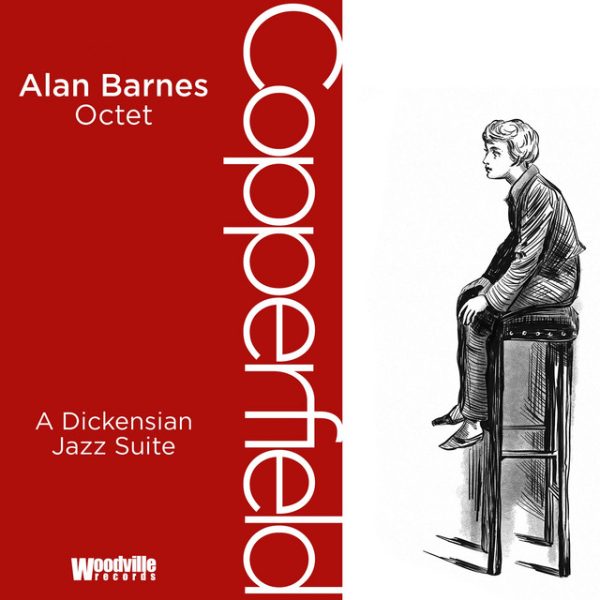 Progress Theatre, Reading, Friday 16 December 2022
Alan Barnes alto saxophone, clarinet, bass clarinet, composer, arranger | Robert Fowler tenor saxophone, clarinet | Karen Sharp baritone saxophone, clarinet | Bruce Adams trumpet, flugelhorn | Mark Nightingale trombone | Dave Newton piano | Simon Thorpe bass | Clark Tracey drums
One day, cultural historians may study the link between lockdown and creativity. Meanwhile, with the same lineup and personnel as his 2019 visit here, Alan Barnes returned to a practically full house with his Suite from that time.
There's a lot to digest in his writing for octet. All the pieces feature changes in tempo, and metre, alternation of unison and harmony, and varied voicing across brass and reeds. Each song is structured into several sections, with interludes of diverse length, and solos are backed in many different ways. Or… you can just sit back and enjoy.
'Copperfield Theme', the opening number, depicts David's home life in three sections. A slow, pretty melody with clarinet lead, gives way to a punchy theme in triple time. Solos from brass and reeds follow, then unison, and harmonised ensemble, before a reprise of the first melody.
'Mr. Peggotty's Boathouse': David is sent off to Yarmouth: an uptempo piano intro, then a lively jazz waltz, lead on to a trumpet improvisation with skyscraper passages, next a contrasting very relaxed piano solo. Finally the waltz returns, and to end, soft riffs, and a quiet, muted trumpet.
'Mr. Barkis': a return home for DC, and a bass feature for Simon Thorpe. He starts with the theme statement, then walks with the orchestra. Some stop time, and trumpet solo, take us to a bass solo with piano and drums accompaniment, before the final ensemble.
'Creackle and Tungay': David's school days, and portraits of teacher (Bruce Adams) and  caretaker (Karen Sharp). A latin intro from the rhythm section goes into a swing feel with fine baritone and trumpet solos. There's a baritone /trumpet duet, before a final piano note, that slowly rings out to nothing.
'Tommy Traddle's Skeletons': billed as a 'danse macabre' for David's school friend who drew skeletons, the piece starts with the suitably 'sparse' sound of Robert Fowler's clarinet accompanied by bass. Two high register clarinets play a later section, and, after a clarinet solo, complete the song.
'Murdstone and Grimby': David is sent to work in the bottling plant of the title: Mark Nightingale plays the first partner, Alan Barnes the second. There's a virtuoso solo by the leader on alto, with a lot of double time over a 'two' feel. More solos follow, and an ensemble with baritone and bass in unison.
'Mr. Dick Flies His Kite':  back on the coast, we meet a minor jazz waltz, realised by trumpet and trombone. A pretty, but sad melody, leads to, as Barnes explained, a "more uplifting" passage, before "coming down to earth".  Solos are spread across the band.  A tinkling piano diminuendo describes the kite's descent.
(Interval)
'Mr. Micawber': Alan Barnes' "Copperfield" – A Dickensian Suite | December 2022a jaunty jazz waltz represents the character who provides lodging for David. Rising and falling baritone lines may suggest Micawber's mood swings, and solos from the leader on clarinet, and piano take us back to the theme.
'Little Em'ly': Barnes' early career often found him playing Klezmer music:  a plaintiff minor melody depicts David's childhood sweetheart and the arrangement reflects that ethnic tradition. Bruce Adams on plunger-muted trumpet plays her seducer, Steerforth. Rob Fowler gives a most expressive tenor solo, as we move into a medium swing tempo, before a reprise of the mournful theme.
'James Steerforth': a stately melody depicts the public face of the character, before a passage on alto gives way to an up-tempo latin section. Baritone and bass play a repeated unison figure. In turn a swing theme is introduced. Mark Nightingale delivers an agile double-time solo. Piano chords and bass accompaniment end the return of the original slow theme.
'Uriah Heep': Barnes' bass clarinet portrays the oily character David meets, with a slippery, triplet-based theme. Clark Tracey sets up the number by an intriguing high-pitched meandering. A Duke-ish voicing of two clarinets, muted trumpet and trombone provide some background, before instrumental conversations, and bowed bass ending.
'Dora and Jip':  tempo movements between triple time and 4/4 unfold after the stacatto-ish line begins. Solos on reeds and brass describe the changing fortunes of Dora and David, and her dog, Jip.   A "canine cadenza" is cunningly voiced by Bruce Adams, tailing off in a sad whine…
'Agnes': a sweet ballad recalls the young Agnes' devotion to David. A warm statement on tenor is accompanied by responses from the alto. The trumpet picks up the theme, and there are solos around the band. A quicker feel follows, over the same tempo, and moves to a piano solo. Punchy to start with, the solo moves into a locked-hands, Errol Garner-type feel.
'A New Life':  a fast minor swing is the setting as the Micawbers and other characters emigrate to Australia.  There's a powerful unison passage voiced for the five frontline parts, on the standard 32 bar form, and a switch to latin for the middle eight. An ensemble where the lead moves between reeds and brass is punctuated by drum fills, followed by a solo from Clark Tracey.
Many thanks to the Jazz in Reading, and Progress Theatre team, for, as Alan Barnes added, "keeping the performing arts alive" in these testing times.
Review posted here by kind permission of Clive Downs
---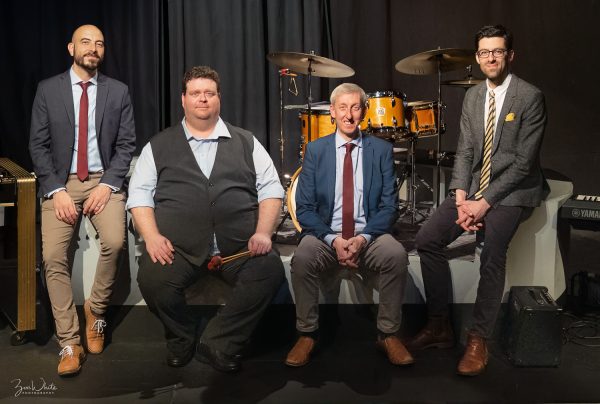 Progress Theatre, Reading, Friday 25 November 2022
Nat Steele vibes | Gabriel Latchin piano | Dario Di Lecce bass | Steve Brown drums
Nat Steele — graduate of Berkshire Young Musicians Trust (now Berkshire Maestros), Reading Youth Orchestra and Reading Youth Choir, who trod the boards of the Progress Theatre as a teenage member of the Progress Youth Theatre and who last appeared on its stage in 2013 with saxophonist Alison Neale — made a triumphant return to his home town on Friday 25 November with his MJQ Quartet to present a captivating 'Portrait of the MJQ'.
Formed in 1952 by three erstwhile members of the Dizzy Gillespie Big Band – Milt Jackson vibes, John Lewis piano and drummer Kenny Clarke, plus bassist Percy Heath – the Modern Jazz Quartet took modern jazz in a new direction with a unique ensemble sound combining classical formality with jazz fire tinged with a deep feeling for the blues. Under John Lewis's single-minded tutelage as Musical Director the group achieved outstanding levels of interplay that both excited and confounded audiences and critics. Simply put, they couldn't distinguish between which parts were arranged and which were improvised. A quality that seems all the more astonishing when one considers a statement by Kenny Clarke to the effect that in the quartet's early days neither Jackson nor Heath could read music! But boy, did they rehearse!
With only one change in personnel, when Connie Kay took over the drum chair in 1955, the MJQ became one of the most successful and enduring units of twentieth century jazz with a vast legacy of great music now captured in form, spirit, impeccable musicianship and incredible swing by Nat Steele and his richly talented quartet.
With its emphasis firmly placed on straight-ahead swing, Dizzy Gillespie's exhilarating 'Woody n' You' opened the concert as a tribute to the MJQ's bebop roots in the Gillespie Big Band of the immediate post-war years. Jackson, Lewis and Clarke plus bassist Ray Brown played as a 'band-within-band' to provide the horn players with some relief from the ferocious 'lip searing' charts that Dizzy liked to play.  The quartet even played some gigs in its own right at Smalls Paradise, in Harlem under the banner of 'The Atomics of Modern Music'.
'The Golden Striker', composed by John Lewis for Roger Vadim's 1957 movie 'No Sun in Venice' was an altogether different creature; a sublime 'conversation' piece between Steele's eloquent vibes and Gabriel Latchin's more sparse piano, underpinned by Di Lecce's bass.   Steve Brown conjured his magic in the percussion department utilising both triangle and finger cymbals to stunning effect.
Dario Di Lecce and Steve Brown combined forces to recreate the dramatic introduction to John Lewis's arrangement of Jerome Kern's, 'All the Things You Are'.  Steele and Latchin followed up by playing the theme in unison before launching into their own free flowing solos, each expressing the tenderness and warmth of this classic standard. The circle complete, we returned to Di Leece's fleet fingered bass, interspersed with the irregular interjections of Steve Brown's drum accents. Brilliant!
John Lewis devised 'The La Ronde Suite', based on composition he originally titled 'Bright Lights' and which was subsequently adopted by Dizzy Gillespie as the more familiar 'Two Bass Hit', to showcase each member of the MJQ in turn. As a recording, it occupied two-sides of a 7" EP (hands up if you can remember those!) On this occasion it offered an insightful contrast between the four protagonists as they each interpreted the theme in their own way – Nat Steele's joyful and spritely swing, Gabriel Latchin's slightly darker and more reflective musings, the stately grandeur of Dario Di Lecce's bass and finally the explosive excitement and rhythmic invention which Steve Brown so brilliantly combines with good taste and restraint. The Suite is surprisingly short but marvellously effective. It's also great fun and closed with loud applause from the near-capacity audience and smiles all round from the band.
'I'll Remember April' shot from the starting gates like a champion greyhound. Needless to say, the tricky switches in time from Latin to straight 4/4 were negotiated with perfect aplomb and the number raced along with everyone contributing to the chase.
Vernon Duke's gorgeous ballad 'Autumn in New York' gave everyone a chance to recover their breath. Evocatively mellow solos from Nat Steele and Gabriel Latchin conjured images of bright sunshine illuminating the autumn leaves of Central Park. As with so many aspects of the MJQ, a single chime on the humble triangle added the finishing touch to a beautifully conceived arrangement.
While John Lewis was undoubtedly the driving force behind the MJQ, the jazz spirit was fuelled by 'The Wizard of the Vibes' Milt Jackson. His justly famous composition 'Bluesology' not only rounded off the First Set, but encapsulated Milt's free-wheeling approach to jazz which influenced an entire generation of vibes players, including of course, Nat Steele.
Just as 'Woody n' You' provided a backward glance to John Lewis's role in the frantic days of the bebop revolution, 'Rouge' paid tribute to his contribution as both a pianist and arranger to the Miles Davis influential 'Birth of the Cool' recordings of 1949. Featuring the sparkling piano of Gabriel Latchin and a solo of great warmth by Nat Steele, 'Rouge' proved to be a very welcome addition to the Quartet's repertoire. 'It might have seemed simple,' admitted Steele, 'but it's actually incredibly difficult to play.'
''Round Midnight', with the bridge 'borrowed' from Wes Montgomery, was a second addition to the repertoire and all the more welcome for being so rarely heard in a live performance. The quartet captured the mood of the Thelonious Monk masterpiece to perfection.
As I mentioned earlier, listening to the MJQ always poses the conundrum of which parts are improvised and which parts are not. This proved to be a particular problem for the French critic and writer Charles Delaunay when he first encountered the group in its early days; "Is this a jazz group trying to be classical?" he puzzled. "Or is it a classical group trying to play jazz?" John Lewis summed up the situation nicely with the delightful good humour of 'Delaunay's Dilemma'.
The fragile beauty of 'Milano' reflected John Lewis's fascination for all things European, while his obsession with J. S. Bach bore full fruit in the introduction and coda to 'Softly as in a Morning Sunrise'.
This brought us to the penultimate number of the evening, John Lewis's classic composition, 'Django'; a flawless emotional and musical balance between the grief expressed for the loss of Django Reinhardt and a celebration of the exuberance and life-enhancing spirit that he brought to the world through his colourful musical career. Magnificent!
The two one-hour sets had passed in a trance. It remained only for the quartet to bow out on what else but 'Bags Groove' – a final dedication to Milt Jackson.
In common with so many projects, COVID brought a halt to the touring momentum of Nat Steele's MJQ Quartet. We are delighted that they are back on the road. Unlike the MJQ, who played in po-faced severity on the one occasion when I saw the band way back in the 1960s, these guys looked to be really enjoying themselves. They clearly relish the opportunity to play together. The fact that Gabriel Latchin drove to the gig from his home in Glasgow and Dario Di Lecce flew in from Valencia, Spain speaks for itself!!!
What's more, any group of musicians who 'adapt and overcome' to the challenge of making use of a massive riser that occupied much of the Progress stage with such imagination and good humour has my vote for the Band of The Year! Indeed, it could have been 'meant to be'. Nat commented, "We've been asking for a riser for seven years and at last we've got one, even if it was intended to depict a prison cell."
And finally, thanks are due to Rich Saunders who works his sound and lighting magic in solitary confinement at the back of the Progress auditorium and to Stuart McCubbin and his Front of House team who look after everybody's safety and comfort with such care.
Review posted here by kind permission of Trevor Bannister

Photo by Zoë White Photography
---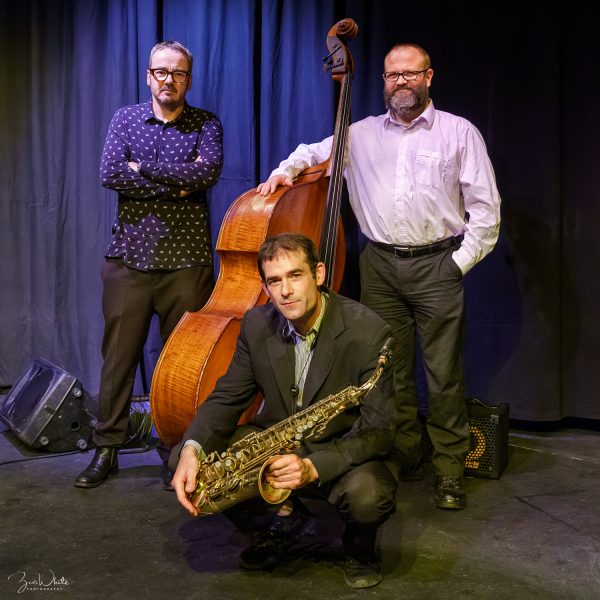 Progress Theatre, Reading, Friday 21 October 2022
Tommaso Starace, alto sax | Jim Watson keyboard | Dave Chamberlain acoustic bass
'The Power of Three' – an intense, exciting and rewarding musical experience for both JiR audience and performers
7:30 pm: After Jazz in Reading MC Bob's warm and witty welcome to all, The Power of Three leapt straight into the show, with no breaks at all until two full numbers had been played:
This Here  (Bobby Timmons)
A skittish theme. The solidity and affirming piano chords immediately reminded me of the Billy Taylor theme Film '67– but here in a ¾ measure and with a bluesy bass mode. Balance was immaculate between all three players, taking rapid descending figures, nervy cross rhythms, arriving at a long and busy sax solo to a "Yes!" from the audience…Starace disappears through a stage door, the first of a several discreet exits and magical re-entries throughout the evening, as he bobbed in and out of view in between his definitive musical declarations…
Now Jim Watson on piano, filling with both harmony and counterpoints from the start, fingers flying over his pillar-box red Nord 300 – virtually a full band in itself, with Dave Chamberlain on Bass providing a robust platform and powerful rhythmical argument through rapid statements, the duet continued 'at pace' with fat chords, fading down to leave bass alone, not simply to give us loads of rapid-fire, but special effects such as 'hand-wipes' across the strings added wit and surprise to an already awesome introduction. Solo from Tommaso, chiming in with a brief well-known theme…and a sudden, briefly discordant end to this astonishing opening number!
Warm applause then segue into…
Del Sasser  (Cannonball Adderley)
Lyrical, but quick opening with boogey-style Q&A between keyboard and bass. Many notes at a rate of knots, giving an impression of wordless lyrics.
Piano and Bass gave us a story, to sudden re-entry of Starace, adding hurtling runs on sax, and with a hint of passing fire siren…! Remaining urgent and restless, here an abrupt end to sax solo, but resumption of more enigmatic piano and fast bass conversations, with a flavour of bebop in the mix.
After even more excited applause, Starace re-appears, to say a few words… about the two pieces we've just heard, then briefly to announce the group's new Album.
The Power of Three was recorded as a 'live' performance, in a real acoustic with no mixing, and no headphones used by the players. (Possibly a celebration of the return of live music and a product of those days in lockdown?) After an introduction, the great Duke Ellington was mentioned regarding this famous title, performed by so many bands…
Caravan (Ellington)
Lovely dark moods and images from the very opening. Exotic modes suggesting Middle Eastern origin, but with celebrations of those mysterious 'microtonic' melodic lines in glissando, polychromatic saxophone phrases. Piano gives us spice-laden harmonies and phrasing, tempo rising and Bass (now bowed , not plucked for the first time) echoing the modal colours of this music with beautiful, soulful high notes, way up the fingerboard creating an especially emotive point. (Always, camels seemed to be moving forward in this beautiful piece, treading gently on the lowest, bass tones, with those colours of the scene now super-exciting through off-beats and syncopation, high and ethereal from sax, mixing jagged and unexpected passages (before Tommaso disappears stage left!) Keyboard: Latin, near-Cuban references with restless lines, the motions disturbed with cross-rhythms – a glissando wail as sax re-enters, piano; the bass tapering towards a glorious ending.
Passport (C Parker)
This went quickly on its way, with low sax, walking bass, tight and complex piano chords. A cheeky tune from sax, full, low discords from piano. Tommaso physically came and went, like a Punch and Judy show. That 'Rolls-Royce' bass sound, edgy at this stage, with sax flying flippantly overhead, always dancing. Bass became more expressive, but reflected the innate mischief of the soloist.
The trio combined. Bass pizzicato, a light touch, showing ringing, classical clarity, always witty and playful, adding a 'slap' sound to a few bars of his articulation repertoire. Luscious orchestral tone, combining with stunningly accurate rapid fingering, the tuning remaining impeccable. A player whose instrument just had to be a deeply ingrained part of his musical language. Sheer quality!
The audience was quickly alerted after these musings, led by the astonishing speed and drive of Tommaso, as fresh musical conversations unfolded, Q&A between the instrumental voices, with jokes and quotes from various sources flying past. Always cheeky and cheerful, but finely-honed. Striding bass from DC over rich, tight chords and flying trapeze from JW. Imaginative, utterly committed playing.
Simply nothing missing.
Autumn in New York (Sam Jones)
Self-deprecating tone of this music, sweet and slow relief, heartfelt and soulful melody with 'gaps' between. Gentle solo Piano chords… lighting a clear picture via harmonies and flowing arpeggios to phrases barely heard, but here over the strong Bass; the sounds and city lights, dreamy impressions – suddenly, Sax jumps in!
Conversational, sleazy shapes, then fond memories on this journey…in a flash, Sax has vanished again. Beautiful slow, low and fluid Bass, almost through an alcoholic haze, Sax gives big, airy phrases, reflected in rippling waters from piano…Always that subterranean bass; all ends wistfully…
interval break. 
Brazilian Like (Michel Petrucciani)
Wow!
Such chords.
And the Latin rhythms; characteristic melancholy, and mournful memories again. And those exotic, rolling rhythms on a bossa nova feel and then the ethereal tone of Sax …
The streets of Paris – optimism creeps in, excitement builds, colourful rich chords, delicious moments, against a displaced Bass line and now chatter of the Sax solo.
Then: surely not ? A police siren seems to be heard from glissando Sax (who then dives out of sight…) Piano and Bass stick around to reflect, with sweet, dark bass in fluid phrases again. The magic mystery of piano's fingers, bundles of notes as though in chunks, and…
More urgency is felt, darker and gentler, Bass over broken chords. A song, jumpy and expansive from pizzicato bass, now in 3/4 – or is it 6/8 time?
Sax seamlessly returns, alluding to earlier, lonely melancholy.
A resolution: 'things are not so bad?'
Cross rhythms as things cool down – and the moment passes.
With the next two tunes 'If I should lose you' (Ralph Ranger) and 'Four' (Miles Davis), a swing rhythm emerges – from this drum-free trio!
Distinctly swing rhythm 4-in-a-bar from Bass and Piano, Sax flying by. Rich, tight chords underwritten by stride Bass line, Sax above, wild and untamed. Predominantly minor chords, a relentless pulse step, before Sax vanishes… Undeterred, keyboard and stride bass carry the show…before the side-drama of Sax exits and re-entries continues; Piano crossing the rhythmic path, more striding bass, a lengthy duet, with ripe and rhythmical piano, with trilled octaves leaves yet another up-tempo spectacular hanging in the air to a rapturous Progress Theatre.
Segment (Charlie Parker)
This next piece is played so fast, no normal musician could possibly keep up, but these guys certainly do: whirling phrases (Sax Punch and Judy!) piano and bass soloists  remain on stage like figures a mad race, lurching, rapid syncopations testing our sense of metre beyond comprehension.
(Unusually, prestissimo participatory audience clapping was encouraged here, but some of us could only get close). And all the while, Tommaso, bobbing in and out of the left doorway; was he making up for the lack of a drum 'driver' by adding a splash of bandleader direction? Bass takes over, standing alone, his fluid 'near-voice' sound and complete control taking us into a very brief finale.
Nica's Dream (Horace Silver)
After such intense concentration, this theme begins with a glorious Saxophonic exposition, Bass joins, nimble and in the highest register of this mighty instrument; beautiful piano work, sax returns with a dotted rhythm, fast tempo, with speedy keyboard in support, a sense of  'no time to waste' in the air. Here barely-perceptible musical jokes, maybe quotes from other numbers, a be-bop style, with dashing energy propelling all.
The sense and feel of the tightest pulse was felt, in the face of complex express rhythms, brilliantly controlled by Power of Three. In the midst of this driving momentum, glimpses of  'the circus' and clown-like fragments. We were all heading somewhere, at breakneck speed! Chord conviction and near-classical influences were there, ultimately with a satisfying 'stride bass' security.
Sax and in the centre the keyboard then seemed to be held back by the bass with astonishing skill, almost imperceptibly, to quote the original theme, with sax and bass united, the trio performing as one whole.
Nearing the end…
Then the penultimate piece by Horace Silver
Here a Sax solo, stating a familiar theme; joined by stride bass and piano as ever, the harmonic heart of this larger-than-life Trio.
(Exit Sax soloist…) A crazy chasing duet; piano both hands playing in unison, presenting rapid chord changes…Bass delivers high-speed patterns via nimble pizzicato; Sax seems to have reappeared, for duple and triple measures, lightly woven…then, a surprisingly sudden end!
Power of Three deserved to be tired, but there was no indication…
Work Song (Nat Adderley) – Encore/Finale. There was a 'farewell' from Tommaso Starace about the Adderley brothers, and the origin of this traditional 'chain gang' chant used by slaves in another era …
The 'call and response' character is clear. Wonderfully dark, sad tones; piano and bass make a declamatory call, and a sudden fast four-in-a-bar from Fat and fruity chords, sax runs and fills, hard to see how they effortlessly hang together. Bowed Bass, trills and a further, startling exhibition of the Power of Three's control of pulse, key, chords, timing…until a split chord before a solid recap of where they began, no holds barred; a dark reminder, in spite of the massive energy on show tonight, of the tragic suffering of so many, many others, not so very long ago.
Applause…
Tommaso Starace tells us he's soon to leave for a warmer, drier place… I'm sure his fellow musicians will try to persuade him otherwise. This is a closely-bonded and indeed powerful trio oozing with chemistry, and as MC of the evening Bob so eloquently said to an appreciative audience: "Where have these three been, all my life?" 
Marc Edwards
For my heroes at Jazz in Reading
31st October 2022
Many thanks , Marc, for a terrific review – from the Jazz in Reading team.
Photo by Zoë White Photography
---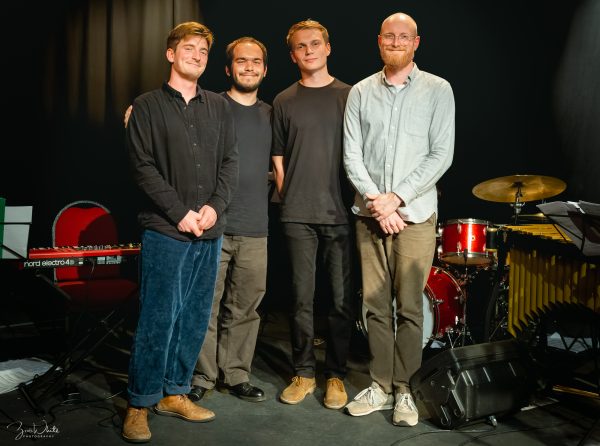 Progress Theatre, Reading, Friday 16 September 2022
Jonny Mansfield vibraphone, composer | Noah Stoneman piano
Will Sach bass | Dave Hamblett drums
A sombre time: the evening started with a minute's silence and reflection; then we breathed again … and the evening's guests were introduced.
Jonny Mansfield, returning to Reading after his Elftet's 2018 concert, introduced the quartet's opener with not so much a title, but a puzzle. What was the connection between Thomas Cook, the first local radio station, and being stuck in local traffic jams? (answer at bottom of page).
The opener highlighted the musical interaction between members of the band. Rhythms shifted, the sound seemed to float in the air, then there were moments when the pulse seemed suspended.
Most small group modern jazz performances used to follow a fixed pattern: introduction, theme statement, solos, repeat theme, ending. In contrast, we heard from this band a free-flowing structure, with collective improvisation, interludes, solos, and different combinations of instruments to vary colour and texture. Dazzling, intriguing music.
The quartet's programme included a varied mix of original compositions, jazz standards from the bebop era, and one Cole Porter show tune.
Conception is a jazz standard written, we might recall, around the beginning of the Elizabethan era, and attributed to pianist George Shearing. On this selection, we listened to a superb piano solo by Noah Stoneman. Rhythmically complex, – superimposing varying rhythms over the basic beat of the music – and harmonically daring.
The expressive sound of Will Sach's solo bass playing came to the fore in the tribute to Logan, named for the US alto saxophonist Logan Richardson – unfamiliar to many, but recommended by Jonny.
Jonny explained he had challenged himself over lockdown to write, record, mix, and produce an entire album in one day. From this album (Portrait) the band presented Speak, notable for a solo vibes start, and the gradual addition of bass, drums, and piano.
Jazz is distinctive because of its rhythm: this was a quartet where all four played percussively. Dave Hamblett on drums excelled throughout, but particularly on the penultimate number.
Before the interval we appreciated, in a fine arrangement, the first of two Monk compositions, We See (recorded only twice by Monk). Another less familiar number of Monk's, Ask Me Now, was included later in the evening.
Jonny had recently recorded in Germany (with different ensembles) two compositions, Cologne, and Ari. These both demonstrated the understated rhythmic base of the band, and how each performance built in intensity.
Organise the Air in Front of You (perhaps a description of improvisation?) ended the evening, with the leader playing, as through all the evening, with great virtuosity.
The programme (all composed by Jonny Mansfield except where noted):
Thomas Cook   (but see above!).
Conception (G. Shearing)
Logan
Speak
(interval)
We See (T. Monk)
Cologne
Ari
Everything I Love (C. Porter)
Ask Me Now (T. Monk)
Organise the Air in Front of You
Sincere thanks to the Jazz in Reading team for their unflagging work in bringing live jazz to us.
And our appreciation to all at the Progress Theatre, Jazz in Reading's hosts. Progress Theatre is the recipient of the Queen's Award for Voluntary Service, a civil honour equivalent to the MBE.
A new era, a new season for Jazz in Reading.
(Solution to puzzle: Leicester – location of first UK local radio, city with greatest density of traffic lights, destination of first tourist rail excursion devised by T. Cook, and site of the Thomas Cook building and original business).
Review posted here by kind permission of Clive Downs
Photo by Zoë White Photography
---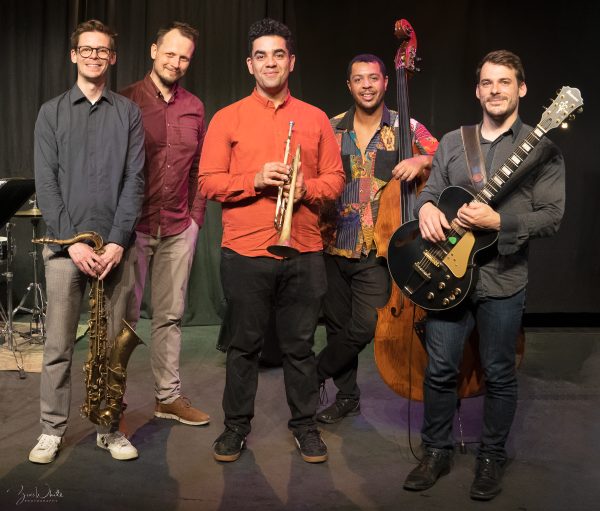 Progress Theatre, Reading, Friday 8 July 2022
Alban Claret guitar, composer | Evan Clegg trumpet, composer | Duncan Eagles tenor saxophone | Chris Hyde-Harrison double bass | Kuba Miazga drums
A week of heat waves, political drama, and cost of living crisis: but Jazz in Reading offered some welcome relief. We were treated to a quintet of accomplished musicians presenting original compositions, blending bop tradition with more modern ideas.
Their programme featured selections from the debut album The Collection, more of their originals, and heritage tracks.
With summer holidays, and competition from jazz festivals elsewhere, both the Jazz in Reading team and the audience were a little depleted, but enjoyed the intimacy of the show.
Evan explained they wrote pieces based on existing jazz numbers (or standards), rather than from scratch. The band created varied textures and colours in the arrangements: unison lines, short collective improvisation, counterpoint and other harmonisation, and varied combinations of tenor, trumpet (open or muted), guitar and bass.
Duncan Eagles has an original voice – expressive, and exploring the upper reaches of the saxophone. Kuba Miazga was a vigorous drummer, responsive to soloists' changing lines. Chris Hyde-Harrison created tasteful solos and varied accompaniments in the ensembles. Both leaders' solos proved technically advanced and highly melodic.
The title track from their debut album started the proceedings. A 12- bar melody with a complex line, rhythmically bop-ish, but melodically more abstract, recalled the writing of Lennie Tristano (referenced on their website, along with more familiar bop era influences).
'Mind Block', (titled because of difficulty in devising names for their compositions!) followed (another album track). The tune was cunningly arranged, with unison passages, short collective improvisation, and more. Duncan Eagles' virtuoso solo seemed to conjure up the sound of Tristano's long eighth note lines.
A relaxed tempo piece, 'Al A Parker' celebrated the great innovator. As well as a fine solo from Evan, the ensembles set up a variety of colours – for example. muted trumpet/guitar/tenor unison.
The band reprised Parker's 'Klactoveesedstene', complete with latin intro and ending. Kuba accompanied Alban's guitar solo effectively with cross rhythms, accents, and textures.
'Relaxin' at Sunny Blue' (based on 'When Sunny Gets Blue') was notable for a fine contribution from Chris Hyde-Harrison. He supplied rhythmic support on the theme, then moved to walking bass, before an engaging solo.
'Unsubscribed Playfulness', a ballad from the album, closed set one, A trumpet solo started gently, then built in intensity, complemented by more complex drum accompaniment.
'Stella by Artois', a chromatic melody based on the chords of the other Stella (by Starlight) started set two. Unusually, the first solo was taken by bass, with Kuba's brushes in support, and soft guitar chords.
We then heard 'Winter Pace' (the tricky 'Giant Steps', made more challenging by casting it as a minor theme). Did Alban's fluent guitar solo remind us of bop-era Barry Galbraith? (A final "that was hard!" from Evan was surprising – they seemed completely at home!)
Evan had been enjoying Buddy Collette's music and created a composition ('Mr Collette') inspired by the reed player's arrangements for small groups. Kuba punctuated the sweet harmonies beautifully.
Based on Cole Porter's standard, the fast 'Get Al in Town' (an album track) kicked off with three front line voices unison. As elsewhere, the balance and dynamics between all five seemed to make them all equal participants.
The latin feel of some bop tunes prompted Alban to write 'Doritos and Sombreros' (reminiscent of Parker's 'Barbados'). After solos from all, the theme concluded neatly with a drum coda.
Woody Shaw's 'The Moontrane' completed the show. Alban in particular improvised with shades of the composer's trademark sound, a little 'outside' the prevailing harmony.
A memorable evening, all highly talented musicians: only at the start of their careers, surely they will find many new venues to welcome them.
With grateful thanks to the Progress team (and of course to all the Jazz in Reading people) for their kind help in enabling us to continue to hear the best in jazz.
Review posted here by kind permission of Clive Downs
Photo by Zoë White Photography
---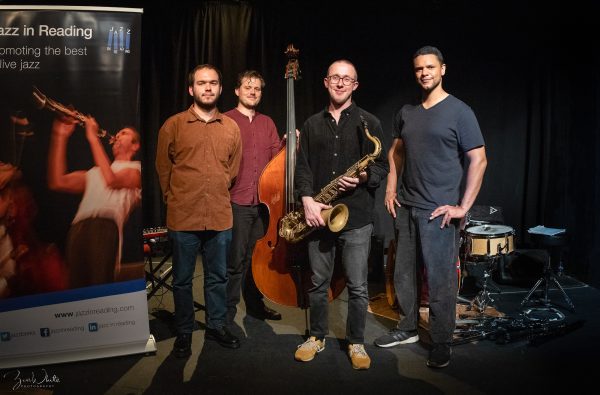 Alex Hitchcock tenor saxophone, Noah Stoneman keyboards, Joe Downard bass, Myele Manzanza drums
Alex Hitchcock was very much 'a new kid on the block' when he last performed on the Progress Theatre stage five years ago. Jazz at Progress regulars will remember that he made two appearances within a month of each other. First as a member of Tom Smith's innovative ensemble. Secondly, and most memorably, as the leader of an exciting quintet. His energy, inventive spirit, original voice as a composer and commanding presence as a soloist, along with his engaging personality, endeared him to the audience on that occasion. It was great to welcome him back on Friday 13 May.
Alex has moved on apace in the intervening years to establish himself as one of the leading musicians of his generation, a status acknowledged by the receipt of numerous awards, appearances at international festivals and a number of highly acclaimed and wide-ranging recording projects. Fortunately for us he remains at home in the quartet format and the company of three kindred spirits –  Joe Downard on bass, a long-term 'partner-in-crime' who was a member of 2017 quintet, Noah Stoneman on keyboard and the remarkable Myele Manzanza on drums. This formidable line-up combined their talents and skills to create an evening of cutting-edge jazz; sometimes hauntingly lyrical, often moving, occasionally challenging, totally breath-taking, utterly compelling and never far removed from the deepest roots of the jazz tradition.
Noah Stoneman's eloquent keyboard set the wistful and reflective mood that characterised the first half of the gig; four titles by Hitchcock – 'Spirits of Objects', 'Differentials', 'You are Here' and 'W. Sach' plus 'Lament' by Joe Downard. This almost uninterrupted flow of intense lyrical invention held one spellbound as each theme emerged with seeming spontaneity from one tune to the next; Hitchcock and Stoneman led the narrative, underpinned by Downard's economic bass and the restless rhythmic pulse of Manzanza's drums.
The lovely 'hanging in the air' quality in Hitchcock's playing and compositional style, which keeps you guessing about the direction the music might take, was well to the fore in his extended solo on 'To Love Itself' which opened the second set. His light, airy tone fully expressed the joyous spirit of the tune. 'Chrysalis' on the other hand explored darker territory in an explosion of free expression, held in check by Stoneman's delicate touch and Downard's mournful bass.
As the final notes of this frenzy faded away, the metaphorical spotlight fell on Hitchcock. The form of 'Body and Soul' gradually emerged from a beguiling out-of-tempo a cappella improvisation and with the sensitive support of the complete band, Hitchcock captured the majestic beauty of this timeless classic to perfection.
'Wideye', featuring brilliant interplay between Downard and Stoneman, saw Hitchcock in driving form on this spritely composition by Joe Downard, serving again as a powerful reminder of the awesome and well-rounded professional skills of these young musicians. Each is a composer in his own right and is being featured in turn as the throughout the current tour.
What treasures that holds in store! And what will Myele Manzanza bring to the party, I wonder? He is one of the most musically colourful jazz percussionists I can think of and clearly immersed in a culture of drumming that extends way beyond jazz influences. A tall, statuesque figure, constantly in motion, he brings a unique visual excitement to the band. None more so than in 'Hey, It's Me You're Talking To', Victor Lewis's knuckle-riding standard that brought the evening to a thrilling close.
Having exchanged 'note-for-note' phrases with Hitchcock he unleashed not so much a 'drum solo' in the usual sense, but what I can only describe as a 'ceremonial' expression of percussion artistry. Emotionally super-charged and rich in colour, texture and rhythm this 'wonder to behold' left the audience absolutely gobsmacked. What a climax to a magnificent evening!
As I left the auditorium one thought filled my mind; 'I must not wait another five years before I next listen to Alex Hitchcock in a live setting.'
As ever, our thanks to the Progress Front of House Team for their warm hospitality and the smooth running of the show and to Richard Saunders for the excellent sound and lighting.
Review posted here by kind permission of Trevor Bannister
Photo by Zoë White Photography
---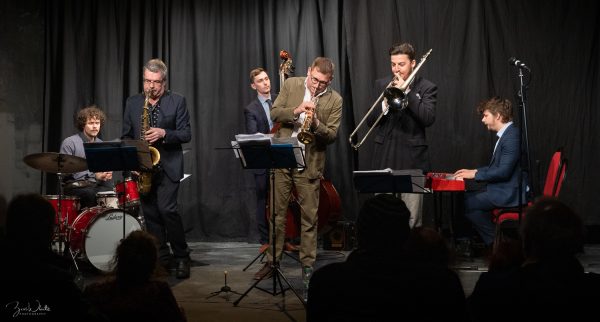 Progress Theatre, Reading, Friday 8 April 2022
Rory Ingham trombone, James Davison trumpet, Mark Lockheart tenor saxophone, Will Barry keyboard, Adam King bass, Felix Ambach drums
The late and much-lamented Art Blakey was well known (infamous some might say) for taking advantage of any situation to spread the 'Word' of Jazz. On one occasion we are led to believe, he took to his feet when a momentary silence occurred during a funeral service and said, 'If there are no more tributes to be paid to our dearly departed brother, I should like to say a word about jazz.'
A professional musician in his teenage years and a bandleader from the 1940s until his death in 1990 aged seventy-one, Art embodied the attributes of driving swing and blues/gospel-soaked virtuosity that came to be known as 'Hard Bop'. His 'Jazz Messengers' became a forcing ground for the most talented young musicians of the time. It was also a platform for the writing skills of such people as Benny Golson, Wayne Shorter and Freddie Hubbard. The Messengers toured relentlessly across the world, appearing at concerts, clubs and festivals and recorded extensively, attracting an audience way beyond the boundaries of most jazz artists – his records played on jukeboxes in the 1950s and the 'club scene' of the 1980s. In short, Art was an unrivalled phenomenon whose appeal remains as strong as ever.
Now perched on his 'celestial' drum stool Art would surely have smiled and nodded approval as the members of Wakey Blakey with the Rory Ingham/James Davison/Rory Ingham Sextet took to the stage of Reading's Progress Theatre on Friday 8 April. His 'message' had arrived safely in the hearts and minds of a new generation of musicians; they did not let him down. Fuelled by the enthusiasm of a near-capacity audience in the tiny Progress auditorium, the band lifted the roof in their tribute to Art and his classic Sextet of the early 1960s – Freddie Hubbard trumpet, Curtis Fuller trombone, Wayne Shorter tenor saxophone, Cedar Walton piano, first Jymie Merritt and later Reggie Workman on bass and the inimitable Art Blakey on drums.
In the true spirit of the Jazz Messengers, Wakey Blakey comprises some of the brightest young talents on the current scene, seasoned on this occasion by the wonderful Mark Lockheart on tenor saxophone, whose wealth of experience embraces Loose Tubes, Polar Bear and more recently, the innovative 'Days on Earth' project. 'Partners in Crime' since their student days together at the Royal College of Music and NYJO (National Youth Jazz Orchestra), Wakey Blakey is co-led by the ebullient and sartorially elegant trombonist Rory Ingham*, who takes care of on-stage duties, and the brilliant award-winning trumpeter James Davison, who undertook the massive task of faithfully transcribing the Sextet arrangements from the original Riverside and Blue Note albums. A 'heavyweight' rhythm section of Will Barry on piano, Adam King on bass and drummer Felix Ambach, who had flown in from Germany especially for the gig, completed the formidable line-up.
There could have been no better choice of opening number than Wayne Shorter's muscular blues ''One by One.' The band instantly hit a groove and set the seal for the evening with an ensemble sound guaranteed to lift the 'hairs-on-the-back-your-neck', a deep feeling for the music, incredible musicianship, solos of astonishing audacity and technical skill and a determination that everyone, onstage and in the audience, was going to have a 'good time'.
Felix Ambach set the pace on Freddie Hubbard's fast burning 'Thermo'. Tightly arranged and swinging like the clappers, it offered a pleasing contrast between the burnished brass of Davison and Ingham and the more ethereal spaciousness of Mark Lockheart's tenor saxophone.
The Jazz Messengers were rightly known for their full-blooded, straight ahead approach to music, but Wayne Shorter's 'This Is for Albert' introduced a very different quality to the repertoire. Mark Lockheart produced an extended solo of exceptional beauty over the richly textured support of the rhythm section, a trance-like mood sustained by Felix Ambach's reflective drum solo. One couldn't help wondering whether this was an elegy for the loss of a dear friend? If so, who might Albert have been?
Wayne Shorter was in a much lighter mood when he penned 'Ping Pong,' which brought the first set to a close. If you can imagine the musical equivalent of an Olympic 'table tennis' match with its speed and accuracy being fused with an ample dose of fun and mischief, all culminating in an 'orgy' of rhythm from Ambach at his most 'Blakeyish', you will have some idea of what was happening on stage. Yes, we did have an advance warning. The band's publicity declares, "Wakey Blakey can be frighteningly swinging."
'Free For All' opened the second set to reveal yet another aspect of Wayne Shorter's fertile imagination; the space he provides for musicians to freely explore the music as individuals as well as in various other subtle instrumental combinations. An absolute delight!
Written as an expression of Freddie Hubbard's feelings towards the Civil Rights issues facing America in the early 1960s, 'The Core', with its distinct 'Spanish Tinge', is a declamatory piece with a universal message, even more meaningful in our world today than sixty years ago. Will Barry's elegant and emotionally charged solo inspired a rousing cheer from the audience!
Barry is indeed a versatile master of the keyboard. He led the way safely through Freddie Hubbard's labyrinthine 'Crisis' in company with the gorgeous bass of Adam King and Felix Ambach's floating percussion, his notes lingering in the air long after the climactic front-line explosion had faded away.
With the clock counting down the minutes to the 10 o'clock 'closing time' we reached the finale, a no-holds-barred Freddie Hubbard blues 'Down Under'. Notwithstanding the collective efforts of the entire band, this number truly belonged to the principal protagonists James Davison and Rory Ingham. Two very different personalities, but what a team they make and how they love to play, pushing each other to the limit – and beyond – as if competing in a good old-fashioned albeit good natured, cutting contest. No wonder the number, with its roaring out-chorus, brought the audience to its feet amid fervent cries for "MORE!"
"Why waste something we've carefully rehearsed?" responded Ingham as he counted in the second finale, Wayne Shorter's 'On the Ginza' to bring the evening to a dazzling and breathless close. WOW!
Art Blakey's message is in safe hands. Wakey Blakey should be prescribed by the NHS as a tonic for all ailments affecting humankind.
PS The band loved the intimate atmosphere and the great acoustics – thank you Progress!
* Rory Ingham writes, "Interestingly, my dad (Jazz Educator Richard Ingham) taught Jim (James) on a course in Scotland when he was a very young kid. So when we finally met it was a joy!"
Review posted here by kind permission of Trevor Bannister
Photo by Zoë White Photography
---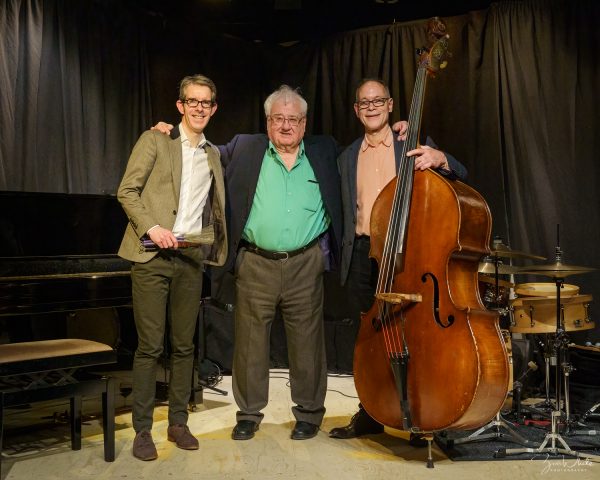 Progress Theatre, Reading, Friday 4 March 2022
John Horler piano, Alec Dankworth bass and Ronnie Jones drums
Listening to 'Re: Person I Knew', the opening number in John Horler's 'Tribute to Bill Evans', one could be forgiven for thinking that the members of the trio had played together as a unit for years. Not so. They had played only one previous gig. One can only be thankful for the stroke of chance that brought them together and planted the seed of an idea to showcase John Horler's world class talents as a pianist within a framework of a tribute to his key influence, Bill Evans.
The tribute focused on the early years of the Bill Evans' trio in the early 1960s – the time of his celebrated 'live' recordings at the 'Village Vanguard' with bassist Scott La Faro and drummer Paul Motian – when jazz first woke up to his astonishingly fresh approach to the music. As British pianist, the late Michael Garrick commented at the time, 'There was a wonderful moonlight sort of quality about his playing. It was as clear as daylight. Sparkling! He combined the qualities of disciplined accuracy, swing and impressionism in a way not heard in jazz before.'
Bill Evans made an indelible impression on John Horler when he saw him play 'live' in London for the first time.  'Bill is still the most influential figure in my playing,' John says. 'In an inspirational way.' In contrast to the introspection and shyness of Bill Evans, Horler is an ebullient character whose warmth, good humour and sense of fun immediately communicates with his audience.
But don't be fooled, John is 'up for a challenge'. One could almost hear him saying, 'Let's see where we can go with this, guys!' as he launched into a tantalising, seemingly chaotic, out-of-tempo introduction to 'How Deep is the Ocean', building the suspense until the full beauty of Irving Berlin's romantic classic appeared with the seamless entrance of Alec Dankworth's bass and the subtle brushwork of Ronnie Jones on drums. Warming to the occasion, the audience responded with generous applause and the first of many cheers.
Two Bill Evans' fans had actually flown down from Scotland for the concert. Although they had listened to recordings for years, it was seeing the music being played – 'in person' –  and the interaction between the musicians, a feature of the entire evening but particularly  evident on 'My Foolish Heart', that thrilled them and enhanced the emotional experience of listening. Who could resist the subtle blend of John Horler's own 'moonlight touch', Alec Dankworth's gorgeous bass and the magical textures conjured by Ronnie Jones' fingertips on his cymbals? It's hard to believe that this tune in its original form as a film theme was dismissed as 'sentimental bloop-bleep-bloop'.
The alchemist's touch was also at work to transform the dreamy title track from Disney's 'Alice in Wonderland' into another nugget of jazz gold. 'Was John up to his aural tricks again with the introduction?' I wondered.  I'm sure that I detected more than a trace of 'There's a Song in My Heart' before Alice hurried off on her adventures. Witty, charming and full of airy spaciousness, this was an absolute delight.
Alec Dankworth's exquisite bass playing led the melodic line over the gentle breeze of a bossa-nova rhythm on 'The Dolphin'. First recorded by Bill Evans on Fender Rhodes keyboard with an orchestral backing for the experimental album 'From Left to Right', this scaled down arrangement for the trio worked magnificently.
John Horler's angular, staccato phrases set 'My Romance' in motion and brought the first set to a spectacular close with rapidly fired exchanges between the respective musicians.
The opening two numbers of the second set shone further light on the contrasting and sometimes conflicting elements of Bill Evans' complex musical personality. The quirky appeal of 'Very Early' kept one second guessing as to the direction it was heading in, while the bitter/sweet emotions of Henry Mancini's 'Days of Wine and Roses' demonstrated quite simply that Bill couldn't resist a great melody.
Horler made just one deviation from his programme in order to pay tribute to Chick Corea who died just over a year ago. 'Windows' with its intoxicating mix of styles, changing time signatures and swirling rhythms held everyone in its grip. Superb!
An impeccable interpretation of 'Blue in Green', capturing its unique feeling of calm and stillness, served to remind us of Evans' massive contribution to the classic Miles Davis album, 'Kind of Blue'. Bill might not have received any writing credit for the tune; that was attributed to Miles, but his DNA runs right through it.
'Waltz for Debby' is an enduringly catchy tune and an early example of ¾ being used in jazz, dating from Evan's 'New Jazz Conceptions' album of 1956. It's a great tune, even if, as John Horler pointed out, 'most of it is actually played in straight 4/4'. On this instance it provided a perfect outlet for the lyrical bass of Alec Dankworth.
Unlike Bill Evans, who rarely spoke and who played with such intensity that his bowed head sometimes seemed to rest on the keyboard, John Horler freely chats to the audience between numbers. However, he recalled one occasion at the Pizza Express, Dean Street when Bill did break his silence. He played 'The Peacocks' and paid tribute to its composer Jimmy Rowles who happened to be in the audience, sitting only a couple of tables away from John.  Jimmy, a 'monster' of a piano player himself, was visibly touched by the compliment.
John's own interpretation of this enigmatic number expressed its sadness and aching beauty in masterful fashion – an outstanding performance!
The dark drama and intense rhythmic power of 'Nardis', brought a concert of world-class stature to an explosive climax with its 'seat of your' pants excitement, topped by Dankworth's singing bass and Jones' hand drumming. WOW! As one punter later remarked on his way out of the auditorium, 'I knew John Horler was a good pianist, but I didn't realise he was that good!'
Segueing from Bill Evans' Peace Piece' to Leonard Bernstein's nostalgic lament 'Some Other Time' John Horler brought the evening to a close with a deeply moving reflection on the tragic events unfolding in Ukraine. He expressed the 'Sound of Freedom' more powerfully that any number of words could possibly convey.
---
As ever, thanks are due to the Progress Theatre Front of House team for their warm hospitality and the excellent quality of the sound and lighting, to Hickies Music Store of Reading & Tiverton for the hire of the excellent Yamaha piano and to the audience for the generous donation of £105 for British Ukrainian Aid. Further donations can be made via https://british-ukrainianaid.org/make-a-donation/
Review posted here by kind permission of Trevor Bannister
Photo by Zoë White Photography
---

Progress Theatre, Reading, Friday 28 January 2022
Vasilis Xenopoulos tenor saxophone, Quentin Collins trumpet & flugelhorn, Ross Stanley piano, Simon Thorpe bass, Matt Fishwick drums
Dexter Gordon, who died in 1989 aged sixty-six, was a true colossus of 6' 6", whose stature as a tenor saxophonist and composer matched his massive frame; a sharp sense of outfitting, a smart choice of hats and an engaging personality completed his persona as the 'cool hipster' captured in so many atmospheric monochrome photographs throughout his five-decade-long career.
He began as a sideman in the big bands of Lionel Hampton, Louis Armstrong, Fletcher Henderson and Billy Eckstine, from which he emerged as an important and influential soloist in the Bebop revolution of the late-1940s. Sadly, this early promise was decimated by narcotics and Dexter spent most of the 1950s in various 'places of correction'.
The 1960s saw his renaissance and a return to the recording studio for the Blue Note and Prestige labels. After a London date at Ronnie Scott's in 1962 he made his home in Europe for the next fourteen years, which included a fruitful residency at the 'Montmartre Jazzhus' in Copenhagen, where he found a peace and respect denied to him in his native country. In his latter years Dexter earned an Oscar nomination for his leading acting role in Bertrand Tavernier's 1986 movie Round Midnight.
Based on pianist Bud Powell's expatriate life in Paris, it also closely mirrored Dexter's own experiences of living in Europe. He returned to the US in 1976 and died in Philadelphia on 25th April 1990 leaving an indelible impression on those fortunate enough to hear him play in person and countless more who discovered his music from his vast legacy recordings.
Vasilis Xenopoulos was one such young musician who fell under Dexter's spell, saving his hard-earned pocket money to buy the precious albums that would influence his playing and one day find an outlet in the Dexterity Quintet which lifted the roof of Reading's Progress Theatre on Friday 28 January.
The tightly arranged exuberance of 'Evergreenish', from the 1970 Prestige album 'The Jumpin' Blues', set the pace and the style for the evening; long, flowing solos of dazzling brilliance propelled by the straight-ahead, unfussy swing of the rhythm section. Neither Ross Stanley nor drummer Matt Fishwick give very much away by way of facial expressions, but the obvious enjoyment of playing in such a band, spurred on by the enthusiastic support of the audience was clear to see on Simon Thorpe's smiling face.
Dexter acquired the sobriquet 'Society Red' as a seventeen-year-old member of the Lionel Hampton band and had he ever completed his autobiography it would have borne the title, 'The Saga of Society Red'.  Instead, it was immortalised on the 1961 Blue Note album 'Doin' Allright'.
It's a brilliantly conceived number with a funky, bluesy feel and brief punchy unison statements punctuating the solos, which once again hit astonishing heights.
Vasilis's introduction to 'Montmartre' prompted an hilarious cautionary tale of his once taking a 'comfort break' at a jazz club only to be assailed by a zealous jazz 'anorak'. He insisted that Vasilis had incorrectly attributed  the 'Montmartre Jazzhus', Copenhagen as the inspiration for Dexter's tune rather than the more famous artists' district of Paris, where Dexter had also lived for a while during his European sojourn. Vasilis's riposte that he had visited the Jazzhus in person and that the walls covered with photographs of Dexter told a different story, fell on stony ground.
The number itself, first recorded at the 'Jazzhus' for the Steeplechase label in 1964, leapt into life as an up-tempo Latin swinger. Apart from the breathtaking solos from the Xenopoulos/Collins front-line, it featured the cascading piano of Ross Stanley and the dynamic drums of Matt Fishwick.
Jazz musicians have the knack of finding nuggets of gold from the most obscure of sources – in this case the Sammy Khan/Jule Styne collaboration 'I Guess I'll Hang my Tears Out to Dry' which Dexter rescued from obscurity on his 1964 Blue Note album 'Go'. With Quentin Collins switching to the mellow toned flugelhorn, Vasilis at his most sumptuous on tenor, and underpinned by Simon Thorpe's singing bass, this proved to be an object lesson in the art of ballad playing. Vasilis' a cappella coda was something to die for.
With the audience on the tips of their toes straining to catch the random quotes thrown out by Vasilis' eloquent tenor, 'It's You or No One', another Khan/Styne collaboration, closed the first half in a joyous manner with a full-throttle nod towards Dexter's 'Montmartre Jazzhus' recording of 1964.
The second set opened with 'Dexterology', a showcase for Vasilis's own considerable writing talents, followed by 'Tivoli', a delightful jazz-waltz that captured the unique atmosphere and brightly lit gaiety I fondly recall from an evening spent long-ago in the Copenhagen pleasure gardens. The number appears on the last album released under Dexter's name, 'The Other side of Midnight'.
The next number didn't really need an introduction – the title says it all – 'Hanky Panky', a cheeky, shuffly blues-march from Dexter's 1965 Blue Note 'Clubhouse' album.  A wonderful feeling of tension-and-release between the respective solos, added an edge of nervy excitement to the fun.
Vasilis' gorgeous interpretation of  'If You Could See Me Now', originally penned by Dexter's near-contemporary, pianist/arranger/composer Tadd Dameron for vocalist Sarah Vaughan way back in 1946, stood out as perhaps the highlight of the evening. Supported by the deft touch of Ross Stanley's accompaniment – what an accomplished musician he is, and the sensitive backing of Simon Thorpe and Matt Fishwick, Vasilis absolutely commanded the stage and held the audience spellbound. Only one word would suffice to describe the performance – 'Majestic'.
The no-holds-barred flag-waver 'Second Balcony Jump', a Billy Eckstine composition dating back to Dexter's earliest days, brought an exhilarating evening and a fitting tribute to a legend of the music to a spectacular close. A grand finale indeed – wailing tenor, soaring trumpet, rolling piano, and explosive drums, topped by a gladiatorial exchange of 'fours' to keep everyone on their toes to the very last note – and all held perfectly in place by the pulse of Simon Thorpe's rich toned bass. And, I should add, achieved without the aid of any amplification! Brilliant!
Vasilis should, of course, have appeared at Progress with his Dexterity Quintet in the spring of 2021. There is no need to explain why that didn't happen.  All I can say, is that it was worth the wait and that  we wish him continued success with the band and album: Dexterity: The music of Dexter Gordon
Promoters please note – this is a band not to be missed!
As ever, thanks to the House team for the excellence of hospitality, smooth running of the evening and superb sound and lighting. And last, though by no means least, thanks to the wonderful audience whose support ensures that jazz remains 'live' on the stage of the Progress Theatre.
Review posted here by kind permission of Trevor Bannister
Photo by Zoë White Photography
---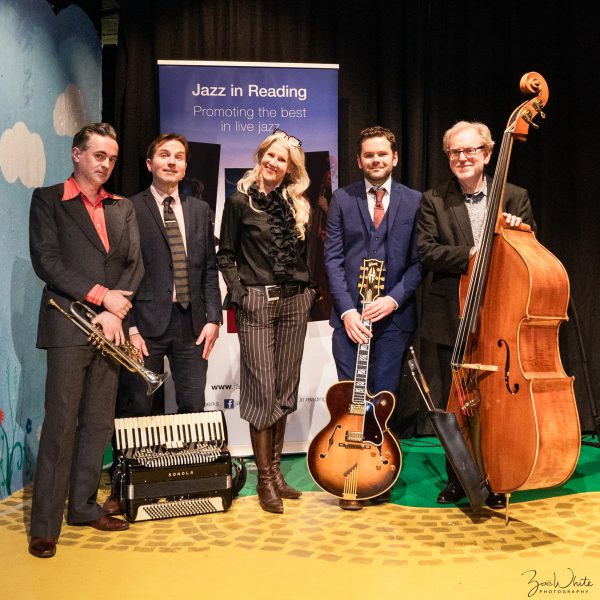 Progress Theatre, Reading, Friday 17 December 2021
Katya Gorrie vocals, Jonny Bruce trumpet, Mirek Salmon accordion, Andy Bowen guitar and Andy Crowdy bass
Judging by the reception given to Katya Gorrie and her four partners in song-and-tune, by the near full-house audience at Reading's Progress Theatre on Friday 17 December, I am not alone in being a great fan of the Moscow Drug Club. No matter that the entire concept is a fantasy drawn from the deliciously decadent lyrics concocted by B.B. Gabor, an émigré Hungarian songwriter who settled in Canada. I like to indulge in the illusion that Katya really did meet up with her dissolute bunch of minstrels in rehab after suffering the effects of a night at 'The Moscow Drug Club' – a place where members 'could have a smoke', cock-a-snoop at authority, relax in the musical intimacy of its intoxicating atmosphere and 'where the Reds played the blues'. Can you think of any better antidote to the ravages of COVID and endless disclosures of political sleaze?
Best of all, I love the honesty of the Moscow Drug Club. When they play for fun, they go for it full-heartedly, setting the pulse racing and the toes tapping; they deflate pomposity with a twinkle of the eye and when life is S…, they tell the story exactly as it is. And by doing so, they introduce us to a wonderful melange of songs, imbued with both the theatricality of Katya Gorrie that has been part of her life from earliest childhood in Canada and the brilliant musicianship of Messrs Bruce, Salmon, Bowen and Crowdy.
'It Had Better Be Tonight (Meglio Stasera)', a lively samba composed by Henry Mancini with lyrics by Johnny Mercer and a featured number in 'The Pink Panther' movie, set the evening off to an exuberant start. Aided and abetted by Jonny Bruce's full use of his plunger mute and the 'deep throated' accordion of Mirek Salmon, the cynical lyrics of Eartha Kitt's 'Pink Schmink', presented a very different picture of love. When the final verse posed the question, 'What have you got if you haven't got love?' 'I'll take the Jaguar on the right!' came the reply.
Like Eartha Kitt there was very much more to Norma Deloris Egstrom than ever revealed by her glamorous alter ego 'Miss Peggy Lee'. She was a song writer of rare quality as ''The Gypsy with the Fire in His Shoes' firmly testified. It blazed with the excitement of the bull ring and the rhythms of flamenco. Olé!
Katya sent the mind boggling when she introduced the next piece, a co-composition with Mirek Salmon, as being a 'Rudyard Kipling outing for adults'? True to her word, 'Serpentine' was indeed an atmospheric exploration of seductive sensuality, enhanced by the closely mic'd Miles Davis-ish trumpet solo by Jonny Bruce.
'When I Get Low, I Get High', a hit song for improbably named Marion Sunshine, turned the clock back to the sheer joy, flamboyance and razzmatazz of 1920's vaudeville, with Katya accompanied by the tuneful voices of her male backing quartet.
Mirek Salmon's melancholic accordion set the scene for Jacques Brel's 'The Port of Amsterdam', a song that made an indelible impression on Katya's imagination when she first came across it as a child amongst her parents' eclectic collection of records. It developed in a kaleidoscopic sort of way to capture Brel's vision of the sights, sounds and people of the port. Brilliant.
The final two numbers of the first set could not have presented a greater contrast. Swapping his double bass for a guitar, Andy Crowdy joined Andy Bowen in, what else but Charles Aznavour's pulsating 'Two Guitars'. Having it hit the heights of inspired invention, we immediately descended into the dark territory inhabited by 'A Jockey Full of Bourbon', Tom Waits' elegy for a drunken taxi driver and the series of mishaps that behalf him. Katya expressed the bleak narrative brilliantly. Jonny Bunce's concluding statement on the trumpet lifted the roof, but it couldn't lift the feeling of waste and despair engendered by the song.
The second set opened with 'Miserlou', a traditional Turkish song, which found a surprising new lease of life as a 'surfing' hit for Dick Dale in the early 1960s, later featured on the soundtrack to 'Pulp Fiction'. Thankfully, the MDC interpretation retained all the mysterious spirit and rich eastern Mediterranean flavours of the original.
The gentle 'Just Squeeze Me (But Please Don't Tease Me)', provided the opportunity for a welcome reprise of the vocal charms of Katya and her boys, who then cut-loose with a full-bodied tribute to Louis Armstrong in the fateful tale of 'Ole Man Mose'. As Jonny Bruce's trumpet dazzling trumpet notes ascended to the heavens, we were reminded that even fifty years after his death, Louis's influence is as strong as ever!
The brilliant solo guitar of Andy Bowen lightened the moody darkness of Tom Waits' 'Temptation' before his compatriot in the rhythm department, Andy Crowdy, took centre stage. Not only did his bass hit a great groove to 'bookend' Jacques Brels's classic 'Jacky', but he displayed his talents to their full glory in a technically impressive and wittily conceived solo. I picked out quotes from 'We Three Kings' and 'Silent Night' and feel sure that even more escaped my attention. Great fun!
The flute-like notes of Mirek Salmon's accordion added a special dimension to Leonard Cohn's 'Dance Me to the End of Love' and confirmed once again that in his hands it is a beautifully expressive instrument and a perfect accompaniment to Katya Gorrie's voice.
All too soon, the moment arrived to call time on the Moscow Drug Club, but not before Katya and the band paid tribute to B.B. Gabor and the song which inspired its creation, 'Moscow Drug Club' – the curious and only place where 'the Red's play the Blues' and where it's possible to rub shoulders and share a drink with the varied company of Tom Waits, Louis Armstrong, Marion Sunshine, Leonard Cohen, Eartha Kitt, Duke Ellington, Jacques Brel and Miss Peggy Lee.
Our thanks to 'sound wizard' Rich and the Progress Front of House Team.
May I wish you all a safe and 'swinging' Christmas, as we look forward to the promise of some more great gigs at Progress in the New Year.
Review posted here by kind permission of Trevor Bannister
Photo by Zoë White Photography
---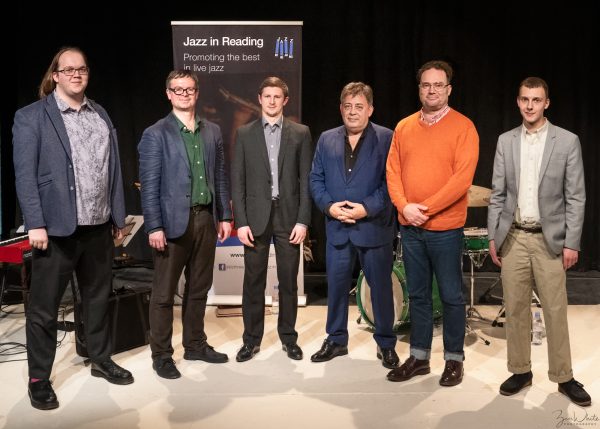 Progress Theatre, Reading, Friday 26 November 2021
Mark Armstrong trumpet, James Wade-Sired trombone, Tom Ridout alto & tenor saxophones, recorder, Gareth Williams keyboard & vocal, James Owston bass, Clark Tracey drums
A last-minute surge in ticket sales ensured a near full house for the penultimate gig in Clark Tracey's much delayed '60th Birthday Tour' at Reading's Progress Theatre on Friday 26 November. While any risks to life and limb from the anticipated Storm Arwen were strictly in the lap-of-the gods, the team at Progress has worked tirelessly to make the theatre as safe as possible from the threat of COVID. What's more, the spacious feel of the extended and freshly renovated bar area makes Progress an even more attractive, not to say comfortable, venue for world class jazz, without any loss in its welcoming atmosphere. And what better way to celebrate this new step in the theatre's illustrious history than with the powerhouse sextet led by Clark Tracey.
A medium tempo groove set the evening swinging and the toes tapping with Joey Defrancesco's arrangement of the Jerome Kern/Johnny Mercer 1942 romantic classic 'Dearly Beloved'. The full sound of the ensemble, led by Mark Armstrong on trumpet, taking a brief leave of absence from his role as Director of the National Youth Jazz Orchestra (NYJO) contrasted beautifully with the mellow tones and surprising delights of Gareth Williams' vocal.
As well as being one of the great drummers on the contemporary scene – the distinct 'snap' of his hi-hat cymbals coming together is alone something to behold – Clark Tracey's writing is full of challenge and excitement, a perfect launching pad for solo exploration. 'Remind Me in Three' exploded as a torrent of sound, highlighting the precocious talents of multi-award saxophonist Tom Ridout on tenor and the amazing nineteen-year-old James Wade-Sired on trombone. 'Ace Move', by comparison evoked a sense of polished spontaneity, a Basie-like feel of latent energy, set in motion by a sublime piece of storytelling from the bass of James Owston – another remarkable young talent.
Sadly, 'Caoineadh (Lament) for Cuchulainn', a feature for Tom Ridout on recorder, was marred by a troublesome sound loop, on this otherwise hauntingly beautiful Tracey dedication to his Irish Great- Grandmother, Mary Monaghan.
Ridout switched to alto for the closing number of the first set, giving a biting edge to a full-throttle work out on Herbie Hancock's composition 'Darts'. The seasoned experience of Tracey, Williams and Armstrong showed its hand with perfectly placed accents from their respective instruments to keep up the momentum and push the music to new heights of invention. Fabulous!
Harry 'Sweets' Edison is better known as a star of the early Count Basie Orchestra and for the uniquely economic trumpet style that he fashioned later in his career, than for his composing skills. More's the pity, for 'Kitty', from a 1962 collaboration with Ben Webster, was a striking demonstration of how a seemingly simple tune set to a relaxed swinging tempo can inspire great jazz. It was a true 'box of delights' with Mark Armstrong's growling trumpet and the intuitive interplay within the rhythm section amongst its many high spots.
Tom Ridout's 'Vega' captured the aura of the brightest star in the northern constellation of Lyra to perfect effect and confirmed that in the right hands, the humble recorder deserves its place as a jazz instrument. Gareth Williams' exquisite piano solo added its magic to this excursion into deep space.
About twenty-five years ago Clark Tracey composed a number specifically for his trombonist of that time, the great Mark Nightingale. The result was 'Mark Nightingale Sang',  a number which certainly expressed the spirit of its more famous counterpart even if it followed a different melodic pathway. On this occasion James Wade-Siren stepped into Mark's footsteps and showing a confidence and maturity way beyond his nineteen years, held the audience captive with a spellbinding solo that makes one wonder what this young man will accomplish in the future: a star in the making!
The final two numbers of the evening took us right back to the roots of hard bop with the  roaring 'Blakey-esque' 'One by One' from the pen of Wayne Shorter followed by Slide Hampton's 'New World'. The latter, a moving tribute to Slide, a trombonist and prolific writer and arranger who passed away at the age of eighty-nine on 18 November, featured the 'man himself', Clark Tracey, in a mesmerising drum solo – technically brilliant, dynamic, melodic, rhythmically super-charged, emotional – a tour de force that brought the gig to a close.
I understand that Clark proposes to disband this group once its touring programme is complete towards the end of this year and has a number of new projects up his sleeve to explore in the future. Though we shall regret its passing, we can only be thankful that it didn't fall victim to Lockdown and  for the opportunity to see it at a peak of its powers; an inter-generational band to remind us of what jazz is about and holding the promise of great things to come.
Our thanks also to the Front of House Team at Progress for their warm welcome, hospitality and attention to detail.
Review posted here by kind permission of Trevor Bannister
Photo by Zoë White Photography
Photo by Zoë White Photography
---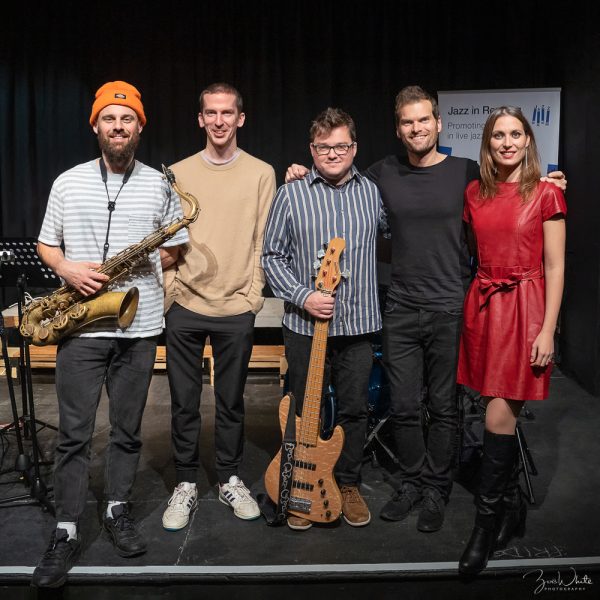 Progress Theatre, Reading, Friday 22 October 2021
Andrew McCormack keyboard, Noemi Nuti vocals, Josh Arcoleo tenor saxophone, Conor Chaplin electric bass and Joshua Blackmore drums
Sometimes you hear a sound of such originality, energy and stunning beauty that it quite simply 'Knocks you out.' The opening night of the new Jazz at Progress season on Friday 22 October bore witness to such an occasion. The musicians who comprise Graviton, a five-piece band, led by Andrew McCormack, held a near capacity audience spellbound for a magical two-hour performance of 'The Calling.'
Fusing influences from a variety of musical genres, McCormack writes on a grand scale to fulfil his epic vision of eight pieces tracing the journey of the archetypal 'hero' in the pursuit and eventual destruction of the 'dragon.' It hardly seemed credible that music of such depth of sound and richly textured complexity could emanate from a mere five players; five musicians I should add, who were playing together for the first time in almost two years.
But nothing could have prepared my senses for the beauty and exhilarating effect of Noemi Nuti's crystal-clear vocal tones. She takes the art of using the voice, both as an improvising instrument within the ensemble, and as a soloist, to new levels of possibility. Amazing!
'Breathe', 'The Calling' and 'The Walled Garden' simply swept me along in a fervent tide of sound and rhythm. I scarcely noticed the interludes between each piece. In no time, we arrived in the company of the 'The Magic Mentor'.  As McCormack explained, 'Everyone needs a guiding light of inspiration in their life.' In his case, it was and remains, the towering influence of the great saxophonist Jean Toussaint, to whom this beautifully reflective piece was dedicated.
In complete contrast, 'The King is Blind' expressed a protest against the dark forces of tyranny that can only be likened to a primeval scream, such was its intensity. Driven forward by the power of Joshua Blackmore's drumming and McCormack's jagged phrasing at the keyboard, Josh Arcoleo delved into the depths of his soul to summon an astonishing solo of impassioned rage to bring the first set to a dramatic close.
Andrew McCormack took to the stage alone for the opening of the second set. Switching his keyboard to piano mode, he embarked on a lengthy exploration of his own composition, 'Dreamcatcher'. Not only is he delight to listen to, but also a delight to watch – you can see ideas taking shape in his face, followed by a look of determined concentration as he sets out to express them in layer upon layer of brilliant free-flowing improvisation.
Josh Arcoleo, Conor Chaplin and Joshua Blackmore joined him for 'Windows' a heartfelt tribute to its composer, Chick Corea, the 'giant of music' who died earlier this year at the age of seventy-nine. The waltz-time arrangement remained faithful to Chick's 1967 recording with the Stan Getz Quartet with the same sense of warmth and subtle rapport between the respective musicians that Is such a feature of the original.
The brilliantly conceived 'Belly of the Whale' released a wave of powerful emotions which reverberated throughout the Progress auditorium. It served as both a cry of anguish and despair and as a metaphor for those entombed within circumstances seemingly beyond hope.
The light of hope, however, can never be completely extinguished and emerged in the pure sound of 'Andromeda'. The simple device of an electronic loop sustained a combination of Noemi Nuti's voice and the single notes of a glockenspiel to compelling effect.
The 'Dragon', the grand climax to the epic saga of 'The Calling' finally brought us face-to-face with the source of all evil as personified in Joshua Blackmore's drums. The accuracy and driving energy of his playing had been evident throughout the evening. Now he unleashed the full scale of his imagination and ferocious power in a solo of nail-biting excitement. For all that, the dragon's destiny lay in defeat. 'The Calling' had turned full-circle and our 'hero's' journey was complete.
The original scheduling of 'The Calling' at Progress fell victim to COVID-19 and the Lockdown. It's enduring theme – the 'hero's journey' and the strength of the human spirit, has assumed new depths of meaning in the intervening eighteen-months – it doesn't take too much thought to picture the numerous 'dragons' which have emerged in recent time, or the 'heroes' who have sought to rescue us from such dark forces. For that reason, it made a fitting choice to open a new season of jazz at the Progress Theatre. But more importantly, it celebrated the return of 'live' music – great music. Welcome back, we've missed you!!!!!
Our thanks to the team at the Progress Theatre who ensured that neither the COVID safety restrictions nor unfinished renovations on the building got in the way of a thoroughly enjoyable evening. Our thanks also to a wonderful audience. Jazz at Progress is back on the road!
'The Calling' is available as an album on the Ubuntu label (UBU0025) and Andrew is hoping to tour with Graviton next year.
Review posted here by kind permission of Trevor Bannister
Photo by Zoë White Photography
---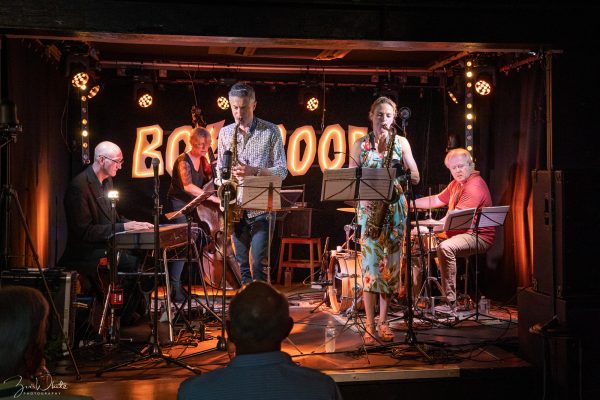 Livestream Jazz from the 'Boileroom', Guildford. Wednesday 15 June 2021
In collaboration with Guildford Jazz
Dave & Judith O'Higgins tenor saxophones, Graham Harvey keyboard, Marianne Windham bass and Sebastiaan de Krom drums
Yes folks, it's true, your ears didn't deceive you – that was the sound of genuine applause that you heard reverberating throughout the 'Boileroom', Guildford on the evening of Wednesday 15th June; the wildly clapping hands of 'a perfectly formed bijou audience', as Dave O'Higgins liked to describe it, enraptured by their first taste of 'live' jazz for the first time in 'how many months'.  What a lift it gave to the performers – the missing ingredient from the otherwise hugely successful season of 'Boileroom' 'Livestreams' that began way back in January; real people to nourish the mystical creative process we know as jazz. Wonderful!
And what better choice of band for the occasion than 'His n' Hers', the husband and wife team of tenor saxophonists Dave and Judith O'Higgins and their three 'buddies', Graham Harvey, Marianne Windham and Sebastiaan de Krom. This is a group in the true sense of the word, with everyone up for the challenge presented by a perfectly balanced set of jazz standards and O'Higgins' originals (Dave admits to coming up with the initial ideas, but credits Judith with shaping the melodic form), all of which are to be found on the 'His n' Hers' album recorded in the midst of Lockdown #1 last year, available in digital, CD and vinyl formats via https://ohig.bandcamp.com/album/his-n-hers
I'm not sure of exactly what sort of 'Hanky Panky' Dexter Gordon had in mind when he penned this jazz march, but it made a playful opener to the gig with Judith's muscular tenor well to the fore. She is a remarkably talented lady who combines her music with a career as a forensic pathologist, not to mention her accomplishments as a graphic artist – her design, with its nod towards the classic 'Avengers' TV series of the 1960s, graces "His 'n' Hers", an album which she also helped to engineer.
Who can forget the panic buying of early 2020 when hapless shoppers across the country searched in vain for rolls of precious toilet tissue? Dave and Judith chose to commemorate this desperate phenomena with 'Los Bandidos Bogarolles', which despite its 'Earthy' subject matter proved to be a delightful Latin flavoured number, based on the chord sequence of 'On Green Dolphin Street'.
'Save Your Love for Me' was famously recorded by vocalist Nancy Wilson with Cannonball Adderley in 1962. This interpretation swung effortlessly and featured the contrasting sounds of the tenor protagonists in both solo and ensemble mode, along with the lyrical invention of Graham Harvey at the keyboard – what a marvellous player he is!
As Dave explained, Dexter Gordon, who played with Louis Armstrong in his early career, straddled the eras of jazz from 'swing', through bebop, hardbop and beyond, and even embraced some of the innovations of John Coltrane. He was a true survivor who overcame difficulties in his homeland with a long sojourn in Europe and ultimately starred in the classic movie 'Round Midnight' – a story closely aligned to his own life and experience, though actually based upon pianist Bud Powell's life as an émigré in Paris.
Dave paid tribute to Dexter's majestic style, once described as 'excruciatingly enjoyable', with 'Soy Califa', familiar to 'Boileroom' regulars as one of the tunes that accompanies the opening credits to the livestream gigs. Sebastiaan de Krom and Marianne Windham kept the 'pots boiling' in the rhythm department and whipped up a carnival spirit for a wailing front line, dominated by the tremendous tension building presence of Dave O'Higgins and the momentum he generates with the big sound of his instrument.
'Fourth Dimension', another original from the creative team of O'Higgins,  took a step further out with a passionate evocation of the territory inhabited by John Coltrane.
Fran Landesman's ballad, 'Spring Can Really Hang You Up the Most' is a favourite amongst jazz musicians, but can its sardonic, bittersweet emotions ever have carried such a powerful message than now, in our times of COVID-19 inflicted frustration. Judith O' Higgins captured the mood and sentiments perfectly in her solo.
Following the darkly mysterious 'Theme for Doris' by Tina Brooks, a once promising Blue Note recording  artist who sadly fell into obscurity, the band returned to further reflect on 'Lockdown'. Thankfully jazz musicians are blessed with wit and good humour. They never lack perceptive imagination when it comes to tune titles or the ability to present sparkling 'new wine in old bottles'. Hence, 'I'll Remember April' gave birth to 'We'll Forget March'. Not the gloomy statement we might have expected but a joyful Latin excursion with a marvellous solo by Marianne Windham.
Inspired by the magic of West Indian cricket in its earlier days and fuelled by Sebastiaan's powerful drumming, 'Calypso Collapso' brought the evening to an exuberant close; a timely reminder that fortunes may have changed in the course of time but England have never lost their ability to fall apart at the crucial moment in a Test Series ie against New Zealand at Edgbaston as recently as 10th June!
And so, with an image of England's wickets flying through the air, possibly final gig in a magnificent season of Livestreams from the 'Boileroom' and a brilliant reaffirmation of 'Live' jazz drew to a close. No words can adequately express our thanks to Marianne Windham for her imagination, dedication and energy in making the project possible. She has kept jazz 'alive' for musicians and audiences alike throughout times of unprecedented challenge with a world-class innovation that will surely retain a complementary role to live performance in the future.
Thanks also to the Boileroom technical team of Dom and Beth and to Steve of Ultimate Stream for the outstanding quality of production, sound and lighting. And finally, thanks to the numerous jazz societies whose combined efforts helped to promote the events and create an  online audience approaching 2,000 over the course of seven events.
Let's raise a glass to all those involved and drink a toast to the resumption of 'Normal Service' in the very near future.
Here's a final word from Zoë White, Jazz in Reading's consummate house photographer: "I felt very lucky to attend the gig. It was great to be back behind the lens and to soak up the jazz vibe and bonhomie in person. Hugely enjoyable. I loved the atmosphere and the good-natured connection between Dave, the band and our 'perfectly formed 'bijou' audience'." 
Review posted here by kind permission of Trevor Bannister
Photo by Zoë White Photography
---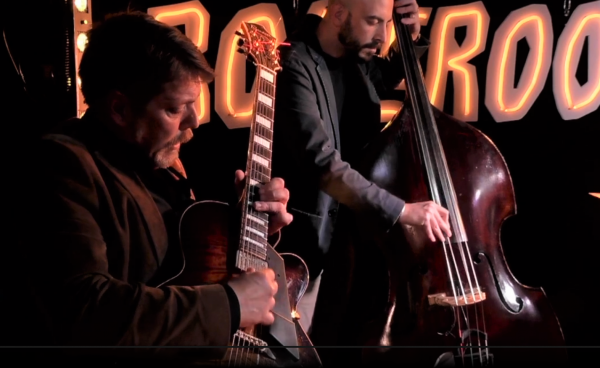 Photo by the kind permission of Guildford Jazz and the Boileroom team
Livestream Jazz from the Boileroom, Guildford, Wednesday 5 May  2021
In collaboration with Guildford Jazz
Vasilis Xenopoulos tenor saxophone, Nigel Price guitar,
Dario Di Lecce bass, Winston Clifford drums
As I have said on several previous occasions, the Livestream  gigs from the Boileroom, Guildford, each of outstanding quality, have truly been the next best thing to a live event. However, on this occasion one camera shot, incorporating both the stage and the auditorium, added a new dimension to the experience.
It brought home how tiny and how empty the Boileroom is. But for a single camera mounted on the floor there is nothing in front of the stage except space. Just imagine how difficult it must be for the musicians to play as if to a live audience without anyone actually being there. Do they conjure an image of a full house in their mind's eye, I wonder or is it more a case of 'Here we are guys? Let's go for it!'
I suspect it's the latter, for the opening bars of Kenny Burrell's 'Lyresto', from a 1958 collaboration with John Coltrane, simply oozed with good spirit and the promise that fireworks would fly in a celebration of many great guitar/tenor partnerships from the past sixty years. The sharper edge of the Xenopoulos tenor blended perfectly in unison with the depth and glowing tone of the Price guitar and made for an exciting contrast throughout the solos.
It came as no surprise to learn that Dario Di Lecce named bass legend Paul Chambers as a major influence on his playing when he was interviewed during the Q & A session later in the evening. His walking bass line on 'The Right Time' was absolutely superb, as rich in tone as the hue of his beautiful instrument. It added an air of mystery to the original by British guitarist Dave Cliff recorded as the title track for an album with saxophonist Geoff Simkins in 1987.
The next offering was drawn from 'What's New' the second of two albums Sonny Rollins recorded with Jim Hall in 1962. They reaffirmed Sonny's status as a major innovator on his return to the New York scene after a self-imposed break of three years. Sonny had the intuition to find the 'jazz spirit' in the most unlikely show tunes and 'If Ever I should Leave You' from the Lerner and Loewe musical 'Camelot', a popular hit and signature tune for the singer Robert Goulet, was a perfect case in point. The XPQ interpretation was full of the majestic poise of Sonny Rollins and grace of Jim Hall, full of long inventive lines and with a dancing quality enhanced by the drums of Winston Clifford.
'Full House' unleashed the Boileroom theme (played, I now realise, over the screen credits that precede the livestreams) with a machine gun ferocity that brought 'all hands-on deck'. The early 1960s were clearly fruitful years for guitar/tenor features – this Wes Montgomery title comes from a live album recorded with the 'Little Giant' of the tenor, Johnny Griffin for the Riverside label.
'When Joanna Loved Me', from the 1964 'Easy Living' album, as one would perhaps expect from a collaboration between Jim Hall and Paul Desmond, was an altogether more gentle and lyrical offering.  Vasilis sustained the mood of gentle reflection set up by Price in his beautiful introduction, opening the way for a wonderful extended solo by Dario Di Lecce. Vasilis lifted the pace a little with a breathy solo that returned the tune to Nigel Price for a breath-taking coda.
Winston Clifford, a most sensitive and subtle percussion specialist, now set the 'pots boiling' and lifted everyone's game on 'Ready and Able' from the appropriately named 1967 George Benson album, 'The George Benson Cookbook'; performed,' as Nigel Price pointed out, 'Without the aid of a safety net! Wow!
'On the Trail', a movement from composer Ferde Grofé's Grand Canyon Suite and the title track from a Jimmy Heath Riverside album with Kenny Burrell, rounded off the evening at a gentle saunter, conjuring visions of the wide-open American West – another tune from an unlikely source that works perfectly in a jazz setting.
In the absence of a live audience to cry out for more, Marianne Windham, stepped in to call for an encore. In time honoured tradition, the band checked their watches and 'reluctantly' agreed. The result?  Imagine the theme statements to 'Straight No Chaser' and 'Billie's Bounce' played in succession at Formula 1 speed, followed by a third, hybrid – combining the themes of the first two – a sort of 'bebop mix-and-match'. Chaotic, great fun, a dazzling conclusion to an outstanding evening of jazz and a prelude to what Winston Clifford declares is the 'bright future' for jazz and all live performance artists once we emerge fully from Lockdown. Hear! Hear!
As ever, our thanks to Marianne Windham of Guildford Jazz, Dom and Beth of the Boileroom and Steve from Ultimate Stream, for what is now a world-class presentation and to the various jazz societies and their friends who support this wonderful initiative.
A final note: check out the Parliamentary Awards for 2021 before the closing date of 14 May and cast your vote here for the Boileroom for the Jazz Innovation Award.
Review posted here by kind permission of Trevor Bannister
---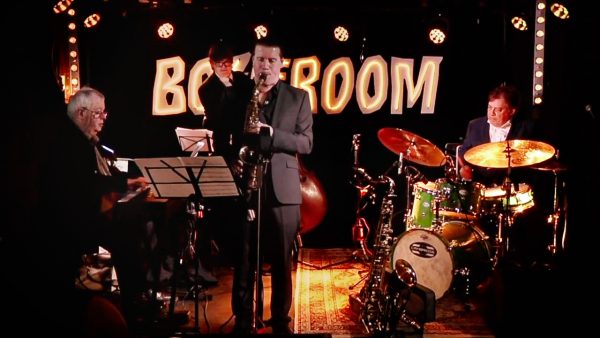 Livestream Jazz from the Boileroom, Guildford, Wednesday 14 April  2021
In collaboration with Guildford Jazz
Simon Allen soprano, alto & tenor saxophones, Bruce Boardman keyboard, Andy Cleyndert bass, Clark Tracey drums
Clark Tracey took on a monumental challenge when he began the task of selecting a set list to celebrate the compositions of his late father, the much-lamented Stan Tracey, for the hour-long Boileroom livestream.  For somebody who, by all accounts, was a reticent writer and found the process almost unbearably hard, Stan composed a vast library of consistently brilliant work throughout a professional career of more than six decades. It stands as an enduring legacy of his inventive genius. But what to choose and what to leave out, and how to represent Stan's bands and the great players who have figured in the various line-ups? And the greatest question of all: who should take on the role of Stan as pianist?
In response, Clark took the sensible course of choosing pieces which are well loved by Stan's countless fans and have an emotional link to his life; each reflected a decade in his career. As for who should assume the role of pianist, there could have been no better choice than Bruce Boardman. His beautifully placed voicings and percussive, pared-down approach to the music bore a remarkable affinity to that of Stan and proved a revelation. Shame on me for never having come across his talents before.
Loyalty to his fellow musicians was one of Stan's greatest personal qualities, matched in equal measure by their loyalty to them. Clark joined his father, aged 17, in 1988; Andy Cleyndert became part of Stan's New Quartet in 1995, while Simon Allen began his association in 2008. They remained at the core of Stan's bands until his death. In the 'Q & A' session after the gig, Clark recalled that Stan rarely commented on a players' performance. The only sure way to know whether he approved of someone's playing, was to see whether they were hired again for the next date.
Simon Allen's searing alto opened the gig with 'Euphony', Stan's first recorded composition dating back to a session for the Melodisc label in March 1952 with Victor Feldman's All Stars. Its boppish feel has stood the test of time and reminds us that at that formative time Stan was very much a disciple of Bud Powell.
You could almost describe 'Afro Charlie Meets the White Rabbit' as one of Stan's 'Greatest Hits', as he recorded it so many times and it lent itself to many different interpretations, from quartet, originally with the wonderful Bobby Wellins in 1964, to big band. A spikey, quizzical piece, light years away from 'Euphony', it affirmed Stan's stature as his 'own man'. Simon Allen and Bruce Boardman set the scene for a rumbustious escapade, with surprises leaping out at every twist and turn, the toe tapping rhythm held in place by the firm bass and drums of Messrs Cleyndert and Clarke.  As you would expect with this allusion to Lewis Carroll and Alice's various adventures, something magical was going on here!
By way of a contrast to the tight structure of 'Afro Charlie', 'Rainbow at the Five Mile Road' – an evocation of the longest stretch of open road on the island of Jersey – allowed the group to take flight and really swing. It's a track from the 1969 quartet album with Peter King, 'Free an' One' which has just been reissued on reSteamed Records RSJ114 as a double CD package titled 'Wisdom in the Wings', along with 'Seven Ages of Man' by Stan's big band. Two classic albums to check out.
Simon Allen switched to soprano for 'Honey Hill', a wistful impression of a location in the Kent countryside. One can easily understand why it was so heavily requested by Stan's fans. An absolute delight. It also holds special significance for Clark, as the recording in June 1980 marked the first occasion that Stan allowed him to play in a studio.
'Benology' hit an insistent groove to celebrate another family event, the arrival of Stan's first grandchild, Ben, in 1990, with Bruce Boardman adding a touch of drama to Simon Allen's passionate soprano.
One of the great benefits of livestreaming is being able to see musicians at work in close up; a series of virtual masterclasses as the cameras switched from instrument to instrument, holding the image long enough in each case to marvel at the touch and dexterity of the individual players. And what a fantastic overhead view we enjoyed of Clark's drum introduction to 'Pajaraz Exoticas' – an object lesson in percussive invention that set the pace for ever more colourful excitement to come – a dedication to Stan's visit to South America.
It seems to me that a truly great jazz musician can use his or her creative talent to express every subtle nuance of the emotional spectrum. Stan Tracey was a member of but a handful of musicians who could achieve such heights through both his playing and his writing. His music is timeless and the pieces which closed the evening not only bore that hallmark of greatness, but seemed especially pertinent to the unusual times we find ourselves in.
'Pudding and Mince', with its echoes of 'Under Milk Wood', was filled simply with the warmth and love of human nature at its very best. Bruce Boardman's achingly beautiful unaccompanied keyboard on 'Ballad of Loos', a dedication to Stan's father who was taken prisoner during the Battle of Loos on the Western Front in October 1915, taken from his final recording, brought the gig to a fitting and poignant close.
As ever, our thanks to Marianne Windham, the driving force at the hub of the Livestreams from the Boileroom, Guildford and to Beth, Dom and Steve for the outstanding quality of the technical production.
Review posted here by kind permission of Trevor Bannister
---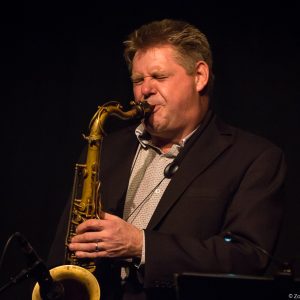 Livestream Jazz from the Boileroom, Guildford, Wednesday 10 March  2021
In collaboration with Guildford Jazz
Derek Nash saxophones, Graham Harvey keyboard, Marianne Windham bass, George Double drums
Watch out! By his own high standards, Derek Nash may not be totally 'match fit' after twelve months of Covid-enforced lay out, but back in the company of 'real' musicians, he's an explosive force to be reckoned with; the perfect guest to ignite the 'Boileroom' for its latest livestream in celebration of ten years of Guildford Jazz.
He hit the deck running with 'Water Jug', a Frank Wess dedication to another hard-swinging tenor man, Gene 'Jug' Ammons. The full tone of Nash's tenor set up a beautiful contrast with the elegant touch of Graham Harvey on the keyboard, all propelled by George Double's animated drumming and Marianne Windham's rock-steady bass.
Putting aside his muscular tenor saxophone for the lyrical tones of his near one-hundred-year-old Buescher curved soprano saxophone, Nash illuminated the darkest recesses of the Boileroom with the joyful 'Blue House Samba'. Inspired by the Mexican artist, Frida Kahlo, it was the first of four pieces from 'Down on Frenchman Street', Derek's latest album, dedicated to the area which has now become the centre of jazz in the birthplace of the music, New Orleans.
The Merriam-Webster dictionary describes a ladies' man 'as a man who shows a marked fondness for the company of women or is especially attentive to women'. Who else could that be but Duke Ellington? His most favoured and successful 'chat-up line, 'My, But You Make That Dress Look Lovely' (another track from the new album), inspired a sumptuous outing for the Nash baritone saxophone, in which the blues-tinged piano of Graham Harvey and the walking bass of Marianne Windham were two further highlights.
Pianist and composer Thelonious Monk was a man of few words and more often than not, no words at all, preferring to communicate more directly through his music. I guess that the classic Monkism, 'You Got to Dig It To Dig It, You Dig', stands on a par to the question once levelled at Fats Waller; 'Mr Waller what is swing?' To which he replied, 'Lady, if you gotta ask, you ain't got it!' As if to make the point, Derek Nash now on wailing alto, hit a funky groove and swung like the clappers on 'You Got to Dig It To Dig It, You Dig', title track for another recent album.
Neal Hefti famously contributed 'Li'l Darlin'' and 'Cute' to the Count Basie pad, one an object lesson in how to swing at the slowest pace imaginable, and the other a medium paced outing to feature the wire-brush work of the band's drummers. In this case, Derek Nash, reverting to tenor, upped the tempo and ingeniously intertwined the two tunes with a deft opening salvo by driving drummer George Double on brushes.
Readers of a certain age may well remember the BBC Northern Dance Orchestra (NDO) which broadcast regularly from Manchester for many years. Derek Nash's father, Pat, was an arranger for the band for 35 years, hence Derek was immersed in music and the world of musicians from his earliest years, counting legendary sidemen like Syd Lawrence and Gary Cox as part of his extended family. The delightful, spring-like, 'Waltz for My Father', with a gorgeous bass solo from Marianne Windham, paid a fitting tribute to Pat Nash.
The notoriously snobbish Broadway and Hollywood composer, Jerome Kern, regarded all jazz interpretations of his melodies as 'fraudulent imitations'. Was he squirming in his grave I wonder as Messrs. Nash and Harvey took their lead from the 1962 collaboration between jazz giants Gerry Mulligan and Paul Desmond, to perform an absolutely sublime arrangement of 'All the Things You Are'? He would surely have been impressed by the near telepathic understanding between the two protagonists and their breathtaking interplay, not to mention the sensitive support of Marianne Windham on bass and George Double on drums. As the saying goes, 'This number alone was worth the cost of the entrance ticket!'
Two more titles from 'Down on Frenchman Street' rounded off the evening; 'October', gorgeous ballad with Nash on tenor, and a spirited finale, 'Gmail Special' which expressed all the 'vim-and-vigour' of Benny Goodman's classic 1941 Sextet recording 'Air Mail Special' but managed to deliver its message in a fraction of the time. A great ending to a great evening!
No Livestream from the Boileroom would be complete without the Question & Answer Session, with Marianne Windham leading the discussion from questions submitted during the course of the evening by members of the online audience. As ever, the topics ranged far and wide, drawing a number of fascinating insights from each of the musicians and several memorable anecdotes. Notable amongst these was George Double's recollection of American vocal legend Jack Jones mispronouncing his name to the audience at the end of a concert so that it rhymed with Bublé and then thanked him for playing 'concussion'.
The session also provided the opportunity for Derek Nash to introduce each member of his saxophone family – a 1926 Buescher soprano, a Selmer Mark VI alto, a Selmer Super balanced action tenor (the same model played by John Coltrane) and a Conn Crossbar baritone (the same model played by Gerry Mulligan).
I have remarked in earlier reviews that Livestreams from the Boileroom are the next best thing to a live gig. This evening's concert took a step closer to complete authenticity with the appearance of a selection of Derek's CDs discreetly tucked away under a sidelight behind George Double's drums.
The full range of Derek's albums are available here
Our thanks to Marianne Windham, the driving force behind the Boileroom project, which now numbers eight organisations in its association, Fleet Jazz, Frinton Jazz, Scarborough Jazz and Southwold Jazz, having joined the founding members of Guildford Jazz, Berkshamsted Jazz, Chichester Jazz and Jazz in Reading, and which on this occasion attracted an online audience of 329!
Our thanks also to the Boileroom team of Beth and Dom, and Steve Helliker of Ultimate Stream, for the outstanding technical quality of the livestreams and the overall presentation which advances with every performance.
And finally, please raise a glass to Guildford Jazz on reaching its tenth Anniversary. Many congratulations!
Review posted here by kind permission of Trevor Bannister
---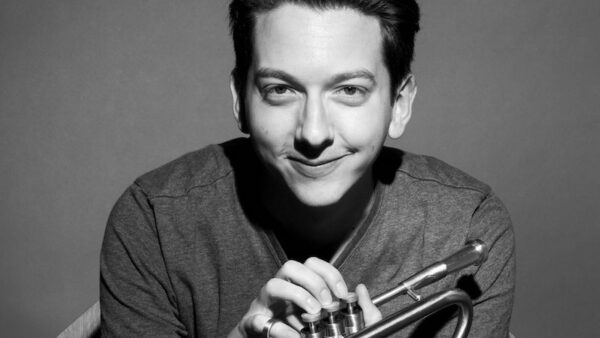 Livestream Jazz from the Boileroom, Guildford, Wednesday 10 February 2021
In collaboration with Guildford Jazz
Freddie Gavita trumpet/flugelhorn, Tom Cawley keyboard, Tom Farmer bass, Chris Higginbottom drums
Leaving aside the excellent quality of the music and the gold standards of presentation, sound and lighting, the informal post-gig 'Q & A' sessions have proved to be one of the key, and certainly most enjoyable elements of the recent Livestream concerts from the Boileroom, Guildford. There has been no lack of questions, each submitted online during the gig, and the musicians have responded warmly to Marianne Windham's infectious enthusiasm in her role as interviewer.
In the case of the Freddie Gavita Quartet, it was fascinating to learn that three of the players began their musical careers at an early age with the piano; Tom Cawley stuck with the instrument, while Freddie later switched to trumpet and Tom Farmer to bass (though not until he was eighteen and one night was forced to dep for an absent bass player). Chris Higginbottom's career began in a church choir, before he became firmly hooked on the sound of drums. When the musicians named their principal influences, you couldn't help but imagine what a band comprised of Miles Davis on trumpet, Phineas Newborn Jnr piano, Larry Grenadier bass and Roy Haynes on drums, might sound like. Roy Haynes, I'm delighted to say, is still with us at the remarkable age of 95, as is Larry, at a very active 55. Great fun!
The most searching question came from a gentleman who enquired about what advice could the members of the quartet offer to an aspiring jazz musician. 'Listen to players better than yourself,' came Freddie's instant reply, to the unanimous agreement of his colleagues. 'Listen,' echoed Chris Higginbottom, adding 'try to transcribe what people are doing.' 'Join a band,' offered Tom Farmer, 'and if you can't find one, form one!'
Freddie Gavita summed it up by saying, 'It's about finding a way to express the individual voice you can hear in your head.'
The spellbinding quality of Freddie's individual voice was immediately obvious in the opening bars of his own composition 'Yearning'; understated, flawlessly executed, beautifully articulated and warm in tone. He allows the music space to breathe and to grow in its own way. Tom Cawley added inventive momentum and demonstrated why he is such a highly regarded and much sought-after pianist. The singing bass of Tom Farmer and a subtle change of pace and time opened the horizon for further exploration and better trained ears than mine would have noticed that the band had segued seamlessly into Wayne Shorter's 'Yes and No' from his classic Blue Note album, 'JuJu'.
Herbie Hancock originally conceived 'One Finger Snap' as a dance of such complexity that it could only be performed in the 'glittering fantasies' of the inhabitants of the mythical 'Empyrean Isle'. Freddie's interpretation captured that vision in perfect detail and climaxed with a solo from Chris Higginbottom on drums, no mere technical workout, but a dazzling kaleidoscope of sound.
Freddie switched to the mellow tones of his flugelhorn for the gently paced 'Big Guy', a dedication to the late and much-lamented Michael Brecker, featuring the good humoured piano of Tom Cawley and the delightful walking bass of Tom Farmer.
Remaining in reflective mood, Freddie followed up with the exquisite 'Infant Eyes'. Livestreaming may have its limitations, but it could not constrain the tender emotions and sense of stillness expressed in this most beautiful of Wayne Shorter compositions.
As Freddie explained, 'Sprezzatura' is a word that sounds authentically Italian but is actually something he made up as a suitable title for a straight-ahead blast of bebop, which in turn would segue into the white heat of McCoy Tyner's 'Passion Dance'. The solos from each of the band members simply took the breath away, prompting a cheer and round of applause of such force from the 'live' audience of three – Marianne Windham and the Boileroom technical team of Dom and Beth, that it no doubt resonated throughout the 231 households of those viewing the gig across the UK and as far afield as Germany and Switzerland!
The gig came to a close with a heartfelt dedication to saxophonist Steve Main, who had passed away only that morning and the late Richard Turner.  'They were happy guys,' Freddie said, 'so this is a happy tune.' Full of warmth, good humour and audacious spirit, 'Turneround' was a fitting tribute to two much-missed friends and a perfect end to an enthralling evening of jazz.
Our thanks to the guys in the band and to Marianne Windham, Beth and Dom of the Boileroom and the combined support of Guildford Jazz, Berkhamsted Jazz, Chichester Jazz and Jazz in Reading for making the gig possible. Brilliant!
Some of the titles Freddie played during the evening can be heard on his latest album, 'Transient' which is available as a download from https://freddiegavita.bandcamp.com/
Review posted here by kind permission of Trevor Bannister
---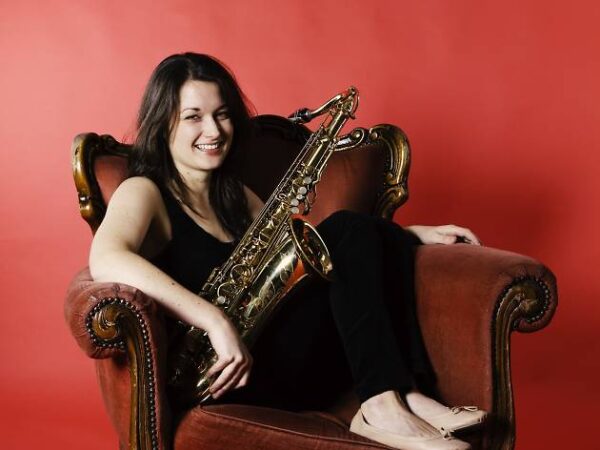 Livestream Jazz from the Boileroom, Guildford, Tuesday 26 January 2021
In collaboration with Guildford Jazz
Trish Clowes saxophone, Ross Stanley Rhodes keyboard, Chris Montague guitar, James Maddren drums
American writer Whitney Balliett coined the phrase 'the sound of surprise' more than sixty years ago. It's served as an apt epithet for jazz ever since, never more so than today when surprises of any kind are in such short supply and so desperately needed to break the tedium of lockdown. Thankfully, Trish Clowes presented surprises in abundance with a ninety-minute livestream of original compositions, some newly minted, with her band My Iris from the Boilieroom in Guildford on Tuesday 26 January, the second such event promoted by Guildford Jazz in collaboration with Jazz in Reading.
The opening number took shape from a gentle, 'round-the-houses' meander before James Maddren hit the groove. Once in motion, 'Lightning Les' simply grew from the subtle interplay between the individual musicians and the varying depths of texture and sound colour they drew from their respective instruments. As if in defiance of its title, this tune was full of space and in no particular hurry. There was a lovely, very brief, moment when Trish used the 'slap-tongue' technique to perfect effect.
'A View With a Room', a product of the most recent Lockdown and here receiving its 'World Premiere' instantly grabbed the attention and set the toes tapping with an insistent bass line from Ross Stanley's Rhodes keyboard. Chris Montague added to the fun with his funky edged guitar. It was the sort of number that you felt could go on for ever with endless possibilities for invention.
I loved the reflective opening to 'Time', another new piece, and given that it received its first outing during the brief sound check ahead of the gig, it worked surprisingly well – testimony to the musicianship of all the guys in the band!
In the absence of any other thoughts, Trish may have felt obliged to settle for 'No Idea' as the title for her next piece. But, in fact, exactly the opposite proved to be the case. A veritable stream of Ideas bounced back and forth across the bandstand, blasting away the constraints of Lockdown.  Great fun!
'Abbott & Costello', inspired, not as you might expect, by the comedy duo of Hollywood renown, but two characters in Denis Villeneuve's science fiction film 'Arrival', was without doubt, the highlight of the evening for me. Though Trish names Wayne Shorter as a key influence on her sound and approach to music, this haunting piece and her sparse, achingly beautiful tenor, reminded me of the late Bobby Wellins and his classic collaboration with Stan Tracey, 'Starless and Bible Black'. Sheer perfection!
'Amber', brought a distinct change of mood, with a sound portrait of Amber Bauer, the founder of the charity Donate4Refugees, that captured the energy and dynamism that Trish so clearly admires in this particular lady.
'Free to Fall' brought the gig to a thrilling close. After a delicate, hymn-like introduction, it gathered pace, soon reaching a 'free for all' of intensity propelled by James Maddren's drums and cymbals, before turning full circle and ending with a run of barely discernible staccato notes from Trish's tenor … and silence.
Marianne Windham, the guiding light of Guildford Jazz, rounded off the evening with an entertaining Q & A session, based on questions submitted by viewers during the livestream – the sort of things fans like to ask musicians after the gig in the bar, though in this instance without a pint in hand. With a microphone a-piece, everyone was able to join in, talking about their introduction to jazz, key influences, the characteristics of their instruments and the range of activities that have occupied their time during lockdown – baking, gardening, composing, teaching, recording, DIY and model making for young sons etc. etc.
Trish also explained how My Iris came to be the band name – why not simply 'The Trish Clowes Quartet? It was one of those seemingly chance coming-togethers of her grandmother's name and the variety of shades, tones and textures of colours one might find in the iris of the eye and she seeks to express through her music; an aim in which she succeeds brilliantly.
Having been required to wear a mask throughout the performance, James Maddren made a telling comment, which neatly summed up the evening.  'Behind this mask,' he said, 'there's a very happy face!'
Hear, Hear! Livestreaming, is indeed, a welcome innovation, and given the production values of the Guildford team, it is the next best thing to a live performance. All praise to Marianne Windham and her technical colleagues Dom and Beth of the Boileroom.
Trish Clowes' most recent recorded offering is available as a download via https://trishclowes.bandcamp.com/album/my-iris
Review posted here by kind permission of Trevor Bannister
---

Livestream from The Boileroom, Guildford, Tuesday 12 January 2021
In collaboration with Guildford Jazz
Alan Barnes saxes | Dave Newton piano | Marianne Windham bass | Matt Home drums
Even in the best of times promoting a jazz concert is a risky business. As a seasoned hand once remarked, 'Running your own airline, football club or jazz club, are the best ways I know of losing money." So, what would motivate anyone to promote a concert in the middle of a pandemic, the world's worst health crisis in living memory? Someone, I would suggest, who is either mad, or an individual possessed of such personal qualities, that obstacles are swept aside by a tide of infectious enthusiasm, grit and determination, not to mention a love for the music that transcends the constraints of bureaucracy and perceived wisdom.
We are fortunate beyond belief in that Marianne Windham, the dynamo at the hub of Guildford Jazz, is such an individual and that her vision came to fruition on Tuesday 12 January with the livestreaming of the Alan Barnes & Dave Newton Quartet from the Boileroom, Guildford. In the process she enlisted the help of Berkhamsted Jazz, Chichester Jazz and Jazz in Reading to spread the word, with the result that 356 jazz-starved fans, spread as far afield as Portugal, tuned into the respective devices to enjoy a magnificent evening of jazz.
That said, I endured a faltering start to my first encounter with the world of livestreaming (Did anyone else have a problem locating the minute 'play' button?). My patience was repaid by the eventual appearance of Alan Barnes on my PC screen and the exquisite sounds of his alto saxophone. I had of course, missed the introduction, but the tune sounded like an interpretation of Dave Brubeck's 'In Your Own Sweet Way'.
As Alan swapped his alto for his clarinet, I settled back to enjoy the gently swinging 'Estate', from the pen of the late Bruno Martino, and to 'embrace' the new experience of livestreaming. I have to say that it was the nearest thing I can imagine to a live gig. Even allowing for the on-stage social distancing, the atmosphere came close to capturing the late-night intimacy that we like to think inspires great jazz. With no need for the cameras to cut to the audience for their reactions, often so distracting on televised concert performances, you could focus entirely on the musicians. I would like to have seen Marianne on bass and her rhythm partner, drummer Matt Home, favoured with a little more light and sound, but was knocked out by the over-the-shoulder close ups of Dave Newton in action at the piano – a feast, I am sure for afficionados of the instrument. Dave really is an orchestra in his own right; an amazing player with a magic touch, who combines elegance and subtle invention with powerful swing!
Alan's baritone sax enjoyed its first outing of the evening and filled the Boileroom with its huge sound  on 'Ellingtonian' Johnny Hodges'  'First Klass', a tightly-grooved number with the sparkling effervescence of the Swedish  beer it was named after. The wonderfully atmospheric 'Chelsea Bridge' paid tribute to, and bore the spirit of two other Ellingtonians, composer Billy Strayhorn and tenor saxophonist Ben Webster, whose breathy solo graced the original recording of the number.
Next up, came the surprise item of the evening – a Dave Newton inspired re-working of the jazz standard 'Out of Nowhere'. Based around the merest hint of the familiar James Bond theme tune and underpinned by the rich tones of Marianne Windham's bass, its gentle humour proved to be an absolute delight.
By contrast, switching back to alto, Alan expressed the heartfelt melancholy of 'Spring Can Really Hang You Up The Most' to great effect, before taking flight on Art Pepper's scorching 'Chili Pepper', complete with a powerhouse drum solo by Matt Home, to bring the gig to a close.
Marianne rounded of the evening with a short Q & A session from a bank of questions submitted by text and email during the course of the evening. We learnt that Alan had been busy writing throughout Lockdown and that his 'David Copperfield Suite' was near completion. With Dave Newton assuming the role of Mr Murdstone and Bruce Adams as Mr Micawber, this will be something to look forward to. Dave Newton had been walking his dog and had composed two tunes, while Matt Home had spent time gardening and cooking. When asked, 'Has Lockdown revealed any positives?' Matt quickly responded by saying, 'Yes, I don't have to fight with the audience to get my drums out at the end of a gig!'
Asked to nominate a musician deserving of wider recognition, Alan replied without hesitation. 'Mark Nightingale,' he declared. And what would be the first tune that he would play once we emerge from Lockdown – what else but, 'Happy Days are Here Again'.
And on that optimistic note, a brilliant evening drew to a close and the musicians could retreat to the bar for a well-deserved pint. All praise to them and Marianne Windham and her technical team for keeping the spirit of jazz alive in these uncertain and troubled times. The audience response spoke for itself in sheer numbers, a few technical glitches to overcome for next time, but otherwise this was truly an event to savour. When's  the next livestream?.
Review posted here by kind permission of Trevor Bannister
---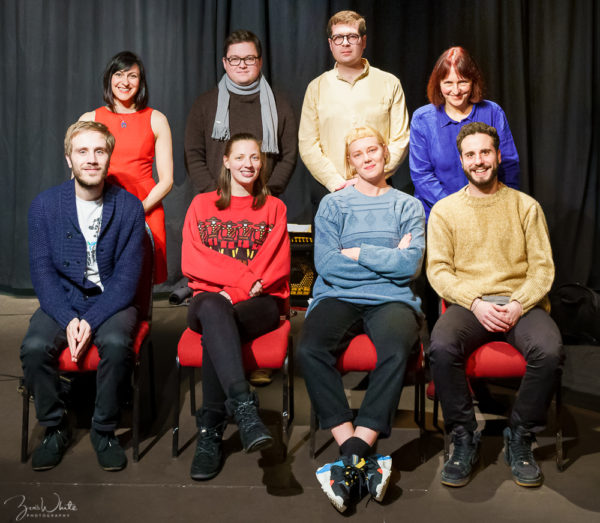 Progress Theatre, Reading, Friday 6 March 2020
Kate Williams piano/composer, Georgia Mancio vocals/lyrics, Conor Chaplin bass, David Ingamells drums, John Garner and Marie Schreer violins, Jenny Ames viola, Sergio Serra cello
Let's shout it from the rooftops, 'Finding Home', the fruit of a long-standing creative partnership between the kindred spirits of pianist/composer Kate Williams and vocalist/lyricist Georgia Mancio, is an absolute triumph. "We wanted to take a concept," Mancio explained, "that deals with the brutal realities or our world and through a collection of songs, old and newly written, turn it into something positive."   The alchemy of the performance at Reading's Progress Theatre on Friday 6 March achieved exactly that: an affirmation of the inextinguishable light of the human spirit.
'Finding Home' tackles a theme of universal proportions with candour and sensitivity and succeeds magnificently in its appeal to the heart, the mind and the spirit.  One member of the audience spoke afterwards of how he relished the  atmosphere of peace and relaxation that the combination of instruments engendered: the perfect antidote to weeks of stressful activity at work. Another spoke of how "beautiful and moving" she found the performance and "how wonderful and refreshing to see women represented in jazz. And even better – leading the show." Applause, I noted, was muted throughout the evening. Not for any lack of enthusiasm, but rather in respect for the performers and perhaps a fear that such exuberance might break the spell that held us all in its trance.  The emotional release came fittingly after the final number, when a storm of applause threatened to lift the roof off the Progress.
The superb acoustic of the theatre, enhanced with a minimum of amplification for Conor Chaplin's bass and Georgia Mancio's voice,  meant that we could hear each instrument with perfect clarity and a natural balance. What a joy to hear Kate Williams' moonlight touch on a 'real' piano, and to sense the empathy between her trio members – the heartbeat of Chaplin's bass and the uncluttered swing of David Ingamells' percussion. And I thrilled to see the string section at work at such close quarters and to share their sense of repose in the passages when they were 'laying out' from Williams' exquisite arrangements.
Georgia Mancio proved to be the ideal travelling companion as she led the journey to explore the illusive nature of 'Finding Home'. The crystal-clear diction and the light, airy qualities of her voice which so impressed the Progress audience on a memorable evening four years ago, have grown in expressive maturity, while her remarkably subtle gifts as a lyricist lent themselves perfectly to the quest.
Lest anyone think that this was an evening of po-faced intensity, I should say that it began with a moment of confusion and great hilarity. The band mistook their entry cue and midway into his introduction, a surprised MC, Jim Wade, found himself surrounded on stage. 'We should rename the band,'  he suggested.  'Kate Williams's Four plus Three add one, meets Georgia Mancio.'
Georgia Mancio's warm vocal tones and the comforting embrace of the strings plus trio provided the reassurance of a safe passage on the opening number 'The Journey Home', a beautiful composition and one of two written in a collaboration between Mancio and the American based/New Zealand born pianist Alan Broadbent and recorded on their 'Songbook 'album.
'Moon and Sand', once a hit in the 1940s for the 'King of the Rhumba' Xavier Cugat, presented a bitter/sweet reflection on the magic of love, a sentiment captured to perfection in Mancio's whistled chorus which brought the tune to wistful close. Antonio Carlos Jobin's 'No More Blues' (Chega de Saudade), reputedly the very first bossa nova,  sustained the mood of  gentle nostalgia and rumination. The highlights – Kate Williams' coruscating piano and the propulsive organ-like string passage.
'Tell the River', also from the Mancio/Broadbent 'Songbook' explored the darker territory of the 'real world'; how a chain of events following an alleged traffic violation inexorably combined and led to the death in police custody of  Sandra Bland, a young African-American  woman of  28, in Waller County, Texas in 2015.  Set against a bleak background, Mancio's emotionally charged lyrics, dared to imagine how Bland's  life, cut short in brutal circumstances, might have been.
By contrast, the instrumental excursion 'Walking Up', a Bill Evans composition from his 1962 album 'How My Heart Sings', simply oozed with good spirits, while 'Finding Home' achieved a remarkable sense of tranquility, enhanced by Marie Schreer's wondrous violin solo. 'One for the Bees', an electrifying Williams/Mancio  composition, brought the first set to an electrifying close, a timely reminder of how these small creatures are essential to our world and wellbeing.
The intensely moving 'Don't Go to Strangers' opened the second set with Georgia Mancio accompanied by Jenny Ames on viola, and Sergio Serra, the cello. There followed the most amazing monologue one could imagine; Mancio's vivid description of a dream journey. It begins as a gentle morning walk in familiar territory, but quickly  assumes a different mantle –  one footstep follows another in endless repetition to where? No destination is ever in sight.  The import of what she is saying takes a while to sink in. Then the penny drops. We are listening to the voice of the multitude, those,  who for varied reasons, many way-beyond their control, deep, seek a new home and refuge far from the place where they were born – sometimes with family members, more often than not, alone.
This disquieting prelude led to the core of 'Finding Home'; three songs by Williams/Mancio  – 'The Last Boy on Earth', 'Halfway' and 'Walk', brilliantly arranged and performed with heartbreaking authenticity, using the full resources of the lyrics and ensemble to depict the harrowing, yet awe-inspiring personal testimony of three child refugees.
'How Deep is the Ocean' followed, its lyrics affirming the enduring power of love in a way that Irving Berlin could never have envisaged. And so finally to 'Play', an elegy by Williams/Mancio for those loved ones we have lost – a fitting and beautiful ending to a unique and  unforgettable evening. WOW!
Readers may like to find out more about Safe Passage child refugee charity on www.safepassage.org.uk
As ever, thanks to the Progress House Team for their warm hospitality, the excellent quality of sound and lighting and for ensuring that the event ran so smoothly.
Review posted here by kind permission of Trevor Bannister
Photo by Zoë White Photography
---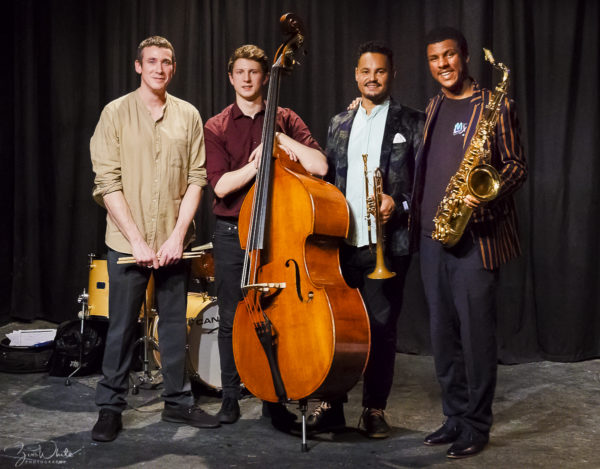 Progress Theatre, Reading, Friday 31 January 2020
Xhosa Cole tenor saxophone, Jay Phelps trumpet, James Owston bass, Jim Bashford drums
The full house generated a palpable sense of anticipation. Tickets for the first Progress gig of the year, and indeed, a new decade, had sold out a week in advance and on the night, we bore witness to that rare phenomenon, a queue waiting in vain at the box office for returns. Such was the interest in Xhosa Cole, 2018 BBC Young Jazz Musician of the Year, winner of the 2019 Parliamentary Jazz Award for Newcomer of the Year and a high scoring nominee in the 2019 British Jazz Awards and his appearance on the Reading leg of a national tour.
To our delight we soon discovered that Xhosa's astonishing musical talents are matched by his ebullient spirits, engaging personality and sartorial elegance. Aided and abetted by the dazzling assurance of Jay Phelps on trumpet and the brilliant rhythm team of James Owston on bass and drummer Jim Bashford, he set the audience alight with a perfectly balanced programme, breathing fresh life into the genius of past creations undeservedly consigned, through either chance or changes in fashion, to the furthest recesses of the jazz vaults. How often do we hear titles from Woody Shaw, Fats Navarro, Dexter Gordon or Ben Webster, or even, for that matter, Thelonious Monk or Dizzy Gillespie? Add to the mix an original from James Owston and Cole's own highly idiosyncratic arrangements of two standards and all the ingredients were in place for a great evening.
What's more, the absence of a chordal instrument meant that there could be no hiding places in this band.  Needless to say, everyone stepped up to the mark and the band sparkled with the remarkable interplay between the respective musicians, an immediately impressive feature of the opening number 'Moontrane',  composed by the late and much lamented Woody Shaw and the title track on his third album recorded in 1974. The jubilant unison tones of Cole's tenor and Phelps' trumpet, over the clean-cut rhythms of Owston and Bashford, lifted the hairs-on-the-back-of one's-neck. Rather than following the theme with a string of solos in the conventional manner, the band adopted a more conversational approach with the lead bouncing back and forth between the players. An array of interjections and subtle prompts kept the music in motion, and the musicians firmly on their toes as things headed-off in unexpected directions. To borrow a phrase from American writer Whitney Balliett, we were enthralled by 'the sound of surprise'.
'Moontrane' segued seamlessly into the straight ahead swing of 'Salute to the Bandbox', another memorable Woody Shaw composition, underpinned by James Owston's gorgeous walking bass.
Tragically, Woody Shaw's light shone but briefly in the jazz firmament. The career of John Birks 'Dizzy' Gillespie, on the other hand, grew in stature over the course of seven decades from the 'enfant-terrible' pioneer of bebop to an elder statesman of jazz revered across the world. He loved exotic rhythms and surely would have taken delight in Jim Bashford's irresistible drum conflagration that kept toes tapping and heads nodding throughout 'And Then She Stopped'.  Pure magic!
Fats Navarro rivalled Gillespie as the ace bebop trumpeter of the late 1940s, but like Woody Shaw thirty years later, the ravages of drug addiction brought his life to an early close. Jay Phelps paid tribute to Fats with a beautiful interpretation of 'Nostalgia', a Savoy recording from 1947. Taken much more slowly than the original, and with the sensitive support of Owston and Bashford, Jay used his incredible range to draw every ounce of emotion from Navarro's composition, leaving wistful thoughts of what might have been.
James Owston shared what Xhosa described as the 'fun and games' of the 'Great British Bake Off'. In other words, he was also a finalist in the 2018 BBC Young Jazz Musician competition. And rightly so. He is a fine writer as well as brilliant bassist. His composition, 'Deep Blue' provided the launching pad for a wonderfully inventive flight of 'free' collective improvisation. Isn't it amazing how today's young musicians, not only express themselves with such breath-taking technical ability, but dip into all the genres of jazz music without batting an eye lid; a welcome far cry from the fiercely contested days of 'Mouldy Fygges' and 'Modernists'. As if to affirm this openness of spirit, Xhosa rounded off the first set with 'Cheesecake', a nicely laid-back swinger from tenor giant Dexter Gordon recorded for Blue Note in 1962.
Jim Bashford's parade ground drum rolls summoned the band back into action for the second set with a final offering from the pen of Woody Shaw – 'Zalta'; an  exhilarating outing, bursting with rhythmic complexity before turning full circle to close on the gradually fading march-like figures of Bashford's snare drum.
The show-tune 'Manhattan', the first hit for the song-writing team of Rodgers and Hart, instantly brings to mind the melodic splendour of the 'Queen of Song' Ella Fitzgerald.  Xhosa, on the other hand, chose a very different path in which to interpret the song; in paring it down to a bare skeleton he was perhaps closer to the sardonic sentiments of its lyrics than Ella's celebrated recording. The 'paradoxical beauty' of  Thelonious Monk's 'Reflections' offered a similar challenge, while shed of its Disney sentimentality 'When You Wish Upon a Star' emerged in a completely new light and an apt dedication to the plight of the homeless, whose cause, Xhosa is proud to espouse.
It hardly seems possible that 29th August 2020 will mark the centenary of Charlie Parker's birth and that on 12th March sixty-five years will have passed since his death. He packed a lot of music and lots of largely self-destructive living into his all-too-short time on earth, but such was his genius that his legacy lives on with enduring power. The delightful 'My Little Suede Shoes', first recorded for Norman Granz in 1951, proved to a be a perfect tribute to Bird, expressing the wit and charming appeal of his personality all too often obscured by the ugly features of his life.
Ben Webster's hard-swinging blues 'Better Go' rounded things off as the encore to an exhilarating evening. And should there be any naysayers who doubt the future of jazz, catch this band while you can on the remainder of its tour or at this summer's Swanage Festival. You won't be disappointed! We wish Xhosa every success for the future with the quartet and varied other projects and look forward to him soon cutting an album with this exciting band.
As ever, thanks to the Progress House Team for their warm hospitality and for the excellent quality of the sound and lighting.
Review posted here by kind permission of Trevor Bannister
Photo by Zoë White Photography
---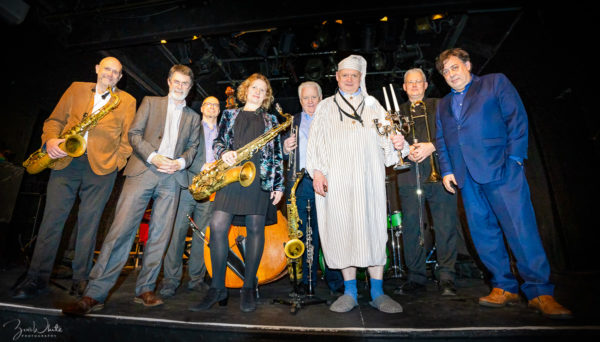 Progress Theatre, Reading, Friday 20 December 2019
Alan Barnes alto saxophone, clarinet, bass clarinet, composer, arranger
Bruce Adams trumpet, flugelhorn
Mark Nightingale trombone, arranger
Karen Sharp tenor saxophone, baritone saxophone, clarinet
Robert Fowler tenor saxophone, baritone saxophone, clarinet
David Newton keyboard
Simon Thorpe bass
Clark Tracey drums
Literature has often inspired jazz composers – John Dankworth brought us 'What the Dickens!',  Ellington wrote 'Such Sweet Thunder' to commemorate Shakespeare. Many compositions evoke characters – real or imagined; Benny Golson's 'Killer Joe' adds a spoken description of that 'hip-cat' on the original Jazztet recording. Alan Barnes added to the tradition with 'A Jazz Christmas Carol'.
Jazz in Reading offered a seasonal delight with his version of Dickens famous story (with a bonus – jazz versions of carols and traditional holiday songs). A prolific composer, arranger, and performer, Barnes narrated extracts of the tale before each section of the suite ( but with his trademark gags and contemporary comments on the text).
In Dickensian nightshirt and cap, Barnes entered the stage for the curtain raiser, a medium tempo 'God Rest Ye Merry Gentlemen', featuring a dazzling solo from Bruce Adams on trumpet.
Opening the suite itself, 'The Start of It' was a slow minor theme in an attractive arrangement. Clarinets alternated with trumpet and trombone, and the piece was introduced by bowed bass.
Scrooge's verdict on Christmas provides the theme for 'Bah Humbug'.  Karen Sharp's baritone voiced the quote, at times in unison with Simon Thorpe's bass. The first piece with several solos, we heard Robert Fowler on tenor, Bruce Adams' trumpet, and Alan Barnes on clarinet. (Switching between swing and latin, the arrangement recalled another Ellington work, the Latin American Suite).
Clark Tracey's drum intro to 'Marley's Ghost' conjured up the rattling of chains. The band created a menacing mood, as Mark Nightingale on muted trombone played a fine solo.
Scrooge's next visitation, 'The Ghost of Christmas Past (Portrait of Belle)' was dedicated to his one time fiancee. Karen Sharp joined the narration as Belle, before atmospheric solos from tenor, trombone and alto. Alan Barnes' alto solo included Hodges-like portamento, while the scoring for baritone sounded as expressive as Harry Carney.
'The Ghost of Christmas Present' materialised as a calypso, the distinctive rhythm introduced on drums. We heard an ingenious arrangement with key changes, call and response, changes of mood, as well as superb solo work. The sinister grandfather clock of the story rang out from David Newton's piano.
After a nod to 'Tiptoe Through the Tulips' (a hit for his namesake), we met 'Tiny Tim': a lovely, memorable melody, with a 'wrong' note. Karen Sharp played the poor child in this jazz waltz. A change of metre led into a solo from David Newton, then an ensemble with trumpet lead.
As Scrooge visits the graveyard to see the future, 'The Ghost of Christmas Yet to Come' saw the first outing of the evening for Alan Barnes sonorous bass clarinet. In an appropriately melancholy mood, the varied textures (bass clarinet with either bass, two clarinets, or drums) reminded us of Ellington's New Orleans Suite.
'The End of It' reprised the suite's themes through a 'redemptive' brass sound, echoing Scrooge's own change of heart. The baritone sax quoted 'Bah Humbug' to complete the medley.
Short solos from each of the band completed the suite's final selection, 'God Bless Everyone!', an upbeat, medium tempo number. Clark Tracey soloed with a 'Jingle Bells' quote, before the optimistic mood of key changes in the final choruses.
The Progress audience clearly much enjoyed Mark Nightingale's extended solo on his feature 'The Christmas Song'. We were also treated once more to Alan Barnes bass clarinet, both in scoring with two clarinets and muted trumpet, and reprising the theme.
A reading from the Bible – perhaps a first for Jazz in Reading – set the scene for 'We Three Kings' . Alan Barnes interpreted the gift of gold, Karen Sharp frankincense (or, according to the narrator, Frankenstein), and Robert Fowler myrrh. Over an arrangement in the spirit of Coltrane's 'My Favourite Things', a virtuoso alto solo segued into Karen Sharp's tenor, then Robert Fowler's baritone.
Following Charles Mingus' tradition of interpolating one song with another, the band's version of 'Santa Claus is Coming to Town' sneaked in 'Blue Monk' (surprisingly, a close fit).
Although Jazz in Reading has given us big and medium size bands before, rarely have we heard a band with such a variety of textures (exploiting of course, the band's multi-instrumentalists). Clarinets can sometimes sound awkward in a 'modern jazz' context, but here they worked as beautifully as they do in Ellington. Many combinations of brass and woodwind, as well as superb solos, vividly recreated the varied moods of Dickens' story.
Sincere thanks to the Progress Theatre for hosting, to all the Progress team for sound, lighting, and front of house, to our Jazz in Reading team, and the appreciative audience.
Review posted here by kind permission of Clive Downs
Photo by Zoë White Photography
---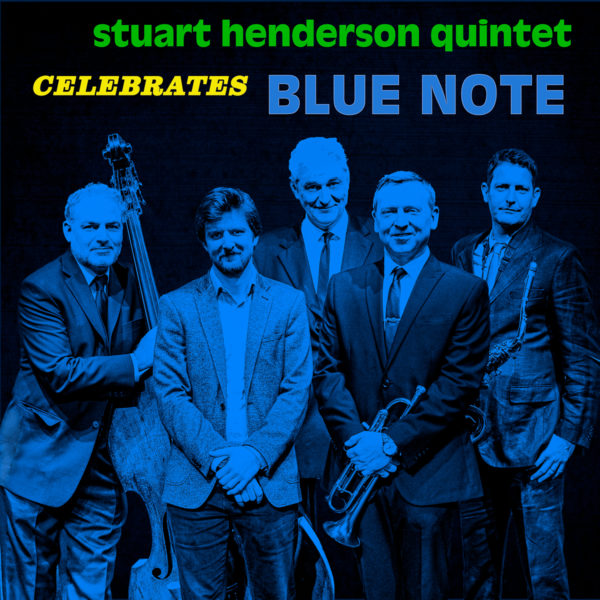 Progress Theatre Reading, Friday 22 November 2019
Stuart Henderson Quintet: Stuart Henderson trumpet & flugelhorn, Ollie Weston tenor saxophone; Tom Berge keyboards, Raph Mizraki bass, Simon Price drums
'Blue Note: A Modern Jazz Story' Written & Directed by Julian Benedikt
Like a classic Blue Note album cover, Zoë White's accompanying image (see above) beautifully encapsulates the spirit and atmosphere of the Jazz at Progress double-headed tribute to mark the 80th anniversary of the Blue Note record label; an amalgam of the label's  distinctive sound as presented by Stuart Henderson's Quintet  and the visual images and voices of the label's glorious roster of protagonists depicted in Julian Benendikt's documentary. Above all, the evening paid homage to the enduring genius of Alfred Lion, a Jewish émigré from Germany who founded the label in 1938 as a practical expression of his love for the blues. He presided over every Blue Note session until the label was sold to Liberty Records in 1966. Musician after musician recounted in the film that Lion could neither dance or keep time, but they marvelled at his innate sense of 'Schwing' and when a beaming smile lit up his face, they knew they had hit the groove. He just knew when things were right.
He was quick to pick up on innovative talent and to encourage original writing, providing both Thelonious Monk and Bud Powell with their first recording opportunities as leaders. When 22-year-old Herbie Hancock arrived in New York in 1963 to meet Lion at his office, armed with two blues and a standard as an offering for a prospective debut album, Lion dispatched him to come up with some original material. The result – 'Takin' Off' and a hit title in 'Watermelon Man'.
By 1954 Alfred Lion had aligned a team of supreme talents to work the alchemy of producing jazz records: photographer and business partner Francis Wolf, the fastidious New Jersey based recording engineer Rudy Van Gelder, who had transformed his parents home into a recording studio, and the remarkable graphic designer Reid Miles, who designed the most outstanding of album covers but had absolutely no interest in the contents; he exchanged the records for classical albums. Blue Note had entered its classic period – cutting edge music that honestly expressed the identity of African-American society at that time. It was firmly rooted in the jazz heritage of blues and gospel, and at Alfred Lion's insistence would always 'schwing', but so challenging that it veered towards the avant-garde.
Lion paid his musicians well. Trumpeter Freddie Hubbard used his first pay cheque to buy two new suits and a car. Perhaps, even more importantly, unlike most other record labels, he paid them to rehearse, so that the music was perfectly prepared in advance of the recording.
The same might be said of Stuart Henderson's brilliant quintet which enthralled the near sell-out audience for the first half of the evening, presenting an astonishing 11 numbers drawn from the 'golden era' of Blue Note between 1954 and 1966. Make no mistake, this was no pale imitation of the 'real' thing, this was the 'real' thing. Music of the first order, played with impeccable musicianship and charged with an explosive force of emotional power and creative energy. There were times when, if you closed your eyes, you could have been listening to an original recording rather than a live band.  
No tribute to Blue Note would be complete without Bobby Timmons' 'Moanin'' and the faithful anthem, mainstay of a thousand jazz compilations opened the set, albeit as a short statement rather than the full- blown tune. Brief it may have been, but Simon Price's Blakey-ish backbeat couldn't fail to impress. The band moved quickly on to 'Blue Minor' a number by the sadly short-lived pianist Sonny Clark. It bore all the qualities of great 'hard bop'; an attention-grabbing theme, searing solos and hard driving 'schwing'.  Horace Silver's 'Split Kick', once a feature for Clifford Brown and Lou Donaldson on 'The Live at Birdland' album of 1954, set off at an even faster rate of knots and left one in no doubt about the expressive skills of Stuart Henderson on trumpet and Ollie Weston on tenor or the deft support of the rhythm section.
Horace Silver was a composer of tremendous versatility and his pioneering contribution to 'Fusion', the funky cocktail of jazz, blues and Latin rhythms is perhaps under-rated. 'Cape Verdean Blues' helped to set the record straight, and simply burst with the joyous vigour of a carnival parade. In complete contrast, the brooding combination of Raph Mizraki's bass and Tom Berge's keyboard painted an unbearably desolate landscape of loss and regret in their introduction to 'Autumn Leaves', from the Cannonball Adderley/Miles Davis 1958 collaboration 'Something Else'. Stuart Henderson sustained the mood to brilliant effect with his closely miked muted solo, while Berge's coda, echoed by a final cymbal toll by Simon Price, was full of the pathos of what 'might have been'.  
The introverted tenor style of Hank Mobley was a great favourite of Alfred Lion, another case of him sensing something special about a player that escaped the attention of other listeners. Ollie Weston's warm toned tenor paid a tribute to Mobley on 'This I Dig for You', a fine example of understated swing complemented by a tremendous and deservedly well received solo by Raph Mizraki.
In contrast to Mobley's seemingly straightforward approach, Wayne Shorter expressed his ideas in a much more angular and abstract manner. Someone was heard to mutter 'Good luck' before the band embarked on the tricky configuration of 'Witch Hunt'. They needn't have worried. They completed the opening theme in masterful fashion and opened up the number to a string of fabulous solos – Henderson's incisive trumpet, Weston's haunting tenor and the economic 'make every note count' Fender/Rhodes effect of Tom Berge's keyboard. And all this, firmly underpinned by Mizraki's bass and the propulsive drums of Simon Price.
Like Horace Silver, Herbie Hancock could (and still does) operate across the full spectrum of styles from funk to the most extreme avant-garde without ever losing his identity or musical integrity. 'Dolphin Dance', from the 1965 album 'Maiden Voyage' is one of his most lyrical compositions. The band, with Henderson on flugelhorn, captured the reflective mood to perfection.
'Moment's Notice', from 'Blue Train', John Coltrane's only outing on Blue Note, is that unique thing; a tune of incredible complexity that remains firmly fixed in your mind as the soloists work through all its possible variations. The band, with Ollie Weston to the fore, rose to the challenge magnificently, generating nail-biting excitement in the process.
Alfred Lion's role in launching the career of organist Jimmy Smith, and in the process setting up a completely new style of jazz expression, was amongst Alfred Lion's greatest achievements. With Tom Berge switching his keyboard to Hammond Organ mode, he set the groove for one of Smith's biggest Blue Note hits, 'Minor Chant', a soulful number originally recorded with tenorist Stanley Turrentine on 'Back at the Chicken Shack'.
And so, to the final number of a fantastic set. What else but Lee Morgan's 'The Sidewinder', Blue Note's greatest hit, and the success of which inadvertently almost bankrupted the company (the dreaded problem of cash flow).
***
As the band cleared the stage and the audience retired for an interval drink, the question came to mind 'How do you follow that?' It's true, nothing could quite match the excitement of the first set, but that shouldn't diminish the excellence of Julian Benedikt's 2015 documentary film, 'Blue Note: A Modern Jazz Story', screened by kind permission of EuroArts. Presented as a sharply edited montage of archive film clips, with startling visual images of the Blue Note stars at work on the recording sessions captured in perfect detail by the lens of Francis Wolf's camera, and personal interviews, riding over a soundtrack of Blue Note recordings. It offered fresh insight into the life of Alfred Lion, especially his formative years in inter-war Berlin, where his imagination was first inspired by the posters for Sam Wooding's All-Black 'Chocolate Kiddies' review and later darkened by the growing menace of Nazism.
If at times, the clips were tantalisingly brief, there were wonderful compensations; a full length cut of Albert Ammons and Pete Johnson in a dazzling display of boogie-woogie piano (a reminder that long before he lent an ear to Be Bop, Lion's passion for jazz and inspiration for making records grew from his affinity with the blues); Freddie Hubbard's astonishing  breath control as he took flight he on 'Water Melon Man' on a live date with Herbie Hancock; Tommy Turrentine, Bob Cranshaw and Al Harewood – three stalwarts of the Blue Note label, laughing and joking about Alfred's inability to dance and his practise of paying by cheque, leaving them with the problem with where to cash it;  shots of the label's pressing plant – witness to the care that went into the production and packaging of each individual record; Lorraine Gordon's wistful memories of life as Alfred's first wife as she promised the 'best seat in the house' to a prospective customer in the chaos of her office at New York's 'Village Vanguard' jazz club (clearly filmed long before the advent of TicketSource and their like…).  She didn't elaborate on the reasons for the marriage break-up. She didn't need to. It was clear from the repeated testimony of musicians, jazz writers and his widow alike, that in 'Alfred's life, the music always came first'. 'He wasn't interested in making hit records or money,' they would say. 'Only great jazz.' In an ocean infested with sharks, Alfred Lion stood out as a true gentleman.
The glorious chapter in the story of jazz documented in 'Blue Note: A Modern Jazz Story', may now be fading into the recesses of history, but the music lives on. The indefatigable figures of Sonny Rollins, Wayne Shorter and Herbie Hancock remain active and as creative as ever and its possible to easily download those once elusive albums to a mobile phone at the touch of a button. No doubt you could store the entire Blue Note catalogue on one device? And for those with deeper pockets, there's always the thrill of seeking an original album and to feast the senses on its sound, the touch of its cover, the visual splendour of the graphics and sleeve notes and the scent of finest vinyl. Blue Note heaven!
Meanwhile, let's look forward to the Stuart Henderson Quintet cutting an album of Blue Note tracks and making a return visit to Progress for a full gig in the not too distant future. Club promoters and festival organisers please note:  the Stuart Henderson Quintet is as tightly organised, exciting and profound as any band operating on the UK scene … Book them now!!!!
***
Thanks are due to EuroArts, the Progress Theatre for making it possible to stage this unique double-headed event and the House Team for the excellent quality of sound and lighting and for the provision and operation of the projection facilities. And of course, special thanks to the audience for such generous and enthusiastic support.
Review posted here by kind permission of Trevor Bannister.
Photo by Zoë White Photography 
---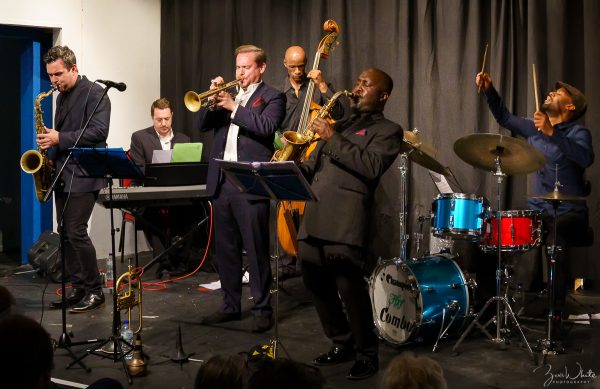 Progress Theatre, Reading Friday 18 October 2019
Quentin Collins trumpet & flugelhorn, Tony Kofi alto saxophone, Branden Allen tenor saxophone, Steve Hamilton keyboard, Larry Bartley bass, Shane Forbes drums
There's something special about the shoe-box shape of Reading's Progress Theatre and the intimacy of its stage to the steeply ranked 96-seats of the auditorium that casts its own magical spell and makes it a marvellous venue for jazz.  There's no need for amplification, except for announcements, as each instrument finds its own balance and is perfectly audible within the natural acoustic. The audience can listen in comfort and there are no tinkling glasses or irritating conversations to distract the musicians. In short, the Progress has inspired many great performances throughout its seven-year association with Jazz in Reading, none more so than the breath-taking and utterly compelling visit by the Quentin Collins Sextet on Friday 18 October as part of its national 'Road Warrior' tour.
To describe Quentin Collins as a virtuoso is almost a disservice, but I can' think of another superlative to adequately describe his astonishing technical skill, musicianship and feel for the music. He is the complete trumpet player with a gorgeously burnished tone and an incredible range. He plays with unbelievable accuracy, expresses himself with a true sense of narrative, drawing on a seemingly infinite fund of ideas and can conjure the widest spectrum of sounds imaginable from his instrument without ever having to resort to a mute; a resonant growl at one end of the scale to an almost imperceptible wisp of sound at the other.  And as if that wasn't enough, like a latter-day Art Blakey, he leads his band with such strength and bravura, that his fellow musicians can't fail to rise to the challenges of the music.
Add to the mix, writing of superb quality – more or less equally shared between Collins himself and his close compatriot Tom Harrison, plus a measure of blues from the great Oliver Nelson and a couple of standards; stir-in the tightest arrangements you're likely to hear anywhere, honed to perfection on the early legs of the band's tour and you arrive at a formula that burst into life on 'Road Warrior', the title track from Collins' recently issued 5-star rated album. If the opening number impressed with its scorching solos and explosive ensemble sound, the tortuous 'Float Flitter Flutter', a dedication to the late Sonny Fortune, took the breath away with its knife-edge precision. 'How do they know when to come in?' asked one member of the audience in wide-eyed amazement during the interval. I guess the only simple answer is to say, 'That's the marvel of jazz at its very best!'
The mellow tones of Collins' flugelhorn over drummer Shane Forbes' tom-toms and cymbals opened 'Jasmine Breeze', its gentle mood sustained by the perfect support of Steve Hamilton on keyboard and Larry Bartley on bass and the haunting solos of Brandon Allen on tenor and Tony Kofi's alto.
The joyful 'Look Ahead (What Do You See?)' took its inspiration from father-and-son conversations in the Collins' household, and brilliantly evoked a vision of the infinite possibilities that might lay ahead for a ten-year-old boy, with perhaps just a touch of caution on the part of the father, and an 'Oh, dad' shrug of the shoulders from the son.
The 12-bar bebop blues 'Butch and Butch', from Oliver Nelson's classic 1961 album 'Blues and the Abstract Truth', closed the first set in storming fashion; a pattern of full-blooded riffs building the tension and driving along a string of free-flowing and perfectly executed solos, rounded off by a tour-de-force outing for Shane Forbes on drums.  If Steve Hamilton succeeded in reducing the temperature at times, it was never at the expense of excitement. All this, I should add, was underpinned by the rich tones and immaculate bass of Larry Bartley.
The angular 'Do You Know the Way?', featuring the soaring alto saxophone of Tony Kofi, got the second set under way, while 'The Hill', Tom Harrison's emotionally charged tribute to the abiding influence of the great saxophonist, composer and educator Jean Toussaint,  also served to trace a musical line of descent via Jean from the incomparable Art Blakey – whose 'message' is still a potent force today!
Despite its menacing undertones Art would have loved 'El Farolito', a high-octane impression of a fight that Tom Harrison had the misfortune to witness on a visit to San Francisco – scorching solos from Brandon Allen and Tony Kofi, while Collins' provided the automatic gun-fire. A melee of sounds brought the piece to what we hope was a peaceful conclusion.
In complete contrast 'Wide Horizons' explored reflective territory with Collins on flugelhorn to a gorgeous background of choral effects which drew to a beautiful ending with the repetition of a sub-theme over Shane Forbes's drums.
In an evening of surprises there was none greater than the inclusion of 'Oh, Look at Me Now', written by pianist Joe Bushkin in 1941 and a huge hit for the Tommy Dorsey Orchestra with a certain Mr. Frank Sinatra on vocal duties. This polished and swinging, medium-tempo arrangement expressed all the feeling of the original and featured the poised and lyrical playing of Tony Kofi on alto and the 'booting' tenor of Brandon Allen, as well as brass fireworks from the leader. Shane Forbes' perfectly timed cymbal chime brought the piece to a close.
Like 'Oh, Look at Me Now', Victor Young's 'Stella by Starlight' began life in the 1940s as the main theme for the now long-forgotten movie 'The Uninvited'. The song, on the other hand, which has always seemed to me perilously difficult to successfully negotiate, has lived on as a favourite for jazz players across the years. In that respect Quentin Collins paid tribute to such legends as Harry James, Charlie Parker, Dizzy Gillespie and Miles Davis amongst many others, to bring an exhilarating evening of music to a fitting close amid the rapturous applause of the near sell-out audience.
As ever, thanks to the Progress 'House Team' for their warm hospitality and attention to detail, which all helped to make the music 'really happen'!
Review posted here by kind permission of Trevor Bannister.
Photo by Zoë White Photography 
---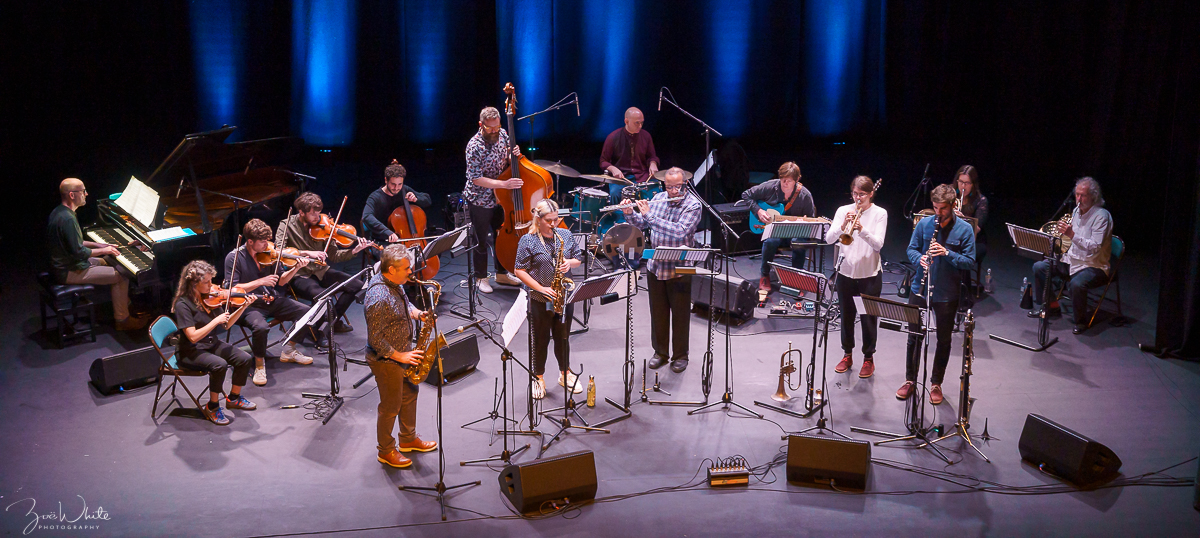 Wilde Theatre, Bracknell, Friday 27 September
Mark Lockheart tenor saxophone, Alice Leggett alto, Laura Jurd trumpet & flugelhorn, Rowland Sutherland flute & piccolo, Sam Rapley clarinet & bass clarinet, Liam Noble piano, Mike Outram guitar, Tom Herbert bass, Sebastian Rochford drums, Jim Rattigan, Anna Drysdale French horns, Emma Smith, Phil Granell, Richard Jones violins, Sergio Serra cello
Finding a performance  outlet for any new music, albeit jazz or classical, is notoriously difficult; staging something of the scale and ambition of Mark Lockheart's 'Days on Earth' comprising seven movements, a jazz ensemble,  plus a 30-piece orchestra, which first began to take shape in his imagination in 2016, must at times have seemed nigh on impossible. By December 2017, when Lockheart took 'Days on Earth' into Mark Knopfler's British Grove Studio to be recorded in its entirety under the baton of John Ashton Thomas, the project was gaining in momentum. It reached fruition on 9 January 2019 with the launch of the album and a live performance at London's Milton Court Concert Hall with the Guildhall Studio Orchestra. There remained just one more thing to complete the project … to take 'Days on Earth' on the road.
At this moment providence played its hand. Jazz in Reading and Bracknell Jazz had already decided to combine their resources to present a 'magnum opus' at the Wilde Theatre, Bracknell; something which would stand apart from the usual gigs they promoted in their respective towns. What better choice than 'Days on Earth'! But these things are never straightforward.  Now faced with the daunting challenge of reducing the size of his orchestra to suit a smaller venue and a reduced budget, would Lockheart succeed in retaining the aural splendour and emotional impact of his original work? We would have to wait until the second half of the concert for that question to be answered.
Meanwhile, as a foretaste to 'Days on Earth', Lockheart presented five original numbers with his octet, opening with the intriguing 'Surfacing'. The first ever performance of 'Flourescences' perfectly mirrored the subtle variations in colour and quality of light as it reflects on cut glass, the sharp edges of Liam Noble's crystalline piano, Rowland Sutherland's flute and Laura Jurd's trumpet, contrasting beautifully with the dark shadows cast by Tom Herbert's bass.
One was simply bowled over by the purity of the sound, especially from the lyrical alto of Alice Leggett, on  the John Zorn inspired 'Dreamers'; another composition making its public debut.
Wraith-like, violinist Emma Smith and bass clarinetist Sam Rapley appeared on stage to augment the octet for 'Beautiful Man', inspired by Geoff Dyer's book about jazz and jazz musicians, 'But Beautiful' and the first of two pieces dedicated to Duke Ellington. One could picture Duke and Harry Carney on a road-trip in the depths of the night travelling across America between gigs; Carney at the wheel and Duke lost in thought with a pencil and manuscript paper at hand. Emma Smith's exquisite violin and the resonant tones of Rapley's bass clarinet evoked Ellington at his most reflective.  'My Caravan', eschewed the hell-for-leather fury of many arrangements  for a subtle and gentle re-working of this Juan Tizol classic, much more in keeping with the original recording by the pre-war Ellington orchestra. However, the juxtaposition of old and new interpretations made for a thrilling climax to the first set.
The long-awaited presentation of 'Days on Earth' in the second half did not disappoint. I was not alone in declaring that it was an absolute musical triumph, rich in colour, texture, emotional depth and the vitality of the human spirit. Surely, Mark Lockheart now warrants a place in the Pantheon of British jazz composers alongside great figures such as Sir John Dankworth,  Graham Collier, the Mikes' Gibbs, Garrick and Westbrook, Kenny Wheeler and Stan Tracey. This remarkably open and free-flowing piece presented contemporary music at its very finest. It  held one's attention so completely that the 60 minutes of its duration seemed to flash by in the blink of an eyelid.
Lockheart used the addition of clarinet, strings and French horns to generate even more power to the already formidable ensemble, and to weave an ever more intricate tapestry of beautifully blended sounds and rhythms to support individual solo voices, amongst which, Mark Lockheart's own contributions on tenor sax were outstanding. It was a joyous, and often deeply moving, melting pot of different styles and influences with the metallic blues-soaked guitar of Mike Outram sitting comfortably with the formality of Sam Rapley's clarinet and the wonderfully inventive rhythmic patterns laid down by Messrs. Noble, Herbert and Rochford. The sound of Laura Jurd's trumpet briefly muted with her hand, was alone worth the price of the admission ticket.
Lockheart gave away few verbal clues as to what inspired him to write 'Days on Earth', but as the titles unfolded, seemingly to emerge spontaneously from one another, we began to form some idea of his motivation –  'A View from Above', 'Brave World', 'This Much is True', 'Party Animal', 'Believers', 'Triana', and 'Long Way Gone'. In other words, to borrow a sentence from Lockheart's album sleeve notes, 'Music is intrinsically linked to life, love, joy, frustration, acceptance and peace and all those feelings are here in this music for me.'
'Long Way Gone' stands out for me above all the other movements in 'Days on Earth'. Born from the pages of Ishmail Beah's harrowing account of his life as a child soldier in the civil war of Sierra Leone, its joyful optimism left one with the belief that even in the bleakest of moments there is a reason to find hope and to seek peace and reconciliation. Magnificent!
All praise to the technical team at the Wilde Theatre for the excellent quality of sound and lighting and to Jazz in Reading and Bracknell Jazz whose imaginative enterprise made possible this outstanding and unique performance of Mark Lockheart's 'Days on Earth'.
The album recording of 'Days on Earth' is available on Edition EDN 1120. For more information visit www.editionrecords.com
Review posted here by kind permission of Trevor Bannister.
Photo by Zoë White Photography 
---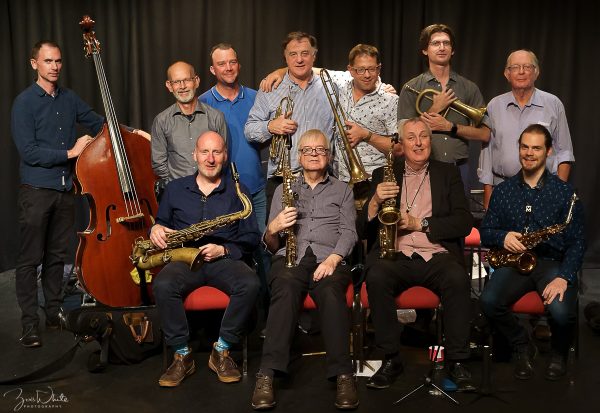 Friday 20 September Progress Theatre, Reading 
Scott Willcox directing, Andy Gibson trumpet & flugelhorn, Gabriel Garrick trumpet, flugelhorn & trombone, Martin Gladdish trombone, Julian Costello tenor saxophone, Pete Hurt tenor saxophone & flute, Bob McKay soprano, alto and baritone saxophones & clarinet, Samuel Eagles alto saxophone, Dave Frankel keyboards, Marcus Penrose bass & bass guitar, Gary Willcox drums
Scott Willcox and his ten-piece big band made a welcome return to Reading on Friday 20 September, after an interval of three years, to open a new season of Jazz at Progress with a jaunty arrangement of Carol King's smash hit 'I'm Into Something Good', featuring the rolling piano of Dave Frankel and the dazzling brass of Andy Gibson and Martin Gladdish. Though best known for his exuberant humour, risqué lyrics and hard driving stride piano, Fats Waller could also be a composer of great sensitivity as the band demonstrated to perfect effect with perhaps his most engaging composition, 'Jitterbug Waltz', drawing on all the instruments of the ensemble to produce a wonderful cascade of sound.
While 'Jitterbug Waltz' paid tribute to an early inspiration in Scott Willcox's musical career, the atmospheric 'La Gomera', a Canary Island dear to his heart, introduced us to a source of his own creative impulses.  His writing evoked the stunning contrast between the tranquillity of the island, its black-sanded beaches washed by the Atlantic Ocean and the potential violence of its volcanic origins. Great work here from Gary Willcox on percussion, the plaintive saxophones of Julian Costello and Bob McKay, and the fiery trumpets of Andy Gibson and Gabriel Garrick.
The continent of Africa on the other hand, is not a location that Scott has visited and so the brilliantly conceived 'African Dance' was very much an impression of how he imagined it might be. Rich in colour and rhythm, and with each instrument clamouring for attention, it was full of the joyful spirit that gave birth to jazz in the first place.
Dave Frankel's piano transported us from the vivid sunlight of Africa to the gentle breeze of Brazil in his elegant introduction to the delightful 'Ask me in Latin (Nolite a me)', in which the tonal variety achieved by using different instruments in combination was particularly effective.
Wilcox used a similar device in the intriguing 'Thinking About It' to create a seemingly infinite number of subtle variations on a basic theme.
'Song for a Special Friend' brought a complete change of mood with a deeply moving solo by Bob McKay on soprano saxophone and a coda of heart-wrenching emotion expressed by the trumpets of Andy Gibson and Gabriel Garrick. Brilliant!
'Slane', introduced by Marcus Penrose on bass and based on a traditional Irish folk song using the familiar hymnal tune of 'Lord of All Faithfulness', maintained the air of reflection. Bob McKay's soulful playing was once again to the fore, while Gabriel Garrick rounded things off beautifully on flugelhorn.
Gary Willcox's powerhouse drums set the pace for 'Bouncing Back', a challenging number in 5/4 time, featuring a wailing solo from Sam Eagles, which built to a glorious climax to bring the first set to an exhilarating close.
Gabriel Garrick took up the trombone, a new arrival in his instrumental armoury, to join forces with Martin Gladdish and the baritone sax of Bob McKay (transposing 'on sight' the original part written for a third trombone!) to open the second set with 'Can't Complain'; a number that builds and builds in gripping intensity and leaves you slightly breathless when it reaches its sudden conclusion.
Scott's approach to music is a far cry from that of Count Basie and yet 'Second Thoughts' had the feel of "Li'l Darlin'", a Neal Hefti arrangement from the classic album 'The Atomic Mr Basie', described by one writer as 'an object lesson in how to swing at a slow tempo' and by another as 'an exercise in how to play slow without falling apart'. The Willcox band held its nerve to successfully negotiate the tightrope walk thanks to the languid tenor of Pete Hurt, muted brass and delicate brushwork of Gary Willcox, only giving way to a shout of triumph with a spectacular flurry of high notes from Gabriel Garrick on the final step.
Playing both muted and open horn, trombonist Martin Gladdish took the solo spotlight on the Scott Willcox arrangement of 'Come Rain or Come Shine'. He held the audience enthralled as he drew every ounce of emotion from the Harold Arlen classic.
'Regular Fries' has proved to be a popular item on the menu since the earliest days of the Willcox Big Band, while Irving Berlin's 'Puttin' On the Ritz'', a number forever associated with the impeccable footwork of Fred Astaire, provided scope for plenty of musical high-jinks – piano a la Les Dawson from Dave Frankel, slurring saxophones, the earthiest growl trumpet you're likely to hear this side of New Orleans from Gabriel Garrick and a cheeky contribution from Pete Hurt on flute. 'Make Mine Mambo' with a declamatory statement from Martin Gladdish and searing alto solo from Sam Eagles, kept up the spirit of good fun, even if the title sounded as if it had been taken from a 1950's Hollywood 'B' movie.
The penultimate number 'Mixed Feelings' proved to be exactly that; a haunting and enigmatic composition that perfectly balanced the tension between uninhibited free expression and beautiful lyricism.
'All Change', the title track of Scott's most recent album, brought the evening to a showstopping close and literally brought each member of the band to the tip of his toes in order to meet the challenge of its rapid changes in pace and time. One could only gaze in awe and wonder at the fantastic quality of the musicianship. As one player said afterwards, 'Great music, but it's exhausting reading all those charts!'
The Scott Willcox Ten-Piece Big Band opened the new season of Jazz at Progress in splendid fashion and the theatre itself provided the perfect platform in terms of space, atmosphere and acoustics for the originality of Scott Willcox's writing, brought to life with jazz spirit by world-class jazz musicians.
As ever, our thanks to the Progress 'house team' whose warm hospitality and attention to detail ensure that the gigs always run so smoothly.
Review posted here by kind permission of Trevor Bannister.
Photo by Zoë White Photography 
---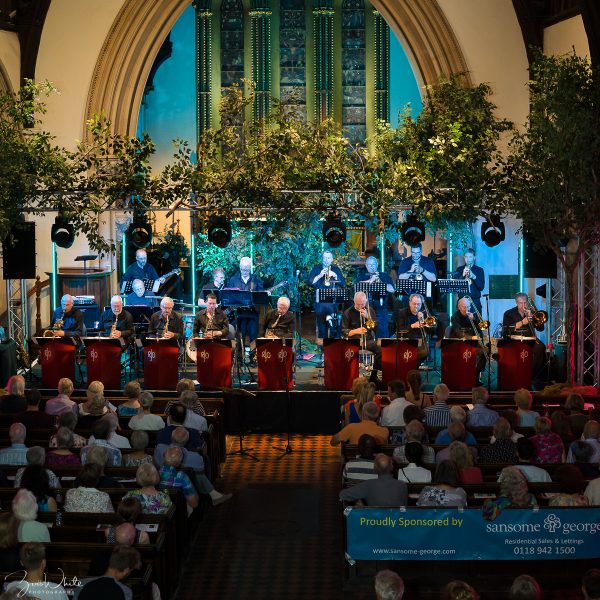 Tuesday 23 July 2019 at Reading Minster
The Remix Jazz Orchestra under the direction of Stuart Henderson and with special guests Simon Allen tenor saxophone and Fleur Stevenson vocals: David Cunningham, James Lowe, Chris Preddy, Stuart Henderson trumpets; Peter Phillips, Cliff Luke, Brian Haddock trombones; Steve Waters bass trombone; Brian Marrett clarinet and alto saxophone; Rod Kirton alto saxophone; Mike Booker tenor saxophone; Jim Philip baritone saxophone & bass clarinet; Adrian Sharon piano; Adrian Thoms guitar; John Deemer bass guitar & tuba; Dave Lambert drums.
The opening bars of Count Basie's 'All Of Me' simply enveloped the two-hundred plus audience who gathered in Reading Minster on Tuesday 23 July, with the warm glow of its immaculate presentation and relaxed, effortless swing. The perfect opening shot in an evening dedicated to 'The Evolution of the Big Band' as told in music by the 17-piece Remix Jazz Orchestra and the illuminating narrative of its Musical Director, Stuart Henderson – for big band jazz is a story not just of the music itself, but of colourful locations, intriguing plot-lines and larger than life characters.
None more so than Paul Whiteman, the self-styled 'King of Jazz' Paul Whiteman. 'Whispering' a loving recreation of a massive hit for Whiteman in 1920, featuring the 'oom-pah' tuba of John Deemer (playing in the lofty heights of the pulpit) and the swanee whistle of Stuart Henderson, evoked Whiteman's determination to rub the rough edges off the then new-fangled craze of 'jass' and transform the music into a 'respectable lady'.
Whiteman remained popular throughout the next two decades, but anyone searching for the 'real thing' needed to travel no further than New York's Roseland Ballroom where African-American pianist Fletcher Henderson had assembled a 'powerhouse rhythm machine' band whose instrumentation wouldn't have looked too different to that of the Remix Orchestra. Fletcher set the mould for all future big bands; top flight musicianship, written arrangements and scorching hot improvised solos! 'King Porter Stomp' was one of his most successful arrangements and with the brilliant Brian Marrett on clarinet, the Remix interpretation captured all the excitement of those pioneering days.
The muted trumpets and flawless saxophones of 'Stompin' at the Savoy' celebrated the diminutive drummer Chick Webb whose band held court to the Lindy-Hopping dancers of Harlem's Savoy Ballroom. He regularly 'cut' visiting bands, like those of Fletcher Henderson, in thrilling battles of the bands. Chick also introduced a shy teenage singer to the bandstand in 1934 … a certain Miss Ella Fitzgerald!
In the same year, clarinet virtuoso Benny Goodman, modelled his new band on that of Fletcher Henderson and employed Fletcher as an arranger. Over the next four years he scored a string of hit records, set the nation dancing to his radio broadcasts and national tours, and earned the accolade 'King of Swing'. The band was driven along by the drums of Gene Krupa, most famously at the historic Carnegie Hall concert of 1938, a mantle now taken up by Dave Lambert as he snapped the flag-waving 'Don't' Be That Way' into life, a feature for the full brassy tones of Peter Phillips on trombone.
Billie Holiday – 'Lady Day' – possessed the alchemist's gift of being able to transform lyrical dross into solid gold, by turns, expressing the joy of the human spirit and its vulnerability in equal measure. Guest vocalist, Fleur Stevenson captured those qualities perfectly with a beautiful interpretation of 'That Old Devil Called Love', supported by the lush, string-like background of the Remix Orchestra.
'Hawaiian War Chant' , on the other hand, a hit for Tommy Dorsey in 1941 and a feature in the movie 'Ship Ahoy', showcased the razzle-dazzle-showmanship beloved of swing fans – thundering tom-toms, a hand-clapping, head-swaying band, the trumpet section waving their derby mutes in swinging unison, a fiery tenor solo and to top it all, a mock dual between Dave Lambert and Stuart Henderson. Great fun!
Arguments raged throughout the 'swing era' as to whether Benny Goodman or Artie Shaw was the greatest clarinettist. Brian Marrett made his own claim to the title with an expressive and beautifully polished interpretation of 'Begin the Beguine'. Artie Shaw's classic hit of 1938 led us neatly into the instantly recognisable introduction to Glenn Miller's 'In The Mood', an anthem for the wartime years that never fails to set toes tapping, raise a smile, or even prompt a wistful tear to the eye. This fine version featured special guest Simon Allen and his fellow protagonist Mike Booker on tenor saxophones.
Chris Preddy, the youngest member of the Remix Orchestra, took the spotlight to evoke the sound and spirit of trumpet legend Harry James with a magnificent performance of the tear-jerking 'You Made Me Love You'.
While Harry James made a name for himself with his Hollywood-movie-star good looks and the extravagance of his playing, William 'Count 'Basie could sit almost unnoticed at his piano, and with one note teased from the keyboard, set his band alight. Taste and economy were his signature words, as Adrian Sharon demonstrated to perfect effect in his introduction to 'Satin Doll', more than ably supported by the superb rhythm section of Adrian Thoms, John Deemer and Dave Lambert.
Charlie Barnet's swinging 'Skyliner' brought a huge smile of delight to a nonagenarian gentleman in the audience. Not only did he buy the record when it was first released in 1944, but he saw the Barnet orchestra live in New York as a young trainee RAF pilot on a brief stop-over en route to a training base in the mid-west of America.
And to bring the first set to a close? What else but Stan Kenton's atmospheric 'Intermission Riff'.
The insistent call of Dave Lambert's drums summoned the 'congregation' for the second half of the concert. Excitement mounted as his solo grew in volume and momentum. When he reached a crescendo of sound, he released the tension, hit a familiar groove and launched the band into spectacular flight with 'Sing, Sing, Sing', the thrilling climax to Benny Goodman's Carnegie Hall concert, and no less exciting in this performance!
The next number brought a change in temperature and the distinctly 'cool' unison sound of four saxophonists – Brian Marrett, Simon Allen, Mike Booker and Jim Philip – playing 'as one', in a marvellous arrangement of 'Four Brothers', Jimmy Giuffre's tightly swinging composition for Woody Herman's band of 1947; known inevitably for ever after as the 'Four Brothers' Band.
The reappearance of Fleur Stevenson prompted a huge round of applause as she took centre-stage to sing 'When the Angels Sing'. Once a feature for Martha Tilton with the Benny Goodman band delivered the song to perfection, with a lovely sense of swing, crystal-clear diction and a vocal quality that filled the vast space of the Minster. However, 'When the Angels Sing' was never just a vocal feature. It's composer, trumpeter Ziggy Elman, added a flamboyant 'Fraulich' chorus, emulated on this occasion by maestro Stuart Henderson over the rolling snare drumming of Dave Lambert. Sensational!
The enduring spirit of Duke Ellington looms large in the story of big band jazz. He led an orchestra for more than fifty years and composed over one-thousand pieces, many of which have become standard items in the big band repertoire. 'Mood Indigo', featuring the resonant low tones of Brian Marrett's clarinet, presented Ellington at his most reflective; the imaginative lighting effects added greatly to the atmosphere. In contrast, the Remix Orchestra transformed 'Caravan' (forever associated with Ellington, but actually written by his band member Juan Tizol), originally conceived as an exotic camel ride across the gently undulating sand dunes of the desert, into a headlong flight into a desert storm, with Simon Allen's ferocious tenor setting the pace.
Ted Heath was Britain's foremost post-war bandleader, who also flew the flag with great success on his numerous tours of the States. He appeared in Reading on many occasions. On one such, at Reading Town Hall, a wild mob of female fans tried to pull star vocalist Denis Lotis off the stage. They took his bow tie, his handkerchief, socks and his shoes. They eventually threw back the shoes … but not the socks!
'Hot Toddy' was one of Ted's biggest hits, played here with the smooth precision of the Heath band, anchored by the gloriously fruity baritone saxophone of Jim Philip.
Johnny Dankworth was also a frequent visitor to Reading in his pre-TV/film writing days. The theme to 'Tomorrow's World' instantly conjured images of its enthusiastic presenters Raymond Baxter and James Burke introducing the next techno-wizardry that would 'undoubtedly' change the course of world history … and some of them probably did! Better still the Remix Orchestra played the entire tune, not just the 30 seconds worth that used to accompany the titles.
A sparkling version of 'The Lady Is A Tramp', with a witty scat chorus a la Ella Fitzgerald, rounded off Fleur Stevenson's contribution to the evening and added her name to the illustrious list of vocalists who have performed the Rodgers and Hart classic.
Changing tastes in popular music, the advent of rock n' roll and the arrival of the Beatles, almost sounded the death knell for big bands in the 1960s. But band leaders like Buddy Rich and Maynard Ferguson were not to be outdone. How could one resist the gospel-soaked funk of 'Mercy, Mercy, Mercy' or James Lowe's tour de force performance of spectacular trumpet pyrotechnics on 'MacArthur Park'. A high-voltage performance of Gordon Goodwin's 'Jazz Police' brought the story bang up-to-date and declared emphatically that there is bags of life and plenty of new territory yet to be explored in the ever-evolving story of big band jazz.
Musical Director, Stuart Henderson, is to be congratulated on devising such an original and wide-ranging programme that mixed familiar warhorses with all manner of surprises – old and new, and for his informative and good-humoured commentary. Oh, that school music lessons could have been as much fun as this!
As for the Remix Orchestra? What can one say? Will 'SUPERB' suffice?
Thanks also to Reading Fringe Festival and Jazz in Reading for promoting the event; the Reading Fringe Festival 'House' Team for the excellent quality of the sound and lighting and for manning the bar; Reading Minster for allowing the event to take place in such beautiful surroundings; Sansome & George: Residential Sales & Lettings for their generous sponsorship and finally, but by no means least, all those wonderful people who supported the event and demonstrated that there is a healthy appetite for 'LIVE' big band jazz in Reading.
Review posted here by kind permission of Trevor Bannister
Photo by Zoë White Photography
---
Friday 12 July 2019 Progress Theatre, Reading
Greg Abate, alto saxophone, flute, composer, leader | Craig Milverton, piano | Adam King, double bass | Nick Millward, drums
Jazz at Progress completed the summer season with an intimate evening's music from Rhode Islander Greg Abate, a regular UK visitor.
With a packed schedule of British dates, including a visit to a well-known Sussex coastal city, he suggested they might start with "I 'Hove' You" (Cole Porter's "I Love You"), but in fact launched into an up-tempo "What is This Thing Called Love". The dynamic alto solo included (among other quotes), a snatch of Dameron's contrafact "Hot House" (a tune Greg has recorded more than once and clearly enjoys).
Switching to flute (apparently an advance request from a local flute player – sadly not able to attend – prompting  Greg to relate he often receives  requests for specific instruments in his portfolio from fans who then can't be there) we next heard Joe Henderson's popular bossa nova "Recorda-Me", with sparkling solos from all the band.
Having already (musically) referenced Tadd Dameron, the band followed with his composition "Afternoon in Paris", starting with a trio (alto, bass, drums), then joined by piano. Pianist Craig Milverton is often in demand to accompany visiting US musicians, as well as being busy with many of his own projects.
"Contemplation", an Abate minor blues composition, again showed his versatility, and command of flute. Piano, bass, and drums solos followed. Drummer Nick Millward is said to have based his approach on Buddy Rich. As well as vocalist in his own band, Nick has a distinguished career with traditional bands including those of Kenny Ball Jr. and Terry Lightfoot. This evening he demonstrated his ability to play superbly in any genre.
Returning to alto, the second standard of the evening, "Moonlight in Vermont" began with an unaccompanied statement on saxophone, before the band joined. This composition, like several of the evening's selections, is featured on Greg's album Kindred Spirits with Phil Woods. This was a very rhythmic interpretation, the band moving into double time (and then double-double), with a thoughtful  bass solo from Adam King, 2015 Young Jazz Musician, he studied at Middlesex University, and cites Jaco Pistorius as his inspiration for switching to bass from his first choice, alto saxophone.
The first set closed with a fast version of "Star Eyes", a favourite with jazz soloists since the bop era. After solos the band moved on to 8 bar exchanges. Before closing the set, the Progress audience were intrigued with what may be a Greg Abate trademark: short musical 'duets' or 'conversations' with each of the trio, where Greg played a short phrase, and the other 'replied'.
After the break (during which Greg continued the relaxed feeling of the evening, by freely chatting with audience members in the lounge), the band went to a fast "Yardbird Suite".
At a contrasting tempo, the second ballad of the evening, "In a Sentimental Mood" again presented Greg's alto in an expressive interpretation, deploying varied articulations, dynamics, and the full range of the instrument. Craig Milverton took the middle eight on the opening theme, unhurried and with occasional 'outside' harmonic colour.
Another standard, reminiscent of the Charlie Parker repertoire, "I'll Remember April" followed, in a very fast reading. Alternating latin and swing rhythms were enhanced by the fine drumming of Nick Millward.
The last flute feature of the concert, "Lullaby of Birdland" was taken at a steady tempo, but with plenty of fluent double time in the flute solo. Craig's piano solo included some 'locked hands' chordal playing (a nod to the composer's style?), before a bass improvisation with Craig inserting a "walking bass line" on piano.
After selections from some of the most celebrated jazz composers, what could be more apt than Monk's "`Round Midnight"?  Quotes, they say, are a neglected feature of the improviser's skill; a reference to the preceding theme in the alto solo illustrated this nicely.
Leaving the audience wanting more, the band finished on a high note (altissimo C on alto?) and at breakneck speed: "Donna Lee",  conventionally taken at a fast tempo, but here at a lick that defeated one audience member's new BPM (beats per minute) app designed to pick up the metronome marking!
Sincere thanks to Greg Abate and all the Craig Milverton trio for a superb evening, and, as ever, to the Progress Theatre people, Hickies of Reading for the piano, and all the Jazz in Reading team.
Review posted here by kind permission of Clive Downs
Photo by Colin Swain Photography
---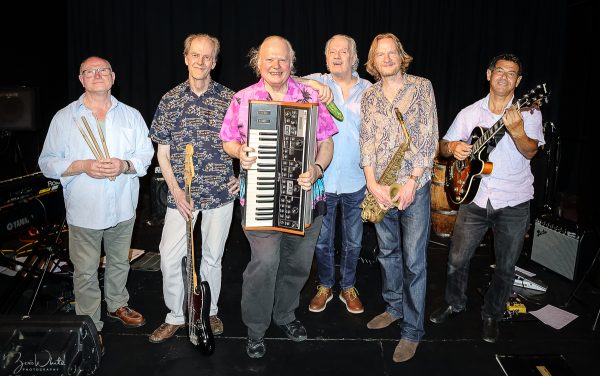 Friday 21 June 2019 Progress Theatre, Reading
Les Cirkel drums, Rob Statham bass, Geoff Castle keyboards, synthesizer, Chris Fletcher percussion, Matt Wates alto saxophone, Dominic Grant guitar
What better way to celebrate the Summer Solstice than in the company of Paz and their high octane mix of jazz improvisations, earthy funk and the irresistible rhythms of South America and the Caribbean – Fusion at its timeless best!
The band emerged nearly fifty years ago as the brainchild of the late Dick Crouch, a characterful individual with a remarkable gift for composition within the Fusion genre. His writing remains at the  heart of the band's repertoire.  With a day-job in the Transcription Department of the BBC, his  Shepherd's Bush office  became  an open-house for like minded musicians, who took full advantage of the subsidised meals available in the canteen.  The amiable Geoff Castle, current leader of the band who joined its ranks in 1974, describes Dick Crouch as a vibes player who set up his instrument at gigs but rarely played a note, preferring to strike a languid pose and soak up the music from within a cloud of Gauloises' tobacco haze – what a wonderful image that conjures in our modern world of clean-cut stage presentation!
Drummer Les Cirkel has been with Paz from its formation, though he claims to have only been seven years old at the time; Chris Fletcher joined 'after the war', but fails to admit which one; Rob Statham and Matt Wates have clocked up respectively nearly forty and fast approaching thirty years, while Dominic Grant, is the 'juvenile' of the organisation with a mere twelve months service. It's little wonder that these guys convey a slight air of 'been there, done that', for they are seasoned professionals with countless gigs to their credit, who have clocked up thousands of hours in the recording, TV and film studios and played with the giants of the entertainment business.
'For Art' immediately reveals the strength of Dick Crouch's writing. Originals are so often no more than flimsy hooks on which to hang a string of solos. That's not so here. It's beautifully formed with a distinct shape, a logical structure and intensely exciting; a hallmark of quality that sets the standard flying for the evening.
Dominic Grant makes full use of his wa-wa pedal to set the groove on 'One Hundred' (a title which should be proclaimed a la Sid Waddell, the famed darts commentator), and Matt Wates soars into flight with his gorgeous alto as the rhythms, firmly anchored by Rob Statham's bass guitar, build layer upon layer in the background.
Geoff Castle takes the writing credits for 'Latinesque', a breathtaking Samba with a subtle hint of melancholy courtesy of Chris Fletcher's ingenious percussion effects. Castle was also responsible for 'Citroen Presse', a title which accurately depicts the sad fate of his much loved Citroen 2CV. Far from being a car crash this number swings like the clappers.
'Making Smiles' and 'Forever', the first a full-on tsunami of sound, contrasting textures and rhythm, the second a bright, sparkling samba, completed the first set in dedication to the great alto saxophonist Ray Warleigh and his long tenure with Paz in its earlier days,
'Looking Inside' opens the second set, a slow, wistful number and the title track from Paz's  best selling album produced by Miles Davis associate Paul Buckmaster.  'Bags', a dedication to Milt Jackson, keeps everyone on their toes. Its constant shifts in time and rhythm, inspire brilliant solos from Matt  Wates and Geoff Castle, and the whole thing builds to a thrilling climax between Les Cirkel's drums and Chris Fletcher's congas.
'James the First', a dedication to Dick Crouch's first-born child, brings the sound of steel pans (one of many intriguing sounds emanating from Geoff Castle's Moog synthesizer) and the gaiety and fresh breezes of the Caribbean to the stage. An absolute delight!
'AC/DC' proved to be such a hit on the London disco scene in the 1980s that the record company couldn't keep pace with demand and no wonder – a fantastic piece that's lost none of its power or appeal in the intervening years. 'Laying Eggs', on the other hand, with the snappy guitar of Dominic Grant to the fore, lays down a solid groove and explores the darker territory of heavy-funk.
Geoff Castle's 'Variation on Creation', can best be described as a calypso tear-up, with everyone stoking the boiler to round off a brilliant evening in great style. Except of course, the gig can't possibly end here; rather than provoke a riot the band plays out to the cool tones of 'Harmonique' followed by a quick-fire reprise of 'AC/DC'.
Fusion is alive and kicking in the safe hands of the gentlemen of Paz and long may it continue to be so!
As ever, thanks to Martin Noble for the excellent quality of sound and lighting, and to the Progress Front of House team for their warm hospitality'
Review posted here by kind permission of Trevor Bannister.
Photo by Zoë White Photography
---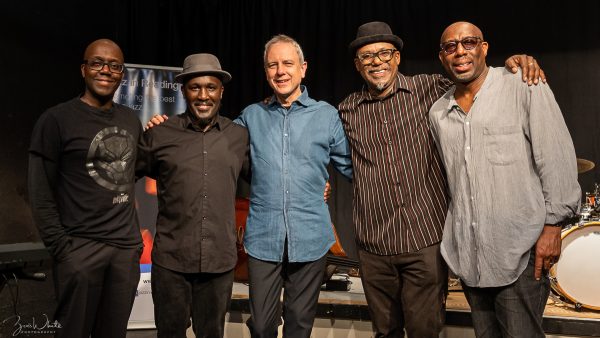 Friday 17 May, Progress Theatre, Reading
Robert Mitchell keyboard, Tony Kofi alto saxophone, Rod Youngs drums, Orphy Robinson MBE vibraphone & marimba, Dudley Phillips bass.
As many high-profile promoters and recording producers will reluctantly testify, bringing together a 'dream package' of star jazz performers is no guarantee of either artistic or commercial success. All too often what seemed like a great idea on paper ends up with underwhelming performances when enlarged egos and arguments about billing get in the way of making music. Not so when Orphy Robinson was asked to put together a band to pay tribute to the great vibes player Bobby Hutcherson who died on 15 August 2016 age seventy-five.
Such was the respect for Bobby and love of his music that not only were all the musicians Orphy approached eager to play, more importantly, each one was available for the date in September 2016. Voted 'Live Experience of the Year' in the 2017 Jazz FM Awards, the concert gave birth to the 'Bobby Hutcherson Project' under the direction of Orphy Robinson MBE, which received a rapturous reception from the sell-out audience when it took to the stage of the Progress Theatre on Friday 17 May. What the tiny theatre lacked in numbers – it only has 96 seats – it more than made up for in volume and atmosphere, prompting Orphy to remark, 'This is like Wembley Stadium!'
In the early 1960s Hutcherson took, what was then and still remains an unfashionable instrument, the vibraphone, to the cutting-edge of jazz innovation. His impeccable mastery of the instrument and personal sound was matched by his energy, gift for invention and unique sense of space and freedom. He recorded prolifically as a leader, while his versatility and ability to bring something special to any situation meant that he was always on call as a sideman. He also made two film appearances – as a bandleader in 'They Shoot Horses Don't They?' and a featured role alongside Dexter Gordon in 'Round Midnight'.
'Knucklebeam', an Eddie Marshall composition and the title track of a 1977 Blue Note album, might have been more aptly titled 'Knuckle Ride'; an exhilarating outing that tested the mettle of each band member and left the audience in a state of breathless excitement. What an opening number, and a mere taste of what was to come!
'So Far, So Good', penned by James Leary and also from the 'Knucklebeam' album, cooled the temperature and allowed the band to stretch out in a more relaxed groove.  Tony Kofi's passionate and free-flowing expression on alto saxophone was like a gift from heaven. The astonishing Robert Mitchell, familiar as the pianist and MD for the recent 'BBC Four celebrates Jazz 625 For One Night Only', took the keyboard apart in every sense of the word. He uses both hands and sometimes cross-hands with equal force to build solos of unbelievable depth and complexity. Urged on by his fellow players and the awe-struck audience, his playing became ever more audacious as the evening progressed. Orphy Robinson's solos on the other hand, are visually stunning and unfold as if the pages of a book, with a clear narrative thread and a reflective space between each chapter. Underpinned by the brilliant rhythm team of Dudley Phillips on bass and drummer Rod Youngs, this is a band of truly world-class stature.
The hard-swinging 'Tahiti', paid tribute to Milt Jackson, a profound influence on both Hutcherson and Robinson, before the band rounded-off the first set with a sensational 'Recorda-Me (Remember Me)' by giant of the tenor saxophone Joe Henderson, featuring the mellow-sounds of Orphy Robinson's marimba – his remarkable Xylosynth combines the characteristics of vibes and marimba in one instrument!
The second set opened with the Fender/Rhodes sounds of Robert Mitchell's keyboard setting a dreamlike atmosphere for 'Montara', Hutcherson's title track from the 1975 album, described by one contemporary 'as capturing the spirit of those times like no other'. A soulful fusion of gentle latin rhythms and the solid groove of Dudley Phillips' electric bass, one could simply immerse oneself in the gorgeous caress of Orphy's marimba and the plaintive saxophone of Tony Kofi.
Drummer Rod Youngs used his hi-hat cymbals to ignite 'Stick Up', a number in which the light and shade of Orphy's vibraphone contrasted beautifully with the edge-of-your-seat excitement of Robert Mitchell's piano solo.
The spikey 'Gazzelloni', celebrated Bobby Hutcherson's role as a sideman on Eric Dolphy's Blue Note album 'Out to Lunch' from 1964. Regarded at the time as being on the outer limit of free-jazz expression, it's no less challenging today. It morphed imperceptivity into the gentler strains of 'Hat and Beard' also from Dolphy's groundbreaking album. A highlight – Rod Youngs' hand-drumming as the culmination of his drum solo and a sublime moment of silence before the band came back in for the coda. Pure magic!
An irresistible summons to have a great time 'Ummh' set hands clapping to the groove and brought an enthralling concert to a fitting close way beyond the official ending time of 10 o'clock. The enduring spirit and rich musical legacy of Bobby Hutcherson rests safely in the hands of Orphy Robinson MBE and the Bobby Hutcherson Project.
Thanks should also be extended to Martin Noble sound-and-light-man-extraordinaire and the Progress House Team whose warm hospitality and attention to detail ensured that the evening ran so smoothly.
Review posted here by kind permission of Trevor Bannister.
Photo by Zoë White Photography 
---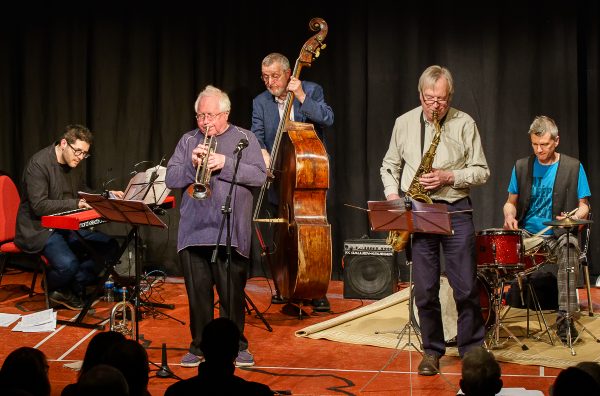 Friday 12 April, Progress Theatre, Reading
Henry Lowther trumpet & flugelhorn | Pete Hurt tenor saxophone | Barry Green keyboard | Dave Green bass | Paul Clarvis drums
'National treasures' seems to be a rather twee epithet to describe two musicians who've each graced the rough and tumble of the professional jazz scene for the past fifty-plus years, but I can't think of anything else more suitable or more deserving. Henry Lowther and Dave Green are NATIONAL TREASURES. The fact that they are back together and touring with Still Waters after an interval of twenty years, is not only to be celebrated but should be shouted from the roof tops.
The evening opened with 'Can't Believe, Won't Believe', the title track of the band's latest album; a reflection on the scepticism of our present times and a challenge to any listeners who might doubt that the lyrical beauty of Lowther's composition could fit so perfectly with the turbulent drumming of Paul Clarvis  One might have expected gentle brushwork and subdued cymbals. Not so! The ever-shifting rhythmic patterns and rich variety of sounds he drew from his minimalist kit emphasized that the emotional undercurrents of still waters do indeed run deep.
The Latin-tinged 'TL' paid tribute to the late Tony Levin and carried all the force of the musician who Tubby Hayes regarded as being 'his ideal drummer'.
According to an astrology site that I consulted Capricorn is the sign that 'represents time and responsibility … and its representatives are serious by nature with an inner state of independence'. Whether these characteristics fit Pete Hurt, who was born under the sign, I wouldn't like to say, but one thing is for sure – he is a writer and tenor saxophonist of rare quality as the intense excitement of 'Capricorn' more than demonstrated.
'Amber', a dedication to Barry Green's now two-and-half-year-old daughter, presented the band at its most expressive, with Lowther on flugelhorn and the proud father creating celestial sounds with his elegant touch at the keyboard. Dave Green, rightfully known as the 'Rolls Royce of bass players' completed the atmosphere of total sublimity.
Henry Lowther's droll announcements proved to be a highlight of the evening. None more so than in his explanation of how the next number acquired it intriguing title.  Though Its challenging rhythms seemed familiar, he couldn't think from where. The penny only dropped when he remembered playing at a Moroccan jazz festival with a group from the Gnawan dynasty of musicians. His new tune bore their influence, hence the title 'Something Like…'  It brought the first set to an exhilarating close.
The second set opened with the only standard of the evening, 'Too Young to Go Steady', a product of the Jimmy McHugh/Harold Adamson writing partnership, recorded by Nat King Cole in 1956 and by John Coltrane on his 'Ballads' album of 1962. No matter the note of caution in the title, this fulfilled all the romantic promise of a walk in a park, featuring the gorgeous tenor saxophone of Pete Hurt and an extended bass solo of near-singing perfection from Dave Green.
Much as Henry Lowther clearly loves a challenge, he must have thought 'You must be having a laugh' when the organisers of a Finnish jazz festival asked him to compose a piece of music to fit the palindrome 'Saippuakauppias' (soap vendor).  To their astonishment, and ours, he met the challenge with complete success, though he did admit that the rigid structure of the piece would relax part way through 'otherwise it might get boring.' As if it could.
'Golovec' again bore the imprint of Lowther's wide musical travels with its haunting evocation of the Slovenian forest. 'White Dwarf', on the other hand took us into quite different territory, with a remarkable 'free' section in which Henry Lowther and Paul Clarvis spurred each other on to ever-more-exciting feats of invention.
The evening closed on a note of reflection with 'For Pete', Pete Hurt's elegiac dedication to the late Pete Saberton, the band's first pianist.
Along with our thanks to the Progress House Team for their warm hospitality and the excellent quality of sound and lighting, we should also acknowledge the enlightened support of the Arts Council in helping Henry Lowther's Still Waters take to the road on a nineteen-date tour of the UK. Let's hope that it provides the impetus for future recordings and continued success.
Review posted here by kind permission of Trevor Bannister.
Photo by Zoë White Photography 
---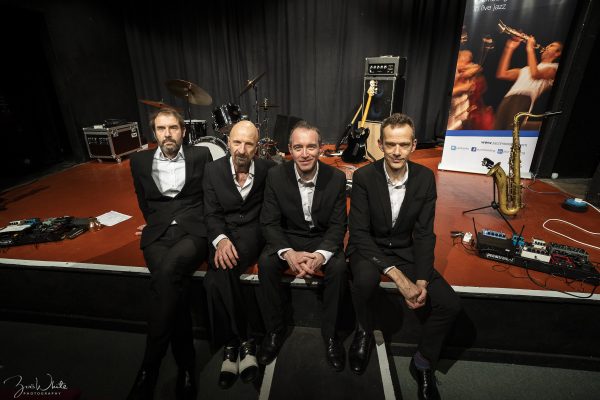 Progress Theatre, Friday 22 March
Pete Judge trumpet, Jake McMurchie tenor saxophone, Jim Barr bass, Clive Deamer drums
I take my seat in the Progress Theatre. Tonight's band – Get The Blessing. What to expect? The simple answer is that 'I don't know'. The line-up looks interesting and the stage is set for their entry. No keyboard or guitar. The stage is littered with electronic gadgetry and mics are attached to the bells of each of the horns. I've been warned that they are loud. The publicity blurb tells me that they've been together for twenty years, have a fascination for early Ornette Coleman and a penchant for playing with coloured cellophane bags over their heads. It all seems a far cry from the 12-bar blues, Great American Songbook and jazz classics my ears are usually tuned to, however 'far-out' they may reach in the hands of someone like Gilad Atzmon
Such generous applause greets the band's entry; smartly attired in suits and a little older than I imagined, that I wonder if I'm alone in never having heard them before. Clive Deamer picks up a pair of mallets and sets up an exotic rhythm on his drums. WHAM the band are into their first number. I find myself swept along by its joyful exuberance, the richness of the sound and the depth of the ever-changing textures.  Yes, its loud, but each instrument, perfectly balanced within the ensemble, shines through with the clarity of pure crystal. But, here's the thing, surely, I can hear more than two front-line instruments?  Messrs. Judge and McMurchie hold the key to the electronic wizardry at their feet and with the merest touch of a button summon whole sections of brass and reeds and the glorious sounds of an ethereal big band. 'UK' ends abruptly, a fanfare for the promise of further delights
There's no let up in pace or the urgency of expression as the band launch into 'Sunwise' and five other numbers that form the first set: 'Equal and Opposite', 'Cococloud', 'Monkfish', 'Hayk' and 'Torque'.  It's a beguiling and kaleidoscopic experience, which for me, reaches a peak of creative splendour with 'Hayk', a piece of quite extraordinary power and beauty
'Cellophant' introduces the second set. It bursts into a short-lived flower, awakens the senses with its   energy and vibrant colour, and expires suddenly. 'Not with Standing', a feature for the breathy, pure-toned tenor saxophone of Jake McMurchie, evolves more gently to an insistent groove laid down by Deamer on drums and bassist Jim Barr. Pete Judge's trumpet and the electronics provide the mystical background effects. Clive Deamer brings this dream-like piece to a close with a single, perfectly-placed drumbeat
'Bugs in Amber', there's a title to whet the taste buds, spirals into a cyclone of sound. While 'OCDC' calls for audience participation with a rapid hand-clapping beat that tests the stamina of all but the faint-hearted, 'Bristopia', with a dazzling lead from Pete Judge's trumpet, sets the feet tapping with the abandon of a mad-cap West Country barn dance. By now the audience are in total thrall to the band; cheers greet the hard-driving punk of 'The Waiting', good-humored groans accompany Jim Barr's pun-ridden introduction to 'Corniche'. But the party atmosphere doesn't detract from the quality of the music, which moves towards a stunning close with ''If It Can It Will' and 'Einstein Action Figure'
A fellow member of the audience broke the eerie silence which filled the Progress auditorium once the band had left the stage with a comment that probably spoke for us all, 'I soon gave up trying to analyze each number,' he admitted, 'I just sat back and immersed myself in the sound'.  What a sound and what an evening
Once again the Progress Theatre proved its versatility as a venue that can accommodate all styles of jazz with equal success and thanks are due to Martin Noble for the excellent sound and lighting, and the Front of House Team for their warm hospitality and for ensuring that everything runs smoothly.
Review posted here by kind permission of Trevor Bannister.
Photo by Zoë White Photography 
---
Friday 22 February, Progress Theatre, Reading
Tony Kofi alto saxophone | Byron Wallen trumpet | Alex Webb piano | Andy Cleyndert bass | Alfonso Vitale drums | Deelee Dubé guest vocalist
Julian Edwin Adderley was born in Tampa, Florida on 15 September 1928. His voracious appetite earned him the sobriquet 'Cannibal'. That it later evolved into the much more acceptable 'Cannonball' proved an absolute gift for the copywriters who devised his early album titles. What could be better than 'Cannonball's Sharpshooters' for an attention-grabbing banner? 'Spontaneous Combustion' perhaps? Cannonball's debut album for the Savoy label in 1955 announced his arrival on the New York jazz scene as a player of immense vitality and invention. He made people sit up and listen, but above all, to use Tony Kofi's words from his beautifully poetic introduction to 'A Portrait of Cannonball', he made them smile.
It was the warmth of Cannonball's humanity that endeared him to millions of fans across the world, and which instantly communicated itself with the Progress audience.  Alex Webb lit the fuse to ignite 'Bohemia After Dark', and with sparks flying between the rhythm section and the tight front-line of Tony Kofi and Byron Wallen, it was clear that this promised to be an evening to remember.
Like Cannonball, Tony Kofi and Byron Wallen are absolute masters of the blues, as they clearly demonstrated on 'Thing Are Getting Better'.  A beautifully paced mid-tempo number, firmly anchored by Andy Cleyndert's rich-toned bass lines and the sensitive pulse of Alfonso Vitale's drumming, it allowed everyone to relax and really stretch out with their solos
'Nardis' explored darker territory. Wallen's growling, 'stepping-on-eggshells' trumpet, the pure tone of Kofi's alto and Alex Webb's Spanish tinged piano combined to fully express the brooding qualities of the Miles Davis composition.
Alex Webb's excellent narration linked each number within the wider context of Cannonball's burgeoning career. We soon arrived at 1960 and 'Del Sasser', an earthy Sam Jones original from 'Them Dirty Blues', Cannonball's landmark album for Riverside records. If the pots had been simmering up to this moment in the evening, Andy Cleyndert's magnificent bass solo brought them fully to boiling point!
Rapturous applause greeted the arrival of guest vocalist Deelee Dubé, to evoke Cannonball's 1961 collaboration with Nancy Wilson, a great singer who sadly died in December 2018. Ms Dubé, the first British recipient of the Sarah Vaughan International Jazz Vocal Award, has a voice of the purest gold. She lit up the stage as she launched into 'Happy Talk', with Kofi and Wallen busily 'chattering' away in their own musical conversation by way of accompaniment. 'A Sleepin' Bee' by Harold Arlen and Truman Capote, revealed the full depth, range, crystal-clear diction and swing of Ms Dube's beautiful voice. Absolute magic!
British born Victor Feldman, a brilliantly rounded musician who achieved that rare distinction of 'making it' in the States, contributed 'Azule Serape' (Blue Shawl) to Cannonball's 'At the Lighthouse' album of 1961. Its open-spaced, Latin-tinged swing provided the perfect launchpad for a dazzling drum solo from Alfonso Vitale and brought an exhilarating first set to a close.
The elegant piano lines of Alex Webb set the second half in motion with Duke Pearson's 'Jeanine', a dreamy, beautifully melodic number, whose precision and logic opened up endless possibilities for improvisation. On the other hand, 'Sack O' Woe', another classic from 'At the Lighthouse', and taken a little faster than the original recording, presented the rhythm section at its most soulful and the front-line of Kofi and Wallen at their most exuberant. What fantastically expressive players they are!
Deelee Dubé's return to the stage not only brought thunderous applause, but truly affirmed her place as a 'brilliant new voice' on the UK jazz scene. She negotiated the tricky rhythms of Frank Loesser's 'Will I Marry' with absolute aplomb, captured the tender emotions of 'The Masquerade is Over' to perfection, aided by Byron Wallen's wonderfully expressive obbligato trumpet, both muted and open, and delivered 'Big City' as a showstopping belter with the support of the band in full cry.  Great!
'Walk Tall', a Joe Zawinul number from the 1967 album '74 Miles Away' and also the title of Cannonball's biography, brought us into the final phase of his career which came to a much-too-early close with his death age 46 on 8 August 1975. It also provided a fitting background to the remarkable achievements, listed by Tony Kofi, which form Cannonball's enduring legacy – a legacy which extends way beyond music to the heart of African-American identity through his support for Civil Rights and education projects.
After the gentle Latin breeze of 'Saudade', Deelee Dubé returned to the stage for the grand finale – what else but 'Work Song'. If anything defines Cannonball, it's this number from the pen of cornet-playing-brother Nat – earthy, blues-soaked and overflowing with the power of the human spirit!
To borrow a phrase from another commentator, 'A Portrait of Cannonball was a blast!' and in the words of one Progress regular, 'It was the best gig that I've seen at Progress.' I don't think anyone could argue with either judgment.
Thanks are due to Hickies Music Store of Friar Street, Reading for the hire of an excellent piano and as ever to the Progress house team for their hospitality and the excellent quality of sound and lighting.
Review posted here by kind permission of Trevor Bannister.
Photo by Zoë White Photography 
---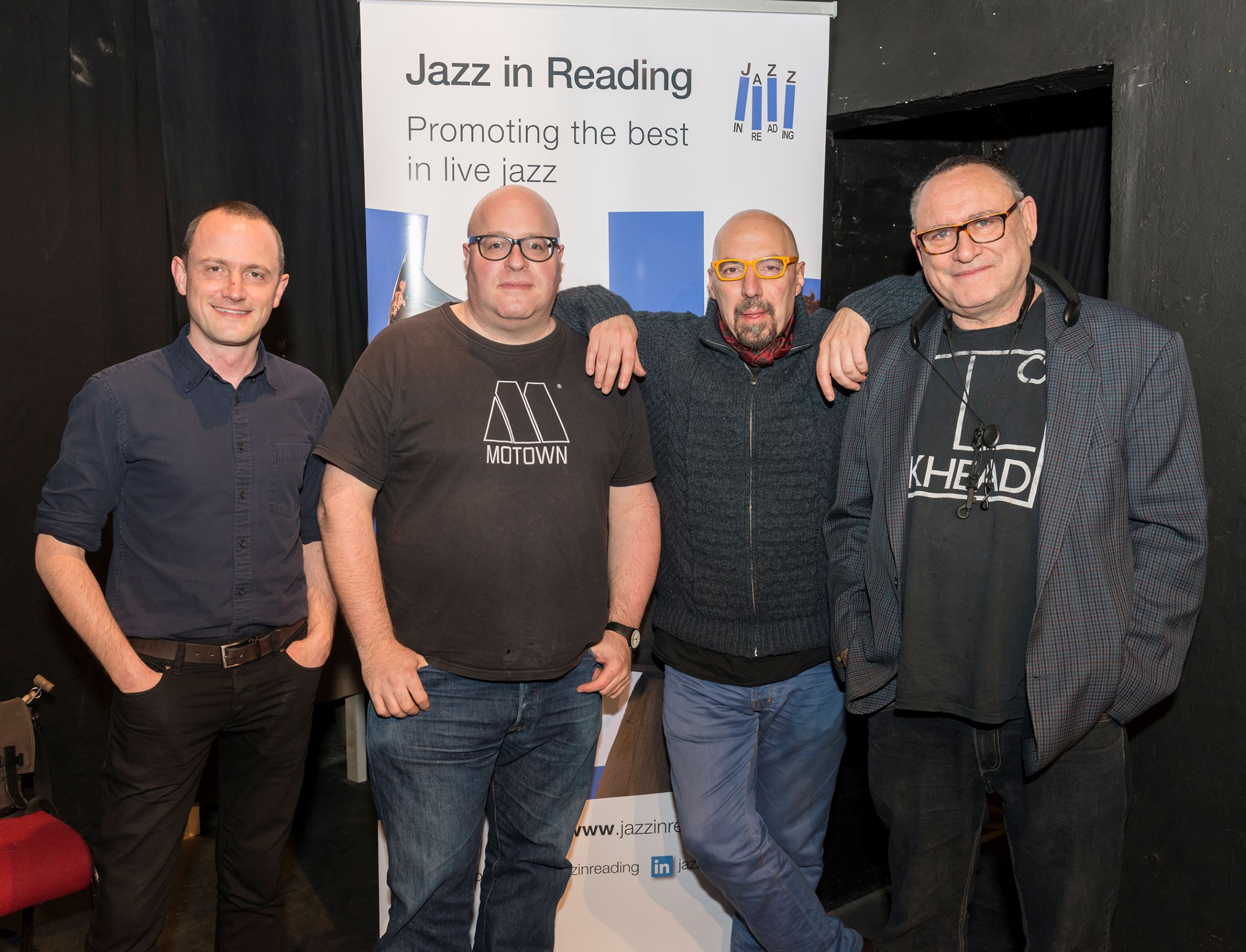 Friday 18 January, Progress Theatre, Reading
Gilad Atzmon soprano, alto & tenor saxophones, | Ross Stanley piano | Yaron Stavi double bass, | Enzo Zirilli drums
Their ears assailed by what seemed like an obsessive twenty-three-minute solo outing of 'My Favourite Things' on a strange high-pitched serpent-like instrument, the soprano saxophone, large chunks of the audience voted with their feet and beat a hasty retreat from the Gaumont State Kilburn on the opening night of John Coltrane's first, and only, visit to Britain on 11th November 1961. 'WHATHAPPENED!' (sic) screamed the Melody Maker headline. It left the paper's Bob Dawbarn, 'baffled, bothered and bewildered'. The critical debate continued unabated in the jazz press with Benny Green, saxophonist, writer, broadcaster and general know-all, who incidentally didn't attend the concert (or any that followed in Birmingham, Glasgow or Newcastle for that matter) adding his two-penny-worth by declaring that 'Coltrane threatens to upset the entire jazz conception'. And thus, John Coltrane added his name to those of Louis Armstrong and Duke Ellington, judged respectively to be 'too loud' and 'too exotic' when they first played on these shores; in Coltrane's case he was 'too loud', 'too exotic' and 'too long'.
With this occasion in mind, 'Are you ready to be challenged?' seemed a fair question for Gilad Atzmon to ask in his inimitable and uncompromising manner as he set the scene for a two-hour concert inspired by the 'Spirit of Trane'; have we Brits become more attuned to the sound and emotional impact of John Coltrane over the passage of nearly sixty years?
'Yes!' came the resounding response from the sell-out Progress audience, in perhaps the nearest experience we shall ever have of listening 'live' to John Coltrane. True, there were no marathon solos, or any of the ugly, grating sounds from the latter days of Coltrane's much-too-short career, and he did break us in gently with the beautiful 'In A Sentimental Mood' from the 1962 collaboration with Duke Ellington, and the Latin breeze of 'Invitation', but come 'Moment's Notice' he hit the ground running and it was as much as we could do from then on to keep up.
It wasn't so much the ferocious tempo that was so impressive, but rather the sheer momentum of Atzmon's playing. Fueled by Enzo Zirilli's drums, the rock-steady bass of Yaron Stavi and Ross Stanley's timely contributions at the keyboard, the notes flowed from Gilad's tenor in a torrent so characteristic of Coltrane and which prompted the writer Ira Gitler to coin the phrase 'sheets of sound'; each as hard-edged as steel and filled with a haunting melancholy. And yet, however complex the improvisation became it never lost touch with the original theme, suggesting that Coltrane was actually a far greater 'tunesmith' than he was ever credited for.
The sublime ballad 'Say It Is', in which bassist Yaron Stavi demonstrated that the art of playing a melodic walking bass solo is still alive and well, provided a welcome breathing space before the band launched into another maelstrom of sound. And Gilad set yet another challenge, or maybe he was simply playing mesmerizing tricks with our aural senses. What was he playing? 'Scarborough Fair'? 'My Favourite Things'? Ross Stanley kindly resolved the conundrum in a brief interval chat and confirmed that 'it was both!' No matter, the effect was enthralling!
'Big Nick', a catchy dedication to 'Big' Nick Nicholas, the tenor saxophonist alongside whom Coltrane sat in the Dizzy Gillespie Big Band, and another title from the Ellington collaboration, brought the first set to a light-hearted conclusion.
The second set opened with 'Impressions' and 'Naima', the name of Coltrane's then wife, and each bore the imprint of his fascination for Far Eastern philosophy and mysticism. Gilad switched from soprano to alto for 'Giant Steps' with the assurance that he would take the tune at a more leisurely waltz time than the breakneck speed of Coltrane's original recording. He failed … and matched the original in every detail in a breathtaking display of virtuosity.
'What's New' brought another change of instrument. Gilad switched to his tenor, a beautiful product of English craftmanship as he explained, made in 1926. Coincidence or what? 1926 was the year of John Coltrane's birth. It provided the perfect vehicle for Bob Haggart's tender ballad more often associated with trumpet players than saxophonists.
I would guess that Gilad's original composition 'The Burning Bush' is open to many interpretations, but for me it stood as a series of lamentations, expressing a sense of near-despair, etched even more deeply by his use of vocal cries to separate each section and Enzo Zirilli's emotionally charged drum solo and percussive effects. Listening to it was an extraordinarily moving experience.
What better way to round off the evening than 'Mr. P.C.'; not a description of Gilad Atzmon, but a dedication to bassist Paul Chambers, Coltrane's colleague in the Miles Davis Quintet and countless other recordings including the monumental 'Giant Steps'. Nat Hentoff was of course writing about John Coltrane in his sleeve notes to the album. However, his closing sentence could equally apply to Gilad Atzmon:
'He asks so much of himself that he can thereby bring a great deal to the listener who is also willing to try relatively unexplored territory with him.'
All praise to Gilad Atzmon and the Orient House Ensemble and to everyone at the Progress Theatre for hosting a truly memorable event; a wonderful evocation of the spirit and enduring legacy of John Coltrane.
Review posted here by kind permission of Trevor Bannister.
Photo by Colin Swain Photography 
---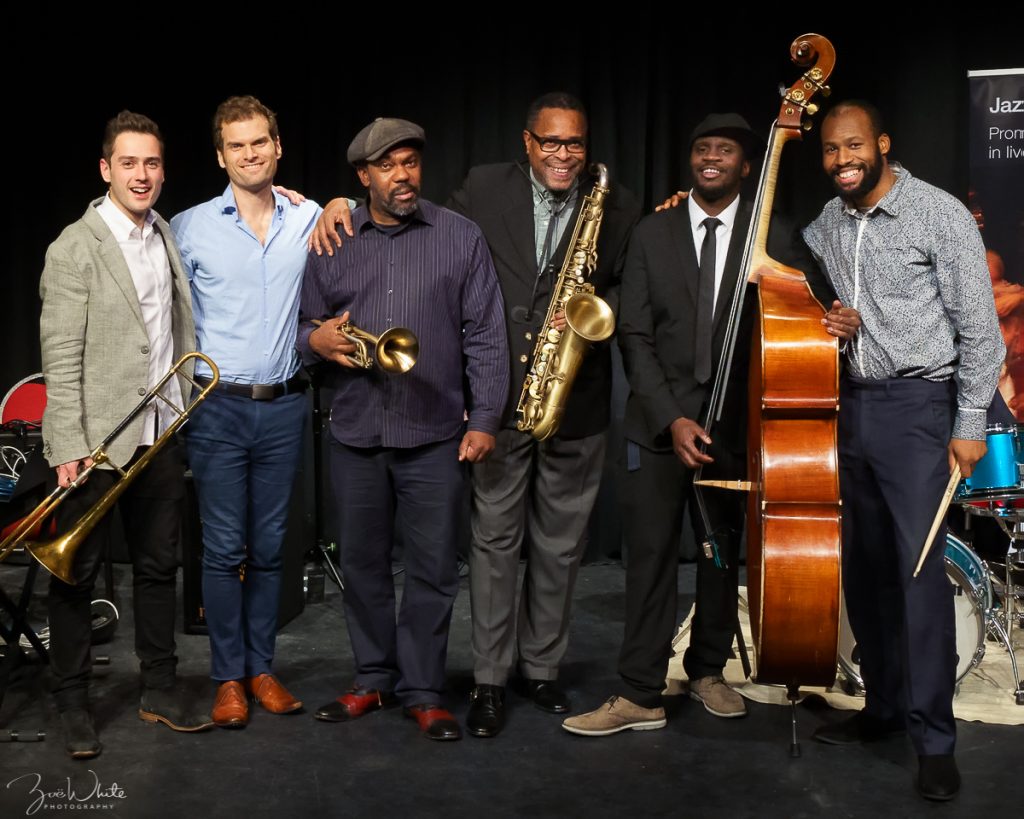 Friday 14 December, Progress Theatre, Reading
Jean Toussaint tenor saxophone, composer, leader | Byron Wallen trumpet, composer, percussion | Tom Dunnett trombone | Daniel Casimir double bass, composer | Andrew McCormack piano | Shane Forbes drums
Just when you thought you could escape Brexit for a few hours at a jazz concert, an ex-Jazz Messenger reminds you with a composition prompted by it! Yes, it was Jean Toussaint, promising to warm up the capacity Progress audience on a freezing night, as the Sextet kicked off what was billed as the last stop on their UK (plus brief diversion to Paris) "Brother Raymond Tour".
With the last concert of the year in Jazz at Progress' varied 2018 – 2019 season, what had been planned as a quintet, evolved to a sextet with the late addition of Birmingham Conservatoire graduate Tom Dunnett on trombone. Promoting his album, the "Jean Toussaint Allstar 6tet: Brother Raymond", the now London-resident former Jazz Messenger presented a programme of original compositions (an encore one exception), mainly drawn from the CD.
Jazz musicians like giving their compositions cryptic titles (sometimes derived from foreign languages); Mr Toussaint explained "Amabo" was dedicated to Barack Obama, (spelt backwards). Fortuitously, he discovered this means 'I shall love' in Latin. Indeed the opener, starting with contrapuntal lines from the horns, had a strong latin (-american) feel. New York based Andrew McCormack provided a percussive piano solo.
First of the evening's compositions from other band members, "Gate Keeper", again with latin rhythms, by composer and trumpeter Byron Wallen – a late change to the line-up – was built on a simple two note repeated rhythmic figure.
Shane Forbes (2009 winner of The Musicians Company Young Musician Award) was in the spotlight for a drum feature at the start of the following number, second of the evening from the album, "Doc", composed by Jean Toussaint, and dedicated to the band leader's cousin.
Hoping to assuage any referendum-induced negativity, Jean Toussaint introduced his next composition, "Major Changes"; based solely on major chords, this is a bright, up-tempo piece with a calypso pulse.
Opening the second set on a slow ballad, "Milena", Jean Toussaint noted the number was dedicated to his girlfriend, the inspiration for much of his music. As with all the original material in the concert, the piece has a carefully planned structure with ensemble passages, solos with rhythm section, or horn accompaniment, and interludes.
Next we heard the CD title track, "Brother Raymond", a medium-tempo composition with rich voicings from the front line. As well as instrumental ensembles, the horn players sang a wordless vocal riff over a bass and drum duet.
Another Birmingham Conservatoire graduate (and 2016 Young Jazz Musician Award winner), bassist Daniel Casimir wrote the beautiful "The Missing of Sleep" for his daughter born four weeks previously. A deceptively simple figure in triple time, repeated first by tenor and bass, leads into a minor theme with Eastern sounding harmonies and rhythm. Muted trumpet and trombone lent further colour to the arrangement.
Last number in the main programme, "Mingus Fingus", a tribute to the celebrated bass player, is not Charlie Mingus' own ("pre-Bird") composition, but a further selection from "Brother Raymond".
An encore started with a drum solo, leading into the familiar drum intro to Benny Golson's "Blues March", recalling Jean Toussaint's earlier career with the band that made the tune famous. A great ending to a memorable evening!
With appreciation and seasonal wishes for the Progress and Jazz in Reading teams.
Review posted here by kind permission of Clive Downs
Photo by Zoë White Photography
---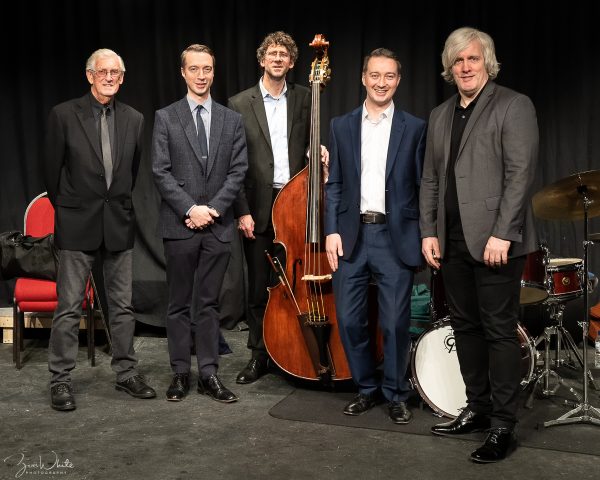 Friday 23 November, Progress Theatre,, Reading
Steve Fishwick trumpet, Grant Stewart tenor saxophone, John Pearce piano, Jeremy Brown bass, Matt Fishwick drums.
Jazz in Reading scored a mighty coup in securing the appearance on Friday 23 November of New York based tenor saxophone stylist Grant Stewart for his only UK gig outside London and ahead of performances at the BopFest Jazz Festival. Blessed with a huge sound and a slightly laid-back approach reminiscent of his idol Dexter Gordon, Stewart stamped his mark on proceedings from the outset, with front-line partner Steve Fishwick providing a perfect foil with his lightning fast trumpet. The programme bore the hallmark of classic bebop; frenetic, fast-paced, virtuosic and with a competitive edge that kept everyone on their toes – a powerful reminder of the 'new' music that took shape in the after-hours sessions of 1940s' New York, its potent force, enduring influence and a celebration of the creative genius of those who created it.
'Dance of The Infidels', an evocative and in these turbulent modern times slightly non-PC title, penned by the brilliant though severely troubled pianist Bud Powell in 1949, established the musical formula for the evening. The brief theme played in unison by the front-line provided the starting blocks for a string of freely improvised solos, resolved by a series of 'round robin' exchanges of varying length to bring the performance to a close.
Sounds simple? Don't be deceived, this is music to challenge the most technically gifted of musicians who would stumble at the first hurdle without a rhythm section of world class quality. John Pearce's elegant touch at the keyboard combined seamlessly with Jeremy Brown's beautiful bass lines to keep the music safely on course, while Matt Fishwick's mercurial drumming, an object lesson in bebop percussion, not only anticipated the route chosen by the principal soloists, but regularly pointed them towards new areas of exploration. Even Steve Fishwick, the epitome of poise and confidence, was moved to express his relief at the conclusion of John Coltrane's 'Straight Street'. 'That was hard,' he commented.
'Autumn in New York', a ballad feature for the tenor saxophone of special guest Grant Stewart brought a change of pace.  With the sensitive support of the rhythm he perfectly captured the bitter-sweet sentiments of Vernon Duke's composition from 1934. I especially loved the way he stretched the notes to hold every drop of emotion and the gorgeous cadenza which brought the tune to a close.
'Woody n' You', was written for bandleader Woody Herman by Dizzy Gillespie in 1942. Though never used by Woody it became a jazz standard nevertheless and in the hands of Messrs. Fishwick and Company it's not difficult to understand why; its appealing Afro-Cuban rhythms provided a launching platform for some dazzling solos.
The beboppers' modus operandi of reworking established popular standards by grafting an exotic title and a new, usually much more complex melody, on the original chords served the dual purpose of breathing fresh life into ageing musical war-horses and more importantly, generating a useful source of revenue from royalties. In this way 'Sweet Georgia Brown' gave birth to 'Sweet Clifford' under the guiding hand of trumpet master Clifford Brown, a number which brought the first set to a truly thunderous climax with a breathtaking drum solo from Matt Fishwick.
Tadd Dameron's 'The Scene Is Clean', memorably recorded by Clifford Brown and Sonny Rollins in 1956, opened the second set. Steve Fishwick and Grant Stewart wove their way around Matt's atmospheric drum patterns before settling down to a gentle swinger at mid-tempo in which John Pearce's elegant piano solo was one of many highlights.
'Little Willie Leaps' came to life at a 1948 session for Savoy records, which for contractual reasons nominated Miles Davis as leader of what was in reality the Charlie Parker Quintet. Davis provided the four titles, while Parker himself played tenor rather than his familiar alto sax.  Unlike the brooding melancholy of so much of Miles' work, this number is full of joyous expression which set the band into full flight.
Steve Fishwick took centre stage for Victor Young's timeless classic 'Stella by Starlight'. A reflective ballad beloved of trumpet and saxophone players alike, Steve demonstrated his remarkable powers of invention and technical assurance aided by the subtle support of his colleagues – the haunting tone of Grant Stewart's tenor, John Pearce's 'moonlight' touch on the keyboard, Jeremy Brown's perfectly placed bass notes and Matt Fishwick's gentle brushwork.
A great evening drew to a close with a bow to the time-honoured jazz tradition of 'sitting-in'. A whispered aside from Grant to Steve resulted in an invitation to tenor saxophonist Osian Roberts, who 'just happened' to be seated in the audience and who 'just happened' to have his instrument at hand, to join the band. In a mixture of surprise on his part and the delight of the capacity audience, Osian duly appeared stage-left to contribute an excellent solo to 'Bouncin' with Bud'. He remained on stage for an 'all hands to the deck' tear-up on 'Tea for Two', which closed with another explosive drum work-out by Matt Fishwick.
One notable feature of the gig which could easily have been overlooked and left unreported, was that no amplification and only one microphone, used only for announcements, were in use throughout the evening. In other words, the wonderful quality of the sound, especially the full, rounded tone of Grant Stewart's saxophone emanated solely from the instruments themselves and the natural acoustic of the Progress auditorium.
We hope that Grant enjoyed his visit to Reading ahead of a full weekend of appearances at the BopFest Jazz Festival and before flying home to the States for a gig in Kansas. As one might say, 'Reading today. Tomorrow the world!'
As ever, our thanks to everyone at Progress for providing such warm hospitality and for ensuring that every aspect of the evening ran smoothly.
Review posted here by kind permission of Trevor Bannister.
Photo by Zoë White Photography 
---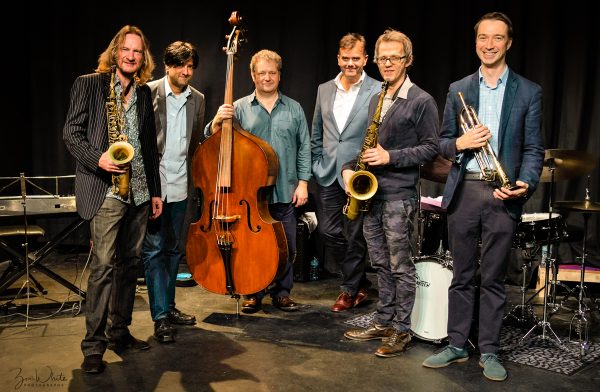 Friday 19 October, Progress Theatre, Reading
Matt Wates alto saxophone, Leon Greening piano, Malcolm Creese bass, Matt Home drums, Steve Main tenor saxophone, Steve Fishwick trumpet & flugelhorn
Having to sit through handful of groan-worthy jokes that easily pre-dated the Relief of Mafeking was a small price to pay for the otherwise sublime pleasure of listening to the Matt Wates' Sextet at Reading's Progress Theatre on Friday 19 October. Though the band is brimming with solo talent, it was the quality of Wates' writing and arranging skills that stood out in my mind throughout the evening. As host-for-the-evening Paul Johnson pointed out in his introduction to the second set, 'An entire programme of originals can get to be very samey. Not so with Matt Wates.'  With all but two of the tightly-arranged numbers coming from Wates' prolific pen, each set sparkled with interest, variety and thrilling challenge for musicians and audience alike. He has a remarkable ear for creating melodies that take firm root in the imagination and uses the instrumental resources of the band to bring them to life in full.
The gorgeous bass-lines of Malcolm Creese set the opening number, 'Victoria', in motion and introduced the contrasting sounds of the three front-line instruments as they blended together or played their separate parts in developing the theme: the fluid, pure toned and balletic grace of Wates' alto; the immaculate precision of Steve Fishwick's trumpet and the dry, muscular tones of Steve Main's tenor. Leon Greening is both the band's energy source and harmonic navigator at the keyboard and charts his course with a huge sound. His two-handed, multi-layered approach to soloing never loses sight of the melody and it's this quality which makes his playing so beguiling. Meanwhile, Matt Home demonstrated the aplomb that makes him the first-call drummer for any situation demanding straight-ahead jazz swing.
'Heatwave' maintained the temperature, though at a slightly more relaxed pace, before the band changed into their dancing shoes for the blistering jazz-waltz 'Hill Street' – the residents of Hill Street, Reading, located a little more than a mile away from the Progress would have been delighted with this unexpected dedication to their notoriously steep thoroughfare.
'What Good Is Spring' brought a change of mood. Composed by Matt Wates' twin brother Rupert, resident in the United States, it featured the haunting tenor of Steve Main in a beautifully melancholic evocation of spring.
Obviously with a mind to the fast approaching interval and the well-stocked Progress bar, 'Gin and Bitters' brought the first set to a suitable close.  Bright and cheery, and like the cocktail itself, it held a gentle hint of potential menace.
The second set opened with 'Third Eye' and instantly brought to mind the clean, knife-edge swing of Cannonball Adderley's great bands of the early sixties. 'We held that together by the skin of our teeth,' Wates admitted when this breathtaking number came to a close.
'On the Up' hit a more funky groove with tenor saxist Steve Main to the fore, while rock inspired ensemble passages added tense excitement to 'Dark Energy'. The effervescent joy of 'The People Tree' culminated in a masterful drum solo by Matt Home.
Steve Fishwick's mellow flugelhorn set the smoky, blues-soaked scene for 'After Hours', a moving dedication to Ray Charles featuring Leon Greening at the height of his keyboard powers.
Matt Wates and Leon Greening presented 'Beatriz', a composition by Brazilian guitarist and singer Edu Lobo, as a duo, unleashing in the process a performance of powerfully expressed emotion. Wates' intense cry of passion was absolutely spellbinding.
Can you think of a better title to describe six young-at-heart jazzers than 'When We Grow Up'?   It wrapped up the evening in suitably playful style, but as no jazz concert is complete without an encore a little persuasion  brought the band back to the stage to ride-out the evening with the rousing, 'Blues for Ari'.
It's all too easy to take British jazz musicians for granted. The Matt Wates Sextet served to remind us of their world class qualities. As the late alto legend Joe Harriott once observed, 'Parker? There's some over here who can play aces too …'
A great evening and thanks as ever to the Progress 'House Team' for the warmth of their hospitality and flawless management of sound and lighting.
Review posted here by kind permission of Trevor Bannister.
Photo by Zoë White Photography
---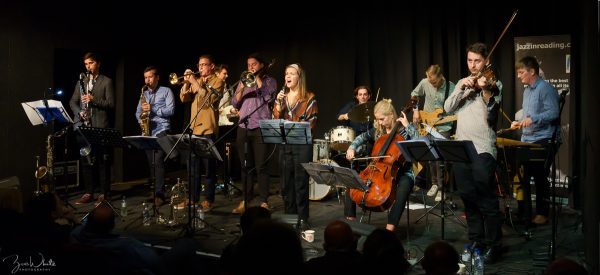 Friday 28 September, Progress Theatre, Reading
Jonny Mansfield vibes & leader, James Davison trumpet & flugelhorn, Rory Ingham trombone, Tom Smith alto saxophone, Sam Rapley tenor saxophone & bass clarinet, Dom Ingham violin & vocals, Ella Hohnen Ford vocals & flute, Laura Armstrong cello, Oliver Mason guitar, Will Harris bass guitar, Boz Martin-Jones drums.
We can't say that we weren't warned. Just a few weeks ago Jonny Mansfield, appearing with Jam Experiment, accepted an invitation to join Jazz in Reading's Bob Draper on the Progress stage for a brief interview to promote his forthcoming Elftet concert. 'Why an Elftet?' asked an incredulous Bob. 'An eleven-piece band!' 'It gives me the chance to write for a broad musical palette and to create colours and textures beyond what's possible in a small group,' replied Mansfield.
And how! Jonny's self-effacing response gave no hint of the immense power that eleven musicians, at the top of their game on the penultimate night of a thirteen-gig national tour, can generate. To say we were blown away is an under-statement. It's certainly no exaggeration to say that those privileged to be in the audience bore witness to the arrival of a major new instrumental and writing talent on the jazz scene. 'It was like a breath of fresh air,' remarked one stalwart of Jazz at Progress. For others, this writer included, it prompted memories of Messrs. Gibbs, Garrick and Westbrook in the nineteen-sixties and the later glories of Kenny Wheeler and Loose Tubes; bands which broke the established mould and added a new dimension to ensemble jazz.
Even in this day and age of heightened awareness of gender inequality, the jazz world is still dominated by all-male groups, where a female vocalist may be the only acknowledgement of women's contribution to this area of music.  Here, it was wonderfully refreshing to see two women, Ella Hohnen Ford and Laura Armstrong, absolutely intrinsic to the band line-up, performing as equal members of the ensemble and its improvising soloists, both of whose individual qualities added superbly to the unique sound of Elftet.
Mansfield may never have stepped into a sailing boat, as he admitted in his introduction to 'Sailing', but his impression of what he thought it might be like was the most perfect evocation of the experience that I can imagine. The blasts of Rory Ingham's declamatory trombone launched the piece into motion.  Alert to the challenges and ever-changing rhythms of wind and tide depicted by Mansfield's arrangement, Ella Hohnen Ford, her wordless vocal blending beautifully with Dom Ingham's violin, held a firm grasp on the tiller and brought the boat safely home. One couldn't fail to be impressed by the startling originality of Mansfield's writing, played with the spirit and gusto of a New Orleans street band, and the subtlety of the instrumental voicings. As he commented in his interview with Bob Draper, 'Writing a tune is straightforward. Making it work for the ensemble takes a lot longer.'
Mansfield's ear for putting together an interesting programme was fully in evidence in the next two numbers played back-to-back. 'Falling', a gentle lullaby inspired by 'Golden Slumbers' a poem by Thomas Dekker, contrasted brilliantly with 'For You', an almost pastoral piece, featuring the dazzling inventiveness of James Davison, winner of this year's Musicians' Company Young Musician Competition* on flugelhorn and the featherlight alto saxophone of Tom Smith. It finished with some stunning Gospel-like chords.
Sadly, ladybird's are now rare visitors to my garden. Mansfield's next piece, 'Wings', an interpretation of the traditional nursery rhyme 'Burnie Bee', used his vibes in a gorgeous combination with Ella Hohnen Ford's voice, the violin of Dom Ingham, Laura Armstrong's cello and Sam Rapley's bass clarinet to capture the exquisite beauty of this well-loved creature. But there is a darker aspect to this seemingly benign beetle, as Mansfield made clear in a vibes solo of growing intensity; it can exude a pungent fluid to ward off its enemies – ants, birds … people!
'Flying Kites' completed the first set. As with earlier pieces, Mansfield used the full resources of the ensemble, in this instance to create a vivid image of the joys and frustrations of flying a kite. The bass guitar of Will Harris anchored the kite firmly to the ground, while each player in turn helped to launch it into the sky; fantastic guitar from Oliver Mason, whose playing was a constant delight throughout the evening, pizzicato violin from Dom Ingham and a show-stopping drum solo from Boz Martin-Jones.
The second set opened with the thoughtfully reflective 'Silhouette', which amongst many delights featured a wonderfully free-form vibes solo by the leader with the rhythm section in support, the resonant tones of Sam Rapley's bass clarinet and a ripping alto solo by Tom Smith.
Mansfield crowned the evening with 'Tim Smoth's Big Day Out'. This imaginative and extraordinarily ambitious suite, lasting a full forty-five minutes, featured the ensemble members as soloists or in a variety of instrumental groupings that fully expressed the poetic qualities of Mansfield's writing. The repetition of a seemingly simple vocal line, from which Ford drew scope for endless variations, linked the respective parts together. One was almost overawed by the emotional maturity and technical brilliance of each player and their determination to push the music to the utmost limits. Tom Smith's (Yes, the play-on-words of the title scarcely disguises that this piece was written specifically for him as a tribute to his constant inspiration as a musician who always 'questions what is possible') unaccompanied alto solo, modelled on the work of American saxophone virtuoso Colin Stetson, held the audience spellbound as he extracted sounds from his instrument that no one could have imagined previously existed.
'Present', was written for fellow vibes player Jim Hart after he recommended that Mansfield read Eckhart Tolle's 'The Power of Now'. It brought the concert to rip-roaring close.
Jonny Mansfield is a worthy recipient of the 2018 Kenny Wheeler Jazz Prize awarded to a graduating musician at the Royal Academy of Music who demonstrates excellence in performance and composition. This has led to a recording opportunity, which features Elftet with special guests, Chris Potter on saxophone, Kit Downes on Hammond organ and Gareth Lockrane on flute. The album will be released on Edition Records early next year.
On Saturday 13th October he will be leading Elftet at the Marsden Jazz Festival with the presentation of 'On Marsden Moor', a specially commissioned suite that combines the instrumental ensemble with song and spoken word. This will be recorded by BBC Radio 3 and broadcast at 11pm on Monday 12th November.
As ever, our thanks to the Progress Theatre 'house-team' for their hospitality and the excellent quality of the sound and lighting.
I should like to round-off this review with the following comment; written by Marc Edwards, a gentleman who works tirelessly to promote emerging-jazz talent in the UK, but I feel sure, shared by many:
'A fabulous night at Progress. With players, bandleaders and composers of this calibre, the future of new music, powered by such a breadth of influences is bright.'
Review posted here by kind permission of Trevor Bannister.
Photo by Zoë White Photography
* Other finalists in this competition included saxophonist Alex Hitchcock, and bassist Joe Downard, both of whom will be familiar to Progress audiences.
---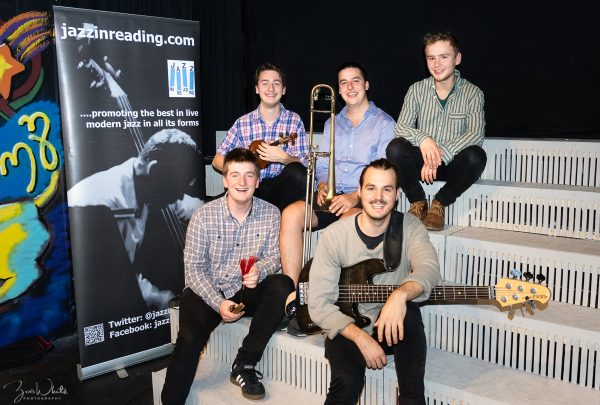 Friday 31 August, Progress Theatre, Reading
Rory Ingham trombone, Dominic Ingham violin & voice, Toby Comeau keyboard, Joe Lee bass, Jonny Mansfield drums
Hot foot from a marathon recording session in Wales and a triumphant European tour taking in Berlin, Warsaw, Kracow and other points East, Jam Experiment took to the stage of the Progress Theatre in ebullient spirits on Friday 31 to open a new season of Jazz at Progress. Formed four years ago, the band has already notched up huge critical acclaim from its numerous club appearances at such venues as Ronnie Scott's and the Vortex , the stages of the London and Cheltenham Jazz Festivals, its radio broadcasts for Radio 3 and Jazz FM and inaugural CD, Jam Experiment.
The band is fronted by the irrepressible Rory Ingham, winner of the Rising Star Award in the 2017 British Jazz Awards.  He commands a trombone chair in both NYJO, with whom he played at this year's Proms in an ambitious programme devoted to the music of George Gershwin, Stan Kenton and Laura Jurd, and the Syd Lawrence Orchestra. It came as no surprise to learn that he cites Peter Kay as being high on his list of comedy heroes.
Dominic Ingham, dead-pan-faced Laurel to his more ebullient brother's Oliver Hardy, completes the front-line on violin and voice, his ear finely tuned from early childhood training in the Suzuki method of playing. Toby Comeau whose background included an enriching experience as a chorister at Truro Cathedral before an attraction to jazz took root, plays keyboard. He is joined in the rhythm section by Joe Lee, a fellow chorister at Truro, whom Toby inspired to take up bass.  Jonny Mansfield completes the line-up on drums; vibraphonist with NYJO and the 2018 recipient of the prestigious Kenny Wheeler Jazz Prize awarded to a 'graduating musician at the Royal Academy of Music who demonstrates excellence in performance and composition'.
This stellar line-up of emerging jazz talent, each a product of either the Royal Academy of Music or Guildhall School of Music, and with an average age of about 21, clearly take their music seriously. That they are equally determined to have a ball creating it and sharing their sense of fun and musical adventure with the audience, became immediately obvious with the opening bars of 'Richie's Scalp', a 'raising-of-the hairs-on-the-back-of-the neck' sensation induced by Rory Ingham's soulfully declamatory trombone. What an opening number!  Dominic's amplified violin matched the trombone for volume but took the theme into more linear territory; eerie swirling lines fueled by the funky rhythm section.
Quite how Quay – the 'Sunnies with Melbourne flair' – inspired Joe Lee to write a tune of that title is perhaps best left unexplained. No matter. A beautifully evocative violin solo blossomed from the composer's fulsome bass line, with trombone, keyboard and drums adding their respective musical colours to the soundscape.
'Theaker's Barn', drew yet another gem from the Jam Experiment's box of delights with Dominic Ingham taking an instrumental line with his appealingly light and airy voice; the sort of thing at which Norma Winstone excels. It blended perfectly with the mellow tones of Rory's trombone and the intricate backgrounds conjured by Messrs Comeau, Lee and Mansfield. Can you think of any other male performers who use their voice in this way? Answers on a postcard to Jazz in Reading please.
Toby Comeau further demonstrated the writing strengths of the band members with a beautiful sound portrait of 'Appledore', the West Country town famed for the quality of its shipbuilding, while Jonny Mansfield's hypnotic 'Ichi Ni' (one, two, three in Japanese and a neat play on words – 'Itchy Knee'. Get it?) brought the first set to a close.
The resounding clatter of the end-of-interval bell summoned the faithful from the liquid attractions of the bar and back to the Progress auditorium, where MC for the evening Bob Draper held centre-stage in the company of Jonny Mansfield. What better way of publicizing the next Progress gig than an interview with the protagonist himself. This promises to be an intriguing event; an eleven-piece band – Elftet – including strings, giving full rein to what no less a jazz authority than Alyn Shipton has described as 'strikingly original music'. Friday 28 September is a date to place in the diary!
The conversational style of Mansfield's writing shone through 'BMTC', the opening number of the second set.  As if to say, 'Hey guys, let's see where this will take us', ideas bounced about freely giving the arrangement a wonderful sense of spontaneity and providing a perfect launching pad for Mansfield's superlative workout on drums.
I can only describe 'Tin', the third of Mansfield's compositions, as a gorgeous multi-layered tapestry of sound, bearing the indelible thread of Dominic Ingham's voice and Toby Comeau's keyboard extemporization.
Dominic Ingham's 'Hop the Hip Replacement' hit an altogether brighter groove, as the tongue-twisting title implies, while 'Bonsai', with the simplicity of its lyric and compelling bassline, should take its place as a modern-day lullaby.
'Get It On Target', featuring a dazzling solo by Toby Comeau and a final effort by Rory Ingham to lift the roof may have brought the evening to its 'official' close but there was no way that Jam Experiment could leave the stage without an encore. They duly obliged and only then did the audience reluctantly accept that the gig had come to an end and that they would have to make their way home.
In a process of musical alchemy Jam Experiment have blended their individual talents within the proverbial jazz melting pot with a good measure of contemporary influences and the addition of a fistful of Yorkshire grit. When left to cool in the fresh breezes of the English West Country the result is an amalgam of pure musical gold.  Catch the band when you can!
Thanks are due to the Progress team for their warm hospitality, efficient service and the high quality of the sound and lighting, and Marc Edwards of 'Brecon Jazz Futures' for his instrumental role in bringing Jam Experiment to the Progress Theatre.
Review posted here by kind permission of Trevor Bannister.
Photo by Zoë White Photography
---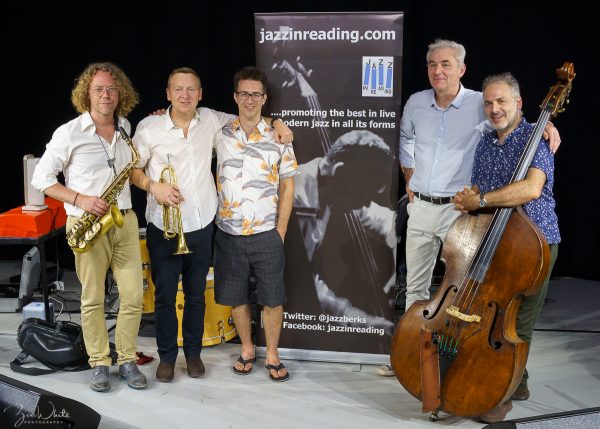 Reading Fringe Festival Main Stage, Reading Station Hill Plaza, Wednesday 25 July
Stuart Henderson (trumpet & flugelhorn), Reiner Witzel (alto saxophone), Pete Billington (keyboards), Raph Mizraki (bass & electric bass), Simon Price (drums).
'How long have the band been together?' I was asked by one of several curious bystanders who were drawn to the Main Stage of the Reading Fringe Festival as the sound of five jazz musicians in rehearsal drifted Pied Piper-like across Reading Station Plaza early on Wednesday evening.   'About two hours,' I replied. 'Two hours!' he gasped. 'That's amazing. What is it about jazz that guys can get-it-together like that?'
With that, he continued on his way in puzzled amazement, promising that he would try to return for the concert at the appointed time.
In truth I hadn't been entirely honest with my response. Four of the musicians play regularly under the leadership of Stuart Henderson and are well known to local jazzers as the Stuart Henderson Quartet. But, alto saxophonist Reiner Witzel had only flown into Heathrow from Dusseldorf a few hours earlier, giving him just enough time to meet the guys at Stuart's home, and to check into his Friar Street Hotel, before making the sound-check and rehearsal at the Main Stage.
And to explain the background to this unique occasion a little further; Stuart had played as a guest with Reiner's Dusseldorf Jazz Ensemble in Dusseldorf on 30th June, in a hugely successful concert which also featured guest soloists from Haifa and Chemnitz – each guest representing a community with which Dusseldorf is twinned. Reiner's appearance in Reading, which he first visited thirty years ago as a youthful member of a big band, reciprocated that event to forge an additional link of friendship between Reading and Dusseldorf.
In the circumstances the musicians could easily have settled for a programme of well-worn standards familiar to themselves and the audience. But no, this was a special occasion, not just in terms of the link between Reading and Dusseldorf, but as an opportunity to showcase the original writing talents of Stuart and Reiner and to present jazz at its best and most challenging as part of Reading Fringe Festival. They hit the groove with the opening number, Reiner Witzel's 'Northern Fields', and during the course of three sets held the near capacity audience spellbound with music of truly world class quality.
The contrast between the protagonist's writing styles made for fascinating listening. Witzel sometimes dark and brooding, captured the pulse of life in a Charlie Mingus-like fashion of startling sounds and shifting times and rhythms with the brilliantly evocative 'Tales of a Century', 'Nomansland' and 'Hafenhunde' (The Dogs of The Port)
Henderson, on the other hand revealed a much lighter touch with debut outings for three very lyrical pieces. His arrangement of 'Sumer Is i-cumen in', written down by a monk in Reading Abbey in about 1240, said to be 'the earliest existing example of harmonized secular music' and indelibly inscribed in the primary-school-day memories of generations of Reading children, was a pure delight – a medieval four-part round in jazz bossa-nova style – and a fitting tribute to the recent re-opening of Reading Abbey.  'Reflections', featuring the gorgeous piano of Pete Billington, was the sort of wistfully romantic ballad that sadly nobody seems to write any more – except thankfully Stuart Henderson. 'Three Rivers' beautifully captured the flow and various moods of Reading's principal rivers, the Thames, Kennet and Holy Brook.
'Voyage' and 'Gibraltar', two post-1960 classics from respectively Kenny Barron and Freddie Hubbard, gave everyone free-rein to exercise their 'jazz-chops'. Fiery alto from Witzel, blistering trumpet runs from Henderson, who revived the lost art of growling plunger mute to outstanding effect, and understated swing from Billington.  Alert to every shift in gear Raph Mizraki's rich-toned bass held the rhythm section firmly in place in partnership with the explosive drumming of Simon Price.
In an evening rich with surprises, none more so than the inclusion of two numbers from Miles Davis 'electric' repertoire, 'Tutu' and 'Shh Peaceful/It's About That Time'. Though Miles' innovations with electronic instruments in the late-1960s and onwards divided fans and critics alike, they had a lasting influence on jazz, giving birth to the entirely new genre of 'jazz fusion'. I can still vividly remember the spine-tingling experience of listening to 'In A Silent Way' on its release in 1970. And yet, to my knowledge, unlike titles such as 'So What' or 'Walkin'' from earlier albums, nobody actually plays anything from the 'electric' bands.
Why not? Of course, at the time we didn't know, and could never had imagined, that 'In A Silent Way' was painstakingly created in the editor's cutting room from hours and hours of tape, while 'Tutu' took the innovation a stage further and Miles played over the lush pre-recorded arrangements of Marcus Miller. Playing the tunes 'live' naturally presents quite a challenge, but not one to be missed by the Reading Dusseldorf Jazz Ensemble!
The results were outstanding. The band drew on its entire bank of sound resources to deliver each piece; Witzel's haunting alto, and Henderson's sparse trumpet interjections, overlaying the kaleidoscopic background of Mizraki's slap bass, the celestial effects conjured from Pete Billington's keyboard, and the hypnotic beat of Simon Price's drums. The band not only remained faithful to the original feel of the albums, we had the bonus of the spontaneity which only comes in a 'live' performance.
'Swagmeister', a dedication to Stuart's son who informed his father about the word 'swag' to be the ultimate in cool, brought a fantastic evening to a swinging close, and the audience to its feet in rapturous appreciation. As one happy punter commented, 'I've listened to jazz in New York and all over the world. This ranks with the best I've ever heard!' Here, here!
The Reading Fringe Festival Main Stage, a remarkable structure of inflated plastic seemed to hold the ominous promise of a weight-reducing sauna at the beginning of the evening. To everyone's surprise it proved to be perfect for the performance, with an atmosphere of its own that grew as the evening progressed – the next best thing to playing outdoors on a beautiful mid-summer's evening. Sound and Lighting were handled magnificently by the resident Technical Team, while the Front of House Team engendered the welcoming and 'can't-do-enough-for-you' spirit of Reading Fringe Festival.
Thanks are due to the Reading Dusseldorf Association for their support and to Paul Johnson of 'Jazz in Reading' who ensured that all the strands of organization were firmly drawn together to make the event possible.
Reiner Witzel took his flight back to Germany early on Thursday morning in advance of working on a cruise departing from Hamburg later in the day – such is the schedule of an internationally based musician. Stuart Henderson & Company can be seen at their resident spot at the Retreat on the last Sunday of each month – don't miss the opportunity to see them in action.
Can we look forward to a further episode in the jazz-link between Reading and Dusseldorf and further involvement with Reading Fringe Festival? The interest and goodwill are certainly there, so why not!
Review posted here by kind permission of Trevor Bannister.
Photo by Zoë White Photography
---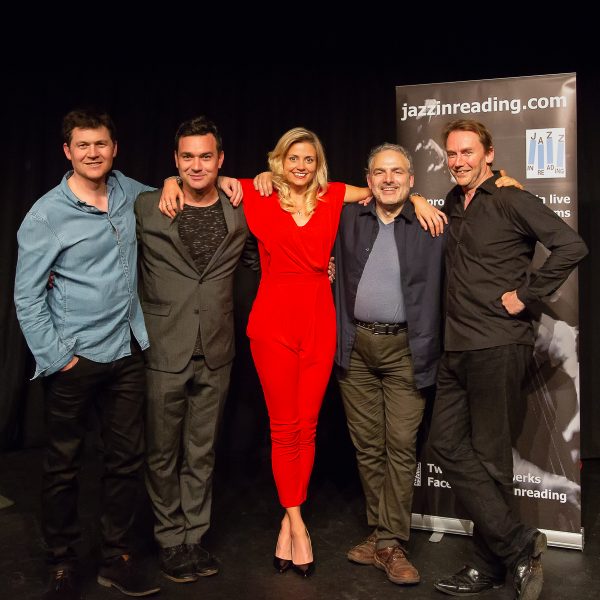 Progress Theatre, Reading Friday 25 May
Rebecca Poole Quintet: Rebecca Poole vocals, Brandon Allen tenor sax, Hugh Turner guitar, Raph Mizraki bass, Steve Wyndham drums
What better way to round-off another successful season of jazz at Reading's Progress Theatre than in the company of Rebecca Poole and her quintet on Friday 25 May. Any date with Henley-based Rebecca, AKA Purdy, is guaranteed to set faces smiling, heads swaying and feet tapping, and she didn't disappoint the near sell-out audience, adding many new fans to her legion of admirers. Multiple award-winning Brandon Allen on tenor saxophone and Hugh Turner on guitar, added their solo voices to the occasion, and demonstrated the subtle art of vocal accompaniment to perfection, with the reliable and ever-swinging support of Raph Mizraki and Steve Wyndham.
Rebecca's warmth and fun-filled personality illuminates the stage while the broad expanse of her vocal canvas covers songs of lasting appeal together with originals with a more contemporary feel. Evergreen standards like 'I Can't Give You Anything but Love' and 'Bye Bye Blackbird', dating back to the 1920s, comfortably rub shoulders with numbers she has recorded under her alter ego as Purdy, like 'Too Much in Love with Love', 'Look into Your Mirror' or the charmingly wistful 'Cherry Tree'.
She handled the pacey vocal gymnastics of 'Love Me or Leave Me' with consummate ease, and knowingly drew every ounce of innuendo from the lyrics of 'Put the Blame on Mame', a lady whose ribald behavior caused the San Francisco earthquake amongst a string of other natural disasters. But Rebecca's voice also has an intimate 'late-night' quality, perfectly suited to expressing the bitter grains of 'Black Coffee', as well as the seductive promise of 'Perhaps, Perhaps, Perhaps', hit songs for two of her strongest influences, Peggy Lee and Doris Day.
'I Can't Wait to Meet You', another original, featured Rebecca in an enjoyable duet with guitarist and MD Hugh Turner. It ended with an 'Oh Yeah' that almost out-graveled Satchmo himself!
Star tenor saxophonist Brandon Allen blew a storm on his four instrumental features: the bebop classic 'Good Bait', 'No More Blues' a delightful Latin American number by Antonio Carlos Jobim,
'Caravan' and Jimmy Van Heusen's wonderful ballad 'But Beautiful'. He was ably assisted by the outstanding Hugh Turner on guitar, who can summon every sound imaginable from his instrument; the lightest Latin-American touch to the heaviest blues-soaked riff, the walking bass of Raph Mizraki and the rhythmic pulse of Steve Wyndham's drums.
As the show drew to a close, the band laid down an earthy beat, Rebecca belted out the verse, and the audience at last gave vent to emotions held in check throughout the evening and joined in with the chorus to what else but, 'Minnie the Moocher'.  Top that as they say.  And she did with the encore. 'Just a Gigolo', with the interpolation of 'I Ain't Got Nobody', had everyone singing their heads off!
As ever very many thanks to the team at the Progress Theatre for hosting the jazz programme organized by Jazz in Reading and we look forward to the new season which commences in August.
Meanwhile, local trumpet hero Stuart Henderson will be appearing at the Reading Fringe Festival on Wednesday 25 July with the Reading Dusseldorf Jazz Ensemble featuring special guest Reiner Witzel. Full details are available on www.jazzinreading.com
Review posted here by kind permission of Trevor Bannister.
Photo by Zoë White Photography
---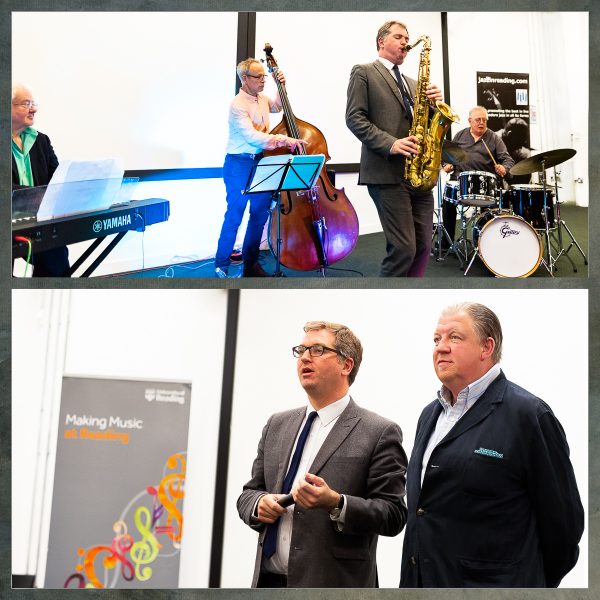 University of Reading, Friday 11 May 2018
Top: John Horler, Alec Dankworth, Simon Spillett, and Spike Wells
Bottom: Simon Spillett and Mark Baxter
A night of Jazz and Film to celebrate Tubby Hayes with the Simon Spillett Quartet and the acclaimed film documentary 'Tubby Hayes: A Man in a Hurry'
The young boy stood with his father and gazed in wonder at the gleaming family of three saxophones displayed in the window of the music shop local to his home in south London. He pointed to the middle-sized instrument, a tenor saxophone, and announced, 'That is what I want to play'.
His father, a professional dance musician himself, agreed to the request but added the caveat that as his son was already learning to play the piano and violin he would have to wait until his twelfth birthday. True to his word he handed the instrument to his son on the due date and so, began the legend of Edward Brian 'Tubby' Hayes.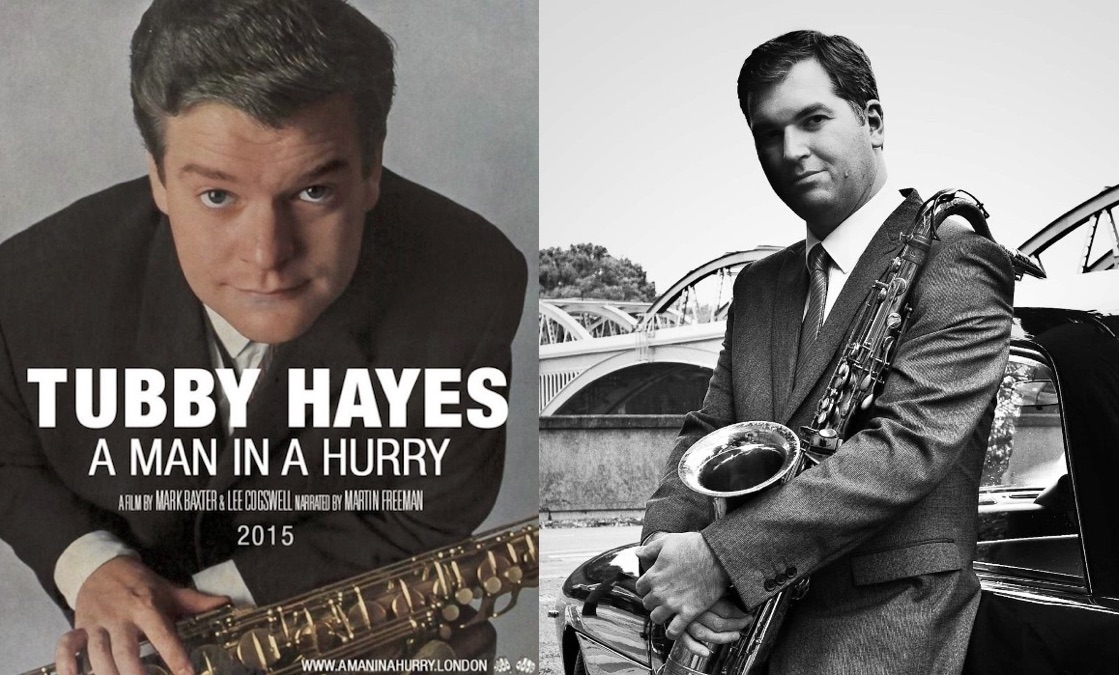 On Friday 11th May, Jazz in Reading, in collaboration with Music at Reading, celebrated the music and life of Tubby Hayes in the lovely setting of the University of Reading London Road Campus, with live jazz from the Simon Spillett Quartet followed by Mark Baxter's remarkable documentary film 'Tubby Hayes: A Man in a Hurry'; a format guaranteed to ensure that the flame of Tubby's spirit and musical legacy continues to shine brightly.
Born on 30th January 1935, and a professional musician by the age of fifteen, 'Tubby' Hayes is arguably the most complete jazz musician ever to emerge from these shores. His tragically brief career ended on Friday 8th June 1973 when he died following heart surgery. He was thirty-eight years old.
The five carefully selected numbers by the Simon Spillett Quartet cast their own distinctive light on Hayes' career. 'Royal Ascot', an early Hayes composition dedicated to the horse-racing proclivities of Ronnie Scott, opened the evening with the authoritative tenor sound and breakneck tempo that used to cast fear into rhythm sections whenever he played at provincial jazz clubs.
No such hesitancy here. Spillett's quartet, world-class musicians all, handled the challenge with consummate ease. And no wonder. Pianist John Horler and drummer Spike Wells each played with Tubby in their early careers; Wells as a regular member of both Tubby's quartet and big band in the late-1960s. Alec Dankworth, a brilliant bassist, is linked to Hayes via the association between Tubby and his father, the late Sir John Dankworth.
'The Serpent', another dedication, this time to Bix Curtis, a promoter and MC with whom Tubby toured with 'Jazz in London' in 1956, captured the barn-storming days of the Jazz Couriers, the band Hayes co-led with Ronnie Scott between 1957 and 1959. By this time Tubby's reputation had found its way to the States where musicians were beginning to sit up and take notice of the young 'upstart' from Britain. In 1961 he was invited to play at New York's famous Half Note Club. He also recorded with Clark Terry and an American rhythm section. Spillett's interpretation of the gorgeously bluesy 'A Pint of Bitter', the best-known number from that session, bore the distinctive imprint of its composer Clark Terry and served as an effective reminder of how Hayes could stretch-out at medium-tempo.
Hayes was a great ballad player and Spillett expressed the lyrical beauty of 'Souriya' to perfection, with an exquisite solo from John Horler and sensitive support from Dankworth and Wells. 'Off the Wagon' brought the set to a close. A highlight track on Tubby's landmark album 'Mexican Green', and once described as representing 'the strength, vitality and invention of Tubbs at his best', it featured a brilliantly conceived and perfectly executed drum solo from Spike Wells
The generous applause which followed spoke volumes for the appreciation of the audience. Simon Spillett remained on hand to introduce 'Tubby Hayes: A Man in a Hurry'. This remarkable documentary film, produced by Mark Baxter, directed by Lee Cogswell and released in 2015 to coincide with the eightieth anniversary of Tubby's birth, catches the energetic force of Hayes' personality and as the title implies, the relentless pace of his career. Narrated by Hayes devotee Martin Freeman it charts Tubby's life and times through interviews, archive photographs and rare movie footage. He lived enough during his thirty-eight years to fill several lifetimes. That such a life style extracted its inevitable toll is more than evident in the stark contrast between the buoyant, ever-smiling persona of Tubby in his heyday, and the harrowing, almost unrecognizable shots of him awaiting a court judgement following a drugs' bust towards the end of his life.
Baxter and his production team avoided the temptation to either over-eulogise Tubby's life or to portray him as the victim of an unsympathetic society. Nevertheless, the film leaves no doubt whatsoever that his arrest and subsequent conviction in 1968 for possession of diamorphine, incurring a fine of £50 with costs of £5.5s, tells us as much about the publicity seeking zeal of the notorious Det/S Norman "Nobby" Pilcher of Scotland Yard as Tubby's wayward habits. Tubby, I feel sure, took responsibility for his own destiny, and the film holds faith with that honesty.
At times the film has the comforting feel of a long-forgotten family photograph album opening-up a world otherwise lost for ever; the percussionist humping an enormous kettle drum on his back as he joined the crowded open-air musicians' labour-exchange on a Monday morning in Archer Street; the dowdy interior of Ronnie Scott's original club in Gerrard Street and scores and scores of sharply dressed musicians, their hair stylishly cut and held in place by oodles of Brylcreem. Until prompted by an observation in the film I had never considered the sartorial elegance of modern jazz musicians in the 1950s and 60s, but as several interviewees testified, 'looking the part' was an essential part of the jazz scene and indeed gave birth to the 'mod' culture we associate with images of 'Swinging London'. Not everyone could play like Tubby Hayes, but anyone could live the dream and dress like him!
Mouth-watering extracts from Tubby's big band broadcasts for BBC 2's 'Jazz 625' and appearances as a featured artist on TV spectaculars with the likes of Ella Fitzgerald and Henry Mancini, reminded us that Tubby was a well-known personality within the mainstream of entertainment. His on-screen film credits include the Hammer classic 'Dr Terror's House of Horrors', and it's Tubby's tenor which adds mounting tension to the closing scenes of 'The Italian Job'.
An inevitable weakness of the film is that so few of Tubby's contemporaries are still with us. Fascinating as they are, most of the 'talking heads' were drawn from a younger generation, like the producer Mark Baxter, who discovered Tubby via his recordings. This makes the contributions of those from who knew Tubby personally, like poet Michael Horowtiz and fellow musicians Spike Wells and Cliff Hardie doubly valuable. None more so than Tubby's eldest son Richard. He described his father as having a rather vague and distant place in his life. 'I didn't have time to be a father', Tubby confessed in a brief but telling interview clip.
Perhaps that statement encapsulates the ultimate tragedy of Tubby Hayes. Thrust too early into an adult world and living with the intensity of a Roman candle, he was in too much of a hurry to lay down the emotional foundations that would have given his life stability and longevity. There again, would he have produced the canon of incredible music that is his enduring legacy? Probably not.
Simon Spillett and Mark Baxter joined forces to round off the evening with a fascinating ''Q & A' session. Spillett's encyclopaedic knowledge of every minute detail of Tubby's life never fails to impress. However, as with Baxter, it is his love of Tubby Hayes that truly shines through. Edward Brian 'Tubby' Hayes, a flawed human being, but what a player!
Review posted here by kind permission of Trevor Bannister.
Evening's photos by Zoë White Photography.
---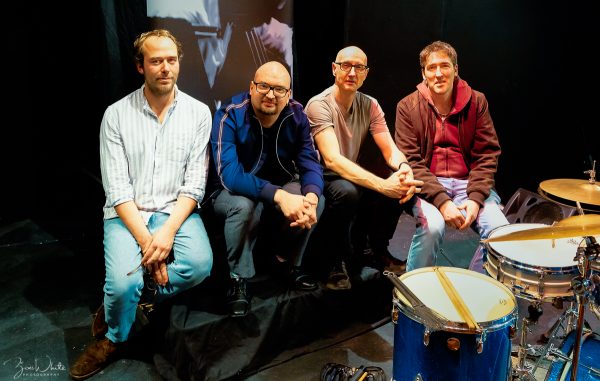 Progress Theatre, Reading, Thursday 27 April 2018
Martin Speake alto saxophone, Fred Thomas bass, James Maddren drums, Ethan Iverson piano
The haunting beauty of a gentle lullaby lingered in the rafters of the Progress Theatre as the audience filed out of the auditorium in near silence at the close of a magical two-hours spent in the company of the Martin Speake Trio and their special guest from New York, Ethan Iverson. The spell remained unbroken for one small child … who said that jazz fails to attract a younger audience? She snuggled into her dad's shoulder, at peace with her dreams of the evening, as they made their way home.
The music, from the band's 'hot-off-the-press' album 'Intention', with all but three titles composed by Martin Speake, had a dreamlike quality. None more so than 'Hidden Visions'. Thoughtful, reflective, pure in sound, deeply expressive, and evoking a sense of Gaelic mysticism, it held one's attention absolutely. One could not risk a lapse in concentration for fear of missing any of its subtle delights. Nor did one dare break the creative flow emanating from the stage by applauding at the end of a solo; the audience expressed its appreciation through respectful silence and held its enthusiasm in check until the end of the number and then erupted with rapturous joy.
Imagine a couple locked in each other's arms. Oblivious to anything or anybody around them, except the gentle strains of 'Dancing in the Dark' drifting across the dance floor, their steps are barely perceptible. Perhaps this sensual image of stillness and quiet will give you an idea of the extraordinarily beautiful way in which Martin Speake interpreted this tune. He re-fashioned 'Young and Foolish' to heart-wrenching effect later in the programme.
For some unknown reason I found the fun and games of 'Magic Show' a little unsettling. Perhaps it was the perceived sense of 'things not being quite what they seem'. But there again, that's magic!
But make no mistake, this music could SWING!  Every seat in Row 'C' began to rock wildly and seemed destined to break loose from the floor fittings when the band dug into the Charlie Parker 1947 classic 'Charlie's Wig'. Nor could one resist the bluesy feel of 'Bouncing', the sheer emotional intensity of the untitled number which immediately followed, an incantation to summon the spirits of the earth, or the glorious mix of gospel and calypso influences in 'Twister'.
The spirit of classic New Orleans jazz was never too far removed from these otherwise very contemporary proceedings. Speake provided a clear and poised lead on alto saxophone around which the other band members could weave their own contributions, either in the form of solos or by adding colour and texture to the ensemble sound; a collective approach, that simply bubbled with invention and rhythmic energy.  James Maddren's drum feature emphasised these musical roots in 'Blackwell', a tribute to the great New Orleans' drummer Ed Blackwell whose playing with Ornette Coleman helped the advance of 'free jazz' in the early 1960s, but never lost the special beat of his native city.
New York based pianist Ethan Iverson, formerly a key player in the innovative band Bad Plus, joined the trio for an eight-date tour only a few days before the Progress gig. His association with Martin Speake dates back some fifteen years, so it was no surprise that he fitted into the group so perfectly.  He plays with sensitivity, an instinct for mood and atmosphere and swings like the clappers using a distinctive lightness of touch and minimum of notes. How could anyone match the moment when Iverson lent over his piano and gently plucked the strings to bring 'The Heron' to a close – the perfection of simplicity. Even so, one couldn't help but feel that like a well-tuned Formula 1 racing car he had vast power in reserve to move up through the gears should the need arise.
Bassist Fred Thomas is similarly blessed with an ear for finding just the right sound at the right moment. One should not under estimate the importance of his self-effacing role within the band, which was especially effective on 'Young and Foolish'.
Martin Speake is a man of few words on stage. He allows his music to speak for him, and so it should be. The eloquence of his musical voice deserves wider recognition on a world stage. Or is this yet another instance so familiar to British musicians, that the 'prophet' is hailed abroad while ignored in his homeland? Nevertheless, it was a privilege to listen to Martin Speake and his trio, with special guest Ethan Iverson, within the intimate environment of the Progress Theatre.
As ever, our thanks to the Progress team for the high quality of sound and lighting, and their warm hospitality.
Review posted here by kind permission of Trevor Bannister.
Photo by Zoë White Photography
---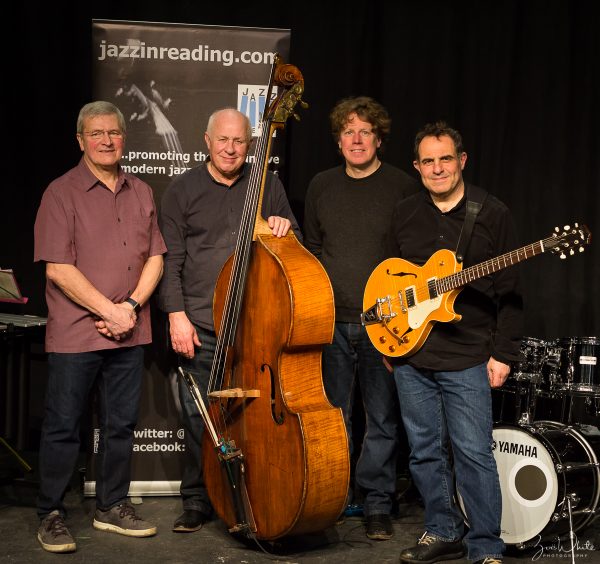 Progress Theatre, Reading, Thursday 29 March 2018
Chris Laurence bass, Frank Ricotti vibes, John Parricelli guitar, Martin France drums
Take four world-class musicians who spend much of their professional life in studios, happen to be long-standing associates; Chris Laurence and Frank Ricotti first met as members of the National Youth Orchestra fifty years ago, good friends and connected by the common thread of having worked with Kenny Wheeler. Put them together with the opportunity to express themselves freely with music of their own choice, and with a set list drawn from the greats of jazz composition like Wheeler and John Taylor, and you have the ideal ingredients for a creative evening. No matter, battling with pre-Bank Holiday traffic or dreadful rain-swept driving conditions, the gig is the thing, to which the appreciative Progress audience were fortunate to bear witness on 29 March.
Chris Laurence neatly summed up the band's philosophy after the opening number, Kenny Wheeler's 'The Jigsaw'. 'When you put a jigsaw together,' he remarked. 'The picture is always the same. But when we put our jazz jigsaw together the picture is always different.'
Chris is phenomenal, as much a front-line player as the rhythmic heart of the quartet. He rightly occupies centre-stage rather than the bassist's customary place tucked away at the back. I can think of players with a bigger sound, but no one with such melodic elegance, speed, exquisite delicacy and emotional depth. He conjures sounds from his instrument that one cannot imagine previously existed, a quality he attributes to his years of experience in a huge range of music. His deeply moving introduction to Kenny Wheeler's 'Old Ballad', a dedication to his father, showed him to be a perfect interpreter of the composer's unique emotional landscape and its curious mix of melancholy and joyful life-enhancing celebration.
Frank Ricotti is a wizard of the vibes. His four-mallet approach to the instrument is a spellbinding sight to behold, whether it be in creating swinging, fast-flowing solo runs, playing straight ballads, Cole Porter's 'Everything I Love' or 'Summer Nights' by Harry Warren's, or filling in the ensemble sound with Airto Moreira's delightful Latin American excursion 'Mixing' or John Taylor's hauntingly atmospheric 'Between Moons'.
John Parricelli is a story teller, who holds one in his narrative grip as each solo unfolds. His extended contribution to 'Brewster's Rooster', the title track from John Surman's 2007 album with John Abercrombie, was especially effective, with its feel of bluesy-rock. As Chris Laurence declared in his introduction, this was not the sort of number one usually associates with John Surman, but great fun!
Martin France, technically brilliant, but never over powering, upholds the school of drumming pioneered by Elvin Jones and Tony Williams; time is implied rather than openly stated.  This floating platform of sound and rhythm gives a wonderful sense of freedom that allows the musicians to head off in any direction they choose … and this is music that keeps everyone on their toes!
His featured number, another Kenny Wheeler composition 'Mark Time' prompted me to wonder whether the composer ever served in the military. He would have learnt to Mark Time on the parade ground, keeping time precisely with his squad, but marching on the spot without moving forward. There was nothing military-like about 'Mark Time', but it did make me think that sometimes, and certainly in this case, given the collective inventive genius of the band, an awful lot of musical territory can be explored without necessarily having to move off the spot.
Above all this band is a true ensemble, drawing on all the colours within its sound palette to create music of the highest order. Stan Sulzmann's 'Saying No' was a case in point; a composition for Stan's big band, that lost none of its vigour or impact for having been reduced to an arrangement for a small group. It also celebrates a particularly rich vein of British jazz based on the music and enduring spirit of Kenny Wheeler and John Taylor.
The evening finished with two more compositions from the prolific pen of Kenny Wheeler. 'Everybody's Song But My Own' is perhaps the nearest thing that Kenny ever had to a hit tune, a beautiful, emotionally ambiguous tune in waltz time, it rightly deserves its place as a modern jazz standard. The 'The Long Waiting' brought things to a slow-paced and thoughtful close with yet another reminder of what a marvellous bass player Chris Laurence is.
A young fan summed things up perfectly as he left the auditorium. 'I just loved the sound,' he remarked.
As ever, very many thanks to the Progress team for their warm hospitality, adaptability and a range of skills that ensure 'Jazz at Progress' always runs smoothly.
Review posted here by kind permission of Trevor Bannister
---