Reviews of Past Gigs
---
Progress Theatre: Friday 29 January 2016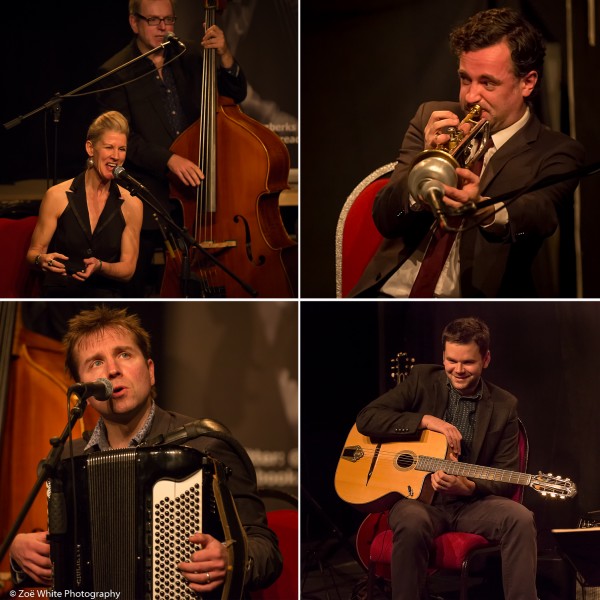 Katya Gorrie vocals, Jonny Bruce trumpet, Mirek Salmon accordion, Andy Bowen guitar and Andy Crowdy bass.
Who could resist the beguiling charms of Katya Gorrie as she opened the doors to the 'Moscow Drug Club', located for one night only in the dark recesses of the Progress Theatre, Reading, and invited everyone 'to come in and have a smoke'. 'This is the place,' she said, 'where the Reds play the Blues.'
Katya's rich vocal tones, impeccable timing and perfect diction held the audience captivated as she held centre-stage with a wonderful sense of Grand Guignol theatre, and led her band of troubadours, Jonny Bruce on trumpet, accordion player Merek Salmon, Andy Bowen on guitar and Andy Crowdy on bass, on a story-telling journey through song. She drew every last drop of meaning from the lyrics of each song, while a knowing wink or the slightest gesture of the hand, gave the merest hint that … sometimes they were not quite as they first appeared.
And what stories and what songs! Can you think of a better opening number to set the feet tapping and the hands clapping than the out-and-out Latin-American gaiety of the Henry Mancini/Johnny Mercer collaboration, It Had Better Be Tonight, with its insistent refrain Meglio stasera, baby, go, go, go. When I Get Low I Get High from the pen of the unlikely sounding, Marian Sunshine came next, before The Gypsy With Fire In Her Shoes served as a reminder that behind the persona of 'Miss Peggy Lee' lay a song-writing talent of rare and poignant beauty.
I remember Yes My Darling Daughter as a bright and breezy hit for Eydie Gormé in the early 1960s, but its innuendo escaped my early-teenage understanding in those far-off days. Katya's witty delivery left me in no doubts as to what the song was really about!
Bei Mir Bist du Schon, a great hit for the Andrews Sisters and a flag-waver for many bands of the Swing Era, almost brought the roof down. Driven along at breakneck speed by the tremendous 'Two Andy's' rhythm team, it featured a sensational trumpet solo from Jonny Bruce. He soared into the stratosphere with thrilling knife-edge accuracy. No wonder he is such a sought-after musician. His range is absolutely remarkable, swooping from muted 'treading-on-egg-shells' delicacy to the highest reaches of his instrument. The edgy excitement of his playing and rich vocabulary of perfectly placed vocalised effects brought a great sense of drama to the evening.
The accordion is a sadly neglected instrument, more often seen gathering dust on the shelves of a junk-shop, than gracing its rightful place as part of a band. Merek Salmon is a master of the instrument, providing the perfect background to the sardonic humour of Belgian songwriter Jaques Brel, in Funeral Tango. Jacky, a second Brel number, played later in the programme, featured the singing tones of Andy Crowdy's bass in a wonderfully inventive solo.
Juan Tizol's Caravan, with its curious mix of exoticism and straight-ahead swing, is rarely performed as a vocal. More's the pity! Katya's rendition brought the first set to a resounding close, and sent the audience scurrying to the bar, eager for refreshment to set them up for the second half.
Andy Crowdy's rasping trombone echoed the vocal tones of the songwriter himself, as we entered the grotesque world of Tom Waits with the first number in the second set, Tango Til They're Sore. By turns absolutely hilarious and as one commentator has observed, 'awesomely gruesome', the band revelled in the macabre sentiments of the song, creating a nightmarish cacophony of sounds with simple, but well-timed interjections from Katya's vibraslap.
We were 'treated' to more samples of Wait's dark humour later in the programme with Temptation, featuring one of many exquisite solos from Andy Bowen and A Jockey Full of Bourbon. Meanwhile an invitation to meet 'Queenie the cutie of the burlesque show' as she performed to Johnny Mercer's Strip Polka came as a welcome relief. The band members were in full voice to support Katya's vocal.
Leonard Cohen's Dance Me To The End Of Love brought an instant gasp of recognition from the audience. Beautiful solos from Merek Salmon and Andy Bowen captured the haunting melancholy of the song. Jonny Bruce took another leap into the unknown with a hair-raising solo loaded with power and incredible emotional intensity.
Sadly the journey in song was drawing to a close, but not before we visited a gypsy campfire to savour Charles Aznavour's Two Guitars, before taking off for the eastern Mediterranean and our final destination Istanbul (Not Constantinople), an irresistible tune that would have sent the audience happily on its way home but for one unresolved question; why the Moscow Drug Club?
Did Katya really meet up with her dissolute bunch of minstrels in rehab after suffering the effects of a night at 'The Moscow Drug Club' – a place where members 'could have a smoke', cock-a-snoop at authority and relax in the musical intimacy of its intoxicating atmosphere. Not quite. B.B. Gabor, an émigré Hungarian songwriter who settled in Canada, concocted the deliciously decadent lyrics in what would prove to be the encore number for the evening – what else but the Moscow Drug Club.
Temporary membership of 'The Moscow Drug Club' expired as the final notes of the tune faded away. 'The Moscow Drug Club' is sensational and one can only hope that membership may be renewed in the not too distant future. More used to playing large festival stages, with distant crowds, the band clearly enjoyed the convivial atmosphere of the 'Progress' and the closeness of the audience. As ever the magnificent 'house team' ensured the smooth-running of the event with a welcoming smile, excellent sound and lighting, and superb service at the bar and front of house. Surely, 'Jazz at Progress', now entering its fourth year, must rank as a sought-after gig for Britain's top jazz talent? Let's also raise a glass to Steve Wellings, founder and inspirational force behind 'Jazz in Reading' who celebrated his birthday at the gig. Good health Steve!
Review posted here by kind permission of Trevor Bannister
---
Progress Theatre: Friday 18 December 2015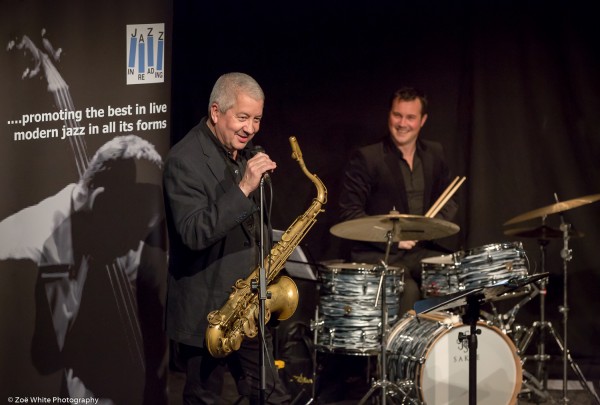 Andy Sheppard tenor saxophone, Matt Hopkins guitar, Percy Pursglove double bass and trumpet and Mark Whitlam drums
'Jazz in Reading' brought a memorable year of jazz at Progress Theatre to a conclusion with an absolute box of delights opened by Andy Sheppard's Hotel Bristol.
Since taking up the tenor saxophone at the age of 19, Sheppard has worked as a sideman with Gil Evans, Carla Bley and George Russell, led his own groups and recorded to international acclaim. A prolific composer, with over 350 titles to his credit, his writing encompasses works for solo performance, big bands and chamber orchestras. 'Hotel Bristol', in which he is joined by guitarist Matt Hopkins, Percy Pursglove on bass and trumpet and drummer Mark Whitlam, was formed to take part in the 2014 Tbilisi International Jazz Festival in Georgia in an exchange programme with the International Jazz and Blues Festival of Sheppard's home town, Bristol.
Sheppard distils a wide range of influences to create a unique and utterly beguiling approach to his music. Like a latter day Lester Young, beautiful melodic phrases cascade from his saxophone, each note perfectly placed, and expressed with the clarity of crystal. Playing 'Forever and A Day', at a whisper and the slowest tempo imaginable, he held the audience absolutely spellbound and yet moments earlier he had filled the auditorium with the huge sound of his tenor, and almost set everyone dancing to 'Du Du'. Like most of the pieces it was deceptively simple, a repeated pattern that drew forth a multitude of variations as it passed between the musicians, growing in intensity all the while. Hopkins and Whitlam suddenly dropped out of the mêlée, and at this point the band launched what Sheppard describes as 'our secret weapon'. Pursglove, embracing his bass with his left arm, picked up his trumpet with his right hand, and began a wonderfully free exchange with Sheppard. Later in the programme he delivered a sparse, but emotionally charged trumpet solo on 'What Will Be'.
As well as being an adventurous and original player, Andy Sheppard has a rare gift for intriguing titles. 'Walk in The Park' was straightforward enough, though the tune cast the mind's eye of this writer to a sun-kissed tropical beach swept by a warm breeze. The origins of 'Rubbernecking Solid Jackson' remain a mystery despite the visual clues provided by the musicians, who stopped playing at one point and stared around the stage. 'Smut' was drawn from an Alan Bennett book of the same name that helped Sheppard while away the travelling intervals involved in foreign tour, but 'Going Spooning'? Perhaps it alluded to the additional services of 'Hotel Bristol'?
Andy Sheppard's playing combined with the ethereal quality of Matt Hopkins guitar, particularly evident on 'Bart' (the only non-Sheppard composition in the programme) and the constantly shifting drum patterns of Mark Whitlam, who draws every sound possible from the resources of his kit, give 'Hotel Bristol' a wonderful sense of space and freedom, with its foundations firmly rooted in the bass of Percy Pursglove. Eschewing the use of amplification, except for Hopkins guitar, the band achieved a perfect balance of sound. Each musician could be heard clearly, all the more to enjoy the subtle interplay that is such an important part of the music.
The 'Jazz in Reading' team are to be congratulated on succeeding to book Andy Sheppard's Hotel Bristol at such notice in place of Stan Tracey's 'Under Milk Wood' with Bobby Wellins, to whom we wish a speedy recovery from his current illness. This was music of world class and more than confirmed 'J in R's' commitment to bringing the best in contemporary jazz to the Reading stage. As one member of the audience remarked as he left the Progress auditorium, 'I felt as if I was floating. I could have listened to that music all night'. Hear! Hear!
Review posted here by kind permission of Trevor Bannister
---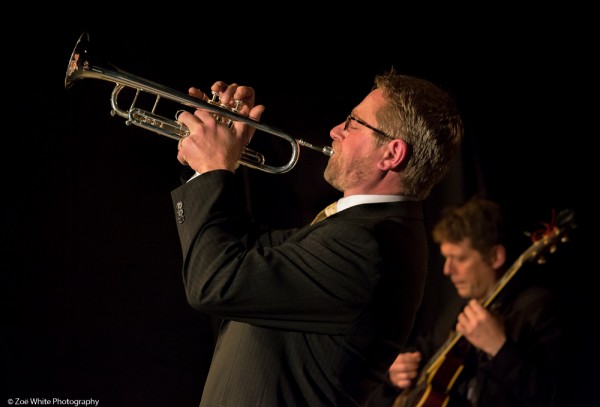 Gabriel Garrick trumpet | Nigel Price guitar | Terry Collie piano | Dave Jones bass | Paul Cavaciuti drums
Gabriel Garrick's Expansions Quintet. What to expect? Gabriel Garrick; trumpeter, son of the late and much lamented Michael, played with Shake Keane as a child, with the 'Cuban Missile' Arturo Sandoval as a teenager and jammed with Wynton Marsalis' Lincoln Centre Band as a fully fledged musician. I look to the empty stage for more clues as I take my seat in the tiny auditorium of Reading's Progress Theatre, once aptly described by a visiting musician as 'a bijou theatrerette'. Keyboard, bass and drums. A guitar! No saxophone in the front line. A flugel-horn at the ready at the foot of the microphone centre stage, but no trumpet. Interesting …
Jim Wade, MC for the evening appears. The audience eagerly accepts his invitation to greet the band with a roof-lifting that will top anything they might ever have enjoyed at Ronnie Scott's and we look to the back of the stage for the band's appearance. Nothing. Instead a door opens to the side of the auditorium and we pick up the beat of Paul Cavaciuti's tambourine and the first glorious strains of 'The Saints' from Garrick's trumpet. In true New Orleans fashion, he leads his musicians, Nigel Price, Terry Collie and Dave Jones, in a march to the stage; instruments are taken up, and with drums and bass laying down an infectious beat, they breath new life into the old favourite. This is going to be an evening of jazz like no other – full of surprises and sheer audacity!
Who would have thought that juxtaposing a familiar ramble down 'Basin Street' with the mystical qualities of 'Amethyst', from Michael Garrick's 'Gemstone Suite', so contrasting in style and form, could ever work. And yet it did; perfectly, providing a natural lead into 'Speak Low', Kurt Weill's achingly beautiful composition, beloved of 1950s hardboppers. The band remained in reflective mood for 'Dreamland', a lesser-known (at least by this writer) Henry Mancini composition with evocative lyrics by Jay Livingston and Ray Evans which put the leader's vocal mettle to the test. Briefly 'refreshed' from the water bottle, he picked up a cowbell to unleash a 'Blakeyesque' orgy of rhythm and excitement, with each member of the band adding to the fun, before launching into an explosive original 'Tell Me Something New' to bring the first set to a close.
Nigel Price got the second set off to an hilarious start when he quipped, 'I'll 'Take Five'!' in instant response to  Jim Wade's announcement that tickets were selling out rapidly for the forthcoming concert by Darius Brubeck.
On a more sombre note, Garrick sadly informed us that Don Rendell, had passed away earlier in the week, aged eighty-nine. 'Webster's Mood' (a Michael Garrick portrait of another tenor master), with Nigel Price being featured as once was Don, made a fitting and moving tribute to the great tenor saxophonist and pioneer of modern jazz in Britain.
Apart from the imaginative ebullience of Garrick's leadership; he paces the stage good-humouredly, prompting with little trumpet interjections, or encouraging his colleagues with a nod of the head or sway of the shoulders, its strength as a group, in the true sense of the word, was amply demonstrated in another Garrick original, the intriguingly titled 'Disinvited'. Wonderfully inventive solos from each member of the band, with challenging exchanges adding to the excitement of the piece, underpinned by Dave Jones' beautiful bass lines and the driving, but never over-powering percussion of Paul Cavaciuti. What's more, Nigel Price's full bodied guitar gives the band the powerful feel of a much larger unit.
Terry Collie's impeccable taste was never more in evidence than on 'Swallows On The Water', the third title from the pen of Michael Garrick and a homage to Joe Harriott, who used that phrase to describe how he felt on the occasion he played with Dizzy Gillespie.
Another pause for breathe, before Garrick took up the maracas to set up a funky-groove for 'Walzkin' with Jovis' (Jovis being the name of both Garrick's black labrador and the imprint of his record label). It would have made the perfect show-stopping conclusion to the gig, but there were more surprises to come. 'Way Down Yonder In New Orleans ', complete with vocal, provided a warm-hearted backward glance to the music's origins. We moved forward to 'Indiana', before a touch of Charlie Parker's 'alchemy' transformed this gently-paced standard into the blistering 'Donna Lee', with Garrick's trumpet and the guitar of Nigel Price negotiating the unison passages magnificently.
'I'm just getting warmed up,' Garrick announced as he brought the gig to a close precisely at 10 o'clock. ''The body's knackered, but the brain is coming alive… Can we play one more?' he asked in deference to the neighbours who insist that the theatre closes on time. With permission duly granted, the band launched into Thelonius Monk's 'Rhythm-A-Ning' to bring a memorable evening and joyous celebration of the 'jazz tradition' to an end.
'I think they might have got something here,' Jim Wade remarked in his closing words. How true! Brilliant musicianship, and a rich and varied programme, which set the audience buzzing with good spirit as it left the theatre; Gabriel Garrick's Expansions Quintet is, as they used to say in the old days, 'a band to watch for the future!'
Review posted here by kind permission of Trevor Bannister
---
Leon Greening piano | Adam King double bass | Steve Brown drums – this trio gave us a fantastic evening of pure joy as can be seen in the review below by Derek Ansell as published in the Newbury Weekly News:
Leon Greening is a very modest jazz pianist. He was full of praise for the great jazz soloists, the ones that inspired and influenced him originally, to seek a career in music but seemingly unaware of his own impressive talent.
Beginning with a Rogers and Hart melody, he explored it thoroughly before leaping into an exhaustive set of variations, aided and abetted by the sterling rhythm support of Adam King on bass and Steve Brown at the drums. King is a very young and exceptionally skilled bassist, his lines complex and technically difficult to execute but the way he played with his colleagues was full of soul and emotion; technical brilliance is of little use without those attributes. Steve Brown is a steady, unflashy but, again, technically well equipped drummer who also plays with lots of feeling.
The pianist paid tribute to his most admired soloists, giving top billing to Bud Powell and playing a very well structured, up tempo version of Un Poco Loco that even that master would surely have approved. He also played compositions associated with or arranged by Wynton Kelly, McCoy Tyner, Sergio Mendez and even local boy made good, the late Dudley Moore who, although an accomplished jazz and classical pianist seemed to reach the greatest heights as an actor and movie star!
The integration between the three musicians was certainly impressive as they swapped solo choruses and then came together towards the end of each selection. Another Brit jazz great, Victor Feldman was picked and some of his music played, again with wit, swing and reverence and the freshness of approach the pianist brought to this and other selections showed him to be a true original jazz voice. The other jazz master he paid tribute to was Bobby Timmons but the interpretation, albeit of an arrangement by his inspiration, came out as pure Greening. The audience responded with vigorous applause throughout and called  long and vociferously, for an encore. It was delivered!
Derek Ansell.
---