Reviews of Past Gigs
---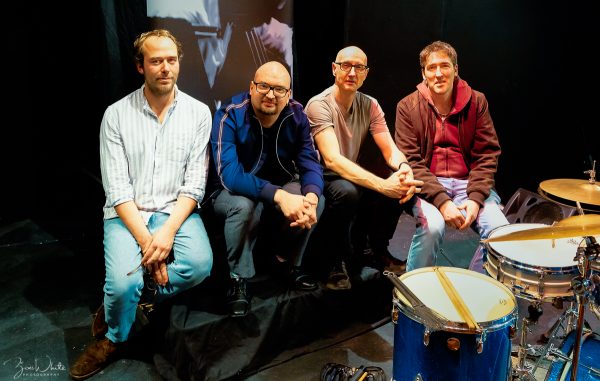 Progress Theatre, Reading, Thursday 27 April 2018
Martin Speake alto saxophone, Fred Thomas bass, James Maddren drums, Ethan Iverson piano
The haunting beauty of a gentle lullaby lingered in the rafters of the Progress Theatre as the audience filed out of the auditorium in near silence at the close of a magical two-hours spent in the company of the Martin Speake Trio and their special guest from New York, Ethan Iverson. The spell remained unbroken for one small child … who said that jazz fails to attract a younger audience? She snuggled into her dad's shoulder, at peace with her dreams of the evening, as they made their way home.
The music, from the band's 'hot-off-the-press' album 'Intention', with all but three titles composed by Martin Speake, had a dreamlike quality. None more so than 'Hidden Visions'. Thoughtful, reflective, pure in sound, deeply expressive, and evoking a sense of Gaelic mysticism, it held one's attention absolutely. One could not risk a lapse in concentration for fear of missing any of its subtle delights. Nor did one dare break the creative flow emanating from the stage by applauding at the end of a solo; the audience expressed its appreciation through respectful silence and held its enthusiasm in check until the end of the number and then erupted with rapturous joy.
Imagine a couple locked in each other's arms. Oblivious to anything or anybody around them, except the gentle strains of 'Dancing in the Dark' drifting across the dance floor, their steps are barely perceptible. Perhaps this sensual image of stillness and quiet will give you an idea of the extraordinarily beautiful way in which Martin Speake interpreted this tune. He re-fashioned 'Young and Foolish' to heart-wrenching effect later in the programme.
For some unknown reason I found the fun and games of 'Magic Show' a little unsettling. Perhaps it was the perceived sense of 'things not being quite what they seem'. But there again, that's magic!
But make no mistake, this music could SWING!  Every seat in Row 'C' began to rock wildly and seemed destined to break loose from the floor fittings when the band dug into the Charlie Parker 1947 classic 'Charlie's Wig'. Nor could one resist the bluesy feel of 'Bouncing', the sheer emotional intensity of the untitled number which immediately followed, an incantation to summon the spirits of the earth, or the glorious mix of gospel and calypso influences in 'Twister'.
The spirit of classic New Orleans jazz was never too far removed from these otherwise very contemporary proceedings. Speake provided a clear and poised lead on alto saxophone around which the other band members could weave their own contributions, either in the form of solos or by adding colour and texture to the ensemble sound; a collective approach, that simply bubbled with invention and rhythmic energy.  James Maddren's drum feature emphasised these musical roots in 'Blackwell', a tribute to the great New Orleans' drummer Ed Blackwell whose playing with Ornette Coleman helped the advance of 'free jazz' in the early 1960s, but never lost the special beat of his native city.
New York based pianist Ethan Iverson, formerly a key player in the innovative band Bad Plus, joined the trio for an eight-date tour only a few days before the Progress gig. His association with Martin Speake dates back some fifteen years, so it was no surprise that he fitted into the group so perfectly.  He plays with sensitivity, an instinct for mood and atmosphere and swings like the clappers using a distinctive lightness of touch and minimum of notes. How could anyone match the moment when Iverson lent over his piano and gently plucked the strings to bring 'The Heron' to a close – the perfection of simplicity. Even so, one couldn't help but feel that like a well-tuned Formula 1 racing car he had vast power in reserve to move up through the gears should the need arise.
Bassist Fred Thomas is similarly blessed with an ear for finding just the right sound at the right moment. One should not under estimate the importance of his self-effacing role within the band, which was especially effective on 'Young and Foolish'.
Martin Speake is a man of few words on stage. He allows his music to speak for him, and so it should be. The eloquence of his musical voice deserves wider recognition on a world stage. Or is this yet another instance so familiar to British musicians, that the 'prophet' is hailed abroad while ignored in his homeland? Nevertheless, it was a privilege to listen to Martin Speake and his trio, with special guest Ethan Iverson, within the intimate environment of the Progress Theatre.
As ever, our thanks to the Progress team for the high quality of sound and lighting, and their warm hospitality.
Review posted here by kind permission of Trevor Bannister.
Photo by Zoë White Photography
---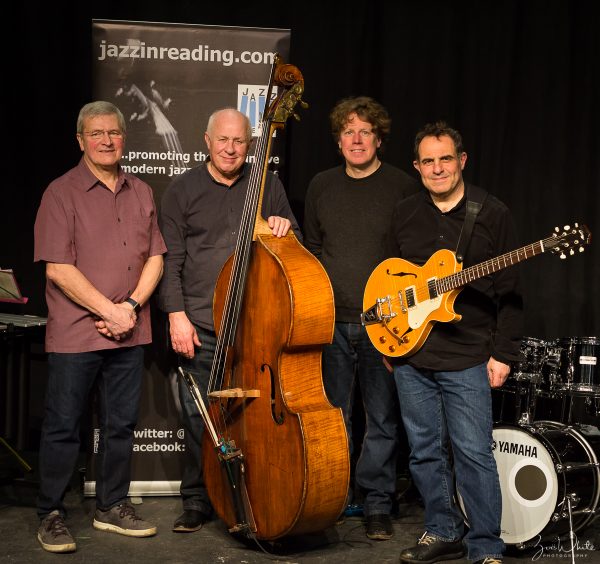 Progress Theatre, Reading, Thursday 29 March 2018
Chris Laurence bass, Frank Ricotti vibes, John Parricelli guitar, Martin France drums
Take four world-class musicians who spend much of their professional life in studios, happen to be long-standing associates; Chris Laurence and Frank Ricotti first met as members of the National Youth Orchestra fifty years ago, good friends and connected by the common thread of having worked with Kenny Wheeler. Put them together with the opportunity to express themselves freely with music of their own choice, and with a set list drawn from the greats of jazz composition like Wheeler and John Taylor, and you have the ideal ingredients for a creative evening. No matter, battling with pre-Bank Holiday traffic or dreadful rain-swept driving conditions, the gig is the thing, to which the appreciative Progress audience were fortunate to bear witness on 29 March.
Chris Laurence neatly summed up the band's philosophy after the opening number, Kenny Wheeler's 'The Jigsaw'. 'When you put a jigsaw together,' he remarked. 'The picture is always the same. But when we put our jazz jigsaw together the picture is always different.'
Chris is phenomenal, as much a front-line player as the rhythmic heart of the quartet. He rightly occupies centre-stage rather than the bassist's customary place tucked away at the back. I can think of players with a bigger sound, but no one with such melodic elegance, speed, exquisite delicacy and emotional depth. He conjures sounds from his instrument that one cannot imagine previously existed, a quality he attributes to his years of experience in a huge range of music. His deeply moving introduction to Kenny Wheeler's 'Old Ballad', a dedication to his father, showed him to be a perfect interpreter of the composer's unique emotional landscape and its curious mix of melancholy and joyful life-enhancing celebration.
Frank Ricotti is a wizard of the vibes. His four-mallet approach to the instrument is a spellbinding sight to behold, whether it be in creating swinging, fast-flowing solo runs, playing straight ballads, Cole Porter's 'Everything I Love' or 'Summer Nights' by Harry Warren's, or filling in the ensemble sound with Airto Moreira's delightful Latin American excursion 'Mixing' or John Taylor's hauntingly atmospheric 'Between Moons'.
John Parricelli is a story teller, who holds one in his narrative grip as each solo unfolds. His extended contribution to 'Brewster's Rooster', the title track from John Surman's 2007 album with John Abercrombie, was especially effective, with its feel of bluesy-rock. As Chris Laurence declared in his introduction, this was not the sort of number one usually associates with John Surman, but great fun!
Martin France, technically brilliant, but never over powering, upholds the school of drumming pioneered by Elvin Jones and Tony Williams; time is implied rather than openly stated.  This floating platform of sound and rhythm gives a wonderful sense of freedom that allows the musicians to head off in any direction they choose … and this is music that keeps everyone on their toes!
His featured number, another Kenny Wheeler composition 'Mark Time' prompted me to wonder whether the composer ever served in the military. He would have learnt to Mark Time on the parade ground, keeping time precisely with his squad, but marching on the spot without moving forward. There was nothing military-like about 'Mark Time', but it did make me think that sometimes, and certainly in this case, given the collective inventive genius of the band, an awful lot of musical territory can be explored without necessarily having to move off the spot.
Above all this band is a true ensemble, drawing on all the colours within its sound palette to create music of the highest order. Stan Sulzmann's 'Saying No' was a case in point; a composition for Stan's big band, that lost none of its vigour or impact for having been reduced to an arrangement for a small group. It also celebrates a particularly rich vein of British jazz based on the music and enduring spirit of Kenny Wheeler and John Taylor.
The evening finished with two more compositions from the prolific pen of Kenny Wheeler. 'Everybody's Song But My Own' is perhaps the nearest thing that Kenny ever had to a hit tune, a beautiful, emotionally ambiguous tune in waltz time, it rightly deserves its place as a modern jazz standard. The 'The Long Waiting' brought things to a slow-paced and thoughtful close with yet another reminder of what a marvellous bass player Chris Laurence is.
A young fan summed things up perfectly as he left the auditorium. 'I just loved the sound,' he remarked.
As ever, very many thanks to the Progress team for their warm hospitality, adaptability and a range of skills that ensure 'Jazz at Progress' always runs smoothly.
Review posted here by kind permission of Trevor Bannister
---
Progress Theatre, Reading, Friday, 2 February 2018
Leon Greening piano | Christian Brewer soprano & alto saxes |  Dave Chamberlain double bass | Steve Brown drums
An object, gleaming with splendour and so new that remnants of its protective sheathing remained attached to the lid, stood to the left of the Progress Theatre stage;  an upright piano. A mere glimpse at its resplendent beauty was enough to set pulses racing with anticipation as the audience filed into the auditorium. Portable keyboards have their place I'm sure, but as they say, 'There's nothing like the real thing.' And this instrument looked to be in a class of its own.
And yet, appearances can be deceptive. How many pianists in the rich tapestry of  jazz have received this response to their complaints about a duff instrument,  'What d'you mean there's something wrong with the piano. I had it painted only last week!' One recalls the apocryphal tale of the player who cautioned the interval pianist not to use the middle keys of the keyboard. 'They don't work,' he declared. Way back in 1965, Steinway's of London  immediately manned the barricades when word began to circulate that Ronnie Scott was in need of an instrument for that notorious 'ivory basher' Bill Evans. In the event, pianist Alan Clare rescued the situation, and Evans' debut at Ronnie's, with the loan of his own baby-grand. And yet, the great man was still heard to remark, 'My first time in London and I have to play a piano like that. S..t, man.'
I hope you will forgive this lengthy preamble. I simply want to make the point that all too often jazz pianists have been ill-served by promoters and recording managers, as if relegated to second-class citizenship, in a way that would never be tolerated in the world of classical music. World class musicians deserve the best and Leon Greening stands in the ranks of the greatest.
Aided and abetted by Christian Brewer on alto and soprano saxes, Dave Chamberlain on bass, who slotted seamlessly into the music as dep for an ailing Adam King, and whose jolly smile gave the impression that he was having the time-of-his-life, and the percussive pyrotechnics of Steve Brown, Leon set the evening alight as he launched into 'That Old Devil Moon'. The piano, hired especially for the evening from Hickies venerable music shop in Friar Street, lived up to every ounce of its promise.
Leon simply gathers you up in the energy and momentum of his playing and sweeps you up along with his endlessly inventive improvisations. And yet for all his speed of execution, each note is placed with exact precision, struck with the clarity of pure crystal and weighted with deep emotion. He is a consummate master of his art, using both hands to build cliff-hanging tension. Like a Formula 1 driver he anticipates the road ahead and knows exactly when to change gear and when to hit or ease off on the accelerator. Combining rhythmic subtlety with a fiercesome directness of approach, Leon's playing is spellbindingly awesome.
The choice of tunes for the evening bore the spirit of Art Blakey and the canon of great musicians who passed through the ranks of the Jazz Messengers, whose compositions have become standards within the jazz repertoire. 'Ugetsu (Fantasy in D)' and 'Martha's Prize', reflected the bluesy elegance of Cedar Walton. Freddie Hubbard's 'One of Another Kind', one of two outings for Greening with just bass and drums, had the knife-edge quality that so distinguished the trumpeter's playing, while  Wayne Shorter's spacious 'The Summit', took the tune to the outer limits of improvisation. As Freddie Hubbard once remarked, 'We all kind of grew up together with Art Blakey because we all were young and he gave us a chance to write. We had to write something that was good.'
Steve Brown is also a 'keeper of the flame' for Art Blakey. Though less bombastic than Art, he pushes the band along with a driving swing, using perfectly placed accents and the full armoury of his kit and formidable technique to enrich the ensemble sound and to support the soloists. He understands the value of quiet and even silence. His work with brushes is impeccable and he uses his hands to draw earthy rhythms from the depths of his tom toms. Like Blakey he employs a distinctive press roll on his snare drum as a musical punctuation mark, as if to say, 'Your time's up mate. We're on to the next solo now!'
He soloed to thrilling effect on 'Time After Time', the classic standard from Sammy Cahn and Jule Styne, working through a series of variations that grew in complexity and intensity. Once complete he neatly delivered the tune back to the front line.
The light, airy alto saxophone of Christian Brewer contrasted beautifully with the huge resonance of Greening's piano, none more so than on Billy Strayhorn's 'Chelsea Bridge', an impressionistic piece deeply associated with the breathy tenor of Ben Webster.  Dave Chamberlain sustained the haunting atmosphere with a gorgeous bowed bass solo. 'Dawn Bird', took flight as another feature for Brewer, his soprano sax floating over an irresistible Latin beat laid down by the rhythm section.
'Saudade', an achingly beautiful boss nova by bassist Walter Booker, and 'Not a Tear', a second feature for the trio, and a dedication to Greening's key influence Wynton Kelly, were further reminders of the fabulous gems to be extracted from mid-twentieth century modern jazz. Bobby Timmons' 'Dat Dere', which along with his other great composition 'Moanin'', could be an anthem for those golden days, brought the evening to a soulful close.
'I could have listened to that music all night,' was one comment overheard at the end of the concert; a sentiment echoed I am sure by everyone in the sell-out audience. Four musicians playing at the top of their form; what more could one ask?  Leon Greening in a solo performance perhaps? Now that would be a treat for the ears!
As ever, thanks to the Progress Team for the warmth of their hospitality and the high quality of the sound and lighting, and Hickies Music Shop for the hire of a superb piano.
Review posted here by kind permission of Trevor Bannister
---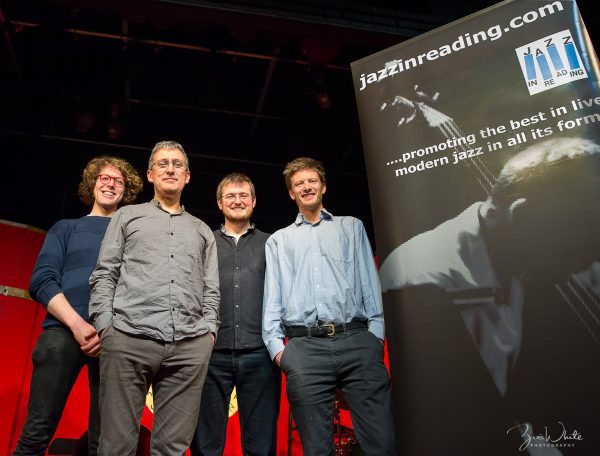 Progress Theatre, Reading, Friday 5 January 2018
John Law keyboards, Sam Crockatt tenor saxophone, soprano saxophone, James Agg bass, Billy Weir drums, percussion
Jazz at Progress 2018 started with an exciting evening's original arrangements of jazz standards, and unusual pop material, from John Law's latest project, Re-Creations.
Jazz always adapted much source material from other genres, notably popular songs. Show tunes from the last century seemed to translate easily, more recent popular genres less so. Re-Creations chooses boldly, and creates distinctive arrangements.
Percussion effects, an understated tenor melody, and orchestral string colours from keyboard, featured in a sensitive interpretation of Sting's evocative ballad 'Fields of Gold', while Radiohead's 'Pyramid Song', originally inspired by a Mingus composition, evoked the sounds of the Middle East in a swirling, intriguing interpretation.
Invited to 'spot the tune' some jazz fans of a certain age may have been defeated by another choice, Adele's ballad 'Hello', but might have found Pink Floyd's 'Money' more recognizable. One of few rock compositions in alternating 7/4 and 4/4 metre, this proved to be a very bluesy, earthy performance.
On 'Call Me Al' from Paul Simon's Graceland album Sam Crockatt played the theme on soprano , moving to tenor for solo. As with other numbers, the piece was marked by rhythmic intensity, in this case, the Afro-American patterns associated with the original album.
Other novel pop selections included Kate Bush's, 'The Man with the Child in his Eyes', and Stevie Wonder's 'I Can't Help It', both in inventive versions, with superb solos.
From the jazz repertoire we heard Monk's blues, 'Straight, No Chaser', but with a deceptive introduction before the theme, and harmonically adventurous solos. His 'Well You Needn't' also started on a disguised intro, then interesting solos, not least mesmeric drum improvisation from Billy Weir, with prominent bass drum work.
Overexposed as a a jazz standard, Gershwin's 'Summertime' emerged in a refreshing, extended version with changes of tempo and metre. The band's classical background shone through in piano and bass counterpoint (recalling Jacques Loussier's Play Bach), and tierce de picardie.
From a much earlier jazz era 'Sweet Georgia Brown' received an ingenious treatment, including a tenor theme statement in half time against an up-tempo background.
Some popular songs have attracted jazz arrangers from the outset, notably Lennon & McCartney's 'Norwegian Wood', here featuring Sam Crockatt's soprano saxophone, and Billy Weir's virtuosity, reminding us of Elvin Jones' polyrhythms.
Throughout the evening, we enjoyed striking arrangements, but also great skill and invention in solos. Sam Crockatt has an original voice (not easy on the tenor), combining extended techniques such as split tone and multiphonics with harmonic fexibility. Billy Weir is a commanding drummer and percussionist. Muscular bass playing from James Agg spurred the band on, in repeated fgures, also in intricate duos with the keyboards. John Law's own playing knitted together complex arrangements , and dazzled in counterpoint and intricate lines, often with electronic orchestral colours.
Thanks to all the Jazz at Progress team for such a great beginning to the 2018 season!
Review posted here by kind permission of Clive Downs
---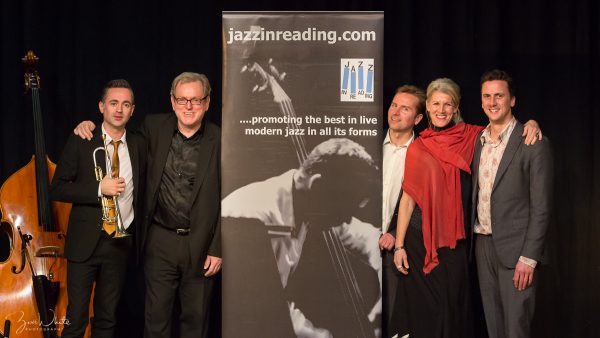 Progress Theatre | Reading | Friday 24 November
Katya Gorrie vocals, Jonny Bruce trumpet, Mirek Salmon accordion, Will Edmunds guitar, Andy Crowdy bass
The spectacular trumpet fanfare from the trumpet of Jonny Bruce, dispels the mind-numbing chill of the autumn evening and heralds an invitation to suspend disbelief for an hour or so and take the hand of Katya Gorrie as she leads the way into the murky recesses of the Moscow Drug Club with her band of troubadours.
Tom Waits, a glass of bourbon in his hand, stands at the bar casting a sardonic eye on the world. 'In the Morning I'll Be Gone', he announces with an enigmatic smile. 'A Gypsy With Fire In His Shoes' ignites the atmosphere with his flaming flamenco steps. He brings the club alive. 'Queenie, the burlesque cutie', who never betrays her dream of one day retiring to a little farm, needs no encouragement to take to the stage, there to conjure the exotic fantasies of others with a 'Strip Polka' that always stops 'just in time'.
Kurt Weill operates the strings for a company of puppets as they dance to the obscure lyrics of his 'Alabama Song', Edith Piaf performs a simple waltz, while Charles Aznavour plays 'Two Guitars'. 'The Voodoo Queen of New Orleans' competes for attention on the cramped dance floor with the eastern Mediterranean charms of 'Miserlou', only for both to be upstaged by the explosive entry of a ninety-two-year-old lady from Woolacombe, north Devon, who noisily extols the virtues of gin, 'Mother's Ruin'. Might she be 'the grandmother … decked out like a Christmas tree' to whom Jacques Brel 'would sing my song to me about the time they called me "Jacky"?'
'Besame Mucho' sighs a young Mexican as she yearns for her first kiss, even though she knows it to be a sin. "Why worry", declares Miss Peggy Lee, 'Manana (Is Soon Enough For Me)'.
Good taste is a by-word of Moscow Drug Club membership. When the Gentlemen's Chorus pronounce the passing of 'Old Man Mose' they carefully avoid any offensive expressions that might rhyme with the 'bucket' that the old man had just kicked.
And so we depart, with the strains of 'Caravan' echoing in the background. It's time to thank our hostess Katya: for the warmth of her hospitality; for the clarity of her diction and the expressive qualities of her narration – she knows exactly how to draw every nuance and innuendo from the lyrics of a song, and for introducing us to the colourful array of characters who inhabit the Moscow Drug Club.
Also a thank you to the musicians who held us in thrall with their amazing feats of invention: Jonny Bruce's ebullient flights into the stratosphere and masterly use of mutes to extract every sound and emotion imaginable from his trumpet; Mirek Salmon's gorgeously evocative playing on the accordion; Will Edmunds' rhythmic versatility and fleet-fingered forays on the guitar, and Andy Crowdy's rich-toned bass lines.
Nor should we miss Martin and Stuart, and the Progress team for making sure that everything ran smoothly. A great evening!
Review posted here by kind permission of Trevor Bannister
---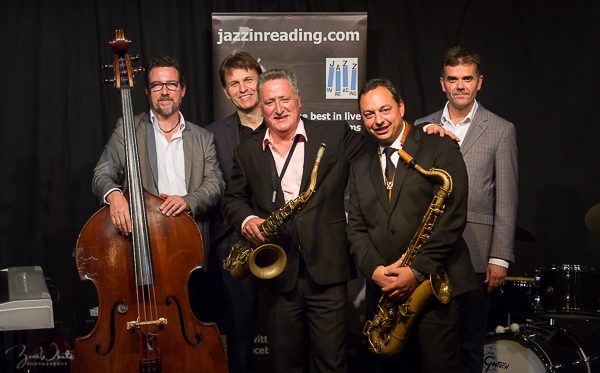 Progress Theatre | Reading | Friday 27 October
Tough Tenors Quintet: Ray Gelato (tenor saxophone), Alex Garnett (tenor saxophone), Gunther Kurmayr (keyboard), Manuel Alvarez (bass), Matt Home (drums).
Gladiatorial contests between the giants of the tenor saxophone are the stuff of legend in the jazz world and form some of the most vivid images from the rich history of the music. Think of Coleman Hawkins and Ben Webster, Lester Young and Herschell Evans, Wardell Gray and Dexter Gordon, Sonny Stitt and Gene Ammons, Flip Phillips and Illinois Jacquet, Al Cohn and Zoot Sims, and Britain's own Jazz Couriers, Tubby Hayes and Ronnie Scott.
After an interval of twenty years, Ray Gelato and Alex Garnett, two contemporary 'heavyweights' of the instrument, rekindled their partnership and locked into 'battle' on the stage of Reading's Progress Theatre on Friday 27 October.
It was a case of lighting the touch paper and watching the sparks fly, and my, did they fly!
Gelato established the tone for the evening with a simple direction to Gunther Kurmayr, 'Straight in'. The pianist duly obliged with a brisk paced introduction to Edgar Sampson's 1933 classic 'Blue Lou'. It set the band swinging and the front-line roaring, transporting us back in time to the heady days of the nineteen-forties, when small-band swing reigned supreme in an infinite number of basement clubs along New York's 52nd Street. The experience of visiting the street as a young man left such an impression on Ronnie Scott that he vowed to open a club of his own one day. And the rest, as they say, is history.
The huge tones of Gelato and Garnett, unimpaired by amplification, were a joy to behold as they dug into 'Topsy'. If I may use an analogy with boxing to compare these two masters of the saxophone, I would suggest that Gelato might deliver his knock-outs with a direct upper cut to the jaw, while Garnett would first set his opponent off balance, and then strike a glancing blow to the side of the head. Supported by Gunther Kurmayr's elegant economy at the keyboard and the wonderful cohesion of Alvarez and Home in the rhythm section, the number immediately evoked the spirit of Count Basie's first band and their recording of 1937; robust, irresistibly swinging and with an edge of menace that gives the tune its full flavour.
'Robbin's Nest', a mid-1940s hit for Sir Charles Thompson, another self-acclaimed member of the jazz aristocracy, brought a relaxed change of tempo, but no let up in the strength of the beat. The theme bounced gently back and forth between Gelato and Garnett to great effect, before opening up for a string of melodic solos, again captured beautifully by the natural acoustic of the Progress auditorium.
Contrafact, as Alex Garnett explained, is the jazz musicians' art of creating a fresh melody over a familiar harmonic structure; a process popular with players of the Bebop generation, though less so with composers of the time. Jerome Kern famously hated anyone 'messing' about with 'All The Things You Are', especially as he seriously lost out on royalty payments. Had he been alive, George Gershwin might have been similarly outraged by the numerous creative liberties taken with 'I Got Rhythm' and 'Oh, Lady Be Good'. The latter became a vehicle for Thelonious Monk, in the form of 'Hackensack', which the 'Tough Tenors' delivered as a fiercely up-tempo swinger, complete with a wonderful round of snappy exchanges between the front-line players and Matt Home on drums.
Alex Garnett held the audience spellbound with his ballad feature 'Chelsea Bridge. He captured the emotional depth and evocative beauty of Billy Strayhorn's composition to absolute perfection, with sensitive support from his rhythm colleagues.
With the front-line back to full strength on the return of Ray Gelato to the stage, 'The King', another number from the Basie book, brought the first set to a scorching climax, prompting a rush to the bar for much needed refreshment.
A heavily disguised 'Tea for Two' opened the second set, before Ray Gelato took up the microphone and knocked the audience for six with the full force of his vocal chords on a rocking, earthy blues. Alex Garnett added to the fun with some lighter toned lyrics of his own invention.
'Limehouse Blues', a favourite with jazz players since the early 1920s, has the distinction of not really being a blues at all, though no one would have questioned its authenticity given the rip-roaring treatment delivered by the 'Tough Tenors'. It was literally a matter of 'all hands to the deck'!
If by now anyone doubted that Ray Gelato fully expressed his heart and soul though his playing, confirmation was provided by his ballad feature, 'I Surrender Dear', Bing Crosby's first hit song. Majestic, is the word that immediately comes to mind to describe Ray's playing, building, chorus upon chorus, in the manner of the great Coleman Hawkins. A show-stopping performance.
'I wonder,' Ray mused, 'What Lester Young would have made of Donald Trump?' Along with Coleman Hawkins, Lester 'the President' Young, was a giant of the tenor saxophone, though very different in style and temperament to the 'Hawk'. A very private man, he closed off the discrimination and abuse that he suffered throughout his life and career, with the use of a personal language. 'I feel a draught', meant that he detected racial hostility. A later variant, 'Von Hangman is here', would be more in tune with Trump's America.
Despite this background, Lester's playing could be the coolest and most joyful experience one could ever wish for, as the Tough Tenors' arrangement of 'Tickle Toe', a Young composition from 1938, fully testified.
In 1961, the 1920s styled band, The Temperance Seven, had a huge popular hit with a number entitled 'You're Driving Me Crazy'. Meanwhile, across the Atlantic, Tubby Hayes was making his ground-breaking visit to New York, an exchange arrangement according to the rules of the day which brought Zoot Sims as the first American guest to Ronnie Scott's. Tubby played the Half Note jazz club to great acclaim and recorded with trumpet/flugelhorn star Clark Terry. In another example of contrafact, Terry used the chords of 'You're Driving Me Crazy' to write a new melody dedicated to the 'Little Giant' from Britain – 'A Pint of Bitter'. Taken at a nice medium tempo, the 'Tough Tenors' paid their own tribute to Tubby, arguably the UK's greatest jazz musician.
Like Lester Young, Eddie 'Lockjaw' Davis had a long association with Count Basie, and the final number of the evening, 'Hey Lock', captured the vigour and no-holds-barred excitement of his playing to a tee, with the group in full shout, sounding more like a full-sized big band rather than a quintet. Matt Home cracked the whip from his drum stool; he could swing the band using his high-hat cymbals alone, while Manuel Alvarez held everything together with his gorgeous bass lines.
Of course, there was more to come. How could the band escape on such a night without an encore, this time a spontaneous blues that well-and-truly brought the house down.
What an evening! Great music laced with good-humoured anecdotes and repartee, all of which added up to musical entertainment of the highest order. Above all, it was a sincere tribute to the lasting influence of a generation of tenor players for whom 'swing was the thing'.
As ever, special thanks to the Progress team for their warm welcome, hospitality and expertise in the sound and lighting department. It all added up to make what the 'Tough Tenors', Ray Gelato and Alex Garnett, described as 'a great fun evening in a gem of a venue'.
Review posted here by kind permission of Trevor Bannister
---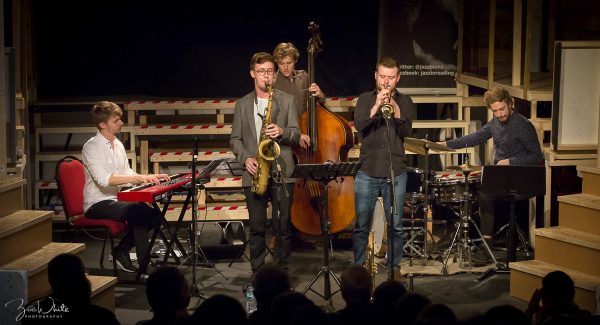 Progress Theatre | Reading | Friday 22 September
The Alex Hitchcock Quintet: Alex Hitchcock (tenor saxophone), James Copus (trumpet & flugelhorn), Will Barry (keyboard), Joe Downard (bass), Jay Davis (drums).
'This is going to be a special evening,' promised Master of Ceremonies, Bob Draper, as he introduced the latest evening of jazz at the Progress Theatre on Friday 22 September. 'This young man really impressed me when I saw him playing a short while ago with Art Themen. "We must have him play at Reading," I thought. Ladies and gentlemen, he'll have you on the edge of your seats … Alex Hitchcock and his quintet.'
Jazz at Progress offerings are never less than excellent, but true to Bob's word, this gig hit the more distant realm of the truly special. Let's have a look and see why.
In the first place, Alex has assembled a young band of outstanding talent and ability.
Will Barry's keyboard technique is simply breathtaking. An endlessly inventive soloist, he conjures gorgeously celestial sounds from his instrument to give the music a wonderful sense of space and freedom. Oh that we could hear him play a grand piano! What a treat that would be.
James Copus? Where to start? Think of all the qualities that make a great trumpeter: a full brassy tone, dazzling runs and immaculate articulation, a range that sends the high notes soaring into the stratosphere, imagination and sensitivity … James has all these and more.
Joe Downard on bass can 'walk' with the best. But more than that, his playing, allied to that of Barry, and Jay Davis on drums, adds a richness of colour and texture to the music, sometimes to startling effect. At one point he created, though goodness knows how, what can only describe as a 'blunt thud'. It was a moment to prompt the old adage, 'If it sounds right, it must be right'. This did. Marvellous!
Sticks, brushes, mallets and hands, Jay Davis makes full use of all his percussive tools to keep the music flowing freely and to add further layers of sound to the musical palette. To the delight of these ears, he demonstrated that simplicity, in the form of a press roll a la Art Blakey, or a single, well-placed beat on the snare drum, can be infinitely more effective than a complex display of drum pyrotechnics.
And what of the leader, Alex Hitchcock? He stands absolutely still as he plays, facing the audience directly. It's an affirmative stance. Only the expression of deep concentration on his face and the lightning speed of his fingers as they negotiate the keys of his instrument, give a clue to the ideas and emotions cascading from his imagination, to emerge as perfectly shaped notes and beautiful phrases from the bell of his saxophone. It's a spellbinding process to witness and he makes it look so easy.
Secondly, Hitchcock's possesses an essential quality of good leadership; knowing how to put together a set list, which balances his own original titles with familiar standards. The More I See You set the evening in motion, a tune best known to me as a 1966 hit for Chris Montez, though it's been recorded by a host of jazz stars, including Chet Baker, Count Basie and perhaps most tellingly, by tenor saxist Hank Mobley. The gig closed with a wonderfully re-worked arrangement of On the Sunny Side of the Street. In between we enjoyed a range of Hitchcock originals, plus the tender ballad, Just as You Are, by Will Barry, and the concise and beautifully expressive Johnsburg, Illinois, from the pen of Tom Waits.
Which brings me to Hitchcock's writing. If I suggest that it reminded me of Miles Davis's classic quintet with Wayne Shorter, that will give you some idea of the impact it had on me. It's tightly disciplined, in the best sense of the word, with the front-line of Hitchcock and Copus playing as one, but with a sense of space that allows soloists to explore the themes in any direction they choose.
Adjective Animal, (a title derived from the current fashion for using an animal name in a band's name and preceding it with an adjective, or in the case of Big Bad Wolf, two) was perhaps the most ambitious piece of the evening, in terms of both length and complexity, but Gift Horse, A38 (an evocation of a recent trip to Budapest and a trip on the Danube on Boat No. A38), Sorry not Sorry, and a dedication to the ill-starred fortunes of Fulham Football Club, proved equally enthralling. However, Blues for J.C. topped the lot for sheer incandescent excitement. It swung like the clappers, with dazzling solos from each member of the band and a cracking 'free' duet between Hitchcock and Jay Davis.
The players, the music, the programming … each of these elements contributed to a very special evening of Jazz at Progress. But there is one key element so far missing from the list: Alex Hitchcock himself. This young man has remarkable poise and self-assurance. He is a relaxed and natural band leader, with a warm, good-humoured and generous personality that readily communicates with musicians and audience alike. He has already made a terrific impact on the UK jazz scene within a very short space of time, and I have no doubt that his star will continue to ascend in the year to come.
He recounted two hilarious tales from the band's recent tour of Central Europe (incidents in fact, which had taken place barely two days earlier); an encounter with a gun-toting cigarette salesman in Krakow, and the hazards of indulging in Hungarian culinary delights on a boat trip in Budapest (hence the aforementioned Boat A38). And at the end of the evening, he displayed huge appreciation for the audience, reserving special praise for the hospitality of the Progress Theatre, and the sound and lighting skills of Martin Noble
Could it be, he suggested, that the great quality of the sound might also have something to do with the band's set-up on stage – a closely confined arrangement amid a partially constructed set for a forthcoming production of Hamlet. Perhaps another benign influence could have been at work throughout the evening; that of 'poor Yorick'?
His skull made an appearance at the beginning of the second set, as a prop to assist Bob Draper make the draw for the presentation of the 'Golden Ticket' prize, and remained on stage for the rest of the performance. 'I've played to audiences that looked like skulls,' remarked Alex Hitchcock, 'but never to a genuine skull.'
A very special evening indeed! There is just one last thing to be said, and this is for the benefit of all jazz club promoters – BOOK THIS BAND! NOW!
Review posted here by kind permission of Trevor Bannister
---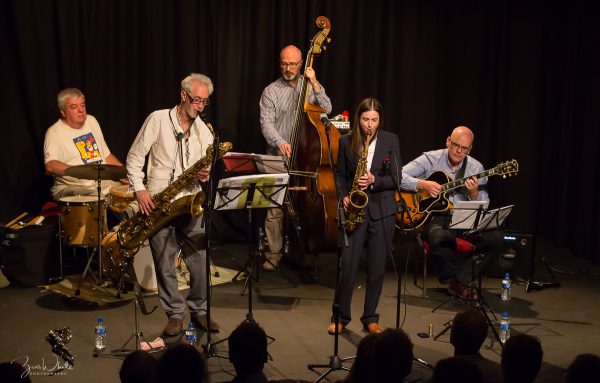 Progress Theatre | Reading | Friday 1 September
Allison Neale (alto sax), Chris Biscoe (baritone sax & alto-clarinet), Colin Oxley (guitar), Dave Whitford (bass), Stu Butterfield (drums)
Some bands lift the roof of an auditorium with high octane displays of energy and excitement. Two of a Mind, fronted by Allison Neale and Chris Biscoe, take a more subtle and understated approach, with new arrangements by Allison, of numbers recorded by Gerry Mulligan in collaboration with Paul Desmond, on their classic albums, Blues in Time and Two of a Mind, plus several original compositions by Biscoe.
Two of a Mind speaks for itself, for this is a band with a fantastic level of understanding between its members, giving the music a lovely conversational quality, in the manner of the original albums. But no idle gossip or familiar platitude would find a place here, although a witty aside may surface every now and then, alongside a flight of imaginative fancy, or even a remark of more basic origin. Like good conversation, there was no telling in which direction the talk may lead: you just had to keep listening lest you miss anything on the way.
Chris Biscoe led the way into Gerry Mulligan's 'Standstill', a swinging number from Blues in Time, the full-tone of his baritone contrasting beautifully with Allison Neale's poised and feather-light alto. Colin Oxley's flamenco-esque guitar, and the gentle breeze of the rhythm section, added a 'Spanish tinge' to Then and Now, a Biscoe original and the title track of the band's album launched earlier this year.
Dave Whitford's arco bass introduced Easy Living, a gorgeous ballad closely associated with Billie Holiday, in which the fragile delicacy of Allison Neale's alto especially impressed. The great songwriting team of Rodgers and Hart came up with Lover as long ago as 1932, and it's been played as an out-and-out swinger ever since. Tonight was no exception: a tour de force of technical brilliance, invention. and good taste.
One can never tire of All the Things You Are, which has been a firm favourite with jazzers since the mid-forties, though I believe composer Jerome Kern's wife (or perhaps it was Kern himself?) objected to them taking with what were seen as liberties with the tune. It's just too rich in possibilities. Biscoe, Neale & co explored them to the full. The arrangement used space to wonderful effect: at times notes simply hung in the air. A richly sonorous Bach-like figure, of which Gerry Mulligan would have been proud, brought the number, and the first set, to a close.
'It's all right,' Chris Biscoe reassured the audience when only four musicians appeared on the stage after the interval. 'We haven't had a band bust-up in the dressing room. Colin simply takes a break on this one.'
In fact, the band now mirrored the original Gerry Mulligan piano-less Quartet of 1953, which brought him and trumpeter Chet Baker to world-wide attention. Allison Neale's arrangement of How Deep is the Ocean provided the starting point for a series of improvisatory delights from the two saxophones, aided by Messrs Whitford and Butterfield on bass and drums, who form an ideal rhythm team for this style of music.
Colin Oxley returned to the stage and soon made his presence felt on the Biscoe original Rest Easy, with his imaginative soloing and perfectly placed interjections to the ensemble; he knows intuitively when to give the music a lift, or when to point things in a new direction.
Meanwhile, it's hard to believe that the baritone saxophone is Chris Biscoe's second instrument. He is of course best known for his innovative alto playing. Star Dust provided the opportunity for Chris to introduce his third instrument, the rare (and in my case, never-seen-before) alto clarinet – a visual marvel, with a sound to match. He proceeded to re-cast the Hoagy Carmichael warhorse in an entirely new mould.
Allison Neale began her solo with a quote from Paul Desmond which has an interesting story behind it …
In 1953, Desmond and Dave Brubeck argued fiercely before taking the stage for a concert by the Brubeck Quartet at Oberlin College. It continued to rage throughout the concert, though in more subtle form, with each player determined to out-do the other. Adding to the tension of the occasion, bassist Ron Crotty had just handed in his notice, while drummer Lloyd Davies was suffering the full effects of flu with a raging temperature of over a hundred degrees. Despite this (or perhaps because of it) the quartet played brilliantly, with Desmond hitting top form on Star Dust, from which Allison Neale freely adapted her solo. A recording of the concert proved a great success on its release, though by all accounts, neither Brubeck nor Desmond could ever bring themselves to listen to it.
Indian Summer a lovely song from Victor Herbert, paid tribute to another great alto player and contemporary of Paul Desmond, though he hailed from this side of the Atlantic, the late Bruce Turner.
The cool sound of the band could be deceptive. Did it really race along at such high speed on the final number, The Way You Look Tonight? The answer is, yes indeed!
Gerry Mulligan and Paul Desmond were Two of a Mind in another respect besides music …they loved puns, spoonerisms and any form of word play … it was therefore fitting that Two of a Mind should finish their gig with the bluesy, rip-roaring Blight of the Fumble Bee. A great evening and a wonderful tribute to Gerry Mulligan and Paul Desmond; two giants of the saxophone.
Our thanks, as ever, to everyone at the Progress Theatre for their warm hospitality and for making sure that every detail, from the sound and lighting, to the service at the bar ran smoothly.
Review posted here by kind permission of Trevor Bannister
---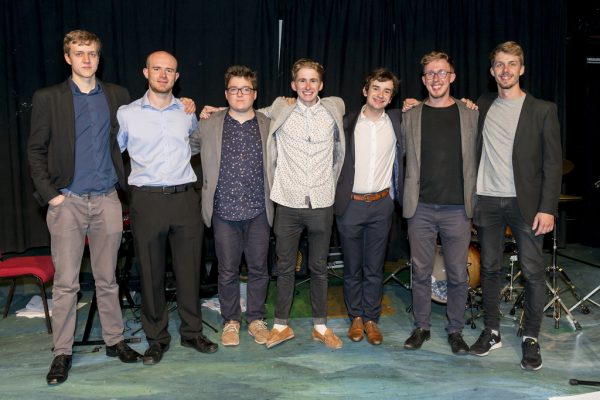 Photo by Colin Swain Photography
Progress Theatre, Reading | Friday 18 August 2017
Tom Smith alto, Alistair Martin trumpet/flugelhorn, Olli Martin trombone, Alex Hitchcock tenor, Will Barry keyboard, Conor Chaplin bass, Will Cleasby drums
"The best jazz I've heard all year!"  Who could argue with that judgement of the Tom Smith Septet, overheard as the packed audience made its way out of the Progress Theatre on Friday 18 August. Like a reincarnation of the innovative Johnny Dankworth Seven, alto saxist Smith has brought the concept bang up-to-date for 2017. He uses all the resources of the line-up to present his writing and arranging to maximum effect; great soloists, players working together in various combinations, a precise ear for dynamics and a glorious ensemble sound to lift the roof – it's music with all the spontaneity and joyful energy of the moment, with a grateful nod to the jazz heritage of the past.
Strike Up The Band, a Gershwin favourite from 1927, set things off to a flag-waving start at a swinging tempo guaranteed to get the 'chops in shape'. A friend recently opined that J.J. Johnson and his followers virtually killed off the trombone as a solo instrument. So intent were they to play the notes with machine gun rapidity, that they ignored the inherent beauty of the instrument's tone. No such problem with Olli Martin. His playing on this, and throughout the evening, combined the soulful bravura of Kid Ory, with the musical sophistication of Urbie Green, adding a rich depth of sound to the front-line.
Tom Smith is a sparky live-wire of a character. His engaging introductions, infused with fun and good humour, formed some of the highlights to the evening. It would be hard to imagine that he ever sits still and or fails to take up a challenge. "I thought it would be good to explore something broody" he explained, succeeding completely with Freddie Freeloader. A marvellous bass introduction from Conor Chapman (on his first gig with the band) set the mood, as the band took the Miles Davis classic, arguably the one up-beat track on Miles Davis' classic album 'Kind of Blue', into much darker, enigmatic territory; a portrait of Miles himself perhaps?
By contrast, Voyage and Return, dedicated to Maria Schneider, the American composer and big band leader, was much brighter and optimistic, with a thrilling alto solo from the leader.
Alex Hitchcock's poised and confident tenor led the way into Come Rain or Shine, cleverly orchestrated to express the full drama of Harold Arlen's declaration of unswerving love.
Alistair Martin's mellow flugelhorn and the celestial keyboard of Will Barry featured on Infant Eyes, a beautiful ballad from the pen of Wayne Shorter, before Will Cleasby (also making his debut with the band) and the rhythm section set the pulses racing with a Latin-American 'tear-up' Flamenco Carlos – a gladiatorial front-line 'battle' between Alistair Martin and Alex Hitchcock, a short-break of complete free-playing (what used to be known as 'freaking out') with everyone joining in the fun and a sudden ending. Great!
"This is a world premiere," Tom announced, as he introduced an as yet untitled piece inspired by Carla Bley's 'The Lord is Listening To Ya, Hallelujah', and dedicated to his father, Steve Smith – the source of Tom's love for jazz, who was in the audience with other family members. With Olli Martin taking the role of preacher, and the band his faithful congregation, the number brought the first set to a triumphal and deeply emotional close.
Will Cleasby set the second set in motion with his delicate brushwork, before switching to sticks and driving the band along in top gear, and soloing, on That Old Black Magic; another old favourite, delivered with all the freshness of a newly-minted coin.  Blues for Toulouse, dedicated to the 'exceptional acoustics' of the Toulouse Lautrec Brasserie in Kennington rather than the French impressionist, hit a nice blues groove with a soulful solo from Alex Hitchcock, his tenor sound reminiscent of the late and much-lamented Bobby Wellins.
"I like to use new numbers," Tom explained, "you've got an excuse if they don't quite come off," he added mischievously. He needn't have worried; Viking Dance came off perfectly.  The reflective 'The Road Ahead' again featured Alistair Martin on flugelhorn and Will Barry to great effect, and a searing alto solo from Smith.
Tom dedicated the closing number, The Last Taxi Out Of Frenchman's Street, to another inspirational member of the Smith family, grandfather Peeps Smith, also in the audience. He toured the jazz clubs and dance halls of Britain and Europe in the heyday of the trad boom, playing drums in such bands as Humphrey Lyttelton's.
It was entirely apposite for Will Cleasby to lay down a joyfully infectious New Orleans beat on his snare and bass drums, and cast the band into full flight to build up a head of steam on what Smith described as 'a second line mash-up'. It was every man for himself in the mounting excitement. An intriguing Milestones-ish line from the front line calmed the tension a little, in readiness for Will Barry to take centre stage with a solo that steadily grew in intensity. It came to a climactic ending with the return of the full band heralding Will Cleasby's explosive drum solo. "Normally I can't stand drum solos," commented a neighbour in the audience, "but that was something else."
Despite the fast approach of the 'witching hour' of 10 o'clock, there was no way the band would be allowed to leave the stage without an encore number. Tom duly obliged with Swansea Uproar, a musical depiction of what he thought an uproar in Swansea might be like if ever he visited the city. Alex Hitchcock opened the number with a salvo of rapidly-fired notes, while Alistair Martin responded more economically with carefully placed notes that kept the pots boiling.
The rapturous applause and loud shouts for 'MORE!' at the end of the gig, speak for themselves, this indeed, was an evening of great jazz – full of spirit, technical brilliance and emotional expression. Oh yes, and one thing I have so far failed to mention – all this from seven guys with an average age of about 23, and a leader, Tom Smith, who has yet to complete his studies at the Royal Academy of Music. And as for alluding to the Johnny Dankworth Seven earlier in this piece – it was the launching pad for an illustrious career in music for Sir John, as he later became. Who knows what might be in store for Tom Smith and his compatriots? As Jim Wade, genial MC for the evening, remarked, "With these guys around, the future of jazz is in safe hands."
As ever, our grateful thanks to Martin Noble, sound and lighting man par excellence. House Manager Stuart McCubbin and all the Progress team who provide such a warm welcome and ensure that all runs smoothly.
Also, special thanks to Marc Edwards, Curator of Brecon Jazz Futures, an innovative project committed to developing the interests and playing opportunities for emerging young jazz musicians, who helped to make the concert possible.
Review posted here by kind permission of Trevor Bannister
---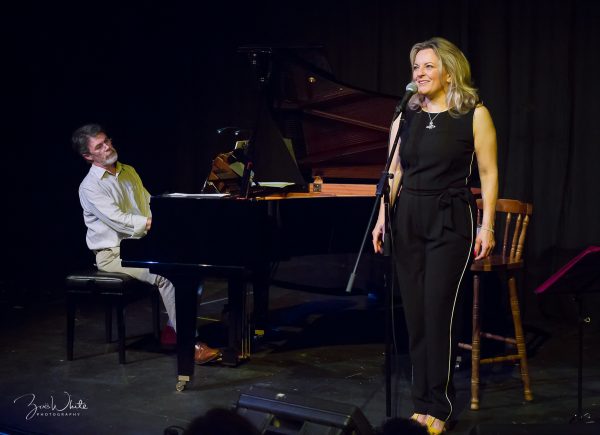 Progress Theatre, Reading | Friday 23 June 2017
Claire Martin vocals, Dave Newton piano
A Midsummer Night's Jazz
World class' like 'genius' is a grossly over used term, but in the case of Claire Martin and Dave Newton it happens to be absolutely true. Recognised individually by numerous accolades and awards, as a duo they form an irresistible combination, enchanting a sell-out audience with an evening of wonderful music. Their jazz artistry shone through a programme drawn from the Great American Songbook, confirming Claire Martin's own place in the pantheon of great female song stylists to whom she paid tribute: Ella Fitzgerald, Billie Holiday, Peggy Lee, Lena Horne, Shirley Horn, Carmen McRae, Diana Krall, Sarah Vaughan, Nina Simone, Eartha Kitt, Keely Smith, Helen Merrill, Blossom Dearie, Ernestine Anderson and Anita O'Day. Claire Martin is up there with the best!
'I Love Being Here With You' set things swinging. After a hectic recent schedule, including an appearance with the BBC Big Band, one felt that Peggy Lee's lyrics truly echoed Claire's pleasure at singing in the intimate setting of Reading's Progress Theatre rather than a cavernous concert hall. 'I like being able to see the whites of the audience's eyes,' she remarked.
'Undecided', an early hit for Ella Fitzgerald with the Chick Webb Band in 1939, was taken at a brisk pace with dazzling piano from Dave Newton. Claire gave full rein to the role of the exasperated girl whose boyfriend simply can't make up his mind about their future and confronts him with the final ultimatum, 'So what are you gonna do?' Sounds familiar?
A special magic exists between Claire and Dave; barely exchanging a word, their musical understanding is complete, none more so than in the Gershwin brothers' 'How Long Has This Been Going On?' Economic, understated, tasteful; the pair complemented each other perfectly to express the bitter-sweet beauty of the song.
'Come Runnin', dedicated to the beautiful Lena Horne, served to remind us of her immense talent as a singer, dancer and actress, and also of her role as an advocate for Civil Rights. She lent support to the movement at great personal risk to herself and her career.
Cole Porter's suggestion that you could get a 'Kick from cocaine' may have been OK for sophisticated Broadway audiences when 'Anything Goes' opened in 1934, but it was way too much for the film censors. Porter replaced the offending line with, 'Some like the perfume in Spain'. Did you have to distil it first? Needless to say, Claire Martin delivered the line with potent force and complete authenticity!
Duke Ellington's 'I'm Just a Lucky So and So', with lyrics by Mack David, deserves to be better known; a delicately quirky tune, it's a wonderfully simple declamation of the joy of living. In the hands of Martin and Newton, a minor masterpiece.
There were times, Nina Simone's ''Too Much In Love To Care' was a good example, where the marvellous sound of Dave Newton's piano took on the proportions of a full orchestra – bass, drums, brass and sax sections. He is a phenomenal pianist: inventive, witty; sometimes teasing the notes from the keyboard, he will break into a little boogie-woogie, stride or even a be-bop run; at the fastest tempos he never seems rushed, tossing a beguiling quote into the mix before heading back to the melody and a seamless hand-over to Miss Martin.
Two contrasting songs completed the first set, each, in quite different ways, revealing the expressive range of Claire Martin's voice; the anguish of 'I Loves You Porgy' from 'Porgy and Bess', and the subtle suggestiveness of Jerome Kern's 'I Won't Dance' . 'I know that music leads the way to romance', she sang with a twinkle in her eye.
The second set continued the 'romantic' theme established before the break with another risqué number, recorded by Eartha Kitt amongst many others, Cole Porter's 'Let's Do It (Let's Fall in Love)'. As comedian Max Miller might have said, 'It's all in yer mind missus.'
Apart from being a very fine vocalist, the late Mel Tormé also penned a number of great songs, including 'Born To Be Blue', an evocative tale of sadness and lost love. Claire negotiated the lyrics of the fast-paced 'Caravan' with consummate ease, while Dave Newton concocted a heady mix of middle-eastern spices at the keyboard.
'Wonder Why?', came next, a lovely Oscar nominated song by Sammy Cahn, and thankfully saved from the obscurity of the 1951 movie 'Rich, Young and Pretty'. Forever, associated with Ella Fitzgerald, the centenary of whose birth was marked in April, 'Someone To Watch Over Me' remains a showstopper, with Claire capturing the heart-touching tenderness of the song to perfection.
Dave Newton set 'Cheek to Cheek', Irving Berlin's classic number from 'Top Hat', in motion with a deceptively simple figure that kept you on the edge of your seat with anticipation; you had a good idea what was in store, but didn't quite know when it was going to happen. And then it did! Wow. The number took off, conjuring vivid images of Astaire and Rogers whizzing round the dance floor in full flight.
It came as no surprise to learn from Claire that Shirley Horn was one of Miles Davis' favourite singers. Her arrangement of the moody, haunting 'Quietly There' by Johnny Mandel, would have exactly suited him.
The evening roared to a close with a flag-waving rendition of the Irving Berlin favourite 'Blue Skies', closely followed by a 'get down and dirty' blues from Ernestine Anderson, 'Never Make You Hope Too Soon', which brought the house down with rapturous applause and calls for more! Ms Martin and Dave Newton duly responded with an elegantly swinging à la Anita O'Day interpretation of 'You Turned The Tables On Me'.
A more than satisfied member of the audience neatly summed up his enjoyment of the evening as he made his way out of the auditorium, 'You MUST get them back,' he remarked breathlessly. '… and SOON.'
As ever, thanks are due to Martin Noble for the excellent quality of the sound and lighting, to the Progress Front of House team for their warm hospitality and Hickies Music Shop, Friar Street, Reading, for the hire of a magnificent Yamaha baby grand piano.
Review posted here by kind permission of Trevor Bannister
---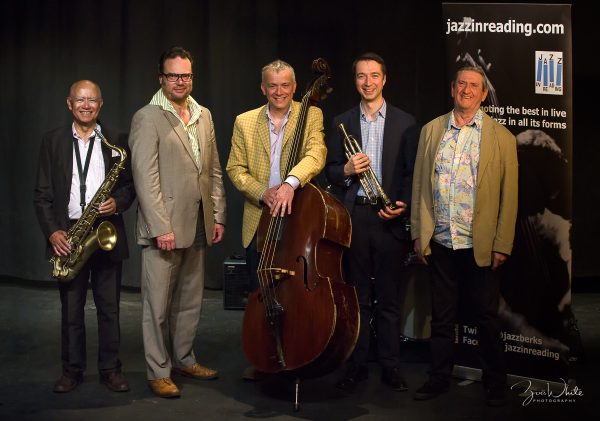 Progress Theatre, Reading | Friday 2 June 2017
Steve Fishwick trumpet & flugelhorn, Art Themen soprano & tenor saxophones, Gareth Williams keyboard, Arnie Somogyi bass, Dave Barry drums
Spun so charmingly we willingly share the illusion that the secret to successful band leading is to surround oneself with players better than oneself. If the words had been uttered by anyone else we might even have believed in them, but here, centre stage of Reading's Progress Theatre,  stands Art Themen before a sell-out crowd; testimony in itself to the enduring inventiveness of his talent and immense popularity. Yes, the musicians he now introduces are giants of their instruments and yes, each is a leader in his own right, possibly with an ego to project, but one can't but help detect a spirit of generous warmth in the air, which makes the gig unmistakeably Art's – we know that we are set for an evening of exceptional music and great fun.
Mining the rich vein of hard bop, Sonny Rollins' 'Why Don't I' set the tone for the evening, with Steve Fishwick's lyrically fluent trumpet lines and burnished tones, contrasting beautifully with Themen's more angular approach and Gareth Williams' cascading keyboard runs. Dave Barry, a 'Blakeyesque' powerhouse of a drummer, stoked the boilers in the rhythm department, ably assisted by Arnie Somogyi's subtle bass.
Pianist, composer and bandleader, the late Horace Silver possessed the rare gift of creating tunes popular with both jazz improvisers for their musical challenge and with the wider public for their catchy melodies and earthy rhythms. The second number, 'Ecaroh' (try reversing the letters), which actually dates way-back to 1952, was a good case in point. Blues tinged and with a distinctly Latin feel, 'Ecaroh' set the fingers snapping and feet tapping.
'How My Heart Sings', from the pen of Earl Zindars and famously interpreted by Bill Evans, brought a change of mood. Fishwick and Themen switched to flugelhorn and soprano sax respectively to beautifully capture the reflective qualities of the song in gentle waltz time. Gareth Williams' 'moonlight' touch on the keyboard and the palpable empathy between himself, Somogyi and Barry, a combination of sensitivity and strength, proved irresistible.
Themen was at his expressive best in the ballad feature 'Spring Can Really Hang You Up The Most', drawing every drop of emotion from this bittersweet standard; the inspired product of song writing team Tommy Woolf and Fran Landesman, who took the opening line of T.S. Eliot's 'The Waste Land', 'April is the cruellest month', and placed it in a jazz setting.
'Dizzy Moods', kept everyone on their toes. Full of the passion, energy and unexpected twists and turns one associates with the compositions of Charles Mingus, it brought the first set to an explosive conclusion.
Apart from being a very funny guy, with an hilarious flow of on-stage banter, Gareth Williams is an extraordinarily fine pianist, as he demonstrated to brilliant effect in the introduction to the Bill Evan's classic 'Peri's Scope', which set the scene for dazzling solos from the other members of the band.
In total contrast, the out of tempo introduction to Cedar Walton's 'Midnight Waltz' kept everyone guessing as Arnie Somogyi and Dave Berry led the way through a labyrinthine pattern of sounds, patterns and changing rhythms. Great fun, but every bit as bewildering as the warren of passages and rooms behind the Progress stage. As if by magic, the tune emerged from the apparent chaos. Perhaps this is what an unnamed critic meant when he coined the phrase, 'divine rampage' to describe the jazz ethic.
The task of making the spoken introduction to John Coltrane's monumental '26/2', a number Art Themen later described as an 'A Level piece', fell appropriately to Steve Fishwick, Professor of Jazz Trumpet in no less than three of the UK's most prestigious music colleges. 'This is a piece,' he explained, 'in which Coltrane transposed the chords of'Giant Steps' on to those of Charlie Parker's 'Confirmation'. He made it sound all so simple.
The result was anything but simple; a tour de force of technical brilliance, with first Themen and then Fishwick navigating a course through the changes at break-neck speed, with the aid of Gareth Williams, eyes firmly set on the musical compass, and the Somogyi/Barry rhythm team making sure that the boilers maintained a full head of steam. Breathtaking, is the word that immediately comes to mind!
'I Fall In Love Too Easily', a beautiful ballad by Jule Styne and Sammy Cahn, which first made its mark when sung by Frank Sinatra in the 1944 film 'Anchors Away', brought a welcome sense of calm after the storm. Steve Fishwick's solo feature, with its superb articulation and breathe control, held the audience spellbound.
Topped by a rhythmically complex and super-charged drum solo by Dave Barry, the gig came to a close with the band in full flight on 'Nutville', another piece from the prolific pen of Horace Silver. An encore? Of course …  the rapturous applause of the audience drew the band back on stage to round off an evening of true jazz delights with Kenny Barron's 'Voyage'.
As ever, our thanks to Martin Noble, sound & lighting man par excellence, and to Stuart McCubbin and his Front of House team for their warm hospitality and attention to detail.
Review posted here by kind permission of Trevor Bannister
---
Progress Theatre, Reading | Friday 5 May 2017
Duncan Eagles tenor saxophone, Max Luthert bass, Eric Ford drums, with guest Ant Law guitar
Partikel, Duncan Eagles on tenor saxophone, Max Luthert on bass and Eric Ford on drums, augmented by guitarist Ant Law, brought their vibrant mix of lyrical melody, vivid sound colours, and pulsating rhythms, to a spellbound audience at Reading's Progress Theatre on Friday 5 May on a leg of their Counteraction tour; a new album shortly to be launched at King's Place in London.
Challenging, unpredictable and utterly compelling, Partikel's original and collective approach, with it's liberating sense of time and space,  shakes one out of the comfort zone of familiar standards, twelve-bar blues and strings of solos, to view the possibilities of creating jazz in a fresh light.
Tenor saxophonist Duncan Eagles provides a strong lead voice and takes on the lion's share of compositional duties. Eschewing a microphone he made brilliant use of the Progress Theatre's natural acoustic and the full range of his instrument; a barely audible whisper, a fleeting run into the higher register, or a clarion call as forceful as any brass section, to create an endless flow of melodic lines rich in light, shade and texture.
His compositions bear witness to his life and experience; the exotic and the everyday. 'Shimmer', which he described as 'the happiest piece of music that I've ever composed', brought an evocation of the tranquillity, unique light and tropical humidity of Cambodia.  The contemplative 'Lanterns', an impression drawn from the band's recent tour of China, could almost be described as an elegy for the 'positive, peaceful vibe' of the sadly fast-disappearing street life of Beijing; rapidly being swept away in the wake of urban 'renewal. Eagle's passionate tenor and Eric Ford's swirling percussion added tension and drama to 'Land and Sea', while 'Midnight Mass', 'Suburbiton' and 'Wray Common' conjured images from closer to home.
An unbridled tear-up through 'Scenes and Sounds', brought the house down as the opener to the second set. And if anyone should doubt Eagle's jazz credentials, then listen to 'Bolden Days', an affectionate portrait of the legendary Buddy Bolden, a creator of jazz in New Orleans, whose sound, it is said, could be heard 'twenty miles away' when he played outside. And for any 'mouldy fygges' tempted to suggest that well-schooled, music college-educated jazz players of the present lack the personality to express themselves like the self-taught masters of the past, take a listen to this young guy and think again!
Duncan Eagles is undoubtedly Partikel's principal voice, but as I've already commented, it is a collective band with everyone feeding into the creative melting pot and above all, listening to each other.
Rather like Ron Carter's crucial role in the great Miles Davis Quintet of the nineteen-sixties, bassist Max Luthert's perfectly placed notes, often felt rather than heard, ease the music seamlessly into new directions.  And also like Carter, his bass has a rich tone, full of expressive qualities that enjoyed full rein in the solo introduction to his composition 'Moving Fields'.
Eric Ford provides the other half of the band's rhythm source, combining with Luthert to imply a liberating sensation of time; subtle, ever changing, but rarely ever directly stated. He draws an aural kaleidoscope of sounds from his uniquely customised drum kit, filling in the colours and adding emotional depth to Eagle's musical sketches.
Ant Law's guitar hinted at the direction the Partikel is taking with its new album Counteraction, in which the band is further augmented by strings, a second saxophone and electronic wizardry. Its metallic, almost ethereal qualities added a fascinating contrast to the Partikel sound palette. Law also contributed 'Aquilinus' to the band's book, explaining that it was the only word of interest that he derived from a recent reading of H.G. Wells' dystopian novel, 'When the Sleeper Wakes'. Make of it what you will, but for Aquilinus read 'Eagle-like'.
By the way, lacking a music stand, he rummaged through the theatre's props cupboard to find a nice wooden tea trolley for the job. He arrived on stage looking as if he were about to serve refreshments to the band and audience.
As ever, the Progress Theatre proved an ideal venue for such an intensely listenable band, with a perfect balance of sound in which every nuance could be enjoyed with crystalline clarity; Partikel and audience truly felt as one. Thanks are due to sound/lighting wizard Martin Noble, and to Stuart McCubbin and his front-of-house team, for their warm welcome and hospitality.
Counteraction clearly marks a watershed in the evolution of Partikel. One hopes that in exploring new territory they will not lose the empathy and interaction which is such a distinctive feature of the band. They extol the joyous spirit of adventure that makes for great jazz, and makes them one of the most exciting bands on the current UK scene.
Review posted here by kind permission of Trevor Bannister
---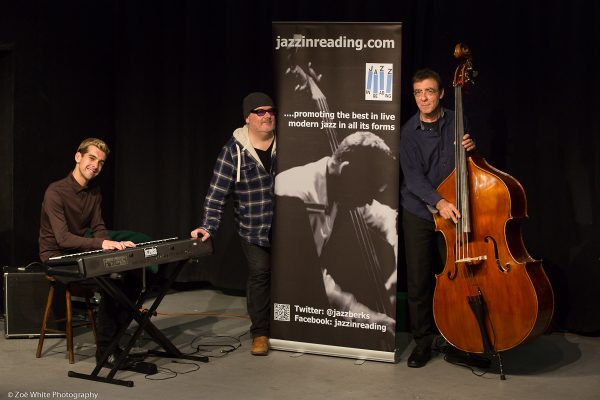 Progress Theatre, Reading | Friday 3 March 2017
Ian Shaw vocals and comedy, Jamie Safir keys, Mick Hutton double bass
I defy anyone who was in the audience for Ian Shaw's appearance at Reading's Progress Theatre on Friday 3 March, to admit that they were not moved by some aspect of his performance. Like him or not (and judging by the audience response very few, if any, punters fell into that latter category) Shaw is not someone you can ignore. In my own case, as a complete newcomer to the unique phenomena of his performance, his outrageous sense of humour almost reduced me to tears; I was knocked out by his musicality and left in awe by the strength and humanity of his convictions.
So where to begin? How about taking each of those things in turn … first, his humour.
As Shaw took to the tiny stage, amid shouts and rapturous applause from the audience, it was immediately clear that here stood an agent provocateur of the first order and so it proved. A subversive force seemed to be at work, provoking gales of laughter with surrealistically convoluted tales of growing up in strict-Baptist north Wales, childhood kleptomania and the acquisition of a vast collection of brightly coloured wax crayons, writing to the BBC in the hope that Jimmy Saville could 'fix-it' for him to meet Rolf Harris, his dislike of gay-bars, ('I just can't breathe in for that long,' he confessed) and various other episodes from his life, including the strange tale of the 'doctor and the juicer'.
Holding the final note of one song, he reached forward to his music stand, desperate to find the right page of his music score so that he could bring the song to an end. Still holding the note, he fumbled through the sheets; backwards and forwards – there was no sign of the crucial page. We could feel his desperation. And so it went on; until finally, yes, he found the sheet and could close the song. Relief!
I suspect that it's a trick he's pulled a thousand times on stage and that it never once fails to bring the house down. Only afterwards do you think, 'How did he hold that note so perfectly and for so long? What fantastic breath control.'
Ian Shaw has an amazing voice. It's an instrument which he uses to express a vast range of musical sounds and emotions. He can soar effortlessly from a note of deep sadness to one of the utmost joy. His diction is crystal clear, his tone rich and full-bodied. He freely improvises complex, sometimes almost musically gymnastic, lines, building up as much tension and excitement as any trumpet or saxophone player. It's clever, but totally honest, for the song is at the heart of his music.
He has the rare gift of taking a song, maybe something well known like Jim Webb's 'Wichita Linesman' or even Lionel Bart's 'You Gotta Pick A Pocket Or Two', stripping it down it its bare essentials and rebuilding it in a form that you could never have imagined. It's a transforming process as lines, words, even syllables take on wholly new meanings.
He draws on a wonderful repertoire of songs from Joni Mitchell, Amy Winehouse, Leonard Cohen, Christine Collister, Cole Porter, Harry Warren and Michel Legrand, each sung with the joyful expression of life and yet tinged with a hint of sadness and melancholy.
Mick Hutton's beautifully conceived bass lines and Jamie Safir's elegant and inventive playing on keyboard (although he could readily match Shaw's earthy funkiness when need arose), added greatly to the evening. One could sense the level of understanding between the three musicians; how carefully they listened and responded to each other's ideas.
One thought struck me towards the end of the gig; Ian Shaw is like a throwback to the satirists that I grew up with in the nineteen sixties. I could imagine him singing alongside Millicent Martin on 'That Was The Week That Was', two 'hip' jazzers working through the events of the week, sending-up politicians, royalty, the church – in fact anyone, or anything that smacked of pretension, dishonesty or pomposity. How we need that today!
The final song, an original, 'My Brother' was dedicated to the child refugees of Calais and beyond, whose desperate plight Ian Shaw has espoused so vigorously in recent years through his work in the field, raising funds and lobbying the Government. A collection at the end of the gig raised almost £400 to support Phone Credit for Displaced Persons, a charitable organisation that provides vital phone credit to refugees and displaced adults and children across Europe. As I said at the outset, one cannot fail to be moved by Ian Shaw.
The publicity before the gig promised 'an evening of rollercoaster musical emotion and non-stop entertainment'. And so it proved to be.
As ever, the Progress Theatre team provided a warm welcome on a night of particularly inhospitable weather, while sound/lighting man Martin Noble received a well deserved 'thank you' from Ian Shaw.
Final comment comes from bass player Mick Hutton. 'You've got a car park,' he remarked. Match that Ronnie Scott's?
Review posted here by kind permission of Trevor Bannister
---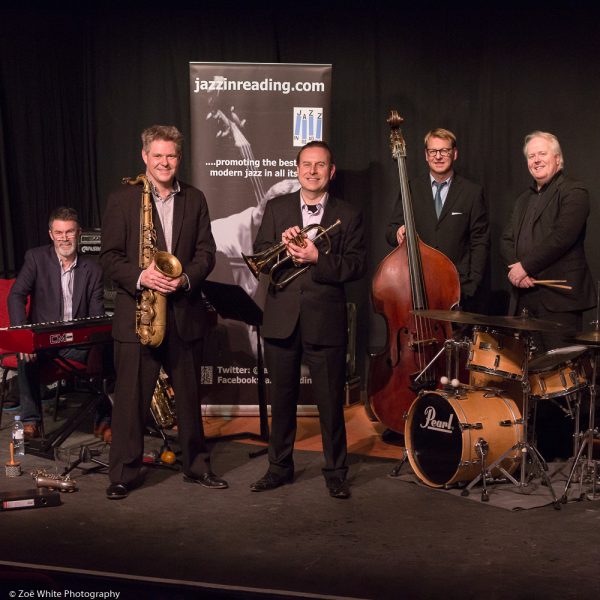 Progress Theatre, Reading | Friday 27 January 2017
Derek Nash (saxes), Dave Newton (keyboard), Geoff Gascoyne (bass), Sebastiaan De Krom (drums), Martin Shaw (trumpet/flugelhorn)
2017 marks the 100th anniversary of the first jazz recording. To honour this historic occasion, Master of Ceremonies Jim Wade opened the gig at the Progress Theatre on 27 January, with the opening bars of 'Livery Stable Blues', played by the Original Dixieland Jass Band. Coupled with 'Dixie Jass Band One Step' as a 78rpm shellac disc, it caused a sensation and sold a million copies worldwide; heralding the arrival of a new musical form of such spirit and youthful exuberance, however quaint and antiquated it may sound by modern standards, that altered the course of musical history.
What, I wondered, would those early jazz pioneers have made of Derek Nash and his Acoustic Quartet with special guest Martin Shaw. Would they have recognised his music as being part of their evolutionary line?
I suspect that the musical journey which Derek invited the capacity audience to share; the technical brilliance of the players and the sophistication and emotional depth of the music itself would surely have left them open-mouthed in wonder. And yet, I hope they would also have felt that here were five kindred spirits at work, expressing themselves in the same joyous, free-wheeling, uninhibited 'let's-see-where-this-will-take-us' manner which first captured the imagination of listeners a century ago.
An intriguing and irresistible groove, laid down by Dave Newton and the rhythm section, set the musical journey in motion and led unexpectedly into 'Secret Love', a far remove from Doris Day's great hit of the early fifties, with Martin Shaw's majestic trumpet creating a perfect foil to the searing alto of Derek Nash. With Nash switching to baritone sax and Shaw to flugelhorn for Jerome Kern's 'All The Things You Are', Sebastiaan de Krom's subtle brush-work and Geoff Gascoyne's lovely bass lines, immediately evoked the legendary Gerry Mulligan/Chet Baker Quartet and the gentle breeze of West Coast 'Cool'. Mulligan operated without a piano, but fortunately for us, having laid out for the opening, Dave Newton's lightness of touch added to the delicate, interweaving lines of the front-line and raised the temperature markedly in a richly swinging solo.
Readers of a certain age may well remember the BBC Northern Dance Orchestra (NDO), which broadcast regularly on the old Light Programme, and also provided the pit-band for 'The Good Old Days' on BBC TV. Derek's father, Pat, contributed greatly to the orchestra's success as an arranger. Steeped in such a musical background, and meeting great stars like Ken Dodd, ('They would call in for tea at home,' Derek remembers. 'I just thought it was like that for all kids.')  it's no wonder that Derek stepped into his father's footsteps to pursue a career in music.
As a dedication to his father, Derek took up his curved soprano sax to play a tune they had composed together. Originally known simply as 'Waltz', the wistful, lyrical charm of 'Waltz For My Father', as the tune is now titled, was a joy to behold. Again, the front-line contrast between the passion of Derek Nash's soprano and the sensitivity of Shaw's flugelhorn added an achingly exquisite beauty to the tune.
Thelonious Monk is mainly noted for two things: the genius of his music and his verbal silence. It came as a surprise therefore to learn from Derek Nash that Monk had, in 1960, put together a list of advice notes for his fellow musicians. Such as: 'Don't play everything (or every time); let some things go by. Some music just imagined. What you don't play can be more important than what you do'; 'A note can be as small as a pin or as big as the world. It depends on your imagination;' 'When you're swinging, swing some more!'
With these thoughts in mind, the band launched into another pearl of 'Monk Wisdom' (and the title track of a recent Derek Nash album, voted No. 5 in the 2016 British Jazz Awards for Best New CD of the year), 'You Gotta Dig It To Dig It, You Dig?' Preaching alto, razor sharp trumpet, a rich toned, funky bass , sparkling piano and a display of drumming to die for – the perfect end to the first set and as Monk would have said, 'Always leave them wanting more!'
The second set of our 'musical journey' opened appropriately enough with 'Joyriding', a bluesy 'Sidewinderish' original from Derek Nash, which featured his booting tenor saxophone, and summoned-up all the helter-skelter excitement suggested by the title.
'Contrafacting', Derek explained, is the art of creating a new melody line over an existing harmonic structure, a practice the beboppers used to excellent effect, not only transforming tunes to make them more challenging to play, ('Back Home In Indiana' became 'Donna Lee', 'Whispering' acquired a new identity in 'Hot House') but also set up a new source of royalties. Charlie Parker's 'Moose the Mooche' was based on 'I Got Rhythm', though sadly any royalties he managed to accrue found their way directly to the drug dealer so colourfully named.
'I'm Getting Temperamental Over You' bore a strong resemblance, in title at least, to Tommy Dorsey's signature tune, but this rendition was certainly more 'temperamental' than 'sentimental'. Amongst many delights it featured a wonderful solo from Dave Newton at his most effervescent and strideful. It was also a case of 'spot the quote' which came thick and fast in the short exchanges before the number came to an abrupt end.
Russ Ferrante's 'Homecoming' was perfectly placed in the programme to evoke feelings of longing for one's homeland, before we hit the colour and excitement of arriving at home itself – in this case New Orleans. 'You look like the sort of crowd who'd like to join in with the bass drum,' Derek announced as he set the audience in motion with the 'Bo Diddley Clap'. 'It's a clapping, not a disease,' he added reassuringly.
And so with an affectionate nod to the rumbustious rhythms of New Orleans, and stand out solos from all and sundry, especially Sebastiaan de Krom on drums, the evening drew towards a close. Though not before a final statement from Derek Nash, revealing something that we'd suspected all along: 'Im Old Fashioned'. What a fantastic tune to end a memorable journey in sound.
As ever, the Progress Theatre team provided a warm welcome to the sell-out crowd, with perfect sound and lighting.
Review posted here by kind permission of Trevor Bannister
---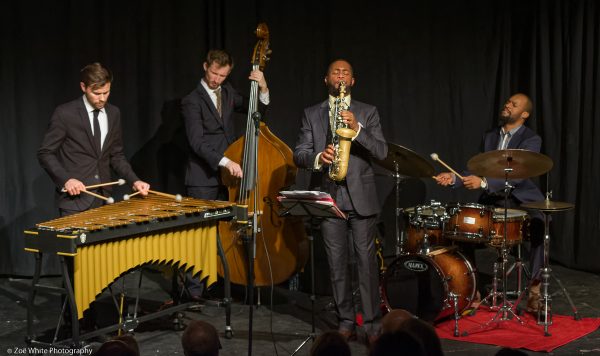 Nathaniel Facey (alto), Lewis Wright (vibes), Tom Farmer (double bass) and Shaney Forbes (drums) are the sharp suited members of  Empirical, our guests on the 16 December.
I first came across Nathaniel Facey when he was touring with trumpeter Abram Wilson, who tragically died a few years ago. Also in the band was Shaney Forbes. They were at Trinity College at the time, and both stood out to me as stars of the future.
Sure enough, a couple of years later, I saw that they had formed a band called Empirical. This was the band's first incarnation and as a quintet were booked in 2007 for my series of "Jazz n Stuff" at South Hill Park, Bracknell. Jay Phelps on trumpet with Kit Downs piano were the members of the band who subsequently left and Lewis Wright joined in 2008.
So, being together for almost nine years means that these guys have developed an in depth musical understanding, obviously appreciate their individual influences and those that are mutual. The result is recognition by numerous bodies over the years, including in 2016, Ensemble of The Year  Parliamentary Jazz Award and Best Jazz Act at Urban Music Awards. and several acclaimed albums, most of which feature original compositions and could be easily described as in the genre of Contemporary or indeed, Free Jazz.
Which brings me to the performance at Progress on the 16 December.
This comprised music from the latest CD, "Connection". I think it fair to say that the audience in the majority was not familiar with the band's music or ability. Of course, within a few moments of the opening number they were absorbed and won over.
The compositions all displayed the aim of wishing to connect with the audience from a rhythmical point of view and to make the improvisations and interplay during those individual moments exciting and approachable. Each composition had a melodious feel and chord structure to enable soloists to stretch out and dazzle.
I am a big fan of the vibes and Lewis Wright brings out the beauty of those shimmering chords under the free flowing alto of Facey or polyrhythms of Forbes. Not to mention the intricate bass solos and ever inventive bass bedrock exhibited by Tom Farmer, who also wrote the majority of the tunes.
As is usual in a live performance, the tracks on the album became stretched out compared to the recording. Never did I feel that a soloist overstayed his welcome such was the brilliance of each individual and the changing nuances of the ensemble sounds behind solos. In fact, it was noticeable that the audience was so absorbed by the music and what was going on, that the habitual and normal applause for a solo did not happen as it usually would.
After two hours of fascinating and yes, beautiful, music, our attentive and enraptured audience gave the band a lengthy closing ovation that resulted in a welcome encore and a satisfying conclusion to the gig.
Review posted here by kind permission of Bob Draper
---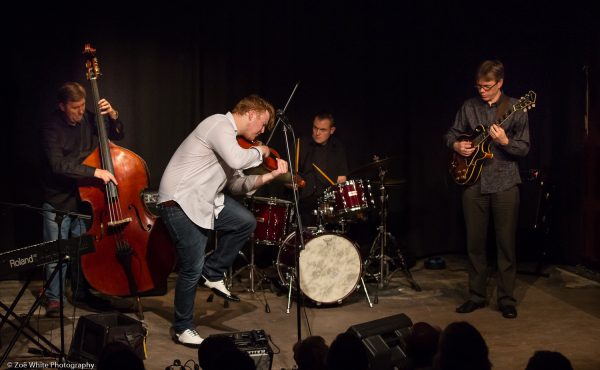 Progress Theatre: Friday 4 November 2016
Ben Holder (violin, keys, vocals), Paul Jefferies (bass), Jez Cook (guitar), Dave Wilkes (drums)
The irrepressible force of human of nature that is Ben Holder sent shock waves through the Progress Theatre from which it is no doubt still reverberating many days after his appearance on Friday 4 November. One is swept along by the astonishing power of his stage personality, the infectious joy of his playing – virtuosic violin, engaging vocals, raucous piano, and irresistible sense of fun. Ben Holder is the complete jazz entertainment package, interpreting the past glories of the Great American Songbook with his own original compositions in a way that is in complete accord with the ears of a contemporary audience. Indeed, here's a suggestion: an evening with the Ben Holder Quartet should be available on prescription from the NHS as a restorative for all known ailments
Yes, one could argue that sometimes his playing bordered on the frantic and that he seemed dead set on packing every note possible into each solo (Didn't Art Tatum and Oscar Peterson once face the same criticism?). But frankly who cares. There's nothing contrived or mechanical in his playing; it simply oozes with jazz spirit, spontaneity and a carefree determination to push the boundaries of expression to their full limits. And yet, a single, beautifully placed note in Hoagy Carmichael's 'Sky Lark', breathtaking in its purity, pointed to an emotional depth that Holder has yet to explore. His potential to become a great musician is enormous
While the hyper-active Holder paced the stage, ripping through standards such as 'Cheek To Cheek' and 'They Can't Take That Away From Me' or bringing a fresh interpretation to the Lennon and McCartney classic 'Can't Buy me Love' (he really does excel at getting into the story of a song), switching seamlessly from violin to vocal or piano, one couldn't help but be impressed by the avuncular presence of Paul Jefferies and Jez Cook. The combination of Jefferies' rock-steady, rich toned bass and Cook's lyrical, blues inflected guitar really held the band together. Meanwhile, Dave Wilkes' powerhouse drumming, ever alert to any mischief his leader might be getting up to, kept things swinging. He's an absolute master of the 'shuffle' rhythm. Had space in the tiny Progress auditorium allowed, the audience would surely have been on their feet and dancing in the aisles to the Louis Prima-styled numbers 'Pennies From Heaven' and 'I'm In The Mood For Love'
Holder has a true entertainer's feel for 'playing an audience'. Everything is delivered in breathless style – literally, and just as one wonders whatever is going to happen next, a sharp intelligence restores order to the apparent chaos. The programme is perfectly arranged. A technically brilliant original such as 'Sweet Potato' balances more familiar fare like 'It Don't Mean A Thing If It Ain't Got That Swing'', the gorgeously romantic 'I Wish You Love' from the pen of Charles Trenet or 'Rosetta', a rarely heard gem from Earl Hines. All of which is interspersed with hilarious 'chat', ranging in subject matter from the state of modern song writing to the embarrassments of mispronouncing the French language to a French audience, or misusing the French language entirely whilst pursuing a courtship with an, unbeknown to him, French translator
The abiding strength of the band itself is the understanding and empathy between its four members, allowing the music to head off into new territory with lightning speed. 'You', a bluesy original with a latin feel, was developing a nice head of steam, when Holder's strummed violin signalled a swift gear change veering the tune into 'St Thomas' and in the process transforming Sonny Rollin's relaxed calypso into an errant flagwaver. Similar magic was at work at the close of the evening. Ben Holder's conjurer's hand transformed a blistering 'Billie's Bounce', into a rocking 'Route 66' which vied back-and-forth with 'When You're Smiling' as the finale to an amazing gig
As the audience reluctantly made its way out of the Progress into the dark November night, Jazz in Reading's Steve Wellings was knocked out by the number of positive comments made to him. 'I don't ever remember hearing such a generous response to a band,' he commented. All of which makes one aspect of an otherwise outstanding and truly memorable evening doubly disappointing; the number of empty seats! Jazz in Reading fans, where were you?
To echo a remark from Gabriel Garrick, 'An audience! This is what we want. Let's stand on the rooftops and shout, "Wake up! Let's fill the venues and really get jazz happening!" he declared shortly after his 2015 Progress gig with his Expansions Quintet. Hear,hear
Review posted here by kind permission of Trevor Bannister
---
Progress Theatre: Friday 2 September 2016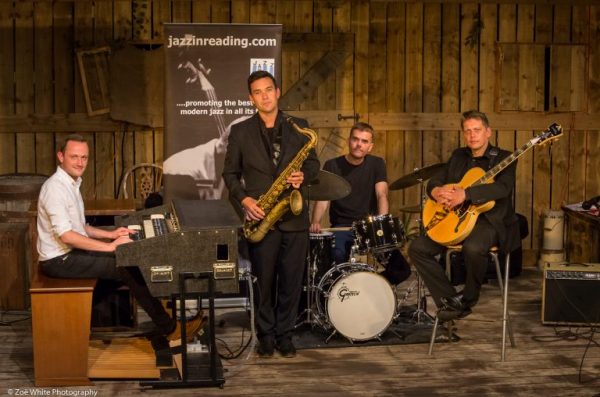 Brandon Allen (tenor), Ross Stanley (Hammond organ), Nigel Price (guitar), Matt Home (drums)
The buzzing full-house at the Progress Theatre bore witness to a series of remarkable 'firsts' on Friday 2 September. The first gig in the new season of 'Jazz in Reading'; the first date in the Nigel Price Organ Quartet's Arts Council funded national tour; the first time that Nigel has ever played in a c.1942 Malayan miners' hut – reference to the stage setting for the forthcoming production of 'The Long and The Short and The Tall', and the first time that a 'real' Hammond organ has graced the theatre's stage. No doubt many giants of the theatre have trodden its boards, but the Hammond, with its unique and all-embracing tones, stood in a class of its own.
On such an occasion, there could only be one choice for the opening number; 'This Could Be the Start of Something Big'. After a beautifully mellifluous introduction from Price, it was a case of 'all hands to the pump' as Brandon Allen's fiery tenor set Steve Allen's classic swinger in full motion. One can only hazard a guess at what heights the band will achieve by the close of its 56 gig national tour. Incidentally this is the first jazz tour the Arts Council has supported for several years, for which Nigel has 'sweated blood' to get on the road. On the basis of this performance they are already fast approaching the magical number '11'.
And what about Ross Stanley's Hammond organ; it truly is the 'real' thing, complete with a Leslie Cabinet, from which emanated the warm glow of its valves – no electronic simulation here! Ross Stanley produces a very personal sound, handling the huge keyboard with the deft touch of a Formula 1 racing driver. The instrument generates a powerful sense of tension and excitement like no other.
The Quartet's strengths became more and more apparent as the set progressed, through 'Stealing Time' (a slightly quirky number based on the chords of Kurt Weill's 'Speak Low') and 'Darn That Dream', a gorgeous tribute to the recently deceased guitarist Louis Stewart, which cleverly segued into 'It Ain't Necessarily So'. The contrast between the warmth and subtlety of Price's guitar and the much harder edge of Brandon Allen's passionate tenor works really well. There is an incredible level of understanding within the band and a special sense of space and time which keeps the music in constant motion and open to imperceptible shifts in mood, voicing and rhythm. Listening to the band, with its solo strength, awesome ensemble sound, underpinned by Ross Stanley's organ bass-lines and the magnificently straight-ahead drumming and immaculate brushwork of Matt Home, was an absolute delight … and there was more to come!
Steve Wellings, founder and continuing inspiration behind 'Jazz in Reading' came to the stage at the opening of the second set to pay tribute to our 'dear friend, colleague and jazz aficionado Nigel Dacombe who died in July'. Steve reflected on the arduous early days of 'Jazz in Reading', some twelve years ago, when he single-handedly multi-tasked as a booking, manager, promoter and publicist. 'Nigel,' he recalled, 'was the first to put himself forward with an offer of help. I accepted with open arms.' With his vast knowledge of jazz, accrued through hours listening at the record deck and travelling to hundreds of venues across the UK and beyond, Nigel proved to be a perfect colleague. He painstakingly compiled a comprehensive gig list as a free service to 'Jazz in Reading' enthusiasts, used his PR skills to publicize events and to secure coverage on local radio and brought his own stamp to booking bands – we have Nigel to thank for the appearance of the Nigel Price Organ Quartet.
'His contributions to the team effort will be difficult to replace,' Steve continued. 'He will be sorely missed by those of us who knew and worked with him. Not least, by his widow Julie, and two daughters, Jo and Sarah, who have joined us tonight to help us remember him fondly, and to celebrate his life in jazz. As a mark of respect for him, we've arranged for tonight's band to play one of his favourite tunes; appropriately, 'My Favourite Things'. But first, if you have a glass in your hand, may I ask you to raise it to his memory – to Nigel.'
Alone, Nigel Price took up his place on stage to produce the most movingly, beautiful performance of 'My Favourite Things' that one could imagine, full or warmth and deep tenderness. As the band members joined him and with everyone in full flight the number gained in emotional intensity à la Coltrane in a way that Nigel Dacombe would, I hope, have thoroughly approved.
The unmistakable stamp of Henry Mancini could be felt throughout a fine performance of 'Dreamsville', one of his lesser known tunes, with lovely tenor from Brandon Allen before … 'Someone's gonna have a heart attack and it's gonna be me,' Nigel declared at the end of a breakneck-speed version of Toots Thielemans' 'Bluesette' – a tribute to the Belgian composer, guitarist and harmonica player who died aged 94 on 22 August. It's usually played in light-hearted waltz time. Not in this case – Nigel opened the throttle and it was 'full speed ahead'. Fantastic!
Jule Styne and Sammy Cahn's 'I Fall in Love Too Easily', an early hit for Frank Sinatra, helped restore pulse rates to normal, but not for long. Brandon Allen dug firmly into his blues roots to close the gig on the highest note possible with 'Booze Blues'.
I could only think of one word to sum up the evening, 'Wow'. Lovers of jazz across the UK – prepare to be taken by storm by the Nigel Price Organ Quartet. An experience not to be missed!
Review posted here by kind permission of Trevor Bannister
---
Progress Theatre: Friday 24 June 2016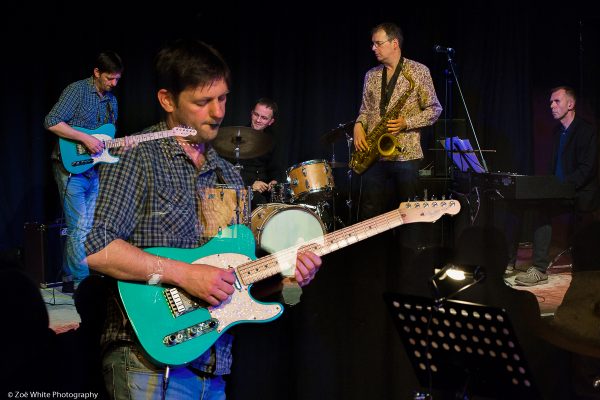 Theo Travis (flute, soprano & tenor saxophones), Mike Outram (guitar), Pete Whittaker (Hammond organ), Dylan Howe (drums).
When, or perhaps if, at some point in the future I am asked the question, "Where were you on the day the people of the United Kingdom voted in a referendum to leave the European Union?" I shall reply in the following way:
"After nine weeks of the hyperbole and gobbledy-gook that politicians on both sides of the argument tried to pass off as mature political debate, a night spent watching the results build-up on their irrevocable course to Brexit, followed by a day watching the 'great and good' delivering their shocked reactions, I thankfully escaped to the refuge and welcoming atmosphere of the Progress Theatre to be blown-away by Theo Travis' Double Talk."
What a band! Theo himself is a superb flautist and master of both the soprano and tenor saxophones whose great writing was firmly in evidence throughout the evening. Mike Outram uses a superb technique to conjure wonderful sounds from his guitar and to draw every ounce of expression from his instrument. Pete Whittaker, sits in quiet composure at his hammond organ, providing the bass-lines, filling-in the backgrounds and soloing to great effect. Dylan Howe, a visually stunning musician, produces an out-flow of energy from his drums that sets the band alight. And yet, while there were moments of remarkable individual virtuosity, and some totally free playing, the band's other great strength is in the quality of Travis' writing; a tightly structured amalgam of straight-ahead jazz/rock and more ethereal progressive sounds, in which he subtly combines a range of instrumental colours, drawing on such influences as Robert Wyatt and Palle Mikkelbourg.
'Ascending', the opening number with Travis on soprano, seemed to pick up on the momentous decision cast earlier in the day, a plaintive cry expressing the feeling that things would never be quite the same again. Mournful, almost funereal in tone, it held the audience spellbound. Syd Barrett's 'See Emily Play' brought a lighter touch to the proceedings. I have to admit that I've never paid too much attention to this number despite its classic status, but thoroughly enjoyed this instrumental interpretation as it built to a maelstrom of sound.
Theo Travis explained his personal connection to Pink Floyd – out of the blue came a phone call from rock legend Dave Gilmour. Surely this must be a wind-up? No, it was the man himself, with an invitation for Theo to join his band on a European tour in 2015, playing six concerts in five incredible amphitheatres: Arena Pula, Croatia; Verona Arena and Teatro de Mulina, Florence, Italy; Theatre Antique d'Orange, France; and Konig-Pilsener Arena, Oberhausen, Germany. Thanks be to Theo, and the Jazz in Reading team, for bringing the magic of those magnificent venues to the humbler, though no less enthusiastic surroundings, of Reading's Progress Theatre.
'Transgression', the title track from Double Talk's most recent album, evolved slowly from a lovely, almost psychedelic opening, with flute and guitar, to an impassioned tenor solo that gradually brought the tune full circle to a gentle conclusion. The blues drenched 'Smokin' at Klooks', with Mike Outram's wailing guitar, and Travis' flute a powerful reminder of the late and much lamented Harold McNair, paid due homage to 'Klook's Kleek'. A key venue in the rhythm n' blues/rock revolution of the nineteen-sixties, this musical crucible helped forge the rise of performers such as Graham Bond, John McLaughlin and Ginger Baker. Located in the unlikely surroundings of the Railway Hotel, West Hampstead, next to the Decca recording studios, it had become a comedy club by the time Theo visited it. 'Smokin' and 'Portobello 67', a feature for Pete Whittaker's soulful organ which brought the first set to a close, captured the heady excitement of those turbulent pioneering days.
'Fire Mountain' took up the mantle from the first set, a volcanic eruption of sound and energy. 'Everything I Feared' was a much more ambivalent number; Outram's edgy guitar cutting against Travis' gorgeous flute as it floated gracefully above Whittaker's insistent bass line. It seemed to be asking a series of questions without ever quite managing to find the answers. Superb!
Travis explored the full range of his tenor to express the joys of childhood in a dedication to his son, 'Song for Samuel', which also featured a warm-toned and wonderfully lyrical solo from Mike Outram. By contrast, 'The Relegation of Pluto', a 'tongue-in-cheek' lament for Pluto's reclassification as a dwarf planet, set out to explore the outer limits of the Solar System with suitably ascribed 'space' sounds and then launched Dylan Howe to assert Pluto's rightful status with a dramatic drum solo.
Robert Wyatt's beautifully restful 'Maryan' perfectly maintained the harmony of the spheres, before Travis swapped his flute for soulful tenor to dig a 'Stax-like' groove and bring a tremendous evening to a close with 'Sweet Emma'. But how could a gig conclude without an encore? The rapturous calls for 'More!' brought the band back to the stage for 'Goodbye Pork Pie Hat', Charles Mingus' hauntingly melancholic elegy for Lester Young; a fitting close to an extraordinary day.
The gig also marked the end of a wonderful season of jazz at the Progress Theatre presented by 'Jazz in Reading'. It began last September with the Simon Spillett/Pete King tribute to Tubby Hayes and continued unabated with Gabriel Garrick, Darius Brubeck, Andy Shepherd's Hotel Bristol, The Moscow Drug Club, Arun Ghosh, Stuart Henderson/Vasilis Xenopoulos, Georgia Mancio with Quadro, the Scott Willcox Big Band and finally Theo Travis' Double Talk, fulfilling a total commitment to bring the very best of modern jazz to the provincial outpost of Reading.
Jazz at Progress now takes a short break until 2 September when action will resume with the Nigel Price Quartet. Meanwhile, the Chiltern Hills will be alive with the sound of jazz on Saturday 16 July when Art Themen's New Directions Quintet, Jason Rebello's Quartet and the Anglo-American 'Super Group', The Impossible Gentlemen, featuring Gwilym Simcock and no doubt playing tracks from their latest album, 'Let's Get deluxe' will take to the stage at Perseverance Farm, Harpsden in 'Jazz For Kamuli', a charity jazz event to raise funds for the Kamuli Mission Hospital in Uganda. Full details are available on www.jazzinreading.com
Review posted here by kind permission of Trevor Bannister
---
Progress Theatre, Reading Friday 27th May 2016
Scott Willcox leading and conducting: Gabriel Garrick, Andy Gibson (trumpets); Nick Mills (trombone); Bob Mckay, Tony Woods, Duncan Eagles, Julian Costello (reeds); Dave Frankel (piano); Ben Hazelton (bass); Eric Ford (drums).
From its formative days the development of jazz has been inextricably linked with the church, sometimes as a source of spiritual inspiration, often as a practical training ground for generations of singers and musicians; Thelonious Monk accompanied his mother's singing in church, and as an influence on the constantly evolving sounds and styles of jazz expression. Where would we be without 'When The Saints Come Marching In'? And how often do words like 'soulful' or 'spirited' crop up in even the most academic of jazz criticisms? The nineteen sixties saw a spate of titles like 'The Preacher' or 'The Sermon', Duke Ellington devised his own form of worship through his Sacred Concerts, John Coltrane set off on a spiritual journey through 'A Love Supreme' and beyond, though some will argue that his quest took him to regions where neither God nor the sun managed to shine. Closer to home, Michael Garrick took the Litany and placed it in a jazz setting with 'Jazz Praises' which raised the comment, 'Ferocity in Church' when it was performed in St Paul's Cathedral. Such ventures have divided critics and fans alike over the years, but there can no denying the link between the church and jazz, anymore than we can deny the significance of the role played by jazz bands in New Orleans burials. It's not just the stuff of legend, it's a huge part of the music's heritage.
Let's now switch our attention to St Andrew's Baptist Church in the Thameside location of Shepperton in west London, where Scott Willcox formerly directed the music. Thirty-five years ago he tired of searching for new music to enhance the services, decided on a little DIY and wrote his own. He has since built up a remarkable body of work, which embraces all forms of musical styles and which has been performed at The Albert Hall, the Purcell Room, St. John's Smith Sq., Fairfield Halls and Westminster Central Hall. His unique approach to big band composition and arrangement has emerged more recently; first with the ensemble Backbeat, which evolved into the wonderfully named Band Substance and eventually, to bring the music to a jazz audience, the fifteen piece Scott Willcox Big Band.
A scaled-down ten piece version of the band not only filled the tiny stage of Reading's Progress Theatre on Friday 27th May, but very nearly blew off the roof with its impressive sound and boundless energy. It has to be said, however, that things started a little more gently and perhaps rather deceptively, with a nicely shuffling arrangement of Carole King's 'I'm Into Something Good'. 'Regular Fries' revealed the full impact of the band's sound, the range of Willcox's musical imagination and the fascinating originality of his compositional style. It's tightly written, themes develop in wave-like motions, with each musician adding his distinctive voice to the ensemble, sometimes alone in short phrases or in an ever changing variety of combinations with other instruments. It's kaleidoscopic in effect, though firmly anchored by the magnificently punchy drumming of Eric Ford and the tireless efforts of Nick Mills, the 'one-man' trombone section who worked his socks off throughout the evening from a rather solitary position in the corner of the stage. The pieces tended to be quite short; Willcox resists the temptation to open things up with extended solos, concentrating instead on the structure of the compositions, though having said that, the evening featured wonderful individual contributions from each of the players.  It's as if Willcox has resurrected the concept of the 78 rpm record format, making sure that not a single note is wasted within the short running time. Compositions end, once the musical statement is complete, with a firmly applied full-stop, or an enigmatic question mark, leaving the listener to wonder where the music might next lead.
I hope this doesn't make the music sound staid or contrived. It's not! 'African Dance' was full of gaiety, a riot of rhythm and rich sound colours, brilliantly evoking the intense sunlight of the African landscape, while 'Casa Andreina' brought to mind a more restful scene of Atlantic rollers brushing a Canary Island seashore. The band raced like the clappers on 'Go For It!', 'Bouncing Back' and 'All Change', an edgy, nervy, harum-scarum train ride of a number, with each player desperately holding onto the count for fear of falling off, and set feet tapping and the hands clapping with 'Can't Complain', an intriguing number featuring Nick Mills, the tenor duo of Duncan Eagles and Julian Costello plus the rhythm section, and 'Make Mine Mambo'. '2nd Thoughts', with the muted trumpets of Gabriel Garrick and Andy Gibson, was more gentle in approach and reminiscent of Neil Hefti's writing for Count Basie.
Willcox's writing was at its most expressive in 'Song For A Special Friend' and the sublime settings of the traditional folk songs 'The Water Is Wide' and 'Slane' (a tune perhaps best known in its hymnal form as 'Lord of All Hopefulness'). Tony Woods soloed beautifully on each, first on alto and secondly on soprano. 'Where Next?' was also deeply moving, almost mournful in effect with a haunting solo by Julian Costello and atmospheric piano from Dave Frankel. Despite its title 'The Eternal Triangle' was more an exploration of relationships in time rather than human affairs; excellent bass line from Ben Hazelton and an incisive clarinet solo by Bob McKay.
Scott is possibly the least demonstrative band leader you will ever find. He directed operations from a precariously balanced music stand at the front of the stage, counted the musicians in and then retreated stage left to let the scores speak for themselves via the skill, talent and experience of the assembled musicians who clearly relished the challenge of the writing. He would sometimes gesture with his hand to indicate either less or more power, and only reappeared to bring a number to an emphatic close. He is also blessed with a gentle sense of humour, announcing 'Bouncing Back' as being composed by the Irish tunesmith 'Rick O'Shea' and presented a delightfully cheeky 'Putting on The Ritz', in which even Fred Astaire would have been hard-pushed to keep pace with the tricky arrangement.
By his own admission, Scott Willcox is a modest pianist and barely competent guitarist. No matter, he expresses himself perfectly and with great honesty through the joyous sound of his big band. His orchestra truly is his instrument.
I may be in danger of repeating myself, but there can be no doubt that the intimacy of the Progress Theatre, its fine acoustics and unique atmosphere has an inspiring effect on both players and audience alike, a quality which readily communicates itself. It really is a great venue for jazz gigs and once again many thanks to the team who make it all possible.
Review posted here by kind permission of Trevor Bannister
---
Progress Theatre: Friday 22 April 2016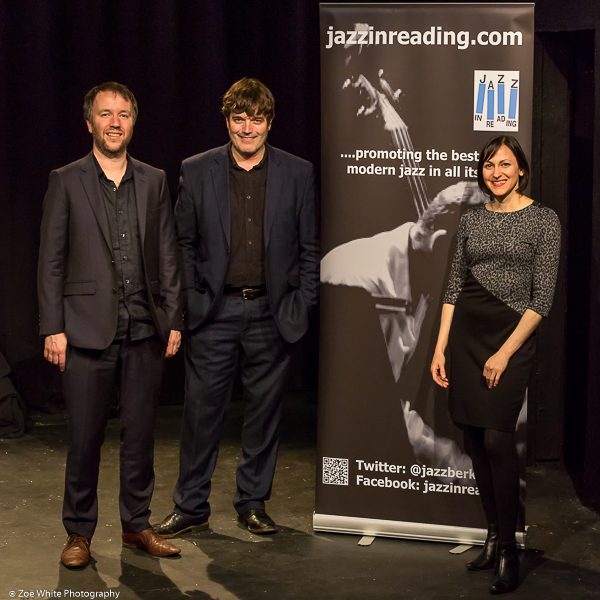 "I couldn't miss my jazz!" one gentleman remarked as he lifted a welcome pint in the bar after a horrendous two-hour journey to the Progress Theatre. "It usually takes me twenty minutes," he continued. "It's chaos out there." Reading had come to a standstill; the fatal combination of Friday traffic, torrential rain and an accident which closed the M4 had brought Reading to a standstill. The faithful steadily grew in number, each with only one question on his or her mind, "Do we have a band?"
Thankfully, the answer was "Yes". Quadro took to the stage and what better way to dispel miserable thoughts than to open the programme with the luscious harmonies of Ellington's 'Prelude to a Kiss', which led seamlessly into Billy Strayhorn's 'Day Dream'. Quadro, as Georgia Mancio explained, means 'to paint' when translated from Italian to English, which is exactly what the group proceeded to do, creating a richly varied gallery of images with a range of musical brushstrokes and colours that held the audience truly spellbound throughout the two-hour programme.`
Individually, the members of Quadro are absolute masters of their art. Georgia uses her voice as an instrument in its own right; it was just as if a tenor saxophone was playing when she took a wordless solo, on 'Just in Time'. Her diction is perfect and sense of time impeccable. She can negotiate the most tricky of tunes with consummate ease – 'One For Bud' for example, a spark-flying bebop dedication to Bud Powell (or should it be Budweiser?) which she composed in collaboration with the New Zealand pianist Alan Broadbent. The warmth and maturity of her voice wrung every last drop of heartbreaking emotion from 'But Beautiful' and expressed the wistful splendour of Kurt Weill's 'My Ship' to perfection. Isn't it remarkable how songs of such timeless quality could have emerged from two almost forgotten Hollywood 'pot-boilers': 'The Road to Rio' and 'The Lady in The Dark'.
By turns Georgia dug into Stanley Turrentine's earthy blues 'Sugar', with its wonderfully non-pc line, 'sugar is what you need to sweeten up your life', evoked the light breezes and sun-drenched beaches of Brazil in Jobin's 'Modinha' and 'A Felicidade', which made the same writer's yearning for a departed homeland in 'Chega de Saudade' all the more poignant and reflected on the fragility of life in 'Fragile' by Sting. Equally, she delivered "The Things We Did Last Summer" with tremendous verve and a sense of fun that even included a whistling solo. Yes, a marvellous, brilliantly tuneful whistling solo!
Georgia's heartfelt personal testimony to the plight of children trapped in the horrors of the 'Calais Jungle' and her work in support of Care4Calais, brought a much deeper meaning to Luiz Bonfá's 'Gentle Rain'. Dedicated to displaced people around the world, its haunting lyrics by Matt Dubey and a beautiful bass introduction by Andy Cleyndert, served to remind us that music is a powerful means to inspire simple acts of kindness and express the generosity of human spirit.
Though Mancio, Harrison and Cleyndert are all world class soloists in their own right, the sum of the respective parts lifts Quadro to an even higher level of creativity; the interplay within the band was a constant delight. Frank Harrison has the moonlight touch and glittering style one associates with Bill Evans. He uses his prodigious technique to explore each tiny nuance a tune has to offer, while Cleyndert draws on his vast experience to conjure a wonderful sound from his bass, solos with great lyricism and makes more sense with one note than some players attain with a flurry of activity. Even within the limitations of the trio format and fixed instrumentation, they were able to achieve great variation, not just in the choice of material, but also in the style of delivery with one player sometimes laying out, or taking a smaller, though equally valid role in the background. To all intents and purposes Quadro is a band without ego. Thoughtful, reflective and richly entertaining, their music touches the heart, the mind and spirit.
Once again, the Progress Theatre proved its versatility as a venue able to present all styles of jazz with equal success. For once, Martin Noble, the man responsible for the high quality of sound and lighting made a fleeting appearance from his box at the back of the auditorium to acknowledge the thanks of MC Jim Wade. Other members of the Progress team made sure that everybody, including the band, received a warm reception at the door after lengthy journeys to reach the theatre in difficult circumstances. The effort to keep everyone up-to-date with changes in timings was especially welcome – National travel companies – please note!
Review posted here by kind permission of Trevor Bannister
---
Progress Theatre: Friday 24 March 2016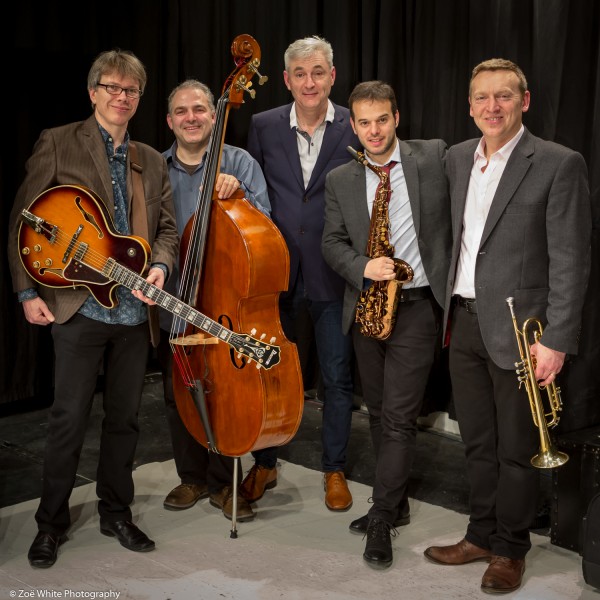 'Cookin'' is an epithet that immediately brings to mind an entire genre of jazz associated with the Blue Note record label and the work of trumpet masters like Clifford Brown and Lee Morgan and tenor saxophonists Dexter Gordon and Joe Henderson; lyrical, technically challenging, emotionally charged and above all – hard-swinging and full of joyful spirit. It perfectly describes the music brought to the stage of the Progress Theatre by Stuart Henderson and Vasilis Xenopoulos with the Simon Price Trio.
'Montmartre', from the pen of Dexter Gordon, set the scene with Xenopoulos' slightly laid-back approach on tenor contrasting nicely with the full-toned attack of Henderson's trumpet. And yet one had the sense that rather like a well-tuned Formula-one racing car they were each holding back on their reserves of power, which added greatly to the tension and excitement of the playing. Guitarist Jez Cook, a last minute dep for the ailing Pete Billington, slotted into the band as if they had all been playing together for years, while Raph Mizraki on bass and Simon Price on drums demonstrated why they are held in such high regard locally and by visiting musicians to Reading.
'Corner Pocket' captured the spirit and unique dynamics of the Count Basie Orchestra in full-flight. A brief and rather cheekily inserted quote from 'Cherry Pink, Apple Blossom White' served to introduce Henderson's beautifully warm and inventive contribution, paving the way for Xenopoulos to glide effortlessly into his solo and great exchanges between the various members of the band.
Before launching into the next number, Stuart Henderson took a short breather to make a pitch for CD sales at the interval. "Buy one, get one," he announced in the inimitable manner of a guy with origins in the north-west of England. "Buy two," he continued, his voice rising with excitement. "Get two!"
Tom Harrell's 'Terrestris' (actually a fruit bearing Mediterranean plant with interesting qualities) brought a change of mood and settled into a Latin groove with Xenopoulos switching to alto. Henderson and Xenopoulos completed the number with some intricate interplay between alto and trumpet.
The first of two ballad medleys presented beautiful interpretations of 'When Sunny Gets Blue' by Henderson on flugel-horn and 'Polka Dots and Moonbeams' by Xenopoulos on alto, which led perfectly into a delightful arrangement of Fats Waller's 'Jitterbug Waltz', with Jez Cook's guitar to the fore together with the gorgeous tones of Mizraki's bass.
As a near-teenager, Henderson's son considered the word 'swag' to be the ultimate in cool. Hence the 'Swag Meister', an original from Henderson Senior, which closed the first set in fiercely-swinging style with growling trumpet adding to the fun.
The second set opened with Henderson leading the way on flugel-horn with a moving performance of 'There Is No Greater Love', a favourite from Miles Davis' first quintet. Xenopoulos followed with a magnificent solo built in classic style with quotes flying by with lightning speed, before Cook took up the mantle on his guitar. The number finished with a superb 'round-robin' of exchanges between all the musicians.
'Beatrice' paid tribute to its composer Sam Rivers, whose seventy-fifth birthday celebrations Stuart Henderson memorably stumbled into during a visit to New York. Playing close to the mic with muted trumpet Henderson's 'walking-on-eggshells' trumpet and Xenopoulos sparse tenor captured the poignant beauty of the tune, sensitively supported by Cook and the rhythm section.
No programme would have been complete without a blues. The band duly obliged with Clifford Brown's 'Sandu'. Jez Cook set the groove in mid-tempo and everyone dug in; a wailing solo from Xenopoulos on alto, Henderson's shouting trumpet, the huge sound of Mizraki's bass and Simon Price's driving drums – his great sense of time, punctuated by the terrific range of sounds he extracts from his kit.
Stuart Henderson's eclectic approach to his instrument found full expression in his contribution to the second ballad medley. 'I Can't Get Started' revealed the full brilliance of his tone, and the lyrical beauty of his playing, polished over twenty-five years as a bandsman in The Regimental Band of Her Majesty's Scots Guards. As he says, "You have to be heard when you're on the parade ground." A seamless take-over brought Xenopoulos centre stage to present an equally effective object lesson in ballad playing with his alto feature 'Stars Fell on Alabama'.
The concert moved towards its conclusion with two numbers by the great pianist and composer Kenny Barron. 'Sun Shower', a beautiful theme but with a gentle bossa-nova rhythm and Henderson's flugel-horn hinting at an underlying sense of melancholy. It grew in intensity with solos from Cook and Xenopoulos towards an incredible climactic duet between Mizraki's bass; he used the strings and body to produce the most wonderful conga drum-like rhythms and Simon Price's drums. 'Voyage', an out-an-out swinger, brought the evening to a close; officially at least, for the band launched into 'Take The "A" Train' as an encore. Taken at a furious pace it gave an indication of what it might be like to travel in the future on HS2!
I recently remarked jokingly to a friend that 'Reading was the jazz capital of the world'. He eyed me scathingly and admitted grudgingly, 'Possibly mid-Berkshire'.
No matter. The reality is that the locality is currently blessed with a wealth of talent, of whom Stuart Henderson is a central figure with regular gigs at the Flowing Spring, the Retreat and the Abbot Cook, as well as leading a big band at Finchampstead and inspiring a new generation of players in his role as Director of Jazz at Leighton Park School. He is a player of outstanding quality and has found a perfect sparring partner in Vasilis Xenopoulos. One could sense the challenge of fresh ideas bouncing back and forth across the bandstand, but importantly neither set out to 'cut' the other or to outstay his welcome. Moreover, Stuart's travelling fan club added further enthusiasm to the always lively and welcoming atmosphere of the Progress Theatre. 'Jazz in Reading' scored again with an evening of superb jazz, which included a richly-deserved presentation to 'House Photographer', Zoe White, whose wonderfully atmospheric work captures the life and times of 'Jazz in Reading' in the gallery on its website.
Review posted here by kind permission of Trevor Bannister
---
Progress Theatre: Friday 26 February 2016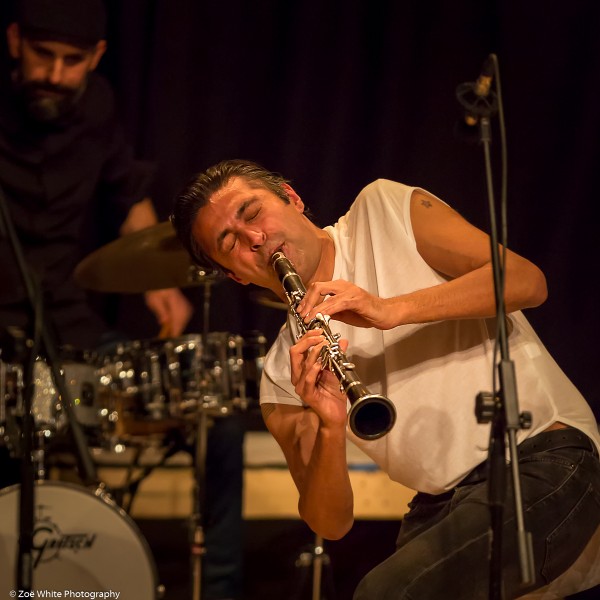 Perhaps it was reaction to the popular success of bandleaders from the Swing Era like Benny Goodman and Artie Shaw, or maybe for technical reasons, but there's no doubt that the 'bebop' generation of jazz musicians and their followers held little regard for the expressive qualities of the instrument. Try to name more than a handful of 'modern jazz' clarinet players who've made their mark since the Second World War? You'd be hard stretched to name anybody beyond Tony Scott, Buddy De Franco and Jimmy Guiffre in the States, and Vic Ash and Tony Coe on this side of the Atlantic; and three of the aforementioned doubled on tenor saxophone!
Arun Ghosh, has dared to venture into this void as he demonstrated in an explosive manner at the Progress Theatre, on 26th February with his Quartet; Shirley Tetteh on guitar, Liran Donin on bass and drummer Rastko Rasic. Acker Bilk he is not! The lush buzz of a sitar launched Ghosh into his solo flight on the opening number Aurora, supported by a barrage of sound and shifting rhythms generated by his compatriots. The band had all the force and emotional power of the John Coltrane Quartet, richly flavoured with the spirit of the Indian sub-continent, plus a hint of Eastern Europe and West Africa, all via Ghosh's home city of Manchester; music that simply swept you along with its vibrancy and wave after wave of invention.
Unravel followed a similar path, with Shirley Tetteh's sparse guitar contrasting beautifully with the leader's eloquence. Ghosh is a composer of striking originality. Uterine originally celebrated the birth of his first child and the miracle of new life, but on this occasion it was dedicated to the newly-born daughter of bass player Liran Donin. Rastko Rasic set the mood using mallets on his drums and cymbals, before Donin took up the theme himself in a remarkable solo of great virtuosity and immense power, which in turn laid the foundation for Ghosh's contribution. Hair-raising yet deeply moving!
River Song, based on a folk-style used by Bengali fishermen, introduced a serenely contemplative atmosphere to the evening; the calm before the storm. Caliban's Revenge, was written for Pete Postlethwaite and his role of Prospero in the 2007 production of The Tempest at Manchester Royal Exchange. It was described at the time as 'ravishingly beautiful' – a perfectly apt description for a truly thunderous conclusion to the first set.
Arun Ghosh is a wonderfully animated musician. Sitting cross-legged to the side of the stage, eyes closed, head swaying, he springs forward, stands bolt-upright on his toes and starts to weave his instrument in great circles as if he's drawing in the music as much from the atmosphere around him as from his imagination. It's a riveting spectacle, and uniquely effective way to lead the band. "I feel alive," he declared at the close of The Gypsies of Rajasthan – as if there could be any doubt?
After The Monsoon, from Ghosh's South Asian Suite, beautifully captured the cleansing effect of the monsoon and the welcome arrival of fresh, pure air. Longstone Lagoon was an equally vivid, though in this case colourfully riotous, evocation of a Manchester market set to the funky rock-beat of Rastko Rasic's drums.
"What do you think?" Ghosh enquired, inviting comment from the audience. "Rubbish?"
Ghosh recalled a 'Gig from Hell' at a fashionable wine-bar in Canary Wharf, playing to a clientele more occupied in opening bottles of Dom Perignon 1981 than listening to the music. At the close of a particularly sensitive solo he was suddenly confronted by an inebriated yuppy who stood up and shouted, "Rubbish!!" "His timing was perfect," Ghosh conceded.
A far cry from the Progress; Come Closer a beautiful love song was properly appreciated. No moronic behaviour here! Ghosh seemed lost in sound as he shaped his solo round the lower register of his instrument to great effect. At times his playing was classical in tone and manner; hardly surprising given his training at the Royal Northern College of Music and Cambridge, and study of Bach, Mozart and Brahms. But for the influence of the great Courtney Pine and the inspirational teaching of tenor saxophonist Mike Hall, Ghosh might have taken a different musical path, though it's difficult to imagine how 'serious' music could ever have restrained the exuberance of his personality. Instead, to our great fortune, he followed his 'rock 'n' roll' spirit, fully affirmed in the final number Journey South another piece from the South Asian Suite, a depiction of travelling to Sri Lanka, which grew in intensity to a climatic maelstrom of sound. What a way to close a concert! Fantastic!
Arun Ghosh has found a new voice for the clarinet as a solo instrument. His music is urgent, alive, sometimes demanding, but incredibly exciting. In this he's aided by his band members with whom he enjoys an almost telepathic understanding. With such an open attitude to music it will be fascinating to see where the musical journey next takes Arun Ghosh … very much a case of watch this space!
Once again the Progress provided the perfect balance of sound, lighting and warm hospitality to enjoy an evening of sensational and innovative music. Our thanks to all concerned and to the 'Jazz in Reading' team; demonstrating once more their commitment to bringing the 'best in live modern jazz' to the Progress stage.
Review posted here by kind permission of Trevor Bannister
---
Progress Theatre: Friday 29 January 2016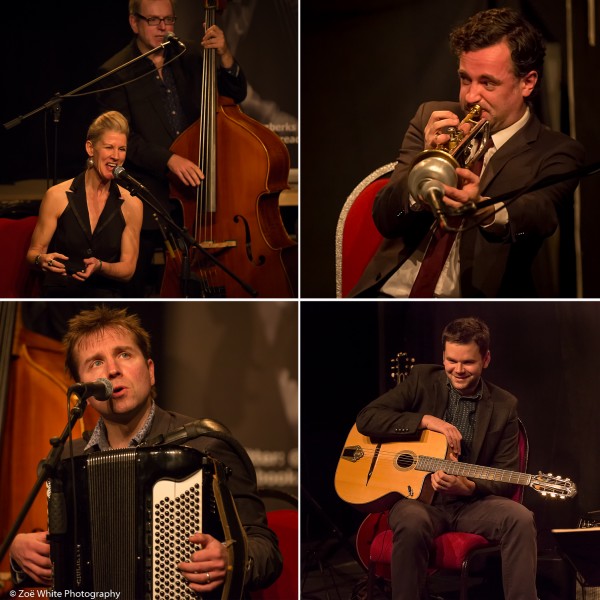 Katya Gorrie vocals, Jonny Bruce trumpet, Mirek Salmon accordion, Andy Bowen guitar and Andy Crowdy bass.
Who could resist the beguiling charms of Katya Gorrie as she opened the doors to the 'Moscow Drug Club', located for one night only in the dark recesses of the Progress Theatre, Reading, and invited everyone 'to come in and have a smoke'. 'This is the place,' she said, 'where the Reds play the Blues.'
Katya's rich vocal tones, impeccable timing and perfect diction held the audience captivated as she held centre-stage with a wonderful sense of Grand Guignol theatre, and led her band of troubadours, Jonny Bruce on trumpet, accordion player Merek Salmon, Andy Bowen on guitar and Andy Crowdy on bass, on a story-telling journey through song. She drew every last drop of meaning from the lyrics of each song, while a knowing wink or the slightest gesture of the hand, gave the merest hint that … sometimes they were not quite as they first appeared.
And what stories and what songs! Can you think of a better opening number to set the feet tapping and the hands clapping than the out-and-out Latin-American gaiety of the Henry Mancini/Johnny Mercer collaboration, It Had Better Be Tonight, with its insistent refrain Meglio stasera, baby, go, go, go. When I Get Low I Get High from the pen of the unlikely sounding, Marian Sunshine came next, before The Gypsy With Fire In Her Shoes served as a reminder that behind the persona of 'Miss Peggy Lee' lay a song-writing talent of rare and poignant beauty.
I remember Yes My Darling Daughter as a bright and breezy hit for Eydie Gormé in the early 1960s, but its innuendo escaped my early-teenage understanding in those far-off days. Katya's witty delivery left me in no doubts as to what the song was really about!
Bei Mir Bist du Schon, a great hit for the Andrews Sisters and a flag-waver for many bands of the Swing Era, almost brought the roof down. Driven along at breakneck speed by the tremendous 'Two Andy's' rhythm team, it featured a sensational trumpet solo from Jonny Bruce. He soared into the stratosphere with thrilling knife-edge accuracy. No wonder he is such a sought-after musician. His range is absolutely remarkable, swooping from muted 'treading-on-egg-shells' delicacy to the highest reaches of his instrument. The edgy excitement of his playing and rich vocabulary of perfectly placed vocalised effects brought a great sense of drama to the evening.
The accordion is a sadly neglected instrument, more often seen gathering dust on the shelves of a junk-shop, than gracing its rightful place as part of a band. Merek Salmon is a master of the instrument, providing the perfect background to the sardonic humour of Belgian songwriter Jaques Brel, in Funeral Tango. Jacky, a second Brel number, played later in the programme, featured the singing tones of Andy Crowdy's bass in a wonderfully inventive solo.
Juan Tizol's Caravan, with its curious mix of exoticism and straight-ahead swing, is rarely performed as a vocal. More's the pity! Katya's rendition brought the first set to a resounding close, and sent the audience scurrying to the bar, eager for refreshment to set them up for the second half.
Andy Crowdy's rasping trombone echoed the vocal tones of the songwriter himself, as we entered the grotesque world of Tom Waits with the first number in the second set, Tango Til They're Sore. By turns absolutely hilarious and as one commentator has observed, 'awesomely gruesome', the band revelled in the macabre sentiments of the song, creating a nightmarish cacophony of sounds with simple, but well-timed interjections from Katya's vibraslap.
We were 'treated' to more samples of Wait's dark humour later in the programme with Temptation, featuring one of many exquisite solos from Andy Bowen and A Jockey Full of Bourbon. Meanwhile an invitation to meet 'Queenie the cutie of the burlesque show' as she performed to Johnny Mercer's Strip Polka came as a welcome relief. The band members were in full voice to support Katya's vocal.
Leonard Cohen's Dance Me To The End Of Love brought an instant gasp of recognition from the audience. Beautiful solos from Merek Salmon and Andy Bowen captured the haunting melancholy of the song. Jonny Bruce took another leap into the unknown with a hair-raising solo loaded with power and incredible emotional intensity.
Sadly the journey in song was drawing to a close, but not before we visited a gypsy campfire to savour Charles Aznavour's Two Guitars, before taking off for the eastern Mediterranean and our final destination Istanbul (Not Constantinople), an irresistible tune that would have sent the audience happily on its way home but for one unresolved question; why the Moscow Drug Club?
Did Katya really meet up with her dissolute bunch of minstrels in rehab after suffering the effects of a night at 'The Moscow Drug Club' – a place where members 'could have a smoke', cock-a-snoop at authority and relax in the musical intimacy of its intoxicating atmosphere. Not quite. B.B. Gabor, an émigré Hungarian songwriter who settled in Canada, concocted the deliciously decadent lyrics in what would prove to be the encore number for the evening – what else but the Moscow Drug Club.
Temporary membership of 'The Moscow Drug Club' expired as the final notes of the tune faded away. 'The Moscow Drug Club' is sensational and one can only hope that membership may be renewed in the not too distant future. More used to playing large festival stages, with distant crowds, the band clearly enjoyed the convivial atmosphere of the 'Progress' and the closeness of the audience. As ever the magnificent 'house team' ensured the smooth-running of the event with a welcoming smile, excellent sound and lighting, and superb service at the bar and front of house. Surely, 'Jazz at Progress', now entering its fourth year, must rank as a sought-after gig for Britain's top jazz talent? Let's also raise a glass to Steve Wellings, founder and inspirational force behind 'Jazz in Reading' who celebrated his birthday at the gig. Good health Steve!
Review posted here by kind permission of Trevor Bannister
---
Progress Theatre: Friday 18 December 2015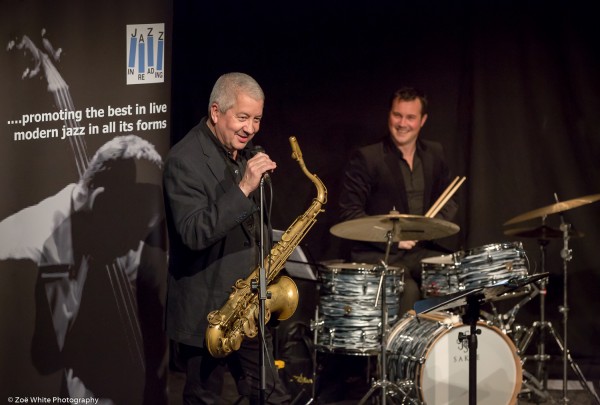 Andy Sheppard tenor saxophone, Matt Hopkins guitar, Percy Pursglove double bass and trumpet and Mark Whitlam drums
'Jazz in Reading' brought a memorable year of jazz at Progress Theatre to a conclusion with an absolute box of delights opened by Andy Sheppard's Hotel Bristol.
Since taking up the tenor saxophone at the age of 19, Sheppard has worked as a sideman with Gil Evans, Carla Bley and George Russell, led his own groups and recorded to international acclaim. A prolific composer, with over 350 titles to his credit, his writing encompasses works for solo performance, big bands and chamber orchestras. 'Hotel Bristol', in which he is joined by guitarist Matt Hopkins, Percy Pursglove on bass and trumpet and drummer Mark Whitlam, was formed to take part in the 2014 Tbilisi International Jazz Festival in Georgia in an exchange programme with the International Jazz and Blues Festival of Sheppard's home town, Bristol.
Sheppard distils a wide range of influences to create a unique and utterly beguiling approach to his music. Like a latter day Lester Young, beautiful melodic phrases cascade from his saxophone, each note perfectly placed, and expressed with the clarity of crystal. Playing 'Forever and A Day', at a whisper and the slowest tempo imaginable, he held the audience absolutely spellbound and yet moments earlier he had filled the auditorium with the huge sound of his tenor, and almost set everyone dancing to 'Du Du'. Like most of the pieces it was deceptively simple, a repeated pattern that drew forth a multitude of variations as it passed between the musicians, growing in intensity all the while. Hopkins and Whitlam suddenly dropped out of the mêlée, and at this point the band launched what Sheppard describes as 'our secret weapon'. Pursglove, embracing his bass with his left arm, picked up his trumpet with his right hand, and began a wonderfully free exchange with Sheppard. Later in the programme he delivered a sparse, but emotionally charged trumpet solo on 'What Will Be'.
As well as being an adventurous and original player, Andy Sheppard has a rare gift for intriguing titles. 'Walk in The Park' was straightforward enough, though the tune cast the mind's eye of this writer to a sun-kissed tropical beach swept by a warm breeze. The origins of 'Rubbernecking Solid Jackson' remain a mystery despite the visual clues provided by the musicians, who stopped playing at one point and stared around the stage. 'Smut' was drawn from an Alan Bennett book of the same name that helped Sheppard while away the travelling intervals involved in foreign tour, but 'Going Spooning'? Perhaps it alluded to the additional services of 'Hotel Bristol'?
Andy Sheppard's playing combined with the ethereal quality of Matt Hopkins guitar, particularly evident on 'Bart' (the only non-Sheppard composition in the programme) and the constantly shifting drum patterns of Mark Whitlam, who draws every sound possible from the resources of his kit, give 'Hotel Bristol' a wonderful sense of space and freedom, with its foundations firmly rooted in the bass of Percy Pursglove. Eschewing the use of amplification, except for Hopkins guitar, the band achieved a perfect balance of sound. Each musician could be heard clearly, all the more to enjoy the subtle interplay that is such an important part of the music.
The 'Jazz in Reading' team are to be congratulated on succeeding to book Andy Sheppard's Hotel Bristol at such notice in place of Stan Tracey's 'Under Milk Wood' with Bobby Wellins, to whom we wish a speedy recovery from his current illness. This was music of world class and more than confirmed 'J in R's' commitment to bringing the best in contemporary jazz to the Reading stage. As one member of the audience remarked as he left the Progress auditorium, 'I felt as if I was floating. I could have listened to that music all night'. Hear! Hear!
Review posted here by kind permission of Trevor Bannister
---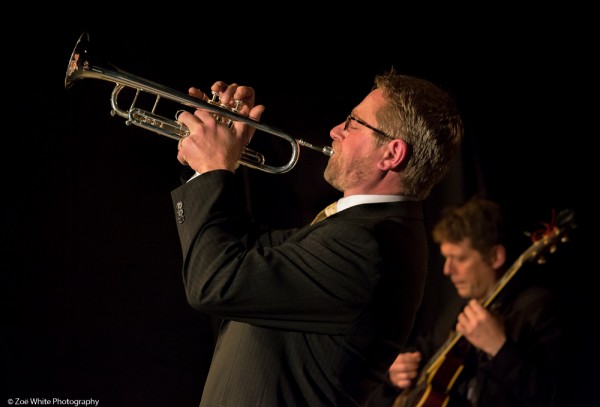 Gabriel Garrick trumpet | Nigel Price guitar | Terry Collie piano | Dave Jones bass | Paul Cavaciuti drums
Gabriel Garrick's Expansions Quintet. What to expect? Gabriel Garrick; trumpeter, son of the late and much lamented Michael, played with Shake Keane as a child, with the 'Cuban Missile' Arturo Sandoval as a teenager and jammed with Wynton Marsalis' Lincoln Centre Band as a fully fledged musician. I look to the empty stage for more clues as I take my seat in the tiny auditorium of Reading's Progress Theatre, once aptly described by a visiting musician as 'a bijou theatrerette'. Keyboard, bass and drums. A guitar! No saxophone in the front line. A flugel-horn at the ready at the foot of the microphone centre stage, but no trumpet. Interesting …
Jim Wade, MC for the evening appears. The audience eagerly accepts his invitation to greet the band with a roof-lifting that will top anything they might ever have enjoyed at Ronnie Scott's and we look to the back of the stage for the band's appearance. Nothing. Instead a door opens to the side of the auditorium and we pick up the beat of Paul Cavaciuti's tambourine and the first glorious strains of 'The Saints' from Garrick's trumpet. In true New Orleans fashion, he leads his musicians, Nigel Price, Terry Collie and Dave Jones, in a march to the stage; instruments are taken up, and with drums and bass laying down an infectious beat, they breath new life into the old favourite. This is going to be an evening of jazz like no other – full of surprises and sheer audacity!
Who would have thought that juxtaposing a familiar ramble down 'Basin Street' with the mystical qualities of 'Amethyst', from Michael Garrick's 'Gemstone Suite', so contrasting in style and form, could ever work. And yet it did; perfectly, providing a natural lead into 'Speak Low', Kurt Weill's achingly beautiful composition, beloved of 1950s hardboppers. The band remained in reflective mood for 'Dreamland', a lesser-known (at least by this writer) Henry Mancini composition with evocative lyrics by Jay Livingston and Ray Evans which put the leader's vocal mettle to the test. Briefly 'refreshed' from the water bottle, he picked up a cowbell to unleash a 'Blakeyesque' orgy of rhythm and excitement, with each member of the band adding to the fun, before launching into an explosive original 'Tell Me Something New' to bring the first set to a close.
Nigel Price got the second set off to an hilarious start when he quipped, 'I'll 'Take Five'!' in instant response to  Jim Wade's announcement that tickets were selling out rapidly for the forthcoming concert by Darius Brubeck.
On a more sombre note, Garrick sadly informed us that Don Rendell, had passed away earlier in the week, aged eighty-nine. 'Webster's Mood' (a Michael Garrick portrait of another tenor master), with Nigel Price being featured as once was Don, made a fitting and moving tribute to the great tenor saxophonist and pioneer of modern jazz in Britain.
Apart from the imaginative ebullience of Garrick's leadership; he paces the stage good-humouredly, prompting with little trumpet interjections, or encouraging his colleagues with a nod of the head or sway of the shoulders, its strength as a group, in the true sense of the word, was amply demonstrated in another Garrick original, the intriguingly titled 'Disinvited'. Wonderfully inventive solos from each member of the band, with challenging exchanges adding to the excitement of the piece, underpinned by Dave Jones' beautiful bass lines and the driving, but never over-powering percussion of Paul Cavaciuti. What's more, Nigel Price's full bodied guitar gives the band the powerful feel of a much larger unit.
Terry Collie's impeccable taste was never more in evidence than on 'Swallows On The Water', the third title from the pen of Michael Garrick and a homage to Joe Harriott, who used that phrase to describe how he felt on the occasion he played with Dizzy Gillespie.
Another pause for breathe, before Garrick took up the maracas to set up a funky-groove for 'Walzkin' with Jovis' (Jovis being the name of both Garrick's black labrador and the imprint of his record label). It would have made the perfect show-stopping conclusion to the gig, but there were more surprises to come. 'Way Down Yonder In New Orleans ', complete with vocal, provided a warm-hearted backward glance to the music's origins. We moved forward to 'Indiana', before a touch of Charlie Parker's 'alchemy' transformed this gently-paced standard into the blistering 'Donna Lee', with Garrick's trumpet and the guitar of Nigel Price negotiating the unison passages magnificently.
'I'm just getting warmed up,' Garrick announced as he brought the gig to a close precisely at 10 o'clock. ''The body's knackered, but the brain is coming alive… Can we play one more?' he asked in deference to the neighbours who insist that the theatre closes on time. With permission duly granted, the band launched into Thelonius Monk's 'Rhythm-A-Ning' to bring a memorable evening and joyous celebration of the 'jazz tradition' to an end.
'I think they might have got something here,' Jim Wade remarked in his closing words. How true! Brilliant musicianship, and a rich and varied programme, which set the audience buzzing with good spirit as it left the theatre; Gabriel Garrick's Expansions Quintet is, as they used to say in the old days, 'a band to watch for the future!'
Review posted here by kind permission of Trevor Bannister
---
Leon Greening piano | Adam King double bass | Steve Brown drums – this trio gave us a fantastic evening of pure joy as can be seen in the review below by Derek Ansell as published in the Newbury Weekly News:
Leon Greening is a very modest jazz pianist. He was full of praise for the great jazz soloists, the ones that inspired and influenced him originally, to seek a career in music but seemingly unaware of his own impressive talent.
Beginning with a Rogers and Hart melody, he explored it thoroughly before leaping into an exhaustive set of variations, aided and abetted by the sterling rhythm support of Adam King on bass and Steve Brown at the drums. King is a very young and exceptionally skilled bassist, his lines complex and technically difficult to execute but the way he played with his colleagues was full of soul and emotion; technical brilliance is of little use without those attributes. Steve Brown is a steady, unflashy but, again, technically well equipped drummer who also plays with lots of feeling.
The pianist paid tribute to his most admired soloists, giving top billing to Bud Powell and playing a very well structured, up tempo version of Un Poco Loco that even that master would surely have approved. He also played compositions associated with or arranged by Wynton Kelly, McCoy Tyner, Sergio Mendez and even local boy made good, the late Dudley Moore who, although an accomplished jazz and classical pianist seemed to reach the greatest heights as an actor and movie star!
The integration between the three musicians was certainly impressive as they swapped solo choruses and then came together towards the end of each selection. Another Brit jazz great, Victor Feldman was picked and some of his music played, again with wit, swing and reverence and the freshness of approach the pianist brought to this and other selections showed him to be a true original jazz voice. The other jazz master he paid tribute to was Bobby Timmons but the interpretation, albeit of an arrangement by his inspiration, came out as pure Greening. The audience responded with vigorous applause throughout and called  long and vociferously, for an encore. It was delivered!
Derek Ansell.
---