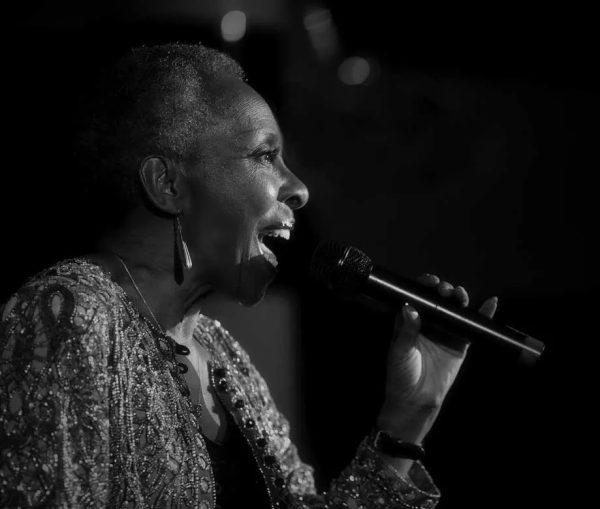 Legendary vocalist Elaine Delmar, voted Jazz Artist of the Year in the Parliamentary Jazz Awards for 2023, will be heading-up a keenly anticipated autumn season of star-studded Snug Sessions at Bishop's Court Farm, Dorchester-on-Thames, when she appears at this unique venue on Sunday 17 September.
In just a year the Snug Sessions have grown from a kernel of an idea in the minds of three kindred spirits with a passion for jazz – Keith Ives owner of Bishop's Court Farm, Mayank Patel, founder of Hampstead Jazz Club and the Lateralize record label and Jonathan Wingate, erstwhile spokesman for no less a giant of music than David Bowie. – to an established place in the live music scene of South Oxfordshire.
"Keith has transformed Bishop's Court Farm since he became the owner of the beautifully located 300-acre estate in 2019," explains Jonathan Wingate, co-curator with Mayank Patel of the exciting programme scheduled for the new season of Snug Sessions.  "A 'state-of-art' barn conversion has created a marvellous performance area for live jazz as an essential feature of his broader vision to open-up the estate to the community,"
"I can't believe how lucky I am to be working in this environment and with these people," Wingate continues. "Other members of the rural community have sought to diversify by promoting rock, folk gigs and festivals on their farms, just think of Glastonbury. We're unique in presenting jazz; in our case the best on the contemporary scene from Hampstead Jazz Club.
"Jazz music might be rooted In an urban setting, but its organic nature lends itself perfectly to the countryside. Besides, our audience, a mix of hard-core jazz fans and those who simply love live music, enjoy the space here. It's a lovely place to meet friends in a relaxing atmosphere and to enjoy the locally sourced food and drink, not to mention the chance to hear world class music at a fraction of West End prices."
It's no wonder that the Snug Sessions have built up a strong and loyal following in such a short time. "We have a fantastic graphic designer to produce our posters and flyers, but apart from that we don't advertise our events," Wingate admits. "Word-of-mouth is the key to our success … and the 'proof of the pudding' as they say, is in our sell-out audiences."
The consummate artistry of Elaine Delmar, honed on the international stage over the decades in the company of the world's greatest musicians and arrangers, epitomises the quality of music on offer in the new season of Snug Sessions at Bishop's Court Farm.  Her incomparable interpretations of the Great American Songbook hold the promise of an evening to treasure on Sunday 17 September.
The season will continue at fortnightly intervals until 19 November with a stellar roster of artists . . .
On 1 October the incredibly talented young trumpeter/vocalist Freddie Bennedict returns to the Snug by popular demand after a sensational debut last year with an invitation to join him and his fabulous band for an evening of timeless jazz standards, Brazilian sambas and contemporary pop songs.
Another Snug favourite, Jo Harrop, arguably the greatest jazz singer in the world and recipient of the 2023 Parliamentary Jazz Award for Best Album of the Year – When Winter Turns to Spring with Paul Edis, will be guesting with guitarist/vocalist Marcus Bonfanti for a barnstorming 'Blues Explosion' that should lift the roof of Bishop's Court on 15 October.
Zoe Francis has been described as the 'link' between the classic vocal styles Peggy Lee and Blossom Dearie as she seamlessly switches from sultry swing to heartbreaking ballads. Zoe will be joined by legendary guitarist Jim Mullen and an all-star rhythm section to present 'Midnight Sun – The Great American Songbook' on 5 November.
Jordan Jackson will bring the season to a storming close on 19 November when the 'American Soul Train' rolls into Bishop's Court, a funky tribute to the famous American TV series which ran for more than 1000 episodes from 1971 featuring such giants of R&B and Soul as Aretha Franklin, James Brown, Prince and Stevie Wonder. Jordan's mellifluous vocal tones will leave you spellbound!
Full details of the Snug Sessions 2023 are available here
The family-friendly Bishop's Court Farm welcomes visitors at all times. Why not check out its café, 60-strong alpaca herd, host of horses, pigs, sheep and goats as well as a range of other facilities and activities on https://www.bishopscourtfarm.com/
Article by Trevor Bannister