John Horler A Tribute to Bill Evans – March 2022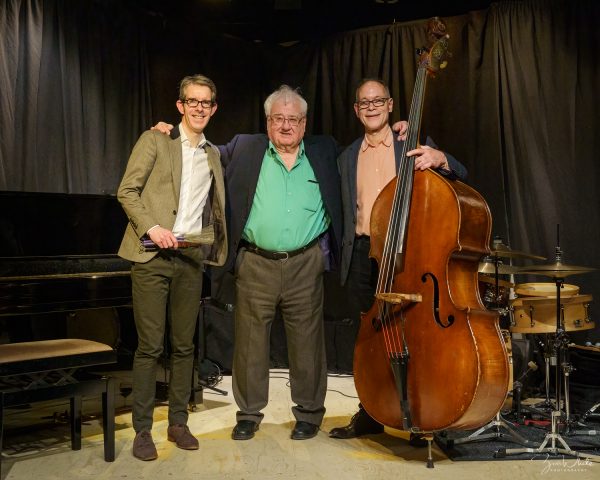 Progress Theatre, Reading, Friday 4 March 2022
John Horler piano, Alec Dankworth bass and Ronnie Jones drums
Listening to 'Re: Person I Knew', the opening number in John Horler's 'Tribute to Bill Evans', one could be forgiven for thinking that the members of the trio had played together as a unit for years. Not so. They had played only one previous gig. One can only be thankful for the stroke of chance that brought them together and planted the seed of an idea to showcase John Horler's world class talents as a pianist within a framework of a tribute to his key influence, Bill Evans.
The tribute focused on the early years of the Bill Evans' trio in the early 1960s – the time of his celebrated 'live' recordings at the 'Village Vanguard' with bassist Scott La Faro and drummer Paul Motian – when jazz first woke up to his astonishingly fresh approach to the music. As British pianist, the late Michael Garrick commented at the time, 'There was a wonderful moonlight sort of quality about his playing. It was as clear as daylight. Sparkling! He combined the qualities of disciplined accuracy, swing and impressionism in a way not heard in jazz before.'
Bill Evans made an indelible impression on John Horler when he saw him play 'live' in London for the first time.  'Bill is still the most influential figure in my playing,' John says. 'In an inspirational way.' In contrast to the introspection and shyness of Bill Evans, Horler is an ebullient character whose warmth, good humour and sense of fun immediately communicates with his audience.
But don't be fooled, John is 'up for a challenge'. One could almost hear him saying, 'Let's see where we can go with this, guys!' as he launched into a tantalising, seemingly chaotic, out-of-tempo introduction to 'How Deep is the Ocean', building the suspense until the full beauty of Irving Berlin's romantic classic appeared with the seamless entrance of Alec Dankworth's bass and the subtle brushwork of Ronnie Jones on drums. Warming to the occasion, the audience responded with generous applause and the first of many cheers.
Two Bill Evans' fans had actually flown down from Scotland for the concert. Although they had listened to recordings for years, it was seeing the music being played – 'in person' –  and the interaction between the musicians, a feature of the entire evening but particularly  evident on 'My Foolish Heart', that thrilled them and enhanced the emotional experience of listening. Who could resist the subtle blend of John Horler's own 'moonlight touch', Alec Dankworth's gorgeous bass and the magical textures conjured by Ronnie Jones' fingertips on his cymbals? It's hard to believe that this tune in its original form as a film theme was dismissed as 'sentimental bloop-bleep-bloop'.
The alchemist's touch was also at work to transform the dreamy title track from Disney's 'Alice in Wonderland' into another nugget of jazz gold. 'Was John up to his aural tricks again with the introduction?' I wondered.  I'm sure that I detected more than a trace of 'There's a Song in My Heart' before Alice hurried off on her adventures. Witty, charming and full of airy spaciousness, this was an absolute delight.
Alec Dankworth's exquisite bass playing led the melodic line over the gentle breeze of a bossa-nova rhythm on 'The Dolphin'. First recorded by Bill Evans on Fender Rhodes keyboard with an orchestral backing for the experimental album 'From Left to Right', this scaled down arrangement for the trio worked magnificently.
John Horler's angular, staccato phrases set 'My Romance' in motion and brought the first set to a spectacular close with rapidly fired exchanges between the respective musicians.
The opening two numbers of the second set shone further light on the contrasting and sometimes conflicting elements of Bill Evans' complex musical personality. The quirky appeal of 'Very Early' kept one second guessing as to the direction it was heading in, while the bitter/sweet emotions of Henry Mancini's 'Days of Wine and Roses' demonstrated quite simply that Bill couldn't resist a great melody.
Horler made just one deviation from his programme in order to pay tribute to Chick Corea who died just over a year ago. 'Windows' with its intoxicating mix of styles, changing time signatures and swirling rhythms held everyone in its grip. Superb!
An impeccable interpretation of 'Blue in Green', capturing its unique feeling of calm and stillness, served to remind us of Evans' massive contribution to the classic Miles Davis album, 'Kind of Blue'. Bill might not have received any writing credit for the tune; that was attributed to Miles, but his DNA runs right through it.
'Waltz for Debby' is an enduringly catchy tune and an early example of ¾ being used in jazz, dating from Evan's 'New Jazz Conceptions' album of 1956. It's a great tune, even if, as John Horler pointed out, 'most of it is actually played in straight 4/4'. On this instance it provided a perfect outlet for the lyrical bass of Alec Dankworth.
Unlike Bill Evans, who rarely spoke and who played with such intensity that his bowed head sometimes seemed to rest on the keyboard, John Horler freely chats to the audience between numbers. However, he recalled one occasion at the Pizza Express, Dean Street when Bill did break his silence. He played 'The Peacocks' and paid tribute to its composer Jimmy Rowles who happened to be in the audience, sitting only a couple of tables away from John.  Jimmy, a 'monster' of a piano player himself, was visibly touched by the compliment.
John's own interpretation of this enigmatic number expressed its sadness and aching beauty in masterful fashion – an outstanding performance!
The dark drama and intense rhythmic power of 'Nardis', brought a concert of world-class stature to an explosive climax with its 'seat of your' pants excitement, topped by Dankworth's singing bass and Jones' hand drumming. WOW! As one punter later remarked on his way out of the auditorium, 'I knew John Horler was a good pianist, but I didn't realise he was that good!'
Segueing from Bill Evans' Peace Piece' to Leonard Bernstein's nostalgic lament 'Some Other Time' John Horler brought the evening to a close with a deeply moving reflection on the tragic events unfolding in Ukraine. He expressed the 'Sound of Freedom' more powerfully that any number of words could possibly convey.
---
As ever, thanks are due to the Progress Theatre Front of House team for their warm hospitality and the excellent quality of the sound and lighting, to Hickies Music Store of Reading & Tiverton for the hire of the excellent Yamaha piano and to the audience for the generous donation of £105 for British Ukrainian Aid. Further donations can be made via https://british-ukrainianaid.org/make-a-donation/
Review posted here by kind permission of Trevor Bannister
Photo by Zoë White Photography
---