Paz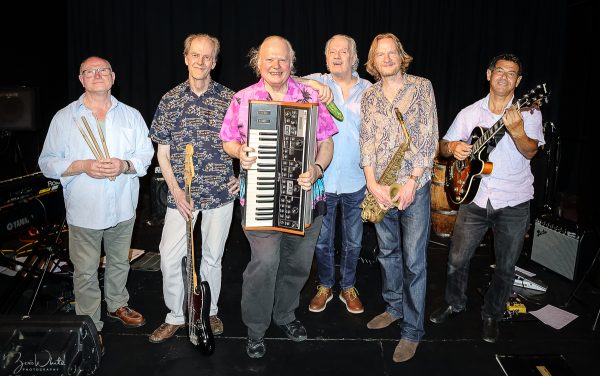 Friday 21 June 2019 Progress Theatre, Reading
Les Cirkel drums, Rob Statham bass, Geoff Castle keyboards, synthesizer, Chris Fletcher percussion, Matt Wates alto saxophone, Dominic Grant guitar
What better way to celebrate the Summer Solstice than in the company of Paz and their high octane mix of jazz improvisations, earthy funk and the irresistible rhythms of South America and the Caribbean – Fusion at its timeless best!
The band emerged nearly fifty years ago as the brainchild of the late Dick Crouch, a characterful individual with a remarkable gift for composition within the Fusion genre. His writing remains at the  heart of the band's repertoire.  With a day-job in the Transcription Department of the BBC, his  Shepherd's Bush office  became  an open-house for like minded musicians, who took full advantage of the subsidised meals available in the canteen.  The amiable Geoff Castle, current leader of the band who joined its ranks in 1974, describes Dick Crouch as a vibes player who set up his instrument at gigs but rarely played a note, preferring to strike a languid pose and soak up the music from within a cloud of Gauloises' tobacco haze – what a wonderful image that conjures in our modern world of clean-cut stage presentation!
Drummer Les Cirkel has been with Paz from its formation, though he claims to have only been seven years old at the time; Chris Fletcher joined 'after the war', but fails to admit which one; Rob Statham and Matt Wates have clocked up respectively nearly forty and fast approaching thirty years, while Dominic Grant, is the 'juvenile' of the organisation with a mere twelve months service. It's little wonder that these guys convey a slight air of 'been there, done that', for they are seasoned professionals with countless gigs to their credit, who have clocked up thousands of hours in the recording, TV and film studios and played with the giants of the entertainment business.
'For Art' immediately reveals the strength of Dick Crouch's writing. Originals are so often no more than flimsy hooks on which to hang a string of solos. That's not so here. It's beautifully formed with a distinct shape, a logical structure and intensely exciting; a hallmark of quality that sets the standard flying for the evening.
Dominic Grant makes full use of his wa-wa pedal to set the groove on 'One Hundred' (a title which should be proclaimed a la Sid Waddell, the famed darts commentator), and Matt Wates soars into flight with his gorgeous alto as the rhythms, firmly anchored by Rob Statham's bass guitar, build layer upon layer in the background.
Geoff Castle takes the writing credits for 'Latinesque', a breathtaking Samba with a subtle hint of melancholy courtesy of Chris Fletcher's ingenious percussion effects. Castle was also responsible for 'Citroen Presse', a title which accurately depicts the sad fate of his much loved Citroen 2CV. Far from being a car crash this number swings like the clappers.
'Making Smiles' and 'Forever', the first a full-on tsunami of sound, contrasting textures and rhythm, the second a bright, sparkling samba, completed the first set in dedication to the great alto saxophonist Ray Warleigh and his long tenure with Paz in its earlier days,
'Looking Inside' opens the second set, a slow, wistful number and the title track from Paz's  best selling album produced by Miles Davis associate Paul Buckmaster.  'Bags', a dedication to Milt Jackson, keeps everyone on their toes. Its constant shifts in time and rhythm, inspire brilliant solos from Matt  Wates and Geoff Castle, and the whole thing builds to a thrilling climax between Les Cirkel's drums and Chris Fletcher's congas.
'James the First', a dedication to Dick Crouch's first-born child, brings the sound of steel pans (one of many intriguing sounds emanating from Geoff Castle's Moog synthesizer) and the gaiety and fresh breezes of the Caribbean to the stage. An absolute delight!
'AC/DC' proved to be such a hit on the London disco scene in the 1980s that the record company couldn't keep pace with demand and no wonder – a fantastic piece that's lost none of its power or appeal in the intervening years. 'Laying Eggs', on the other hand, with the snappy guitar of Dominic Grant to the fore, lays down a solid groove and explores the darker territory of heavy-funk.
Geoff Castle's 'Variation on Creation', can best be described as a calypso tear-up, with everyone stoking the boiler to round off a brilliant evening in great style. Except of course, the gig can't possibly end here; rather than provoke a riot the band plays out to the cool tones of 'Harmonique' followed by a quick-fire reprise of 'AC/DC'.
Fusion is alive and kicking in the safe hands of the gentlemen of Paz and long may it continue to be so!
As ever, thanks to Martin Noble for the excellent quality of sound and lighting, and to the Progress Front of House team for their warm hospitality'
Review posted here by kind permission of Trevor Bannister.
Photo by Zoë White Photography
---