The Bobby Hutcherson Project: Orphy Robinson MBE Quintet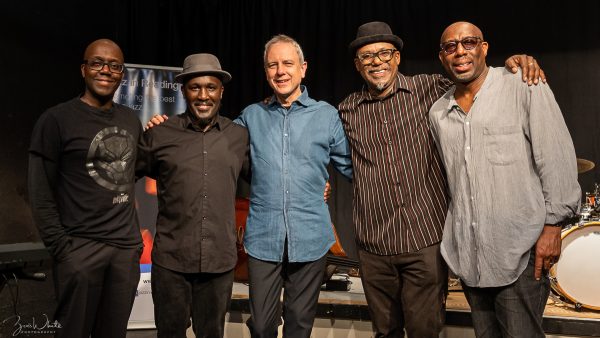 Friday 17 May, Progress Theatre, Reading
Robert Mitchell keyboard, Tony Kofi alto saxophone, Rod Youngs drums, Orphy Robinson MBE vibraphone & marimba, Dudley Phillips bass.
As many high-profile promoters and recording producers will reluctantly testify, bringing together a 'dream package' of star jazz performers is no guarantee of either artistic or commercial success. All too often what seemed like a great idea on paper ends up with underwhelming performances when enlarged egos and arguments about billing get in the way of making music. Not so when Orphy Robinson was asked to put together a band to pay tribute to the great vibes player Bobby Hutcherson who died on 15 August 2016 age seventy-five.
Such was the respect for Bobby and love of his music that not only were all the musicians Orphy approached eager to play, more importantly, each one was available for the date in September 2016. Voted 'Live Experience of the Year' in the 2017 Jazz FM Awards, the concert gave birth to the 'Bobby Hutcherson Project' under the direction of Orphy Robinson MBE, which received a rapturous reception from the sell-out audience when it took to the stage of the Progress Theatre on Friday 17 May. What the tiny theatre lacked in numbers – it only has 96 seats – it more than made up for in volume and atmosphere, prompting Orphy to remark, 'This is like Wembley Stadium!'
In the early 1960s Hutcherson took, what was then and still remains an unfashionable instrument, the vibraphone, to the cutting-edge of jazz innovation. His impeccable mastery of the instrument and personal sound was matched by his energy, gift for invention and unique sense of space and freedom. He recorded prolifically as a leader, while his versatility and ability to bring something special to any situation meant that he was always on call as a sideman. He also made two film appearances – as a bandleader in 'They Shoot Horses Don't They?' and a featured role alongside Dexter Gordon in 'Round Midnight'.
'Knucklebeam', an Eddie Marshall composition and the title track of a 1977 Blue Note album, might have been more aptly titled 'Knuckle Ride'; an exhilarating outing that tested the mettle of each band member and left the audience in a state of breathless excitement. What an opening number, and a mere taste of what was to come!
'So Far, So Good', penned by James Leary and also from the 'Knucklebeam' album, cooled the temperature and allowed the band to stretch out in a more relaxed groove.  Tony Kofi's passionate and free-flowing expression on alto saxophone was like a gift from heaven. The astonishing Robert Mitchell, familiar as the pianist and MD for the recent 'BBC Four celebrates Jazz 625 For One Night Only', took the keyboard apart in every sense of the word. He uses both hands and sometimes cross-hands with equal force to build solos of unbelievable depth and complexity. Urged on by his fellow players and the awe-struck audience, his playing became ever more audacious as the evening progressed. Orphy Robinson's solos on the other hand, are visually stunning and unfold as if the pages of a book, with a clear narrative thread and a reflective space between each chapter. Underpinned by the brilliant rhythm team of Dudley Phillips on bass and drummer Rod Youngs, this is a band of truly world-class stature.
The hard-swinging 'Tahiti', paid tribute to Milt Jackson, a profound influence on both Hutcherson and Robinson, before the band rounded-off the first set with a sensational 'Recorda-Me (Remember Me)' by giant of the tenor saxophone Joe Henderson, featuring the mellow-sounds of Orphy Robinson's marimba – his remarkable Xylosynth combines the characteristics of vibes and marimba in one instrument!
The second set opened with the Fender/Rhodes sounds of Robert Mitchell's keyboard setting a dreamlike atmosphere for 'Montara', Hutcherson's title track from the 1975 album, described by one contemporary 'as capturing the spirit of those times like no other'. A soulful fusion of gentle latin rhythms and the solid groove of Dudley Phillips' electric bass, one could simply immerse oneself in the gorgeous caress of Orphy's marimba and the plaintive saxophone of Tony Kofi.
Drummer Rod Youngs used his hi-hat cymbals to ignite 'Stick Up', a number in which the light and shade of Orphy's vibraphone contrasted beautifully with the edge-of-your-seat excitement of Robert Mitchell's piano solo.
The spikey 'Gazzelloni', celebrated Bobby Hutcherson's role as a sideman on Eric Dolphy's Blue Note album 'Out to Lunch' from 1964. Regarded at the time as being on the outer limit of free-jazz expression, it's no less challenging today. It morphed imperceptivity into the gentler strains of 'Hat and Beard' also from Dolphy's groundbreaking album. A highlight – Rod Youngs' hand-drumming as the culmination of his drum solo and a sublime moment of silence before the band came back in for the coda. Pure magic!
An irresistible summons to have a great time 'Ummh' set hands clapping to the groove and brought an enthralling concert to a fitting close way beyond the official ending time of 10 o'clock. The enduring spirit and rich musical legacy of Bobby Hutcherson rests safely in the hands of Orphy Robinson MBE and the Bobby Hutcherson Project.
Thanks should also be extended to Martin Noble sound-and-light-man-extraordinaire and the Progress House Team whose warm hospitality and attention to detail ensured that the evening ran so smoothly.
Review posted here by kind permission of Trevor Bannister.
Photo by Zoë White Photography 
---