Jam Experiment | August 2018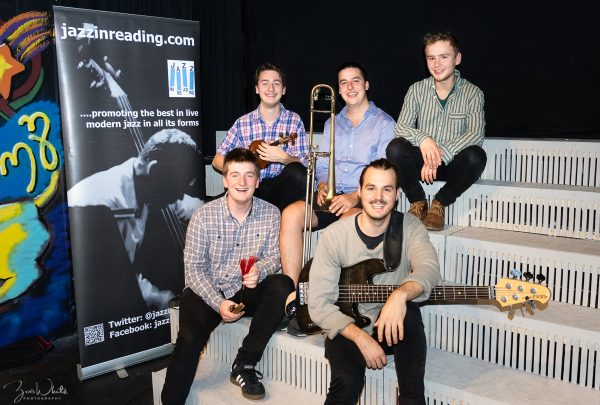 Friday 31 August, Progress Theatre, Reading
Rory Ingham trombone, Dominic Ingham violin & voice, Toby Comeau keyboard, Joe Lee bass, Jonny Mansfield drums
Hot foot from a marathon recording session in Wales and a triumphant European tour taking in Berlin, Warsaw, Kracow and other points East, Jam Experiment took to the stage of the Progress Theatre in ebullient spirits on Friday 31 to open a new season of Jazz at Progress. Formed four years ago, the band has already notched up huge critical acclaim from its numerous club appearances at such venues as Ronnie Scott's and the Vortex , the stages of the London and Cheltenham Jazz Festivals, its radio broadcasts for Radio 3 and Jazz FM and inaugural CD, Jam Experiment.
The band is fronted by the irrepressible Rory Ingham, winner of the Rising Star Award in the 2017 British Jazz Awards.  He commands a trombone chair in both NYJO, with whom he played at this year's Proms in an ambitious programme devoted to the music of George Gershwin, Stan Kenton and Laura Jurd, and the Syd Lawrence Orchestra. It came as no surprise to learn that he cites Peter Kay as being high on his list of comedy heroes.
Dominic Ingham, dead-pan-faced Laurel to his more ebullient brother's Oliver Hardy, completes the front-line on violin and voice, his ear finely tuned from early childhood training in the Suzuki method of playing. Toby Comeau whose background included an enriching experience as a chorister at Truro Cathedral before an attraction to jazz took root, plays keyboard. He is joined in the rhythm section by Joe Lee, a fellow chorister at Truro, whom Toby inspired to take up bass.  Jonny Mansfield completes the line-up on drums; vibraphonist with NYJO and the 2018 recipient of the prestigious Kenny Wheeler Jazz Prize awarded to a 'graduating musician at the Royal Academy of Music who demonstrates excellence in performance and composition'.
This stellar line-up of emerging jazz talent, each a product of either the Royal Academy of Music or Guildhall School of Music, and with an average age of about 21, clearly take their music seriously. That they are equally determined to have a ball creating it and sharing their sense of fun and musical adventure with the audience, became immediately obvious with the opening bars of 'Richie's Scalp', a 'raising-of-the hairs-on-the-back-of-the neck' sensation induced by Rory Ingham's soulfully declamatory trombone. What an opening number!  Dominic's amplified violin matched the trombone for volume but took the theme into more linear territory; eerie swirling lines fueled by the funky rhythm section.
Quite how Quay – the 'Sunnies with Melbourne flair' – inspired Joe Lee to write a tune of that title is perhaps best left unexplained. No matter. A beautifully evocative violin solo blossomed from the composer's fulsome bass line, with trombone, keyboard and drums adding their respective musical colours to the soundscape.
'Theaker's Barn', drew yet another gem from the Jam Experiment's box of delights with Dominic Ingham taking an instrumental line with his appealingly light and airy voice; the sort of thing at which Norma Winstone excels. It blended perfectly with the mellow tones of Rory's trombone and the intricate backgrounds conjured by Messrs Comeau, Lee and Mansfield. Can you think of any other male performers who use their voice in this way? Answers on a postcard to Jazz in Reading please.
Toby Comeau further demonstrated the writing strengths of the band members with a beautiful sound portrait of 'Appledore', the West Country town famed for the quality of its shipbuilding, while Jonny Mansfield's hypnotic 'Ichi Ni' (one, two, three in Japanese and a neat play on words – 'Itchy Knee'. Get it?) brought the first set to a close.
The resounding clatter of the end-of-interval bell summoned the faithful from the liquid attractions of the bar and back to the Progress auditorium, where MC for the evening Bob Draper held centre-stage in the company of Jonny Mansfield. What better way of publicizing the next Progress gig than an interview with the protagonist himself. This promises to be an intriguing event; an eleven-piece band – Elftet – including strings, giving full rein to what no less a jazz authority than Alyn Shipton has described as 'strikingly original music'. Friday 28 September is a date to place in the diary!
The conversational style of Mansfield's writing shone through 'BMTC', the opening number of the second set.  As if to say, 'Hey guys, let's see where this will take us', ideas bounced about freely giving the arrangement a wonderful sense of spontaneity and providing a perfect launching pad for Mansfield's superlative workout on drums.
I can only describe 'Tin', the third of Mansfield's compositions, as a gorgeous multi-layered tapestry of sound, bearing the indelible thread of Dominic Ingham's voice and Toby Comeau's keyboard extemporization.
Dominic Ingham's 'Hop the Hip Replacement' hit an altogether brighter groove, as the tongue-twisting title implies, while 'Bonsai', with the simplicity of its lyric and compelling bassline, should take its place as a modern-day lullaby.
'Get It On Target', featuring a dazzling solo by Toby Comeau and a final effort by Rory Ingham to lift the roof may have brought the evening to its 'official' close but there was no way that Jam Experiment could leave the stage without an encore. They duly obliged and only then did the audience reluctantly accept that the gig had come to an end and that they would have to make their way home.
In a process of musical alchemy Jam Experiment have blended their individual talents within the proverbial jazz melting pot with a good measure of contemporary influences and the addition of a fistful of Yorkshire grit. When left to cool in the fresh breezes of the English West Country the result is an amalgam of pure musical gold.  Catch the band when you can!
Thanks are due to the Progress team for their warm hospitality, efficient service and the high quality of the sound and lighting, and Marc Edwards of 'Brecon Jazz Futures' for his instrumental role in bringing Jam Experiment to the Progress Theatre.
Review posted here by kind permission of Trevor Bannister.
Photo by Zoë White Photography
---