The Reading Dusseldorf Jazz Ensemble | July 2018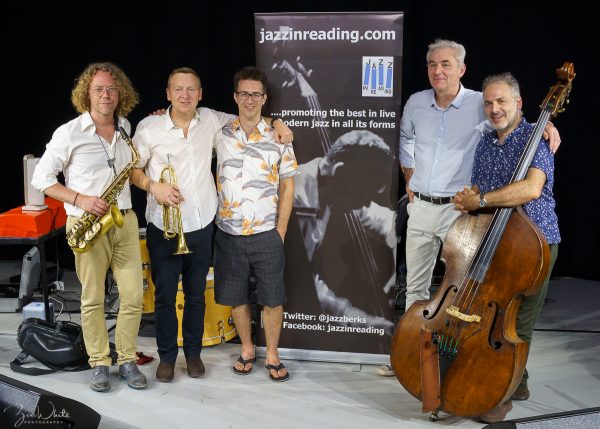 Reading Fringe Festival Main Stage, Reading Station Hill Plaza, Wednesday 25 July
Stuart Henderson (trumpet & flugelhorn), Reiner Witzel (alto saxophone), Pete Billington (keyboards), Raph Mizraki (bass & electric bass), Simon Price (drums).
'How long have the band been together?' I was asked by one of several curious bystanders who were drawn to the Main Stage of the Reading Fringe Festival as the sound of five jazz musicians in rehearsal drifted Pied Piper-like across Reading Station Plaza early on Wednesday evening.   'About two hours,' I replied. 'Two hours!' he gasped. 'That's amazing. What is it about jazz that guys can get-it-together like that?'
With that, he continued on his way in puzzled amazement, promising that he would try to return for the concert at the appointed time.
In truth I hadn't been entirely honest with my response. Four of the musicians play regularly under the leadership of Stuart Henderson and are well known to local jazzers as the Stuart Henderson Quartet. But, alto saxophonist Reiner Witzel had only flown into Heathrow from Dusseldorf a few hours earlier, giving him just enough time to meet the guys at Stuart's home, and to check into his Friar Street Hotel, before making the sound-check and rehearsal at the Main Stage.
And to explain the background to this unique occasion a little further; Stuart had played as a guest with Reiner's Dusseldorf Jazz Ensemble in Dusseldorf on 30th June, in a hugely successful concert which also featured guest soloists from Haifa and Chemnitz – each guest representing a community with which Dusseldorf is twinned. Reiner's appearance in Reading, which he first visited thirty years ago as a youthful member of a big band, reciprocated that event to forge an additional link of friendship between Reading and Dusseldorf.
In the circumstances the musicians could easily have settled for a programme of well-worn standards familiar to themselves and the audience. But no, this was a special occasion, not just in terms of the link between Reading and Dusseldorf, but as an opportunity to showcase the original writing talents of Stuart and Reiner and to present jazz at its best and most challenging as part of Reading Fringe Festival. They hit the groove with the opening number, Reiner Witzel's 'Northern Fields', and during the course of three sets held the near capacity audience spellbound with music of truly world class quality.
The contrast between the protagonist's writing styles made for fascinating listening. Witzel sometimes dark and brooding, captured the pulse of life in a Charlie Mingus-like fashion of startling sounds and shifting times and rhythms with the brilliantly evocative 'Tales of a Century', 'Nomansland' and 'Hafenhunde' (The Dogs of The Port)
Henderson, on the other hand revealed a much lighter touch with debut outings for three very lyrical pieces. His arrangement of 'Sumer Is i-cumen in', written down by a monk in Reading Abbey in about 1240, said to be 'the earliest existing example of harmonized secular music' and indelibly inscribed in the primary-school-day memories of generations of Reading children, was a pure delight – a medieval four-part round in jazz bossa-nova style – and a fitting tribute to the recent re-opening of Reading Abbey.  'Reflections', featuring the gorgeous piano of Pete Billington, was the sort of wistfully romantic ballad that sadly nobody seems to write any more – except thankfully Stuart Henderson. 'Three Rivers' beautifully captured the flow and various moods of Reading's principal rivers, the Thames, Kennet and Holy Brook.
'Voyage' and 'Gibraltar', two post-1960 classics from respectively Kenny Barron and Freddie Hubbard, gave everyone free-rein to exercise their 'jazz-chops'. Fiery alto from Witzel, blistering trumpet runs from Henderson, who revived the lost art of growling plunger mute to outstanding effect, and understated swing from Billington.  Alert to every shift in gear Raph Mizraki's rich-toned bass held the rhythm section firmly in place in partnership with the explosive drumming of Simon Price.
In an evening rich with surprises, none more so than the inclusion of two numbers from Miles Davis 'electric' repertoire, 'Tutu' and 'Shh Peaceful/It's About That Time'. Though Miles' innovations with electronic instruments in the late-1960s and onwards divided fans and critics alike, they had a lasting influence on jazz, giving birth to the entirely new genre of 'jazz fusion'. I can still vividly remember the spine-tingling experience of listening to 'In A Silent Way' on its release in 1970. And yet, to my knowledge, unlike titles such as 'So What' or 'Walkin'' from earlier albums, nobody actually plays anything from the 'electric' bands.
Why not? Of course, at the time we didn't know, and could never had imagined, that 'In A Silent Way' was painstakingly created in the editor's cutting room from hours and hours of tape, while 'Tutu' took the innovation a stage further and Miles played over the lush pre-recorded arrangements of Marcus Miller. Playing the tunes 'live' naturally presents quite a challenge, but not one to be missed by the Reading Dusseldorf Jazz Ensemble!
The results were outstanding. The band drew on its entire bank of sound resources to deliver each piece; Witzel's haunting alto, and Henderson's sparse trumpet interjections, overlaying the kaleidoscopic background of Mizraki's slap bass, the celestial effects conjured from Pete Billington's keyboard, and the hypnotic beat of Simon Price's drums. The band not only remained faithful to the original feel of the albums, we had the bonus of the spontaneity which only comes in a 'live' performance.
'Swagmeister', a dedication to Stuart's son who informed his father about the word 'swag' to be the ultimate in cool, brought a fantastic evening to a swinging close, and the audience to its feet in rapturous appreciation. As one happy punter commented, 'I've listened to jazz in New York and all over the world. This ranks with the best I've ever heard!' Here, here!
The Reading Fringe Festival Main Stage, a remarkable structure of inflated plastic seemed to hold the ominous promise of a weight-reducing sauna at the beginning of the evening. To everyone's surprise it proved to be perfect for the performance, with an atmosphere of its own that grew as the evening progressed – the next best thing to playing outdoors on a beautiful mid-summer's evening. Sound and Lighting were handled magnificently by the resident Technical Team, while the Front of House Team engendered the welcoming and 'can't-do-enough-for-you' spirit of Reading Fringe Festival.
Thanks are due to the Reading Dusseldorf Association for their support and to Paul Johnson of 'Jazz in Reading' who ensured that all the strands of organization were firmly drawn together to make the event possible.
Reiner Witzel took his flight back to Germany early on Thursday morning in advance of working on a cruise departing from Hamburg later in the day – such is the schedule of an internationally based musician. Stuart Henderson & Company can be seen at their resident spot at the Retreat on the last Sunday of each month – don't miss the opportunity to see them in action.
Can we look forward to a further episode in the jazz-link between Reading and Dusseldorf and further involvement with Reading Fringe Festival? The interest and goodwill are certainly there, so why not!
Review posted here by kind permission of Trevor Bannister.
Photo by Zoë White Photography
---