Rebecca Poole Quintet | May 2018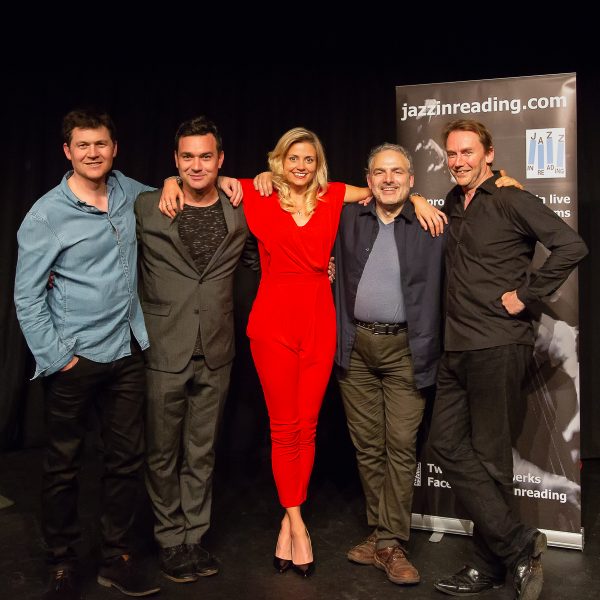 Progress Theatre, Reading Friday 25 May
Rebecca Poole Quintet: Rebecca Poole vocals, Brandon Allen tenor sax, Hugh Turner guitar, Raph Mizraki bass, Steve Wyndham drums
What better way to round-off another successful season of jazz at Reading's Progress Theatre than in the company of Rebecca Poole and her quintet on Friday 25 May. Any date with Henley-based Rebecca, AKA Purdy, is guaranteed to set faces smiling, heads swaying and feet tapping, and she didn't disappoint the near sell-out audience, adding many new fans to her legion of admirers. Multiple award-winning Brandon Allen on tenor saxophone and Hugh Turner on guitar, added their solo voices to the occasion, and demonstrated the subtle art of vocal accompaniment to perfection, with the reliable and ever-swinging support of Raph Mizraki and Steve Wyndham.
Rebecca's warmth and fun-filled personality illuminates the stage while the broad expanse of her vocal canvas covers songs of lasting appeal together with originals with a more contemporary feel. Evergreen standards like 'I Can't Give You Anything but Love' and 'Bye Bye Blackbird', dating back to the 1920s, comfortably rub shoulders with numbers she has recorded under her alter ego as Purdy, like 'Too Much in Love with Love', 'Look into Your Mirror' or the charmingly wistful 'Cherry Tree'.
She handled the pacey vocal gymnastics of 'Love Me or Leave Me' with consummate ease, and knowingly drew every ounce of innuendo from the lyrics of 'Put the Blame on Mame', a lady whose ribald behavior caused the San Francisco earthquake amongst a string of other natural disasters. But Rebecca's voice also has an intimate 'late-night' quality, perfectly suited to expressing the bitter grains of 'Black Coffee', as well as the seductive promise of 'Perhaps, Perhaps, Perhaps', hit songs for two of her strongest influences, Peggy Lee and Doris Day.
'I Can't Wait to Meet You', another original, featured Rebecca in an enjoyable duet with guitarist and MD Hugh Turner. It ended with an 'Oh Yeah' that almost out-graveled Satchmo himself!
Star tenor saxophonist Brandon Allen blew a storm on his four instrumental features: the bebop classic 'Good Bait', 'No More Blues' a delightful Latin American number by Antonio Carlos Jobim,
'Caravan' and Jimmy Van Heusen's wonderful ballad 'But Beautiful'. He was ably assisted by the outstanding Hugh Turner on guitar, who can summon every sound imaginable from his instrument; the lightest Latin-American touch to the heaviest blues-soaked riff, the walking bass of Raph Mizraki and the rhythmic pulse of Steve Wyndham's drums.
As the show drew to a close, the band laid down an earthy beat, Rebecca belted out the verse, and the audience at last gave vent to emotions held in check throughout the evening and joined in with the chorus to what else but, 'Minnie the Moocher'.  Top that as they say.  And she did with the encore. 'Just a Gigolo', with the interpolation of 'I Ain't Got Nobody', had everyone singing their heads off!
As ever very many thanks to the team at the Progress Theatre for hosting the jazz programme organized by Jazz in Reading and we look forward to the new season which commences in August.
Meanwhile, local trumpet hero Stuart Henderson will be appearing at the Reading Fringe Festival on Wednesday 25 July with the Reading Dusseldorf Jazz Ensemble featuring special guest Reiner Witzel. Full details are available on www.jazzinreading.com
Review posted here by kind permission of Trevor Bannister.
Photo by Zoë White Photography
---