Tubby Hayes: A Man in a Hurry | Jazz and film evening at the University of Reading | May 2018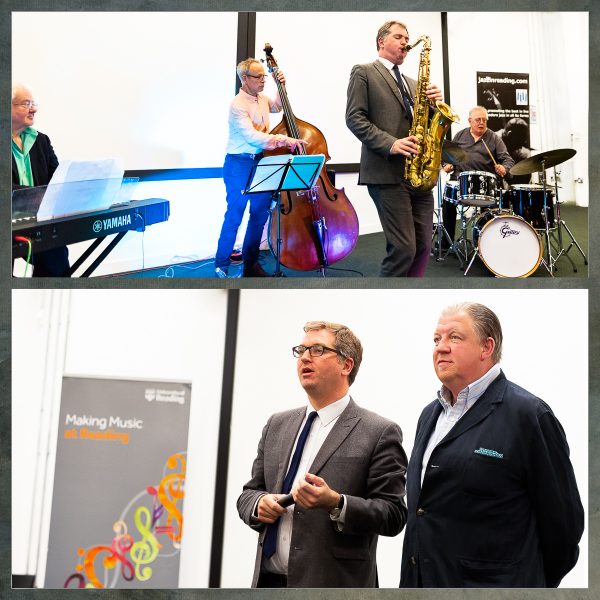 University of Reading, Friday 11 May 2018
Top: John Horler, Alec Dankworth, Simon Spillett, and Spike Wells
Bottom: Simon Spillett and Mark Baxter
A night of Jazz and Film to celebrate Tubby Hayes with the Simon Spillett Quartet and the acclaimed film documentary 'Tubby Hayes: A Man in a Hurry'
The young boy stood with his father and gazed in wonder at the gleaming family of three saxophones displayed in the window of the music shop local to his home in south London. He pointed to the middle-sized instrument, a tenor saxophone, and announced, 'That is what I want to play'.
His father, a professional dance musician himself, agreed to the request but added the caveat that as his son was already learning to play the piano and violin he would have to wait until his twelfth birthday. True to his word he handed the instrument to his son on the due date and so, began the legend of Edward Brian 'Tubby' Hayes.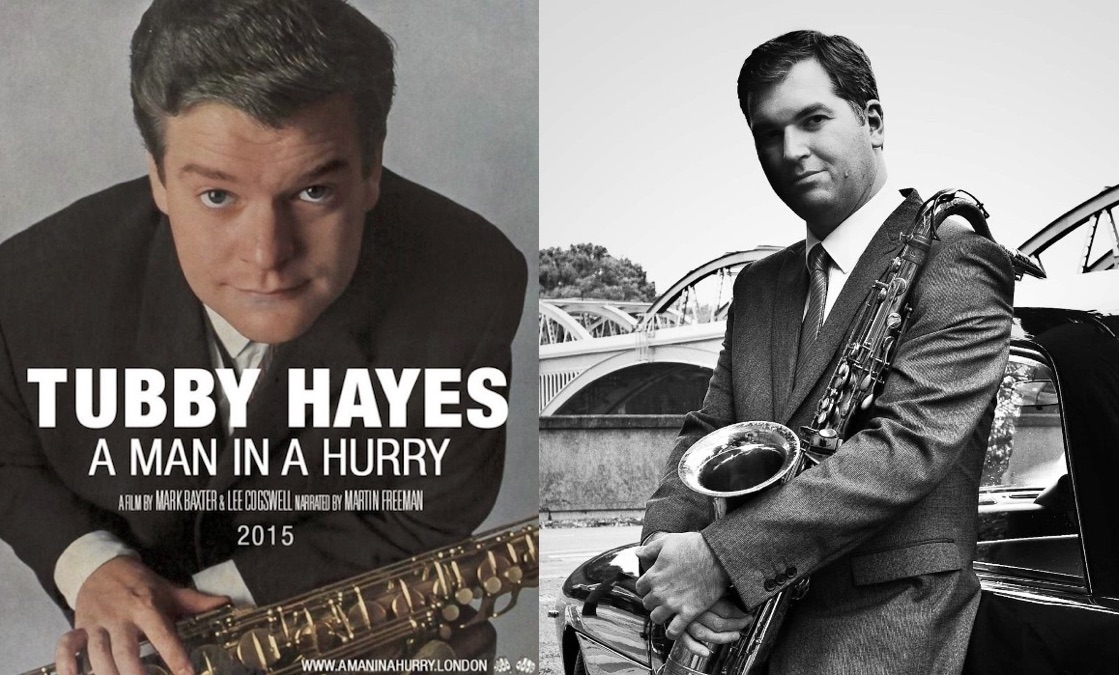 On Friday 11th May, Jazz in Reading, in collaboration with Music at Reading, celebrated the music and life of Tubby Hayes in the lovely setting of the University of Reading London Road Campus, with live jazz from the Simon Spillett Quartet followed by Mark Baxter's remarkable documentary film 'Tubby Hayes: A Man in a Hurry'; a format guaranteed to ensure that the flame of Tubby's spirit and musical legacy continues to shine brightly.
Born on 30th January 1935, and a professional musician by the age of fifteen, 'Tubby' Hayes is arguably the most complete jazz musician ever to emerge from these shores. His tragically brief career ended on Friday 8th June 1973 when he died following heart surgery. He was thirty-eight years old.
The five carefully selected numbers by the Simon Spillett Quartet cast their own distinctive light on Hayes' career. 'Royal Ascot', an early Hayes composition dedicated to the horse-racing proclivities of Ronnie Scott, opened the evening with the authoritative tenor sound and breakneck tempo that used to cast fear into rhythm sections whenever he played at provincial jazz clubs.
No such hesitancy here. Spillett's quartet, world-class musicians all, handled the challenge with consummate ease. And no wonder. Pianist John Horler and drummer Spike Wells each played with Tubby in their early careers; Wells as a regular member of both Tubby's quartet and big band in the late-1960s. Alec Dankworth, a brilliant bassist, is linked to Hayes via the association between Tubby and his father, the late Sir John Dankworth.
'The Serpent', another dedication, this time to Bix Curtis, a promoter and MC with whom Tubby toured with 'Jazz in London' in 1956, captured the barn-storming days of the Jazz Couriers, the band Hayes co-led with Ronnie Scott between 1957 and 1959. By this time Tubby's reputation had found its way to the States where musicians were beginning to sit up and take notice of the young 'upstart' from Britain. In 1961 he was invited to play at New York's famous Half Note Club. He also recorded with Clark Terry and an American rhythm section. Spillett's interpretation of the gorgeously bluesy 'A Pint of Bitter', the best-known number from that session, bore the distinctive imprint of its composer Clark Terry and served as an effective reminder of how Hayes could stretch-out at medium-tempo.
Hayes was a great ballad player and Spillett expressed the lyrical beauty of 'Souriya' to perfection, with an exquisite solo from John Horler and sensitive support from Dankworth and Wells. 'Off the Wagon' brought the set to a close. A highlight track on Tubby's landmark album 'Mexican Green', and once described as representing 'the strength, vitality and invention of Tubbs at his best', it featured a brilliantly conceived and perfectly executed drum solo from Spike Wells
The generous applause which followed spoke volumes for the appreciation of the audience. Simon Spillett remained on hand to introduce 'Tubby Hayes: A Man in a Hurry'. This remarkable documentary film, produced by Mark Baxter, directed by Lee Cogswell and released in 2015 to coincide with the eightieth anniversary of Tubby's birth, catches the energetic force of Hayes' personality and as the title implies, the relentless pace of his career. Narrated by Hayes devotee Martin Freeman it charts Tubby's life and times through interviews, archive photographs and rare movie footage. He lived enough during his thirty-eight years to fill several lifetimes. That such a life style extracted its inevitable toll is more than evident in the stark contrast between the buoyant, ever-smiling persona of Tubby in his heyday, and the harrowing, almost unrecognizable shots of him awaiting a court judgement following a drugs' bust towards the end of his life.
Baxter and his production team avoided the temptation to either over-eulogise Tubby's life or to portray him as the victim of an unsympathetic society. Nevertheless, the film leaves no doubt whatsoever that his arrest and subsequent conviction in 1968 for possession of diamorphine, incurring a fine of £50 with costs of £5.5s, tells us as much about the publicity seeking zeal of the notorious Det/S Norman "Nobby" Pilcher of Scotland Yard as Tubby's wayward habits. Tubby, I feel sure, took responsibility for his own destiny, and the film holds faith with that honesty.
At times the film has the comforting feel of a long-forgotten family photograph album opening-up a world otherwise lost for ever; the percussionist humping an enormous kettle drum on his back as he joined the crowded open-air musicians' labour-exchange on a Monday morning in Archer Street; the dowdy interior of Ronnie Scott's original club in Gerrard Street and scores and scores of sharply dressed musicians, their hair stylishly cut and held in place by oodles of Brylcreem. Until prompted by an observation in the film I had never considered the sartorial elegance of modern jazz musicians in the 1950s and 60s, but as several interviewees testified, 'looking the part' was an essential part of the jazz scene and indeed gave birth to the 'mod' culture we associate with images of 'Swinging London'. Not everyone could play like Tubby Hayes, but anyone could live the dream and dress like him!
Mouth-watering extracts from Tubby's big band broadcasts for BBC 2's 'Jazz 625' and appearances as a featured artist on TV spectaculars with the likes of Ella Fitzgerald and Henry Mancini, reminded us that Tubby was a well-known personality within the mainstream of entertainment. His on-screen film credits include the Hammer classic 'Dr Terror's House of Horrors', and it's Tubby's tenor which adds mounting tension to the closing scenes of 'The Italian Job'.
An inevitable weakness of the film is that so few of Tubby's contemporaries are still with us. Fascinating as they are, most of the 'talking heads' were drawn from a younger generation, like the producer Mark Baxter, who discovered Tubby via his recordings. This makes the contributions of those from who knew Tubby personally, like poet Michael Horowtiz and fellow musicians Spike Wells and Cliff Hardie doubly valuable. None more so than Tubby's eldest son Richard. He described his father as having a rather vague and distant place in his life. 'I didn't have time to be a father', Tubby confessed in a brief but telling interview clip.
Perhaps that statement encapsulates the ultimate tragedy of Tubby Hayes. Thrust too early into an adult world and living with the intensity of a Roman candle, he was in too much of a hurry to lay down the emotional foundations that would have given his life stability and longevity. There again, would he have produced the canon of incredible music that is his enduring legacy? Probably not.
Simon Spillett and Mark Baxter joined forces to round off the evening with a fascinating ''Q & A' session. Spillett's encyclopaedic knowledge of every minute detail of Tubby's life never fails to impress. However, as with Baxter, it is his love of Tubby Hayes that truly shines through. Edward Brian 'Tubby' Hayes, a flawed human being, but what a player!
Review posted here by kind permission of Trevor Bannister.
Evening's photos by Zoë White Photography.
---