Elftet | September 2018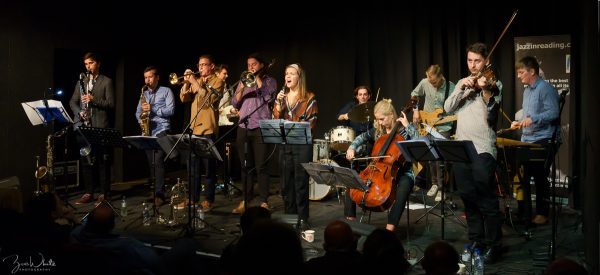 Friday 28 September, Progress Theatre, Reading
Jonny Mansfield vibes & leader, James Davison trumpet & flugelhorn, Rory Ingham trombone, Tom Smith alto saxophone, Sam Rapley tenor saxophone & bass clarinet, Dom Ingham violin & vocals, Ella Hohnen Ford vocals & flute, Laura Armstrong cello, Oliver Mason guitar, Will Harris bass guitar, Boz Martin-Jones drums.
We can't say that we weren't warned. Just a few weeks ago Jonny Mansfield, appearing with Jam Experiment, accepted an invitation to join Jazz in Reading's Bob Draper on the Progress stage for a brief interview to promote his forthcoming Elftet concert. 'Why an Elftet?' asked an incredulous Bob. 'An eleven-piece band!' 'It gives me the chance to write for a broad musical palette and to create colours and textures beyond what's possible in a small group,' replied Mansfield.
And how! Jonny's self-effacing response gave no hint of the immense power that eleven musicians, at the top of their game on the penultimate night of a thirteen-gig national tour, can generate. To say we were blown away is an under-statement. It's certainly no exaggeration to say that those privileged to be in the audience bore witness to the arrival of a major new instrumental and writing talent on the jazz scene. 'It was like a breath of fresh air,' remarked one stalwart of Jazz at Progress. For others, this writer included, it prompted memories of Messrs. Gibbs, Garrick and Westbrook in the nineteen-sixties and the later glories of Kenny Wheeler and Loose Tubes; bands which broke the established mould and added a new dimension to ensemble jazz.
Even in this day and age of heightened awareness of gender inequality, the jazz world is still dominated by all-male groups, where a female vocalist may be the only acknowledgement of women's contribution to this area of music.  Here, it was wonderfully refreshing to see two women, Ella Hohnen Ford and Laura Armstrong, absolutely intrinsic to the band line-up, performing as equal members of the ensemble and its improvising soloists, both of whose individual qualities added superbly to the unique sound of Elftet.
Mansfield may never have stepped into a sailing boat, as he admitted in his introduction to 'Sailing', but his impression of what he thought it might be like was the most perfect evocation of the experience that I can imagine. The blasts of Rory Ingham's declamatory trombone launched the piece into motion.  Alert to the challenges and ever-changing rhythms of wind and tide depicted by Mansfield's arrangement, Ella Hohnen Ford, her wordless vocal blending beautifully with Dom Ingham's violin, held a firm grasp on the tiller and brought the boat safely home. One couldn't fail to be impressed by the startling originality of Mansfield's writing, played with the spirit and gusto of a New Orleans street band, and the subtlety of the instrumental voicings. As he commented in his interview with Bob Draper, 'Writing a tune is straightforward. Making it work for the ensemble takes a lot longer.'
Mansfield's ear for putting together an interesting programme was fully in evidence in the next two numbers played back-to-back. 'Falling', a gentle lullaby inspired by 'Golden Slumbers' a poem by Thomas Dekker, contrasted brilliantly with 'For You', an almost pastoral piece, featuring the dazzling inventiveness of James Davison, winner of this year's Musicians' Company Young Musician Competition* on flugelhorn and the featherlight alto saxophone of Tom Smith. It finished with some stunning Gospel-like chords.
Sadly, ladybird's are now rare visitors to my garden. Mansfield's next piece, 'Wings', an interpretation of the traditional nursery rhyme 'Burnie Bee', used his vibes in a gorgeous combination with Ella Hohnen Ford's voice, the violin of Dom Ingham, Laura Armstrong's cello and Sam Rapley's bass clarinet to capture the exquisite beauty of this well-loved creature. But there is a darker aspect to this seemingly benign beetle, as Mansfield made clear in a vibes solo of growing intensity; it can exude a pungent fluid to ward off its enemies – ants, birds … people!
'Flying Kites' completed the first set. As with earlier pieces, Mansfield used the full resources of the ensemble, in this instance to create a vivid image of the joys and frustrations of flying a kite. The bass guitar of Will Harris anchored the kite firmly to the ground, while each player in turn helped to launch it into the sky; fantastic guitar from Oliver Mason, whose playing was a constant delight throughout the evening, pizzicato violin from Dom Ingham and a show-stopping drum solo from Boz Martin-Jones.
The second set opened with the thoughtfully reflective 'Silhouette', which amongst many delights featured a wonderfully free-form vibes solo by the leader with the rhythm section in support, the resonant tones of Sam Rapley's bass clarinet and a ripping alto solo by Tom Smith.
Mansfield crowned the evening with 'Tim Smoth's Big Day Out'. This imaginative and extraordinarily ambitious suite, lasting a full forty-five minutes, featured the ensemble members as soloists or in a variety of instrumental groupings that fully expressed the poetic qualities of Mansfield's writing. The repetition of a seemingly simple vocal line, from which Ford drew scope for endless variations, linked the respective parts together. One was almost overawed by the emotional maturity and technical brilliance of each player and their determination to push the music to the utmost limits. Tom Smith's (Yes, the play-on-words of the title scarcely disguises that this piece was written specifically for him as a tribute to his constant inspiration as a musician who always 'questions what is possible') unaccompanied alto solo, modelled on the work of American saxophone virtuoso Colin Stetson, held the audience spellbound as he extracted sounds from his instrument that no one could have imagined previously existed.
'Present', was written for fellow vibes player Jim Hart after he recommended that Mansfield read Eckhart Tolle's 'The Power of Now'. It brought the concert to rip-roaring close.
Jonny Mansfield is a worthy recipient of the 2018 Kenny Wheeler Jazz Prize awarded to a graduating musician at the Royal Academy of Music who demonstrates excellence in performance and composition. This has led to a recording opportunity, which features Elftet with special guests, Chris Potter on saxophone, Kit Downes on Hammond organ and Gareth Lockrane on flute. The album will be released on Edition Records early next year.
On Saturday 13th October he will be leading Elftet at the Marsden Jazz Festival with the presentation of 'On Marsden Moor', a specially commissioned suite that combines the instrumental ensemble with song and spoken word. This will be recorded by BBC Radio 3 and broadcast at 11pm on Monday 12th November.
As ever, our thanks to the Progress Theatre 'house-team' for their hospitality and the excellent quality of the sound and lighting.
I should like to round-off this review with the following comment; written by Marc Edwards, a gentleman who works tirelessly to promote emerging-jazz talent in the UK, but I feel sure, shared by many:
'A fabulous night at Progress. With players, bandleaders and composers of this calibre, the future of new music, powered by such a breadth of influences is bright.'
Review posted here by kind permission of Trevor Bannister.
Photo by Zoë White Photography
* Other finalists in this competition included saxophonist Alex Hitchcock, and bassist Joe Downard, both of whom will be familiar to Progress audiences.
---