Freddie Gavita Quartet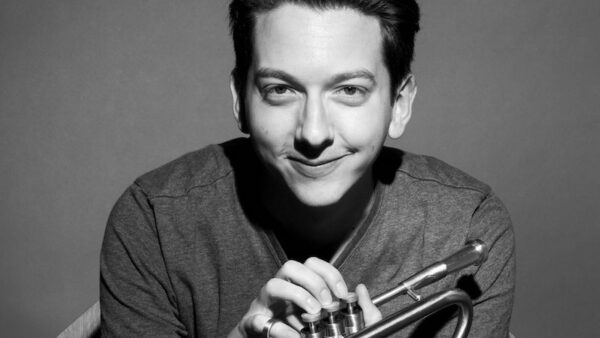 Livestream Jazz from the Boileroom, Guildford, Wednesday 10 February 2021
In collaboration with Guildford Jazz
Freddie Gavita trumpet/flugelhorn, Tom Cawley keyboard, Tom Farmer bass, Chris Higginbottom drums
Leaving aside the excellent quality of the music and the gold standards of presentation, sound and lighting, the informal post-gig 'Q & A' sessions have proved to be one of the key, and certainly most enjoyable elements of the recent Livestream concerts from the Boileroom, Guildford. There has been no lack of questions, each submitted online during the gig, and the musicians have responded warmly to Marianne Windham's infectious enthusiasm in her role as interviewer.
In the case of the Freddie Gavita Quartet, it was fascinating to learn that three of the players began their musical careers at an early age with the piano; Tom Cawley stuck with the instrument, while Freddie later switched to trumpet and Tom Farmer to bass (though not until he was eighteen and one night was forced to dep for an absent bass player). Chris Higginbottom's career began in a church choir, before he became firmly hooked on the sound of drums. When the musicians named their principal influences, you couldn't help but imagine what a band comprised of Miles Davis on trumpet, Phineas Newborn Jnr piano, Larry Grenadier bass and Roy Haynes on drums, might sound like. Roy Haynes, I'm delighted to say, is still with us at the remarkable age of 95, as is Larry, at a very active 55. Great fun!
The most searching question came from a gentleman who enquired about what advice could the members of the quartet offer to an aspiring jazz musician. 'Listen to players better than yourself,' came Freddie's instant reply, to the unanimous agreement of his colleagues. 'Listen,' echoed Chris Higginbottom, adding 'try to transcribe what people are doing.' 'Join a band,' offered Tom Farmer, 'and if you can't find one, form one!'
Freddie Gavita summed it up by saying, 'It's about finding a way to express the individual voice you can hear in your head.'
The spellbinding quality of Freddie's individual voice was immediately obvious in the opening bars of his own composition 'Yearning'; understated, flawlessly executed, beautifully articulated and warm in tone. He allows the music space to breathe and to grow in its own way. Tom Cawley added inventive momentum and demonstrated why he is such a highly regarded and much sought-after pianist. The singing bass of Tom Farmer and a subtle change of pace and time opened the horizon for further exploration and better trained ears than mine would have noticed that the band had segued seamlessly into Wayne Shorter's 'Yes and No' from his classic Blue Note album, 'JuJu'.
Herbie Hancock originally conceived 'One Finger Snap' as a dance of such complexity that it could only be performed in the 'glittering fantasies' of the inhabitants of the mythical 'Empyrean Isle'. Freddie's interpretation captured that vision in perfect detail and climaxed with a solo from Chris Higginbottom on drums, no mere technical workout, but a dazzling kaleidoscope of sound.
Freddie switched to the mellow tones of his flugelhorn for the gently paced 'Big Guy', a dedication to the late and much-lamented Michael Brecker, featuring the good humoured piano of Tom Cawley and the delightful walking bass of Tom Farmer.
Remaining in reflective mood, Freddie followed up with the exquisite 'Infant Eyes'. Livestreaming may have its limitations, but it could not constrain the tender emotions and sense of stillness expressed in this most beautiful of Wayne Shorter compositions.
As Freddie explained, 'Sprezzatura' is a word that sounds authentically Italian but is actually something he made up as a suitable title for a straight-ahead blast of bebop, which in turn would segue into the white heat of McCoy Tyner's 'Passion Dance'. The solos from each of the band members simply took the breath away, prompting a cheer and round of applause of such force from the 'live' audience of three – Marianne Windham and the Boileroom technical team of Dom and Beth, that it no doubt resonated throughout the 231 households of those viewing the gig across the UK and as far afield as Germany and Switzerland!
The gig came to a close with a heartfelt dedication to saxophonist Steve Main, who had passed away only that morning and the late Richard Turner.  'They were happy guys,' Freddie said, 'so this is a happy tune.' Full of warmth, good humour and audacious spirit, 'Turneround' was a fitting tribute to two much-missed friends and a perfect end to an enthralling evening of jazz.
Our thanks to the guys in the band and to Marianne Windham, Beth and Dom of the Boileroom and the combined support of Guildford Jazz, Berkhamsted Jazz, Chichester Jazz and Jazz in Reading for making the gig possible. Brilliant!
Some of the titles Freddie played during the evening can be heard on his latest album, 'Transient' which is available as a download from https://freddiegavita.bandcamp.com/
Review posted here by kind permission of Trevor Bannister
---