Derek Nash Quartet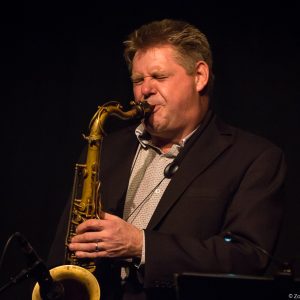 Livestream Jazz from the Boileroom, Guildford, Wednesday 10 March  2021
In collaboration with Guildford Jazz
Derek Nash saxophones, Graham Harvey keyboard, Marianne Windham bass, George Double drums
Watch out! By his own high standards, Derek Nash may not be totally 'match fit' after twelve months of Covid-enforced lay out, but back in the company of 'real' musicians, he's an explosive force to be reckoned with; the perfect guest to ignite the 'Boileroom' for its latest livestream in celebration of ten years of Guildford Jazz.
He hit the deck running with 'Water Jug', a Frank Wess dedication to another hard-swinging tenor man, Gene 'Jug' Ammons. The full tone of Nash's tenor set up a beautiful contrast with the elegant touch of Graham Harvey on the keyboard, all propelled by George Double's animated drumming and Marianne Windham's rock-steady bass.
Putting aside his muscular tenor saxophone for the lyrical tones of his near one-hundred-year-old Buescher curved soprano saxophone, Nash illuminated the darkest recesses of the Boileroom with the joyful 'Blue House Samba'. Inspired by the Mexican artist, Frida Kahlo, it was the first of four pieces from 'Down on Frenchman Street', Derek's latest album, dedicated to the area which has now become the centre of jazz in the birthplace of the music, New Orleans.
The Merriam-Webster dictionary describes a ladies' man 'as a man who shows a marked fondness for the company of women or is especially attentive to women'. Who else could that be but Duke Ellington? His most favoured and successful 'chat-up line, 'My, But You Make That Dress Look Lovely' (another track from the new album), inspired a sumptuous outing for the Nash baritone saxophone, in which the blues-tinged piano of Graham Harvey and the walking bass of Marianne Windham were two further highlights.
Pianist and composer Thelonious Monk was a man of few words and more often than not, no words at all, preferring to communicate more directly through his music. I guess that the classic Monkism, 'You Got to Dig It To Dig It, You Dig', stands on a par to the question once levelled at Fats Waller; 'Mr Waller what is swing?' To which he replied, 'Lady, if you gotta ask, you ain't got it!' As if to make the point, Derek Nash now on wailing alto, hit a funky groove and swung like the clappers on 'You Got to Dig It To Dig It, You Dig', title track for another recent album.
Neal Hefti famously contributed 'Li'l Darlin'' and 'Cute' to the Count Basie pad, one an object lesson in how to swing at the slowest pace imaginable, and the other a medium paced outing to feature the wire-brush work of the band's drummers. In this case, Derek Nash, reverting to tenor, upped the tempo and ingeniously intertwined the two tunes with a deft opening salvo by driving drummer George Double on brushes.
Readers of a certain age may well remember the BBC Northern Dance Orchestra (NDO) which broadcast regularly from Manchester for many years. Derek Nash's father, Pat, was an arranger for the band for 35 years, hence Derek was immersed in music and the world of musicians from his earliest years, counting legendary sidemen like Syd Lawrence and Gary Cox as part of his extended family. The delightful, spring-like, 'Waltz for My Father', with a gorgeous bass solo from Marianne Windham, paid a fitting tribute to Pat Nash.
The notoriously snobbish Broadway and Hollywood composer, Jerome Kern, regarded all jazz interpretations of his melodies as 'fraudulent imitations'. Was he squirming in his grave I wonder as Messrs. Nash and Harvey took their lead from the 1962 collaboration between jazz giants Gerry Mulligan and Paul Desmond, to perform an absolutely sublime arrangement of 'All the Things You Are'? He would surely have been impressed by the near telepathic understanding between the two protagonists and their breathtaking interplay, not to mention the sensitive support of Marianne Windham on bass and George Double on drums. As the saying goes, 'This number alone was worth the cost of the entrance ticket!'
Two more titles from 'Down on Frenchman Street' rounded off the evening; 'October', gorgeous ballad with Nash on tenor, and a spirited finale, 'Gmail Special' which expressed all the 'vim-and-vigour' of Benny Goodman's classic 1941 Sextet recording 'Air Mail Special' but managed to deliver its message in a fraction of the time. A great ending to a great evening!
No Livestream from the Boileroom would be complete without the Question & Answer Session, with Marianne Windham leading the discussion from questions submitted during the course of the evening by members of the online audience. As ever, the topics ranged far and wide, drawing a number of fascinating insights from each of the musicians and several memorable anecdotes. Notable amongst these was George Double's recollection of American vocal legend Jack Jones mispronouncing his name to the audience at the end of a concert so that it rhymed with Bublé and then thanked him for playing 'concussion'.
The session also provided the opportunity for Derek Nash to introduce each member of his saxophone family – a 1926 Buescher soprano, a Selmer Mark VI alto, a Selmer Super balanced action tenor (the same model played by John Coltrane) and a Conn Crossbar baritone (the same model played by Gerry Mulligan).
I have remarked in earlier reviews that Livestreams from the Boileroom are the next best thing to a live gig. This evening's concert took a step closer to complete authenticity with the appearance of a selection of Derek's CDs discreetly tucked away under a sidelight behind George Double's drums.
The full range of Derek's albums are available here
Our thanks to Marianne Windham, the driving force behind the Boileroom project, which now numbers eight organisations in its association, Fleet Jazz, Frinton Jazz, Scarborough Jazz and Southwold Jazz, having joined the founding members of Guildford Jazz, Berkshamsted Jazz, Chichester Jazz and Jazz in Reading, and which on this occasion attracted an online audience of 329!
Our thanks also to the Boileroom team of Beth and Dom, and Steve Helliker of Ultimate Stream, for the outstanding technical quality of the livestreams and the overall presentation which advances with every performance.
And finally, please raise a glass to Guildford Jazz on reaching its tenth Anniversary. Many congratulations!
Review posted here by kind permission of Trevor Bannister
---