The Clark Tracey Quartet Celebrate the Compositions of Stan Tracey 1952 – 2013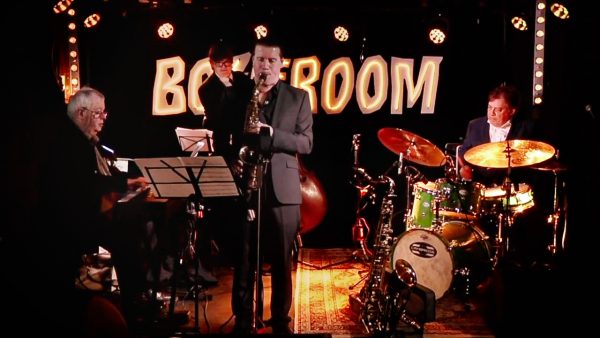 Livestream Jazz from the Boileroom, Guildford, Wednesday 14 April  2021
In collaboration with Guildford Jazz
Simon Allen soprano, alto & tenor saxophones, Bruce Boardman keyboard, Andy Cleyndert bass, Clark Tracey drums
Clark Tracey took on a monumental challenge when he began the task of selecting a set list to celebrate the compositions of his late father, the much-lamented Stan Tracey, for the hour-long Boileroom livestream.  For somebody who, by all accounts, was a reticent writer and found the process almost unbearably hard, Stan composed a vast library of consistently brilliant work throughout a professional career of more than six decades. It stands as an enduring legacy of his inventive genius. But what to choose and what to leave out, and how to represent Stan's bands and the great players who have figured in the various line-ups? And the greatest question of all: who should take on the role of Stan as pianist?
In response, Clark took the sensible course of choosing pieces which are well loved by Stan's countless fans and have an emotional link to his life; each reflected a decade in his career. As for who should assume the role of pianist, there could have been no better choice than Bruce Boardman. His beautifully placed voicings and percussive, pared-down approach to the music bore a remarkable affinity to that of Stan and proved a revelation. Shame on me for never having come across his talents before.
Loyalty to his fellow musicians was one of Stan's greatest personal qualities, matched in equal measure by their loyalty to them. Clark joined his father, aged 17, in 1988; Andy Cleyndert became part of Stan's New Quartet in 1995, while Simon Allen began his association in 2008. They remained at the core of Stan's bands until his death. In the 'Q & A' session after the gig, Clark recalled that Stan rarely commented on a players' performance. The only sure way to know whether he approved of someone's playing, was to see whether they were hired again for the next date.
Simon Allen's searing alto opened the gig with 'Euphony', Stan's first recorded composition dating back to a session for the Melodisc label in March 1952 with Victor Feldman's All Stars. Its boppish feel has stood the test of time and reminds us that at that formative time Stan was very much a disciple of Bud Powell.
You could almost describe 'Afro Charlie Meets the White Rabbit' as one of Stan's 'Greatest Hits', as he recorded it so many times and it lent itself to many different interpretations, from quartet, originally with the wonderful Bobby Wellins in 1964, to big band. A spikey, quizzical piece, light years away from 'Euphony', it affirmed Stan's stature as his 'own man'. Simon Allen and Bruce Boardman set the scene for a rumbustious escapade, with surprises leaping out at every twist and turn, the toe tapping rhythm held in place by the firm bass and drums of Messrs Cleyndert and Clarke.  As you would expect with this allusion to Lewis Carroll and Alice's various adventures, something magical was going on here!
By way of a contrast to the tight structure of 'Afro Charlie', 'Rainbow at the Five Mile Road' – an evocation of the longest stretch of open road on the island of Jersey – allowed the group to take flight and really swing. It's a track from the 1969 quartet album with Peter King, 'Free an' One' which has just been reissued on reSteamed Records RSJ114 as a double CD package titled 'Wisdom in the Wings', along with 'Seven Ages of Man' by Stan's big band. Two classic albums to check out.
Simon Allen switched to soprano for 'Honey Hill', a wistful impression of a location in the Kent countryside. One can easily understand why it was so heavily requested by Stan's fans. An absolute delight. It also holds special significance for Clark, as the recording in June 1980 marked the first occasion that Stan allowed him to play in a studio.
'Benology' hit an insistent groove to celebrate another family event, the arrival of Stan's first grandchild, Ben, in 1990, with Bruce Boardman adding a touch of drama to Simon Allen's passionate soprano.
One of the great benefits of livestreaming is being able to see musicians at work in close up; a series of virtual masterclasses as the cameras switched from instrument to instrument, holding the image long enough in each case to marvel at the touch and dexterity of the individual players. And what a fantastic overhead view we enjoyed of Clark's drum introduction to 'Pajaraz Exoticas' – an object lesson in percussive invention that set the pace for ever more colourful excitement to come – a dedication to Stan's visit to South America.
It seems to me that a truly great jazz musician can use his or her creative talent to express every subtle nuance of the emotional spectrum. Stan Tracey was a member of but a handful of musicians who could achieve such heights through both his playing and his writing. His music is timeless and the pieces which closed the evening not only bore that hallmark of greatness, but seemed especially pertinent to the unusual times we find ourselves in.
'Pudding and Mince', with its echoes of 'Under Milk Wood', was filled simply with the warmth and love of human nature at its very best. Bruce Boardman's achingly beautiful unaccompanied keyboard on 'Ballad of Loos', a dedication to Stan's father who was taken prisoner during the Battle of Loos on the Western Front in October 1915, taken from his final recording, brought the gig to a fitting and poignant close.
As ever, our thanks to Marianne Windham, the driving force at the hub of the Livestreams from the Boileroom, Guildford and to Beth, Dom and Steve for the outstanding quality of the technical production.
Review posted here by kind permission of Trevor Bannister
---