The Steve Fishwick Quintet | November 2018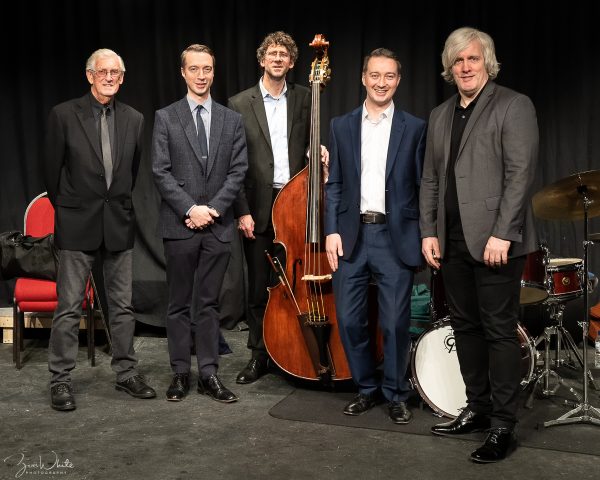 Friday 23 November, Progress Theatre,, Reading
Steve Fishwick trumpet, Grant Stewart tenor saxophone, John Pearce piano, Jeremy Brown bass, Matt Fishwick drums.
Jazz in Reading scored a mighty coup in securing the appearance on Friday 23 November of New York based tenor saxophone stylist Grant Stewart for his only UK gig outside London and ahead of performances at the BopFest Jazz Festival. Blessed with a huge sound and a slightly laid-back approach reminiscent of his idol Dexter Gordon, Stewart stamped his mark on proceedings from the outset, with front-line partner Steve Fishwick providing a perfect foil with his lightning fast trumpet. The programme bore the hallmark of classic bebop; frenetic, fast-paced, virtuosic and with a competitive edge that kept everyone on their toes – a powerful reminder of the 'new' music that took shape in the after-hours sessions of 1940s' New York, its potent force, enduring influence and a celebration of the creative genius of those who created it.
'Dance of The Infidels', an evocative and in these turbulent modern times slightly non-PC title, penned by the brilliant though severely troubled pianist Bud Powell in 1949, established the musical formula for the evening. The brief theme played in unison by the front-line provided the starting blocks for a string of freely improvised solos, resolved by a series of 'round robin' exchanges of varying length to bring the performance to a close.
Sounds simple? Don't be deceived, this is music to challenge the most technically gifted of musicians who would stumble at the first hurdle without a rhythm section of world class quality. John Pearce's elegant touch at the keyboard combined seamlessly with Jeremy Brown's beautiful bass lines to keep the music safely on course, while Matt Fishwick's mercurial drumming, an object lesson in bebop percussion, not only anticipated the route chosen by the principal soloists, but regularly pointed them towards new areas of exploration. Even Steve Fishwick, the epitome of poise and confidence, was moved to express his relief at the conclusion of John Coltrane's 'Straight Street'. 'That was hard,' he commented.
'Autumn in New York', a ballad feature for the tenor saxophone of special guest Grant Stewart brought a change of pace.  With the sensitive support of the rhythm he perfectly captured the bitter-sweet sentiments of Vernon Duke's composition from 1934. I especially loved the way he stretched the notes to hold every drop of emotion and the gorgeous cadenza which brought the tune to a close.
'Woody n' You', was written for bandleader Woody Herman by Dizzy Gillespie in 1942. Though never used by Woody it became a jazz standard nevertheless and in the hands of Messrs. Fishwick and Company it's not difficult to understand why; its appealing Afro-Cuban rhythms provided a launching platform for some dazzling solos.
The beboppers' modus operandi of reworking established popular standards by grafting an exotic title and a new, usually much more complex melody, on the original chords served the dual purpose of breathing fresh life into ageing musical war-horses and more importantly, generating a useful source of revenue from royalties. In this way 'Sweet Georgia Brown' gave birth to 'Sweet Clifford' under the guiding hand of trumpet master Clifford Brown, a number which brought the first set to a truly thunderous climax with a breathtaking drum solo from Matt Fishwick.
Tadd Dameron's 'The Scene Is Clean', memorably recorded by Clifford Brown and Sonny Rollins in 1956, opened the second set. Steve Fishwick and Grant Stewart wove their way around Matt's atmospheric drum patterns before settling down to a gentle swinger at mid-tempo in which John Pearce's elegant piano solo was one of many highlights.
'Little Willie Leaps' came to life at a 1948 session for Savoy records, which for contractual reasons nominated Miles Davis as leader of what was in reality the Charlie Parker Quintet. Davis provided the four titles, while Parker himself played tenor rather than his familiar alto sax.  Unlike the brooding melancholy of so much of Miles' work, this number is full of joyous expression which set the band into full flight.
Steve Fishwick took centre stage for Victor Young's timeless classic 'Stella by Starlight'. A reflective ballad beloved of trumpet and saxophone players alike, Steve demonstrated his remarkable powers of invention and technical assurance aided by the subtle support of his colleagues – the haunting tone of Grant Stewart's tenor, John Pearce's 'moonlight' touch on the keyboard, Jeremy Brown's perfectly placed bass notes and Matt Fishwick's gentle brushwork.
A great evening drew to a close with a bow to the time-honoured jazz tradition of 'sitting-in'. A whispered aside from Grant to Steve resulted in an invitation to tenor saxophonist Osian Roberts, who 'just happened' to be seated in the audience and who 'just happened' to have his instrument at hand, to join the band. In a mixture of surprise on his part and the delight of the capacity audience, Osian duly appeared stage-left to contribute an excellent solo to 'Bouncin' with Bud'. He remained on stage for an 'all hands to the deck' tear-up on 'Tea for Two', which closed with another explosive drum work-out by Matt Fishwick.
One notable feature of the gig which could easily have been overlooked and left unreported, was that no amplification and only one microphone, used only for announcements, were in use throughout the evening. In other words, the wonderful quality of the sound, especially the full, rounded tone of Grant Stewart's saxophone emanated solely from the instruments themselves and the natural acoustic of the Progress auditorium.
We hope that Grant enjoyed his visit to Reading ahead of a full weekend of appearances at the BopFest Jazz Festival and before flying home to the States for a gig in Kansas. As one might say, 'Reading today. Tomorrow the world!'
As ever, our thanks to everyone at Progress for providing such warm hospitality and for ensuring that every aspect of the evening ran smoothly.
Review posted here by kind permission of Trevor Bannister.
Photo by Zoë White Photography 
---