Jean Toussaint Sextet "Brother Raymond Tour" | December 2018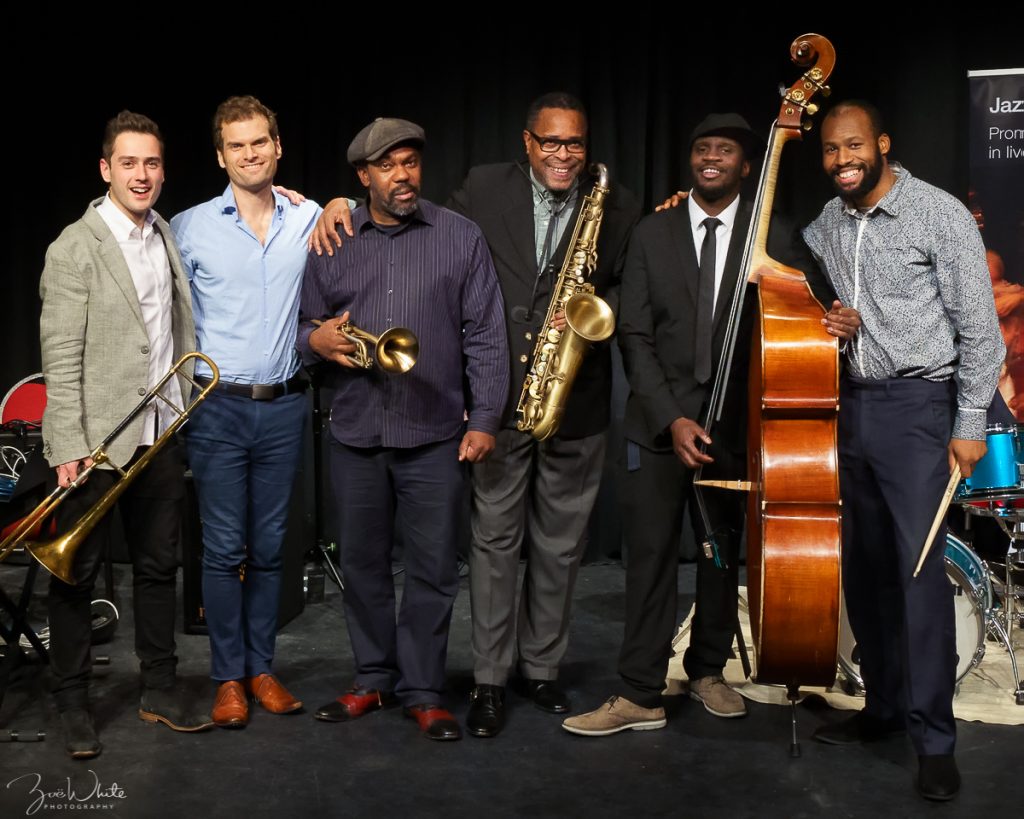 Friday 14 December, Progress Theatre, Reading
Jean Toussaint tenor saxophone, composer, leader | Byron Wallen trumpet, composer, percussion | Tom Dunnett trombone | Daniel Casimir double bass, composer | Andrew McCormack piano | Shane Forbes drums
Just when you thought you could escape Brexit for a few hours at a jazz concert, an ex-Jazz Messenger reminds you with a composition prompted by it! Yes, it was Jean Toussaint, promising to warm up the capacity Progress audience on a freezing night, as the Sextet kicked off what was billed as the last stop on their UK (plus brief diversion to Paris) "Brother Raymond Tour".
With the last concert of the year in Jazz at Progress' varied 2018 – 2019 season, what had been planned as a quintet, evolved to a sextet with the late addition of Birmingham Conservatoire graduate Tom Dunnett on trombone. Promoting his album, the "Jean Toussaint Allstar 6tet: Brother Raymond", the now London-resident former Jazz Messenger presented a programme of original compositions (an encore one exception), mainly drawn from the CD.
Jazz musicians like giving their compositions cryptic titles (sometimes derived from foreign languages); Mr Toussaint explained "Amabo" was dedicated to Barack Obama, (spelt backwards). Fortuitously, he discovered this means 'I shall love' in Latin. Indeed the opener, starting with contrapuntal lines from the horns, had a strong latin (-american) feel. New York based Andrew McCormack provided a percussive piano solo.
First of the evening's compositions from other band members, "Gate Keeper", again with latin rhythms, by composer and trumpeter Byron Wallen – a late change to the line-up – was built on a simple two note repeated rhythmic figure.
Shane Forbes (2009 winner of The Musicians Company Young Musician Award) was in the spotlight for a drum feature at the start of the following number, second of the evening from the album, "Doc", composed by Jean Toussaint, and dedicated to the band leader's cousin.
Hoping to assuage any referendum-induced negativity, Jean Toussaint introduced his next composition, "Major Changes"; based solely on major chords, this is a bright, up-tempo piece with a calypso pulse.
Opening the second set on a slow ballad, "Milena", Jean Toussaint noted the number was dedicated to his girlfriend, the inspiration for much of his music. As with all the original material in the concert, the piece has a carefully planned structure with ensemble passages, solos with rhythm section, or horn accompaniment, and interludes.
Next we heard the CD title track, "Brother Raymond", a medium-tempo composition with rich voicings from the front line. As well as instrumental ensembles, the horn players sang a wordless vocal riff over a bass and drum duet.
Another Birmingham Conservatoire graduate (and 2016 Young Jazz Musician Award winner), bassist Daniel Casimir wrote the beautiful "The Missing of Sleep" for his daughter born four weeks previously. A deceptively simple figure in triple time, repeated first by tenor and bass, leads into a minor theme with Eastern sounding harmonies and rhythm. Muted trumpet and trombone lent further colour to the arrangement.
Last number in the main programme, "Mingus Fingus", a tribute to the celebrated bass player, is not Charlie Mingus' own ("pre-Bird") composition, but a further selection from "Brother Raymond".
An encore started with a drum solo, leading into the familiar drum intro to Benny Golson's "Blues March", recalling Jean Toussaint's earlier career with the band that made the tune famous. A great ending to a memorable evening!
With appreciation and seasonal wishes for the Progress and Jazz in Reading teams.
Review posted here by kind permission of Clive Downs
Photo by Zoë White Photography
---