Jazz in Reading and Bracknell Jazz present Mark Lockheart's Orchestral Jazz Suite 'Days on Earth' |

Buy tickets
Friday 27 September | Wilde Theatre, South Hill Park Arts Centre | 7:45pm | £23.00, Members/Senior Citizens/Unemployed £22, NUS students £10.00, School and music groups of 5+ £5.50pp. Disabled with companion tickets available.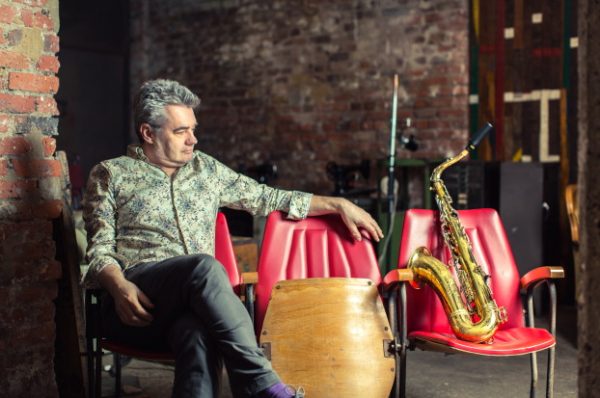 Photo by Dave Stapleton
Jazz in Reading and Bracknell Jazz have joined forces to present Mark Lockheart's epic orchestral jazz suite in six movements, Days on Earth, at the Wilde Theatre, South Hill Park Arts Centre,  as part of a major UK tour.
The star studded jazz ensemble, comprising Mark Lockheart saxophone, multi-award-winning Laura Jurd trumpet, Roland Sutherland flute, Alice Leggett alto sax, Liam Noble piano, Mike Outram guitar, Tom Herbert bass and Seb Rochford drums, will play the first half. They will be joined after the interval, for Days of Earth, by Sam Rapley clarinets, Jim Rattigan and Lawrence Davis French horns and a string section.
Mark Lockheart is an innovative force of world class as both a saxophonist and composer, with a CV that includes Loose Tubes, In Deep, Fellow Creatures, and Perfect Houseplants.
Days on Earth, officially premiered at Milton Court Concert Hall, London on 9 January of this year and recorded at Mark Knofler's famous British Grove Studios, is Mark's most ambitious project to date. It captures the broad range of emotion by interweaving the spiky lines and smooth contours of contemporary European jazz with the shifting textures of the augmented strings – a magnificent culmination of the over two billion seconds that Mark Lockheart has been 'eating, sleeping, thinking, playing and composing music'.
Described by MOJO as 'cinematically compelling', Days on Earth received a four-star review in John Fordham's 'Guardian' review. He wrote: 'Lockheart's laconically Wayne Shorter-ish sax sound and influences including Duke Ellington, Gil Evans and Burt Bacharach, as well as his Loose Tubes and Polar Bear alumni have brought him now to the most ambitious recording of his two decades as a leader … Lockheart's inclusive imagination invites a wide audience … and the fine improvisers are right on his wavelength.'
Ian Mann commented on his Jazzmann website that 'His most ambitious project yet and an obvious labour of love, Days on Earth is shaping up to be a major triumph for Lockheart.'
This is a rare opportunity to see a major jazz work outside of London and not to be missed.
Buy tickets or call the Box Office on 01344 484123
---