Jazz at Progress | Martin Speake Quartet ft. Ethan Iverson |

Buy tickets
Fri 27 Apr | Progress Theatre, Reading | 7:30pm | £20.00 (£18.00 concessions) plus maximum 5% booking fee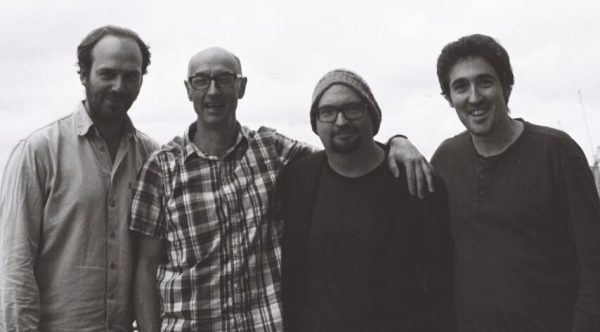 Martin Speake alto saxophone, Ethan Iverson piano, Fred Thomas double bass, James Maddren drums

Ethan Iverson, pianist with the game-changing US jazz outfit 'The Bad Plus', joins Martin Speake and his trio for this incredible evening of lyrical, subtle and inspiring jazz. Martin and Ethan met fifteen years ago while studying in Canada and since then have played and recorded together and separately with a stellar line-up of jazz luminaries. Their latest album together will be released in 2018 and compositions from it will be featured at this not-to-be-missed Progress gig.
Martin Speake studied classical saxophone at Trinity College of Music. He toured Europe, South America, Africa and the USA with Itchy Fingers appearing at major jazz festivals and playing on their first two CDs. In 1986 they won the Schlitz Young Jazz Musicians of the Year Award, which was televised by the BBC. In 1988, he left the group to develop his own projects, which have been many and diverse and established him as leading a composer and improviser. Martin is as comfortable playing personal interpretations of the music of Charlie Parker with his quartet, free improvising with drummer Mark Sanders, playing standard ballads in duet with Ethan Iverson and performing Indian music with Dharambir Singh and Sarvar Sabri. He has recorded 18 CDs including the internationally acclaimed ECM release Change Of Heart with Paul Motian, Bobo Stenson and Mick Hutton. Martin is a committed jazz educator and in addition to Trinity Laban Conservatoire of Music and Dance he teaches at the Royal Academy of Music and the National Youth Jazz Collective Summer School.
Pianist Ethan Iverson is currently one-third of The Bad Plus, the game-changing US collective with Reid Anderson and David King. The New York Times called TBP '…Better than anyone at melding the sensibilities of post-60's jazz and indie rock.' TBP has performed in venues as diverse as the Village Vanguard, Carnegie Hall, and Bonnaroo; collaborated with Joshua Redman, Bill Frisell, and the Mark Morris Dance Group; and created a faithful arrangement of Stravinky's The Rite of Spring and a radical reinvention of Ornette Coleman's Science Fiction. In addition to TBP, Iverson participates in the critically-acclaimed Billy Hart quartet with Mark Turner and Ben Street and occasionally performs with an elder statesman like Albert 'Tootie' Heath or Ron Carter. Time Out New York selected Iverson as one of 25 essential New York jazz icons: 'Perhaps NYC's most thoughtful and passionate student of jazz tradition – the most admirable sort of artist-scholar.' In 2018 Iverson will be premiering an original piano concerto with the American Composers Orchestra.
Fred Thomas, on double bass, is one of London's most sought-after multi-instrumentalists and composer/arranger/producers. A member of the F-IRE Collective, he recently embarked on a trilogy of J S Bach recordings to be released on ECM, The Silent Howl and Odradek Records. Other projects include his Polyphonic Jazz Band, a quintet with Martin Speake that explores improvised counterpoint and a Richard Wagner tribute band with jazz pianist Liam Noble.
Thomas has appeared or collaborated with a wide variety of artists, including Jarvis Cocker, Basquiat Strings, Kadialy Kouyate, Jason Yarde, Julian Siegel, and Seb Rochford. He has toured worldwide with Filter Theatre and as musical director with Shakespeare's Globe, as well as producing albums for many artists throughout Europe. His most recent compositions, for voice, string quartet and percussion, were commissioned by BitterSuite and Phaedra Ensemble and are being performed internationally and at the Royal Opera House, London.
Drummer James Maddren hails from Horsham, Sussex. In 2004 while still at school he travelled to London to study with one of Europe's top multi-instrumentalists, Jim Hart, who Maddren cites as a significant early influence and inspiration. In 2005, he went on to study jazz percussion at the Royal Academy of Music with Martin France as his drum tutor. Graduating in 2009 with a 1st class degree, Maddren was also given 'The Principal's Award For Outstanding Studentship'. Currently one of London's first-call young drummers, he excels at performing all kinds of music and has shared the stage with many artists and ensembles, including the Gwilym Simcock and Kit Downes Trio, the Marc Copland/Stan Sulzman Quartet, the Ivo Neame Group, Alex Garnett's Bunch of Five and Phronesis.

---