Chris Laurence Quartet – March 2018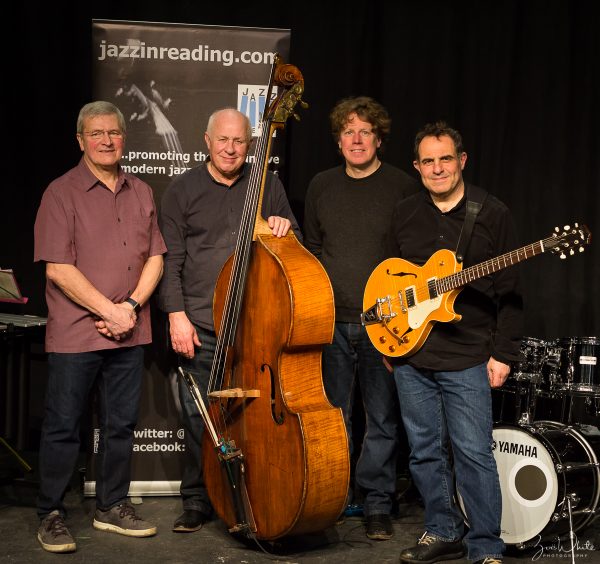 Progress Theatre, Reading, Thursday 29 March 2018
Chris Laurence bass, Frank Ricotti vibes, John Parricelli guitar, Martin France drums
Take four world-class musicians who spend much of their professional life in studios, happen to be long-standing associates; Chris Laurence and Frank Ricotti first met as members of the National Youth Orchestra fifty years ago, good friends and connected by the common thread of having worked with Kenny Wheeler. Put them together with the opportunity to express themselves freely with music of their own choice, and with a set list drawn from the greats of jazz composition like Wheeler and John Taylor, and you have the ideal ingredients for a creative evening. No matter, battling with pre-Bank Holiday traffic or dreadful rain-swept driving conditions, the gig is the thing, to which the appreciative Progress audience were fortunate to bear witness on 29 March.
Chris Laurence neatly summed up the band's philosophy after the opening number, Kenny Wheeler's 'The Jigsaw'. 'When you put a jigsaw together,' he remarked. 'The picture is always the same. But when we put our jazz jigsaw together the picture is always different.'
Chris is phenomenal, as much a front-line player as the rhythmic heart of the quartet. He rightly occupies centre-stage rather than the bassist's customary place tucked away at the back. I can think of players with a bigger sound, but no one with such melodic elegance, speed, exquisite delicacy and emotional depth. He conjures sounds from his instrument that one cannot imagine previously existed, a quality he attributes to his years of experience in a huge range of music. His deeply moving introduction to Kenny Wheeler's 'Old Ballad', a dedication to his father, showed him to be a perfect interpreter of the composer's unique emotional landscape and its curious mix of melancholy and joyful life-enhancing celebration.
Frank Ricotti is a wizard of the vibes. His four-mallet approach to the instrument is a spellbinding sight to behold, whether it be in creating swinging, fast-flowing solo runs, playing straight ballads, Cole Porter's 'Everything I Love' or 'Summer Nights' by Harry Warren's, or filling in the ensemble sound with Airto Moreira's delightful Latin American excursion 'Mixing' or John Taylor's hauntingly atmospheric 'Between Moons'.
John Parricelli is a story teller, who holds one in his narrative grip as each solo unfolds. His extended contribution to 'Brewster's Rooster', the title track from John Surman's 2007 album with John Abercrombie, was especially effective, with its feel of bluesy-rock. As Chris Laurence declared in his introduction, this was not the sort of number one usually associates with John Surman, but great fun!
Martin France, technically brilliant, but never over powering, upholds the school of drumming pioneered by Elvin Jones and Tony Williams; time is implied rather than openly stated.  This floating platform of sound and rhythm gives a wonderful sense of freedom that allows the musicians to head off in any direction they choose … and this is music that keeps everyone on their toes!
His featured number, another Kenny Wheeler composition 'Mark Time' prompted me to wonder whether the composer ever served in the military. He would have learnt to Mark Time on the parade ground, keeping time precisely with his squad, but marching on the spot without moving forward. There was nothing military-like about 'Mark Time', but it did make me think that sometimes, and certainly in this case, given the collective inventive genius of the band, an awful lot of musical territory can be explored without necessarily having to move off the spot.
Above all this band is a true ensemble, drawing on all the colours within its sound palette to create music of the highest order. Stan Sulzmann's 'Saying No' was a case in point; a composition for Stan's big band, that lost none of its vigour or impact for having been reduced to an arrangement for a small group. It also celebrates a particularly rich vein of British jazz based on the music and enduring spirit of Kenny Wheeler and John Taylor.
The evening finished with two more compositions from the prolific pen of Kenny Wheeler. 'Everybody's Song But My Own' is perhaps the nearest thing that Kenny ever had to a hit tune, a beautiful, emotionally ambiguous tune in waltz time, it rightly deserves its place as a modern jazz standard. The 'The Long Waiting' brought things to a slow-paced and thoughtful close with yet another reminder of what a marvellous bass player Chris Laurence is.
A young fan summed things up perfectly as he left the auditorium. 'I just loved the sound,' he remarked.
As ever, very many thanks to the Progress team for their warm hospitality, adaptability and a range of skills that ensure 'Jazz at Progress' always runs smoothly.
Review posted here by kind permission of Trevor Bannister
---