Tom Smith Septet – August 2017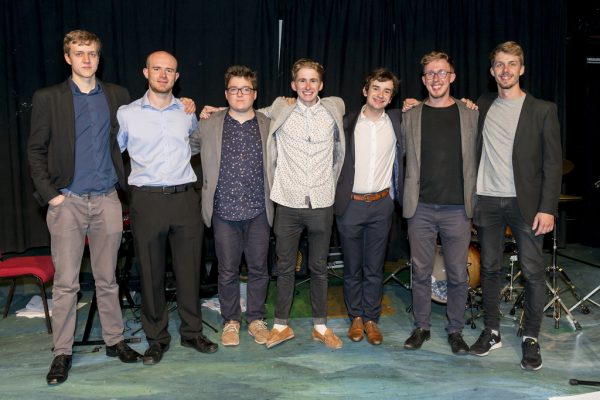 Photo by Colin Swain Photography
Progress Theatre, Reading | Friday 18 August 2017
Tom Smith alto, Alistair Martin trumpet/flugelhorn, Olli Martin trombone, Alex Hitchcock tenor, Will Barry keyboard, Conor Chaplin bass, Will Cleasby drums
"The best jazz I've heard all year!"  Who could argue with that judgement of the Tom Smith Septet, overheard as the packed audience made its way out of the Progress Theatre on Friday 18 August. Like a reincarnation of the innovative Johnny Dankworth Seven, alto saxist Smith has brought the concept bang up-to-date for 2017. He uses all the resources of the line-up to present his writing and arranging to maximum effect; great soloists, players working together in various combinations, a precise ear for dynamics and a glorious ensemble sound to lift the roof – it's music with all the spontaneity and joyful energy of the moment, with a grateful nod to the jazz heritage of the past.
Strike Up The Band, a Gershwin favourite from 1927, set things off to a flag-waving start at a swinging tempo guaranteed to get the 'chops in shape'. A friend recently opined that J.J. Johnson and his followers virtually killed off the trombone as a solo instrument. So intent were they to play the notes with machine gun rapidity, that they ignored the inherent beauty of the instrument's tone. No such problem with Olli Martin. His playing on this, and throughout the evening, combined the soulful bravura of Kid Ory, with the musical sophistication of Urbie Green, adding a rich depth of sound to the front-line.
Tom Smith is a sparky live-wire of a character. His engaging introductions, infused with fun and good humour, formed some of the highlights to the evening. It would be hard to imagine that he ever sits still and or fails to take up a challenge. "I thought it would be good to explore something broody" he explained, succeeding completely with Freddie Freeloader. A marvellous bass introduction from Conor Chapman (on his first gig with the band) set the mood, as the band took the Miles Davis classic, arguably the one up-beat track on Miles Davis' classic album 'Kind of Blue', into much darker, enigmatic territory; a portrait of Miles himself perhaps?
By contrast, Voyage and Return, dedicated to Maria Schneider, the American composer and big band leader, was much brighter and optimistic, with a thrilling alto solo from the leader.
Alex Hitchcock's poised and confident tenor led the way into Come Rain or Shine, cleverly orchestrated to express the full drama of Harold Arlen's declaration of unswerving love.
Alistair Martin's mellow flugelhorn and the celestial keyboard of Will Barry featured on Infant Eyes, a beautiful ballad from the pen of Wayne Shorter, before Will Cleasby (also making his debut with the band) and the rhythm section set the pulses racing with a Latin-American 'tear-up' Flamenco Carlos – a gladiatorial front-line 'battle' between Alistair Martin and Alex Hitchcock, a short-break of complete free-playing (what used to be known as 'freaking out') with everyone joining in the fun and a sudden ending. Great!
"This is a world premiere," Tom announced, as he introduced an as yet untitled piece inspired by Carla Bley's 'The Lord is Listening To Ya, Hallelujah', and dedicated to his father, Steve Smith – the source of Tom's love for jazz, who was in the audience with other family members. With Olli Martin taking the role of preacher, and the band his faithful congregation, the number brought the first set to a triumphal and deeply emotional close.
Will Cleasby set the second set in motion with his delicate brushwork, before switching to sticks and driving the band along in top gear, and soloing, on That Old Black Magic; another old favourite, delivered with all the freshness of a newly-minted coin.  Blues for Toulouse, dedicated to the 'exceptional acoustics' of the Toulouse Lautrec Brasserie in Kennington rather than the French impressionist, hit a nice blues groove with a soulful solo from Alex Hitchcock, his tenor sound reminiscent of the late and much-lamented Bobby Wellins.
"I like to use new numbers," Tom explained, "you've got an excuse if they don't quite come off," he added mischievously. He needn't have worried; Viking Dance came off perfectly.  The reflective 'The Road Ahead' again featured Alistair Martin on flugelhorn and Will Barry to great effect, and a searing alto solo from Smith.
Tom dedicated the closing number, The Last Taxi Out Of Frenchman's Street, to another inspirational member of the Smith family, grandfather Peeps Smith, also in the audience. He toured the jazz clubs and dance halls of Britain and Europe in the heyday of the trad boom, playing drums in such bands as Humphrey Lyttelton's.
It was entirely apposite for Will Cleasby to lay down a joyfully infectious New Orleans beat on his snare and bass drums, and cast the band into full flight to build up a head of steam on what Smith described as 'a second line mash-up'. It was every man for himself in the mounting excitement. An intriguing Milestones-ish line from the front line calmed the tension a little, in readiness for Will Barry to take centre stage with a solo that steadily grew in intensity. It came to a climactic ending with the return of the full band heralding Will Cleasby's explosive drum solo. "Normally I can't stand drum solos," commented a neighbour in the audience, "but that was something else."
Despite the fast approach of the 'witching hour' of 10 o'clock, there was no way the band would be allowed to leave the stage without an encore number. Tom duly obliged with Swansea Uproar, a musical depiction of what he thought an uproar in Swansea might be like if ever he visited the city. Alex Hitchcock opened the number with a salvo of rapidly-fired notes, while Alistair Martin responded more economically with carefully placed notes that kept the pots boiling.
The rapturous applause and loud shouts for 'MORE!' at the end of the gig, speak for themselves, this indeed, was an evening of great jazz – full of spirit, technical brilliance and emotional expression. Oh yes, and one thing I have so far failed to mention – all this from seven guys with an average age of about 23, and a leader, Tom Smith, who has yet to complete his studies at the Royal Academy of Music. And as for alluding to the Johnny Dankworth Seven earlier in this piece – it was the launching pad for an illustrious career in music for Sir John, as he later became. Who knows what might be in store for Tom Smith and his compatriots? As Jim Wade, genial MC for the evening, remarked, "With these guys around, the future of jazz is in safe hands."
As ever, our grateful thanks to Martin Noble, sound and lighting man par excellence. House Manager Stuart McCubbin and all the Progress team who provide such a warm welcome and ensure that all runs smoothly.
Also, special thanks to Marc Edwards, Curator of Brecon Jazz Futures, an innovative project committed to developing the interests and playing opportunities for emerging young jazz musicians, who helped to make the concert possible.
Review posted here by kind permission of Trevor Bannister
---