Claire Martin/Dave Newton – June 2017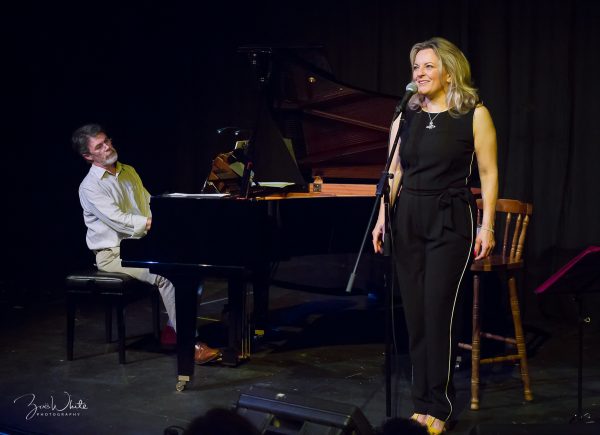 Progress Theatre, Reading | Friday 23 June 2017
Claire Martin vocals, Dave Newton piano
A Midsummer Night's Jazz
World class' like 'genius' is a grossly over used term, but in the case of Claire Martin and Dave Newton it happens to be absolutely true. Recognised individually by numerous accolades and awards, as a duo they form an irresistible combination, enchanting a sell-out audience with an evening of wonderful music. Their jazz artistry shone through a programme drawn from the Great American Songbook, confirming Claire Martin's own place in the pantheon of great female song stylists to whom she paid tribute: Ella Fitzgerald, Billie Holiday, Peggy Lee, Lena Horne, Shirley Horn, Carmen McRae, Diana Krall, Sarah Vaughan, Nina Simone, Eartha Kitt, Keely Smith, Helen Merrill, Blossom Dearie, Ernestine Anderson and Anita O'Day. Claire Martin is up there with the best!
'I Love Being Here With You' set things swinging. After a hectic recent schedule, including an appearance with the BBC Big Band, one felt that Peggy Lee's lyrics truly echoed Claire's pleasure at singing in the intimate setting of Reading's Progress Theatre rather than a cavernous concert hall. 'I like being able to see the whites of the audience's eyes,' she remarked.
'Undecided', an early hit for Ella Fitzgerald with the Chick Webb Band in 1939, was taken at a brisk pace with dazzling piano from Dave Newton. Claire gave full rein to the role of the exasperated girl whose boyfriend simply can't make up his mind about their future and confronts him with the final ultimatum, 'So what are you gonna do?' Sounds familiar?
A special magic exists between Claire and Dave; barely exchanging a word, their musical understanding is complete, none more so than in the Gershwin brothers' 'How Long Has This Been Going On?' Economic, understated, tasteful; the pair complemented each other perfectly to express the bitter-sweet beauty of the song.
'Come Runnin', dedicated to the beautiful Lena Horne, served to remind us of her immense talent as a singer, dancer and actress, and also of her role as an advocate for Civil Rights. She lent support to the movement at great personal risk to herself and her career.
Cole Porter's suggestion that you could get a 'Kick from cocaine' may have been OK for sophisticated Broadway audiences when 'Anything Goes' opened in 1934, but it was way too much for the film censors. Porter replaced the offending line with, 'Some like the perfume in Spain'. Did you have to distil it first? Needless to say, Claire Martin delivered the line with potent force and complete authenticity!
Duke Ellington's 'I'm Just a Lucky So and So', with lyrics by Mack David, deserves to be better known; a delicately quirky tune, it's a wonderfully simple declamation of the joy of living. In the hands of Martin and Newton, a minor masterpiece.
There were times, Nina Simone's ''Too Much In Love To Care' was a good example, where the marvellous sound of Dave Newton's piano took on the proportions of a full orchestra – bass, drums, brass and sax sections. He is a phenomenal pianist: inventive, witty; sometimes teasing the notes from the keyboard, he will break into a little boogie-woogie, stride or even a be-bop run; at the fastest tempos he never seems rushed, tossing a beguiling quote into the mix before heading back to the melody and a seamless hand-over to Miss Martin.
Two contrasting songs completed the first set, each, in quite different ways, revealing the expressive range of Claire Martin's voice; the anguish of 'I Loves You Porgy' from 'Porgy and Bess', and the subtle suggestiveness of Jerome Kern's 'I Won't Dance' . 'I know that music leads the way to romance', she sang with a twinkle in her eye.
The second set continued the 'romantic' theme established before the break with another risqué number, recorded by Eartha Kitt amongst many others, Cole Porter's 'Let's Do It (Let's Fall in Love)'. As comedian Max Miller might have said, 'It's all in yer mind missus.'
Apart from being a very fine vocalist, the late Mel Tormé also penned a number of great songs, including 'Born To Be Blue', an evocative tale of sadness and lost love. Claire negotiated the lyrics of the fast-paced 'Caravan' with consummate ease, while Dave Newton concocted a heady mix of middle-eastern spices at the keyboard.
'Wonder Why?', came next, a lovely Oscar nominated song by Sammy Cahn, and thankfully saved from the obscurity of the 1951 movie 'Rich, Young and Pretty'. Forever, associated with Ella Fitzgerald, the centenary of whose birth was marked in April, 'Someone To Watch Over Me' remains a showstopper, with Claire capturing the heart-touching tenderness of the song to perfection.
Dave Newton set 'Cheek to Cheek', Irving Berlin's classic number from 'Top Hat', in motion with a deceptively simple figure that kept you on the edge of your seat with anticipation; you had a good idea what was in store, but didn't quite know when it was going to happen. And then it did! Wow. The number took off, conjuring vivid images of Astaire and Rogers whizzing round the dance floor in full flight.
It came as no surprise to learn from Claire that Shirley Horn was one of Miles Davis' favourite singers. Her arrangement of the moody, haunting 'Quietly There' by Johnny Mandel, would have exactly suited him.
The evening roared to a close with a flag-waving rendition of the Irving Berlin favourite 'Blue Skies', closely followed by a 'get down and dirty' blues from Ernestine Anderson, 'Never Make You Hope Too Soon', which brought the house down with rapturous applause and calls for more! Ms Martin and Dave Newton duly responded with an elegantly swinging à la Anita O'Day interpretation of 'You Turned The Tables On Me'.
A more than satisfied member of the audience neatly summed up his enjoyment of the evening as he made his way out of the auditorium, 'You MUST get them back,' he remarked breathlessly. '… and SOON.'
As ever, thanks are due to Martin Noble for the excellent quality of the sound and lighting, to the Progress Front of House team for their warm hospitality and Hickies Music Shop, Friar Street, Reading, for the hire of a magnificent Yamaha baby grand piano.
Review posted here by kind permission of Trevor Bannister
---