Ian Shaw with Jamie Safir & Mick Hutton – March 2017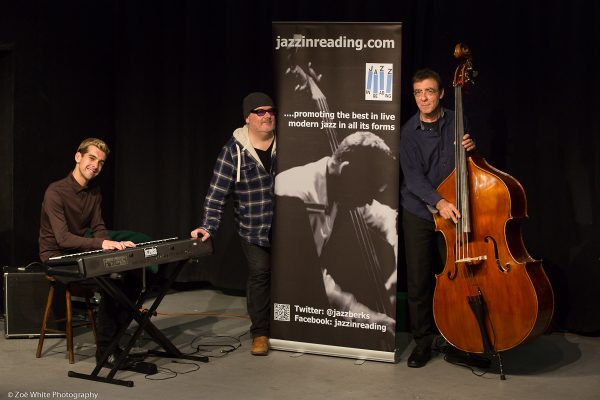 Progress Theatre, Reading | Friday 3 March 2017
Ian Shaw vocals and comedy, Jamie Safir keys, Mick Hutton double bass
I defy anyone who was in the audience for Ian Shaw's appearance at Reading's Progress Theatre on Friday 3 March, to admit that they were not moved by some aspect of his performance. Like him or not (and judging by the audience response very few, if any, punters fell into that latter category) Shaw is not someone you can ignore. In my own case, as a complete newcomer to the unique phenomena of his performance, his outrageous sense of humour almost reduced me to tears; I was knocked out by his musicality and left in awe by the strength and humanity of his convictions.
So where to begin? How about taking each of those things in turn … first, his humour.
As Shaw took to the tiny stage, amid shouts and rapturous applause from the audience, it was immediately clear that here stood an agent provocateur of the first order and so it proved. A subversive force seemed to be at work, provoking gales of laughter with surrealistically convoluted tales of growing up in strict-Baptist north Wales, childhood kleptomania and the acquisition of a vast collection of brightly coloured wax crayons, writing to the BBC in the hope that Jimmy Saville could 'fix-it' for him to meet Rolf Harris, his dislike of gay-bars, ('I just can't breathe in for that long,' he confessed) and various other episodes from his life, including the strange tale of the 'doctor and the juicer'.
Holding the final note of one song, he reached forward to his music stand, desperate to find the right page of his music score so that he could bring the song to an end. Still holding the note, he fumbled through the sheets; backwards and forwards – there was no sign of the crucial page. We could feel his desperation. And so it went on; until finally, yes, he found the sheet and could close the song. Relief!
I suspect that it's a trick he's pulled a thousand times on stage and that it never once fails to bring the house down. Only afterwards do you think, 'How did he hold that note so perfectly and for so long? What fantastic breath control.'
Ian Shaw has an amazing voice. It's an instrument which he uses to express a vast range of musical sounds and emotions. He can soar effortlessly from a note of deep sadness to one of the utmost joy. His diction is crystal clear, his tone rich and full-bodied. He freely improvises complex, sometimes almost musically gymnastic, lines, building up as much tension and excitement as any trumpet or saxophone player. It's clever, but totally honest, for the song is at the heart of his music.
He has the rare gift of taking a song, maybe something well known like Jim Webb's 'Wichita Linesman' or even Lionel Bart's 'You Gotta Pick A Pocket Or Two', stripping it down it its bare essentials and rebuilding it in a form that you could never have imagined. It's a transforming process as lines, words, even syllables take on wholly new meanings.
He draws on a wonderful repertoire of songs from Joni Mitchell, Amy Winehouse, Leonard Cohen, Christine Collister, Cole Porter, Harry Warren and Michel Legrand, each sung with the joyful expression of life and yet tinged with a hint of sadness and melancholy.
Mick Hutton's beautifully conceived bass lines and Jamie Safir's elegant and inventive playing on keyboard (although he could readily match Shaw's earthy funkiness when need arose), added greatly to the evening. One could sense the level of understanding between the three musicians; how carefully they listened and responded to each other's ideas.
One thought struck me towards the end of the gig; Ian Shaw is like a throwback to the satirists that I grew up with in the nineteen sixties. I could imagine him singing alongside Millicent Martin on 'That Was The Week That Was', two 'hip' jazzers working through the events of the week, sending-up politicians, royalty, the church – in fact anyone, or anything that smacked of pretension, dishonesty or pomposity. How we need that today!
The final song, an original, 'My Brother' was dedicated to the child refugees of Calais and beyond, whose desperate plight Ian Shaw has espoused so vigorously in recent years through his work in the field, raising funds and lobbying the Government. A collection at the end of the gig raised almost £400 to support Phone Credit for Displaced Persons, a charitable organisation that provides vital phone credit to refugees and displaced adults and children across Europe. As I said at the outset, one cannot fail to be moved by Ian Shaw.
The publicity before the gig promised 'an evening of rollercoaster musical emotion and non-stop entertainment'. And so it proved to be.
As ever, the Progress Theatre team provided a warm welcome on a night of particularly inhospitable weather, while sound/lighting man Martin Noble received a well deserved 'thank you' from Ian Shaw.
Final comment comes from bass player Mick Hutton. 'You've got a car park,' he remarked. Match that Ronnie Scott's?
Review posted here by kind permission of Trevor Bannister
---