Derek Nash Acoustic Quartet with special guest Martin Shaw – January 2017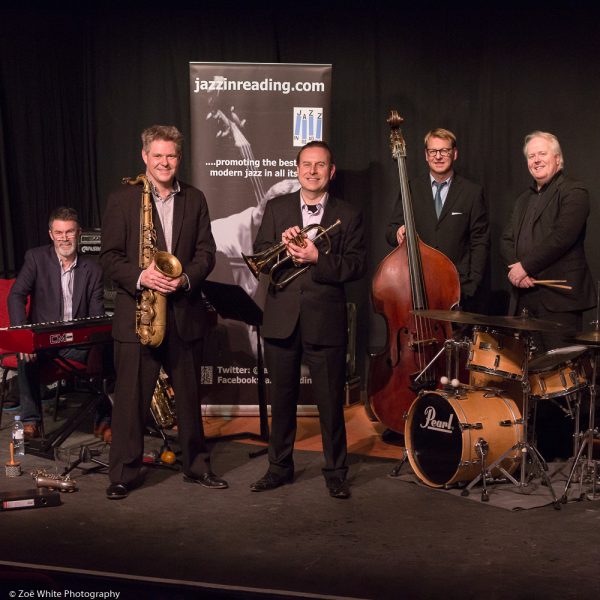 Progress Theatre, Reading | Friday 27 January 2017
Derek Nash (saxes), Dave Newton (keyboard), Geoff Gascoyne (bass), Sebastiaan De Krom (drums), Martin Shaw (trumpet/flugelhorn)
2017 marks the 100th anniversary of the first jazz recording. To honour this historic occasion, Master of Ceremonies Jim Wade opened the gig at the Progress Theatre on 27 January, with the opening bars of 'Livery Stable Blues', played by the Original Dixieland Jass Band. Coupled with 'Dixie Jass Band One Step' as a 78rpm shellac disc, it caused a sensation and sold a million copies worldwide; heralding the arrival of a new musical form of such spirit and youthful exuberance, however quaint and antiquated it may sound by modern standards, that altered the course of musical history.
What, I wondered, would those early jazz pioneers have made of Derek Nash and his Acoustic Quartet with special guest Martin Shaw. Would they have recognised his music as being part of their evolutionary line?
I suspect that the musical journey which Derek invited the capacity audience to share; the technical brilliance of the players and the sophistication and emotional depth of the music itself would surely have left them open-mouthed in wonder. And yet, I hope they would also have felt that here were five kindred spirits at work, expressing themselves in the same joyous, free-wheeling, uninhibited 'let's-see-where-this-will-take-us' manner which first captured the imagination of listeners a century ago.
An intriguing and irresistible groove, laid down by Dave Newton and the rhythm section, set the musical journey in motion and led unexpectedly into 'Secret Love', a far remove from Doris Day's great hit of the early fifties, with Martin Shaw's majestic trumpet creating a perfect foil to the searing alto of Derek Nash. With Nash switching to baritone sax and Shaw to flugelhorn for Jerome Kern's 'All The Things You Are', Sebastiaan de Krom's subtle brush-work and Geoff Gascoyne's lovely bass lines, immediately evoked the legendary Gerry Mulligan/Chet Baker Quartet and the gentle breeze of West Coast 'Cool'. Mulligan operated without a piano, but fortunately for us, having laid out for the opening, Dave Newton's lightness of touch added to the delicate, interweaving lines of the front-line and raised the temperature markedly in a richly swinging solo.
Readers of a certain age may well remember the BBC Northern Dance Orchestra (NDO), which broadcast regularly on the old Light Programme, and also provided the pit-band for 'The Good Old Days' on BBC TV. Derek's father, Pat, contributed greatly to the orchestra's success as an arranger. Steeped in such a musical background, and meeting great stars like Ken Dodd, ('They would call in for tea at home,' Derek remembers. 'I just thought it was like that for all kids.')  it's no wonder that Derek stepped into his father's footsteps to pursue a career in music.
As a dedication to his father, Derek took up his curved soprano sax to play a tune they had composed together. Originally known simply as 'Waltz', the wistful, lyrical charm of 'Waltz For My Father', as the tune is now titled, was a joy to behold. Again, the front-line contrast between the passion of Derek Nash's soprano and the sensitivity of Shaw's flugelhorn added an achingly exquisite beauty to the tune.
Thelonious Monk is mainly noted for two things: the genius of his music and his verbal silence. It came as a surprise therefore to learn from Derek Nash that Monk had, in 1960, put together a list of advice notes for his fellow musicians. Such as: 'Don't play everything (or every time); let some things go by. Some music just imagined. What you don't play can be more important than what you do'; 'A note can be as small as a pin or as big as the world. It depends on your imagination;' 'When you're swinging, swing some more!'
With these thoughts in mind, the band launched into another pearl of 'Monk Wisdom' (and the title track of a recent Derek Nash album, voted No. 5 in the 2016 British Jazz Awards for Best New CD of the year), 'You Gotta Dig It To Dig It, You Dig?' Preaching alto, razor sharp trumpet, a rich toned, funky bass , sparkling piano and a display of drumming to die for – the perfect end to the first set and as Monk would have said, 'Always leave them wanting more!'
The second set of our 'musical journey' opened appropriately enough with 'Joyriding', a bluesy 'Sidewinderish' original from Derek Nash, which featured his booting tenor saxophone, and summoned-up all the helter-skelter excitement suggested by the title.
'Contrafacting', Derek explained, is the art of creating a new melody line over an existing harmonic structure, a practice the beboppers used to excellent effect, not only transforming tunes to make them more challenging to play, ('Back Home In Indiana' became 'Donna Lee', 'Whispering' acquired a new identity in 'Hot House') but also set up a new source of royalties. Charlie Parker's 'Moose the Mooche' was based on 'I Got Rhythm', though sadly any royalties he managed to accrue found their way directly to the drug dealer so colourfully named.
'I'm Getting Temperamental Over You' bore a strong resemblance, in title at least, to Tommy Dorsey's signature tune, but this rendition was certainly more 'temperamental' than 'sentimental'. Amongst many delights it featured a wonderful solo from Dave Newton at his most effervescent and strideful. It was also a case of 'spot the quote' which came thick and fast in the short exchanges before the number came to an abrupt end.
Russ Ferrante's 'Homecoming' was perfectly placed in the programme to evoke feelings of longing for one's homeland, before we hit the colour and excitement of arriving at home itself – in this case New Orleans. 'You look like the sort of crowd who'd like to join in with the bass drum,' Derek announced as he set the audience in motion with the 'Bo Diddley Clap'. 'It's a clapping, not a disease,' he added reassuringly.
And so with an affectionate nod to the rumbustious rhythms of New Orleans, and stand out solos from all and sundry, especially Sebastiaan de Krom on drums, the evening drew towards a close. Though not before a final statement from Derek Nash, revealing something that we'd suspected all along: 'Im Old Fashioned'. What a fantastic tune to end a memorable journey in sound.
As ever, the Progress Theatre team provided a warm welcome to the sell-out crowd, with perfect sound and lighting.
Review posted here by kind permission of Trevor Bannister
---