Theo Travis' Double Talk – June 2016
Progress Theatre: Friday 24 June 2016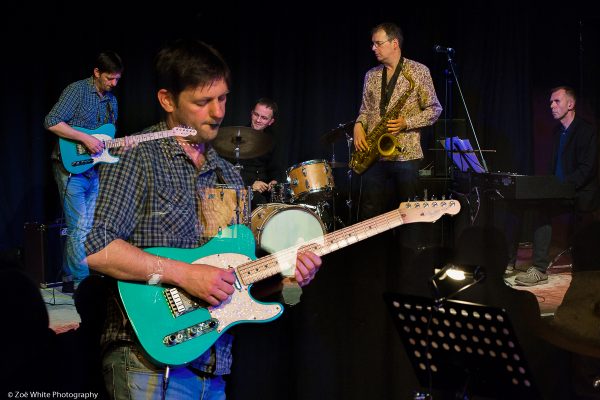 Theo Travis (flute, soprano & tenor saxophones), Mike Outram (guitar), Pete Whittaker (Hammond organ), Dylan Howe (drums).
When, or perhaps if, at some point in the future I am asked the question, "Where were you on the day the people of the United Kingdom voted in a referendum to leave the European Union?" I shall reply in the following way:
"After nine weeks of the hyperbole and gobbledy-gook that politicians on both sides of the argument tried to pass off as mature political debate, a night spent watching the results build-up on their irrevocable course to Brexit, followed by a day watching the 'great and good' delivering their shocked reactions, I thankfully escaped to the refuge and welcoming atmosphere of the Progress Theatre to be blown-away by Theo Travis' Double Talk."
What a band! Theo himself is a superb flautist and master of both the soprano and tenor saxophones whose great writing was firmly in evidence throughout the evening. Mike Outram uses a superb technique to conjure wonderful sounds from his guitar and to draw every ounce of expression from his instrument. Pete Whittaker, sits in quiet composure at his hammond organ, providing the bass-lines, filling-in the backgrounds and soloing to great effect. Dylan Howe, a visually stunning musician, produces an out-flow of energy from his drums that sets the band alight. And yet, while there were moments of remarkable individual virtuosity, and some totally free playing, the band's other great strength is in the quality of Travis' writing; a tightly structured amalgam of straight-ahead jazz/rock and more ethereal progressive sounds, in which he subtly combines a range of instrumental colours, drawing on such influences as Robert Wyatt and Palle Mikkelbourg.
'Ascending', the opening number with Travis on soprano, seemed to pick up on the momentous decision cast earlier in the day, a plaintive cry expressing the feeling that things would never be quite the same again. Mournful, almost funereal in tone, it held the audience spellbound. Syd Barrett's 'See Emily Play' brought a lighter touch to the proceedings. I have to admit that I've never paid too much attention to this number despite its classic status, but thoroughly enjoyed this instrumental interpretation as it built to a maelstrom of sound.
Theo Travis explained his personal connection to Pink Floyd – out of the blue came a phone call from rock legend Dave Gilmour. Surely this must be a wind-up? No, it was the man himself, with an invitation for Theo to join his band on a European tour in 2015, playing six concerts in five incredible amphitheatres: Arena Pula, Croatia; Verona Arena and Teatro de Mulina, Florence, Italy; Theatre Antique d'Orange, France; and Konig-Pilsener Arena, Oberhausen, Germany. Thanks be to Theo, and the Jazz in Reading team, for bringing the magic of those magnificent venues to the humbler, though no less enthusiastic surroundings, of Reading's Progress Theatre.
'Transgression', the title track from Double Talk's most recent album, evolved slowly from a lovely, almost psychedelic opening, with flute and guitar, to an impassioned tenor solo that gradually brought the tune full circle to a gentle conclusion. The blues drenched 'Smokin' at Klooks', with Mike Outram's wailing guitar, and Travis' flute a powerful reminder of the late and much lamented Harold McNair, paid due homage to 'Klook's Kleek'. A key venue in the rhythm n' blues/rock revolution of the nineteen-sixties, this musical crucible helped forge the rise of performers such as Graham Bond, John McLaughlin and Ginger Baker. Located in the unlikely surroundings of the Railway Hotel, West Hampstead, next to the Decca recording studios, it had become a comedy club by the time Theo visited it. 'Smokin' and 'Portobello 67', a feature for Pete Whittaker's soulful organ which brought the first set to a close, captured the heady excitement of those turbulent pioneering days.
'Fire Mountain' took up the mantle from the first set, a volcanic eruption of sound and energy. 'Everything I Feared' was a much more ambivalent number; Outram's edgy guitar cutting against Travis' gorgeous flute as it floated gracefully above Whittaker's insistent bass line. It seemed to be asking a series of questions without ever quite managing to find the answers. Superb!
Travis explored the full range of his tenor to express the joys of childhood in a dedication to his son, 'Song for Samuel', which also featured a warm-toned and wonderfully lyrical solo from Mike Outram. By contrast, 'The Relegation of Pluto', a 'tongue-in-cheek' lament for Pluto's reclassification as a dwarf planet, set out to explore the outer limits of the Solar System with suitably ascribed 'space' sounds and then launched Dylan Howe to assert Pluto's rightful status with a dramatic drum solo.
Robert Wyatt's beautifully restful 'Maryan' perfectly maintained the harmony of the spheres, before Travis swapped his flute for soulful tenor to dig a 'Stax-like' groove and bring a tremendous evening to a close with 'Sweet Emma'. But how could a gig conclude without an encore? The rapturous calls for 'More!' brought the band back to the stage for 'Goodbye Pork Pie Hat', Charles Mingus' hauntingly melancholic elegy for Lester Young; a fitting close to an extraordinary day.
The gig also marked the end of a wonderful season of jazz at the Progress Theatre presented by 'Jazz in Reading'. It began last September with the Simon Spillett/Pete King tribute to Tubby Hayes and continued unabated with Gabriel Garrick, Darius Brubeck, Andy Shepherd's Hotel Bristol, The Moscow Drug Club, Arun Ghosh, Stuart Henderson/Vasilis Xenopoulos, Georgia Mancio with Quadro, the Scott Willcox Big Band and finally Theo Travis' Double Talk, fulfilling a total commitment to bring the very best of modern jazz to the provincial outpost of Reading.
Jazz at Progress now takes a short break until 2 September when action will resume with the Nigel Price Quartet. Meanwhile, the Chiltern Hills will be alive with the sound of jazz on Saturday 16 July when Art Themen's New Directions Quintet, Jason Rebello's Quartet and the Anglo-American 'Super Group', The Impossible Gentlemen, featuring Gwilym Simcock and no doubt playing tracks from their latest album, 'Let's Get deluxe' will take to the stage at Perseverance Farm, Harpsden in 'Jazz For Kamuli', a charity jazz event to raise funds for the Kamuli Mission Hospital in Uganda. Full details are available on www.jazzinreading.com
Review posted here by kind permission of Trevor Bannister
---