Georgia Mancio and Quadro – April 2016
Progress Theatre: Friday 22 April 2016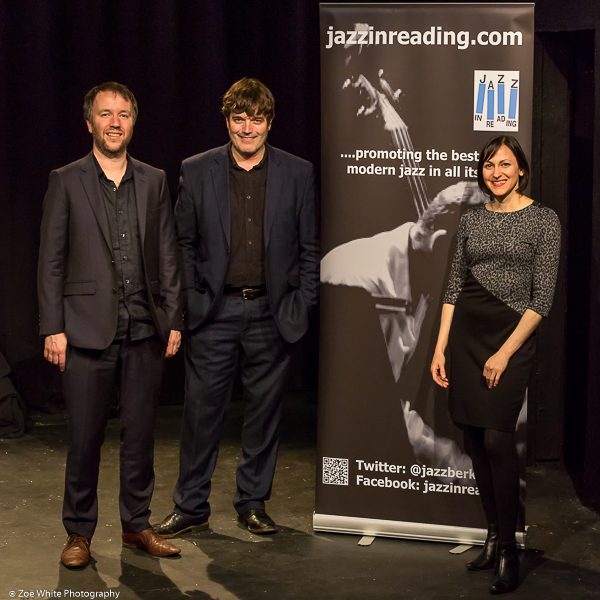 "I couldn't miss my jazz!" one gentleman remarked as he lifted a welcome pint in the bar after a horrendous two-hour journey to the Progress Theatre. "It usually takes me twenty minutes," he continued. "It's chaos out there." Reading had come to a standstill; the fatal combination of Friday traffic, torrential rain and an accident which closed the M4 had brought Reading to a standstill. The faithful steadily grew in number, each with only one question on his or her mind, "Do we have a band?"
Thankfully, the answer was "Yes". Quadro took to the stage and what better way to dispel miserable thoughts than to open the programme with the luscious harmonies of Ellington's 'Prelude to a Kiss', which led seamlessly into Billy Strayhorn's 'Day Dream'. Quadro, as Georgia Mancio explained, means 'to paint' when translated from Italian to English, which is exactly what the group proceeded to do, creating a richly varied gallery of images with a range of musical brushstrokes and colours that held the audience truly spellbound throughout the two-hour programme.`
Individually, the members of Quadro are absolute masters of their art. Georgia uses her voice as an instrument in its own right; it was just as if a tenor saxophone was playing when she took a wordless solo, on 'Just in Time'. Her diction is perfect and sense of time impeccable. She can negotiate the most tricky of tunes with consummate ease – 'One For Bud' for example, a spark-flying bebop dedication to Bud Powell (or should it be Budweiser?) which she composed in collaboration with the New Zealand pianist Alan Broadbent. The warmth and maturity of her voice wrung every last drop of heartbreaking emotion from 'But Beautiful' and expressed the wistful splendour of Kurt Weill's 'My Ship' to perfection. Isn't it remarkable how songs of such timeless quality could have emerged from two almost forgotten Hollywood 'pot-boilers': 'The Road to Rio' and 'The Lady in The Dark'.
By turns Georgia dug into Stanley Turrentine's earthy blues 'Sugar', with its wonderfully non-pc line, 'sugar is what you need to sweeten up your life', evoked the light breezes and sun-drenched beaches of Brazil in Jobin's 'Modinha' and 'A Felicidade', which made the same writer's yearning for a departed homeland in 'Chega de Saudade' all the more poignant and reflected on the fragility of life in 'Fragile' by Sting. Equally, she delivered "The Things We Did Last Summer" with tremendous verve and a sense of fun that even included a whistling solo. Yes, a marvellous, brilliantly tuneful whistling solo!
Georgia's heartfelt personal testimony to the plight of children trapped in the horrors of the 'Calais Jungle' and her work in support of Care4Calais, brought a much deeper meaning to Luiz Bonfá's 'Gentle Rain'. Dedicated to displaced people around the world, its haunting lyrics by Matt Dubey and a beautiful bass introduction by Andy Cleyndert, served to remind us that music is a powerful means to inspire simple acts of kindness and express the generosity of human spirit.
Though Mancio, Harrison and Cleyndert are all world class soloists in their own right, the sum of the respective parts lifts Quadro to an even higher level of creativity; the interplay within the band was a constant delight. Frank Harrison has the moonlight touch and glittering style one associates with Bill Evans. He uses his prodigious technique to explore each tiny nuance a tune has to offer, while Cleyndert draws on his vast experience to conjure a wonderful sound from his bass, solos with great lyricism and makes more sense with one note than some players attain with a flurry of activity. Even within the limitations of the trio format and fixed instrumentation, they were able to achieve great variation, not just in the choice of material, but also in the style of delivery with one player sometimes laying out, or taking a smaller, though equally valid role in the background. To all intents and purposes Quadro is a band without ego. Thoughtful, reflective and richly entertaining, their music touches the heart, the mind and spirit.
Once again, the Progress Theatre proved its versatility as a venue able to present all styles of jazz with equal success. For once, Martin Noble, the man responsible for the high quality of sound and lighting made a fleeting appearance from his box at the back of the auditorium to acknowledge the thanks of MC Jim Wade. Other members of the Progress team made sure that everybody, including the band, received a warm reception at the door after lengthy journeys to reach the theatre in difficult circumstances. The effort to keep everyone up-to-date with changes in timings was especially welcome – National travel companies – please note!
Review posted here by kind permission of Trevor Bannister
---