The Horace Silver Project – June 2023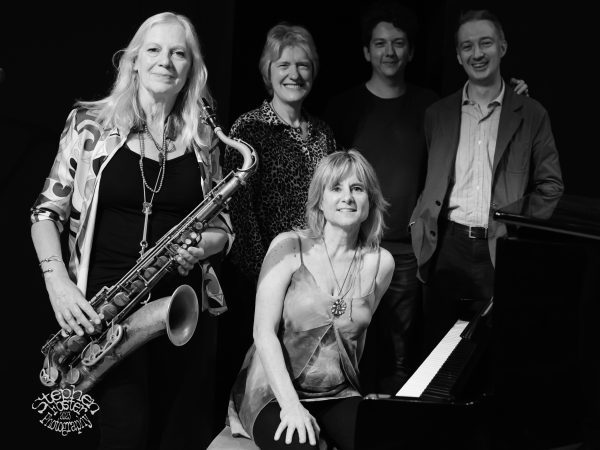 Progress Theatre, Reading 30 June 2023
Freddie Gavita trumpet and flugel horn, Clare Hirst tenor saxophone, Andrea Vicari piano, Marianne Windham bass, Matt Fishwick drums
An 'end of term' party atmosphere pervaded the Progress Theatre as the Horace Silver Project kicked-off the final Jazz at Progress gig of a hugely successful 2022/23 season with the unmistakeable tones of 'Sister Sadie'. Bearing the distinctive hallmarks of pianist, composer, bandleader Horace Silver, the 'Grandpop of Hardbop' to whom the evening was dedicated, this piece immediately set toes tapping and heads nodding. How could anyone resist the powerful rhythmic drive of five virtuoso musicians at the top of their form playing music drenched with an intoxicating blend of bebop, blues, funky soul and gospel, tinged with a delicate flavouring derived from Silver's family roots in the Cape Verde Islands? Horace Silver introduced this new recipe for jazz on unsuspecting audiences well-nigh seventy years ago. Its appeal and potent effect remain as strong as ever.
Silver's other great strength was in his choice of titles – simple, straight-forward, catchy and to coin a phrase, 'They tell you exactly what's in the tin!
'Pretty Eyes', from the 1966 Blue Note album 'Cape Verdean Blues' is a good case in point; a beautifully lilting evocation of 'pretty eyes' conjured by Freddie Gavita's lyrical flugel horn in combination with the warm tones of Clare Hirst's tenor saxophone.
The scorching 'Nica's Dream' moved up several gears to pay tribute to the Baroness Pannonica de Koenigswarter. This member of the Rothschild dynasty exchanged her aristocratic lifestyle in Europe to patronise jazz musicians, notably Thelonious Monk – and cats (306) – from her hotel suite in New York. Needless to say, this roller-coaster ride perfectly captured the spirit and eccentricity of this remarkable lady who once raced Miles Davis down Fifth Avenue in her pale-blue Bentley.
Andrea Vicari dug into her piano, especially hired for the occasion from Hickies's Music Store, ably assisted by Marianne Windham's bass and Matt Fishwick's drums to generate some heavy-weight funk on 'Jody Grind', and to set up a launching pad for Gavita's stratospheric trumpet. A truly Gospel 'Amen' brought this tremendous number to a close.
Clare Hirst took her place in the 'pulpit' to lead the sermon on 'The Preacher', Silver's attempt to 'reach back and get that old time, gutbucket barroom feeling with just a taste of the backbeat'. In no time at all, Hirst had her congregation eating from her hand and dancing with their feet.
The joyfully exotic 'Cape Verdean Blues', featuring amongst its highlights Andrea Vicari at her most compelling and an outing both visually spectacular and brilliantly imaginative by Matt Fishwick on his drums, brought the first set to a dazzling close.
Horace Silver gladly accepted the affectionate moniker of 'The Hardbop Grandpop' and used it  as the title track on his 1996 Impulse album which marked a return to the classic small group line-up after many years working with larger ensembles. It follows the jazz musicians' timed-honoured practice of creating a new melody over an existing chord progression – in this case via the old favourite 'Indiana' and its subsequent variation 'Donna Lee'. It all made for a straightforward, nicely paced swinger with a standout bass solo from Marianne Windham.
Clare Hirst, who shared mc-ing duties with Andrea Vicari throughout the evening, cast a knowing glance at the audience when she announced that 'this next number needs no introduction'. Indeed not. Eyes lit up with instant recognition as the quintet laid down the gently soulful introduction to 'Song For My Father', arguably Silver's most beguiling and often played composition. Freddie Gavita soloed to great effect, the beautifully placed notes flowing with crystalline clarity.
In contrast to the fun and danceable good spirits so far expressed, the next two numbers, 'Ecoroh' and 'Peace' revealed the emotional depth of Horace Silver's musical imagination. I found the dark edge of the first and the poignancy of the latter deeply moving.
'Nutville', on the other hand was a case of watching the touchpaper being lit ahead of the band taking-off on a voracious flight of invention. An explosive performance, especially in the percussion department where the ferocious complexity of Matt Fishwick's drum patterns belied his otherwise gentle and thoughtful demeanour.
First recorded by the Silver quintet in 1954 and with lyrics later being added by Jon Hendricks, the bluesy 'Doodlin'' has been covered by just about everyone from Ray Charles to Dusty Springfield. A further reminder of Silver's universal appeal and enduring legacy, it made the perfect choice to close a thoroughly entertaining and truly invigorating evening. All praise to the HORACE SILVER PROJECT and best wishes for future success. Promoters please note – THIS IS A FANTASTIC BAND!
As ever, thanks to the Progress Theatre, especially the Front of House Team headed by Stuart McCubbin and techno wizard Rich Saunders for sound and lighting. And a special thank you to our audience, particularly the youngsters we've welcomed recently. Your generous support makes it possible to continue presenting the very best of live jazz on the Progress stage.
Review posted here by kind permission of Trevor Bannister
Photo by Steve Foster @jazzshots (Instagram & FB) 
======================================================
Jazz at Progress will recommence on Friday 15 September when Pigfoot Plays Ellington.
Chris Batchelor trumpet, James Allsop baritone sax, Liam Noble piano and Paul Clarvis drums will present their unique interpretation of material drawn from Duke Ellington's fabulous repertoire.
'An entertainingly riotous, swinging, delicate, gnarly account of Ellington's legacy is promised.'
Watch out for details on the Jazz in Reading website www.jazzinreading.com
---