Pigfoot Plays Ellington – September 2023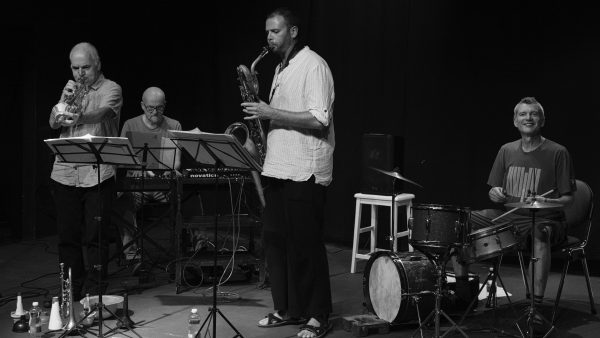 Progress Theatre, Reading Friday 15 September 2023
Chris Batchelor trumpet/cornet, James Allsopp baritone saxophone/bass clarinet, Liam Noble keyboards, Paul Clarvis drums
As I walked home from the opening concert of Jazz at Progress's new season on Friday 15 September, with my head swirling with the sound of Duke Ellington's music, I couldn't but marvel at how Pigfoot, a four-piece band with obvious limitations in instrumentation, could so successfully capture the sound and spirit of the great man with such authenticity.
Duke himself would have been proud of the achievement. Clearly, Pigfoot have lovingly immersed themselves in the tradition of Ellingtonia – the man, the music and the host of characterful figures who formed his orchestra.
An array of mutes scattered on the stage gave a clue to the range of effects Chris Batchelor can conjure from his cornet and trumpet. His whoops and growls were every bit as sensational today as they must have been nearly a century ago when legendary bandsman like Bubber Miley and Cootie Williams launched the technique on unsuspecting Cotton Club audiences. However, Batchelor's superb breath control and exquisite lyricism on the seldom heard cornet was even more impressive; an echo of the wonderful Arthur Whetsol who graced the early Ellington orchestra.
James Allsopp, doubling on baritone saxophone and bass-clarinet has a remarkable range and facility on each instrument, a spectrum of sound from Harry Carney's sonorous bottom tones, through Ben Webster's breathy tenor to the poise of Johnny Hodges gorgeous alto. At times one could even detect a likeness to John Coltrane at his most poignant. There are few musicians around who can handle these monster instruments with such ease and with so much depth of feeling. Allsopp's huge sound really hits the soul when an earthy groove is called for.
Liam Noble drew on the full resources of his keyboards to fulfil a multiple role within Pigfoot. As well as serving as the 'piano player', as Duke Ellington liked to describe himself, and 'walking' the bass, he created the glorious orchestral backdrops to give each piece its true Ellington flavour. When called for solo duties, his 'electronic' clarinet added a distinctive voice to the front line.
Duke Ellington used to describe Sonny Greer as 'our reluctant drummer' because he didn't like to take solos. Instead, he used his skills, honed in stage shows backing dancers and acrobats, to support individual soloists with colourful and perfectly placed percussive effects and to lay down a driving beat behind the full ensemble. Paul Clarvis fulfilled this role perfectly, though unlike Greer who surrounded himself with drums, vibes, tympani, chimes and even a gong, he uses a minimalist drum kit.
For all his remarkable gifts and the accolades he received from the great and the good, Ellington frequently came under fire for the programming of his concerts. Critics and fans alike would complain that there was 'too much old material' or conversely, 'too much new stuff'; 'too many solos and not enough from the full band, 'too many interminable suites' and worst of all … 'too many drum solos'. Rarely, if ever, did Ellington please all of the people, all of the time.
To my mind, Pigfoot, got the balance just right – a blend of familiar classics leavened with more obscure items, spanning the breadth of Ellington's remarkable career. Some pieces were first recorded with the full orchestra, others with small groups, while some fell outside the usual band umbrella altogether as one-off studio encounters. Bringing Ellington together with various guest stars.
'Rockin' in Rhythm' dating from 1929 and evoking the heady days of Harlem's Cotton Club set the programme in motion. Not surprisingly it remained in the book with various modifications for the whole life of the Ellington band.
A spell-bindingly beautiful 'La Fleurs Africaine' moved things forward to 1962 and the studio session with Ellington on piano, Charlie Mingus bass and Max Roach drums that produced the 'Money Jungle' album. Pure magic!
In complete contrast, 'Such Sweet Thunder', the title track of Ellington's 1957 Shakespearian Suite, summoned every ounce of power and energy available to evoke the nefarious machinations that underlie this tragedy. All great fun and oozing with sleaze.
'Just Squeeze Me', first recorded in 1941 by an Ellington small band led by Rex Stewart, bounced along in joyful fashion to a gentle shuffle rhythm with Chris Batchelor's cornet well to the fore.
'In a Sentimental Mood' was one of Ellington's earliest hit songs. This version, however, dated from a classic studio meeting with John Coltrane in 1962. One was impressed by the sense of stillness and quiet reflection the performance created and the extraordinary Coltrane-like tonal qualities James Allsopp drew from his bass-clarinet.
'It's a case of "Duke Ellington meets James Brown",' Chris Batchelor warned as Liam Noble, aided and abetted by Paul Clarvis, laid down an irresistibly funky groove to launch 'Blue Pepper,' surely the most spicey of all the tracks on the magnificent 'Far East Suite' of 1965. Topped by growling trumpet and wailing baritone the number closed the first set in a sensational manner.
'East St Louis Toodle-oo' opened the second set and took us right back to Ellington's earliest days and the signature tune he used until he adopted Billy Strayhorn's 'Take the A Train' in the early 1940s. Its menacing qualities are strangely mesmerizing. I can only imagine that it must once have accompanied a dramatic dance routine at the Cotton Club.
Pigfoot stepped slightly out of the Ellington pocket on 'The Mystery Song'. Although the number was recorded by the Ellington Orchestra in 1931, it is better known as a track on the Steve Lacy/Don Cherry album 'Evidence' from 1962. Played here with a Latin flavour, it swung along effortlessly in an open and invigorating style, allowing full rein for the musicians to express themselves.
The pared-down instrumentation of Pigfoot worked to perfection on 'Mood Indigo', one of Ellington's most famous pieces. Liam Noble added an extra voice to the trumpet/bass-clarinet front line with an 'electronic' clarinet to enhance the plaintive beauty of the tune.
'Klop' is something of an Ellington curiosity, a polka from the 'Uwis Suite'. In his album sleeve notes , Ellington recounts that his orchestra once played as the interval band for a Polka ball comprising eight polka bands. This short, snappy and thoroughly entertaining piece stands as a dedication to that bizarre event.
'It Don't Mean a Thing if it Ain't got That Swing' brought us back to more familiar territory. Amongst its many delights, Paul Clarvis' drum breaks, Liam Noble's groovy bass and James Allsopp's astonishingly high note on the baritone, represented the absolute highlights.
Chris Batchelor's thoughtful arrangement of Billy Strayhorn's 'Chelsea Bridge', combined strands from Ellington's 'Warm Valley' to create a tapestry of rich emotional depth. Again, all the resources of the limited instrumentation were used to tremendous effect.
Liam Noble unleashed a veritable storm of dust as he set the camels on a frantic rush across the desert. 'Caravan' may not have been written by Duke Ellington, those credits belong to his sometime valve-trombonist Juan Tizol, but no evening devoted to Duke would be complete without it. What better way to bring a wonderful evening of jazz to a tremendous climax.
Our thanks to Pigfoot for reminding us of Duke's enduring but even more so for the superb quality of their musicianship. We really are blessed with some incredible talents in this country!
Thanks also to the Progress team, as ever warmly hospitable and helpful, who ensured that the new season of Jazz at Progress got off to the very best of starts.
Review posted here by kind permission of Trevor Bannister
Photo by Steve Foster @jazzshots (Instagram & FB) 
---