Alex Clarke Quartet – June 2023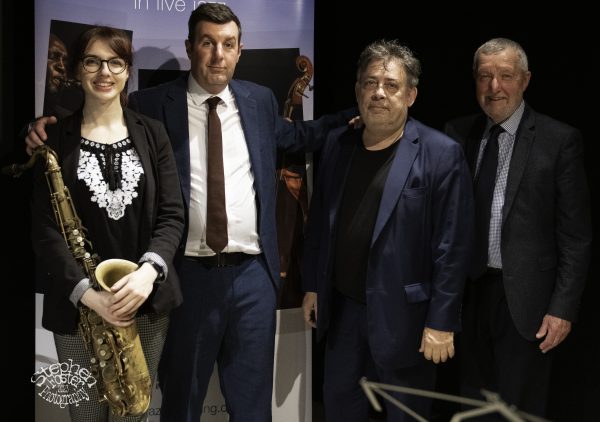 Progress Theatre, Reading 2 June 2023
Alex Clarke alto & tenor saxophones | Rob Barron piano | Dave Green bass | Clark Tracey drums
Whenever the naysaying purveyors of doom gather together to contemplate the lack of new personalities on the jazz scene and the imminent demise of the music, a new talent is sure to pop up and prove them wrong.
One such is saxophonist Alex Clarke. Voted Rising Star in the 2019 British Jazz Awards, a finalist in the 2020 BBC Young Jazz Musician Competition, a nominee for the Parliamentary Jazz Awards for both 2021 and 2022 and with a hugely successful appearance at the 2022 Swanage Jazz Festival, her career has progressed rapidly in a short space of time.
Though her versatility spans composition, teaching, session work and other music besides jazz, the classic format of her quartet reveals a passionate affinity for the rich heritage of the Great American Songbook and the jazz standards of the post-war era. That Alex is joined by three of the most accomplished musicians ever to grace the jazz scene, with a combined experience of something approaching a staggering 150 years, is a measure of the esteem in which she is held.
The expressive, beautifully toned quality of her playing and engaging personality immediately captured the imagination of the near-capacity Progress audience with Jimmy Heath's 'Sound for Sore Ears'. A beguiling, slightly haunting tenor introduction launched a flow of joyously swinging invention on the part of Clarke and Barron, with the sublime support of Dave Green's bass and Clark Tracey's drums. No one could doubt that the future of jazz is safe in Alex Clarke's hands.
A walking pace 'On the Street Where You Live', a smash hit from Lerner and Loewe's 'My Fair Lady', inspired the spirit of Sonny Rollins. I especially loved the way Clarke repeated the theme over-and—over-again with the subtlest of variations to create an 'edge of your seat' sense of suspense ahead of her opening solo.
As Clarke took up her alto sax and announced her intention to pay tribute to the great star of the instrument Phil Woods, a voice broke up the audience with a sudden cry of 'I like Phil Woods!' And why not? 'Brazilian Affair (Intriga Amorosa)' drawn from Woods' 1977 album 'Live at the Showboat' was full of searing Latin-American magic that set the toes tapping and the heads nodding. Great fun!
Dave Green and Clark Tracey took a well-earned breather from 'stoking the boilers' leaving Alex Clarke and Rob Barren to perform Billy Strayhorn's 'Ballad For Very Sad and Very Tired Lotus Eaters' as a duo.  Strayhorn's role of collaboration with Duke Ellington from 1939 until his death in 1967 and as composer of the Ellington Orchestra's famous theme, 'Take the "A" Train', tend to overshadow his remarkable gifts as a composer in his own right. It was wonderful to hear this example of his romantic and dreamlike imagination played with such sensitivity and feeling. Not surprisingly, it received rapturous applause.
With everyone reassembled on stage, and Clarke back on alto, the quartet played out the first set with a scorching interpretation of Charlie Parker's bebop classic 'Segment', featuring the dynamic drums of Clark Tracey.
Cole Porter reputedly composed 'Just One of Those Things' over one night as a last-minute addition to the score of the 1936 musical 'Jubilee'. Its gaiety and freedom of expression stands as an enduring reminder of Porter's genius. The highlight? The timing and gorgeous tone of Dave Green's bass solo.
Alex Clarke brought her own composing skills to the fore with 'Only a Year', a title she explained, dedicated to 'the time I spent at music college before I dropped out'. Once again, I was deeply impressed by the haunting tone of her tenor sax, Rob Barron's free flowing invention on the piano and the unity of the band as a whole.
Jule Styne's 'By Bye Baby', another nod to the influence of Phil Woods from the 'Showboat' album, hit an irresistible medium-paced groove and opened up the space for plenty of good-humoured '4s' around the band.
'Darn that Dream', the one success to emerge from Jimmy Van Heusen's hugely ambitious but otherwise ill-fated 1939 musical 'Swingin' the Dream', a jazz interpretation of 'A Midsummer's Night Dream', was an absolute object lesson in how a quartet should interpret a ballad. Individually and collectively the band knitted together perfectly to give full voice to Van Heusen's unforgettable melody. Also, Alex Clarke knows how to end a tune on exactly the right note!
Erroll Garner's bluesy 'Shake it But Don't Break It', driven along by Clark Tracey's compelling shuffle-rhythm, should have rounded off the evening. But there was no way that the band would be allowed off the stage without an encore. Amid thunderous applause, and 'Since you asked so nicely', they duly obliged with a swinging interpretation of Rodgers and Hart's evergreen 'Have You Met Miss Jones' to bring a truly memorable evening to a close.
'An extremely accomplished player now and a big star for  the future,' was just one of many positive comments overheard as the audience filed out of the auditorium. Enough said!
May I welcome Steve Foster to the Jazz at Progress team as House Photographer and as ever, thank the Front of House team for their warm hospitality and great service and  Rich Saunders for the excellent quality of the sound and lighting.
Once again it was a true pleasure to welcome so many younger members to the audience on this delightful summer evening. Who knows, perhaps they may be inspired to take up an instrument and one day become jazz stars themselves?
Review posted here by kind permission of Trevor Bannister
Photo by Steve Foster @jazzshots (Instagram & FB) 
---