Jonny Mansfield Quartet – September 2022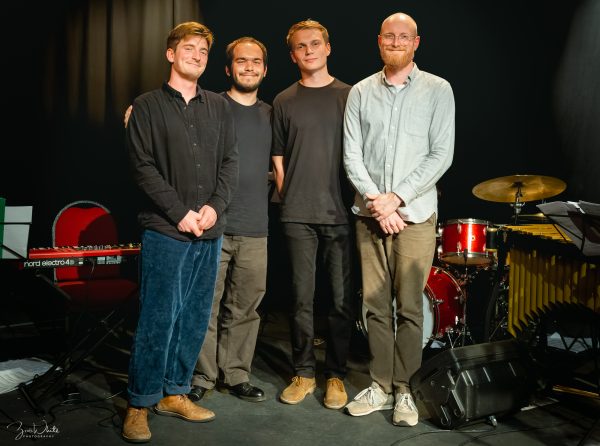 Progress Theatre, Reading, Friday 16 September 2022
Jonny Mansfield vibraphone, composer | Noah Stoneman piano
Will Sach bass | Dave Hamblett drums
A sombre time: the evening started with a minute's silence and reflection; then we breathed again … and the evening's guests were introduced.
Jonny Mansfield, returning to Reading after his Elftet's 2018 concert, introduced the quartet's opener with not so much a title, but a puzzle. What was the connection between Thomas Cook, the first local radio station, and being stuck in local traffic jams? (answer at bottom of page).
The opener highlighted the musical interaction between members of the band. Rhythms shifted, the sound seemed to float in the air, then there were moments when the pulse seemed suspended.
Most small group modern jazz performances used to follow a fixed pattern: introduction, theme statement, solos, repeat theme, ending. In contrast, we heard from this band a free-flowing structure, with collective improvisation, interludes, solos, and different combinations of instruments to vary colour and texture. Dazzling, intriguing music.
The quartet's programme included a varied mix of original compositions, jazz standards from the bebop era, and one Cole Porter show tune.
Conception is a jazz standard written, we might recall, around the beginning of the Elizabethan era, and attributed to pianist George Shearing. On this selection, we listened to a superb piano solo by Noah Stoneman. Rhythmically complex, – superimposing varying rhythms over the basic beat of the music – and harmonically daring.
The expressive sound of Will Sach's solo bass playing came to the fore in the tribute to Logan, named for the US alto saxophonist Logan Richardson – unfamiliar to many, but recommended by Jonny.
Jonny explained he had challenged himself over lockdown to write, record, mix, and produce an entire album in one day. From this album (Portrait) the band presented Speak, notable for a solo vibes start, and the gradual addition of bass, drums, and piano.
Jazz is distinctive because of its rhythm: this was a quartet where all four played percussively. Dave Hamblett on drums excelled throughout, but particularly on the penultimate number.
Before the interval we appreciated, in a fine arrangement, the first of two Monk compositions, We See (recorded only twice by Monk). Another less familiar number of Monk's, Ask Me Now, was included later in the evening.
Jonny had recently recorded in Germany (with different ensembles) two compositions, Cologne, and Ari. These both demonstrated the understated rhythmic base of the band, and how each performance built in intensity.
Organise the Air in Front of You (perhaps a description of improvisation?) ended the evening, with the leader playing, as through all the evening, with great virtuosity.
The programme (all composed by Jonny Mansfield except where noted):
Thomas Cook   (but see above!).
Conception (G. Shearing)
Logan
Speak
(interval)
We See (T. Monk)
Cologne
Ari
Everything I Love (C. Porter)
Ask Me Now (T. Monk)
Organise the Air in Front of You
Sincere thanks to the Jazz in Reading team for their unflagging work in bringing live jazz to us.
And our appreciation to all at the Progress Theatre, Jazz in Reading's hosts. Progress Theatre is the recipient of the Queen's Award for Voluntary Service, a civil honour equivalent to the MBE.
A new era, a new season for Jazz in Reading.
(Solution to puzzle: Leicester – location of first UK local radio, city with greatest density of traffic lights, destination of first tourist rail excursion devised by T. Cook, and site of the Thomas Cook building and original business).
Review posted here by kind permission of Clive Downs
Photo by Zoë White Photography
---