Alban Claret & Evan Clegg – The Collection July 2022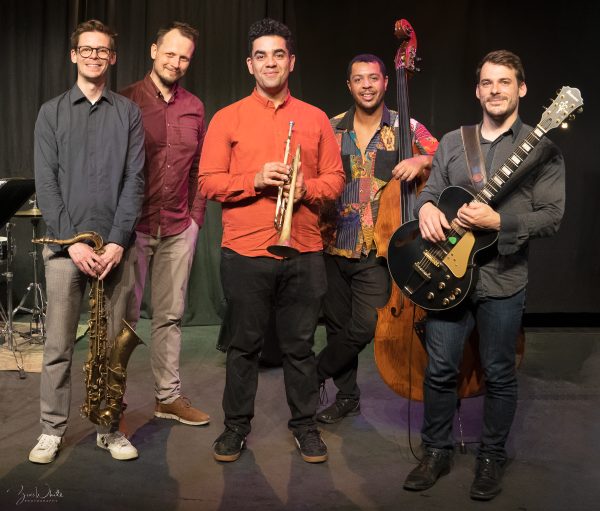 Progress Theatre, Reading, Friday 8 July 2022
Alban Claret guitar, composer | Evan Clegg trumpet, composer | Duncan Eagles tenor saxophone | Chris Hyde-Harrison double bass | Kuba Miazga drums
A week of heat waves, political drama, and cost of living crisis: but Jazz in Reading offered some welcome relief. We were treated to a quintet of accomplished musicians presenting original compositions, blending bop tradition with more modern ideas.
Their programme featured selections from the debut album The Collection, more of their originals, and heritage tracks.
With summer holidays, and competition from jazz festivals elsewhere, both the Jazz in Reading team and the audience were a little depleted, but enjoyed the intimacy of the show.
Evan explained they wrote pieces based on existing jazz numbers (or standards), rather than from scratch. The band created varied textures and colours in the arrangements: unison lines, short collective improvisation, counterpoint and other harmonisation, and varied combinations of tenor, trumpet (open or muted), guitar and bass.
Duncan Eagles has an original voice – expressive, and exploring the upper reaches of the saxophone. Kuba Miazga was a vigorous drummer, responsive to soloists' changing lines. Chris Hyde-Harrison created tasteful solos and varied accompaniments in the ensembles. Both leaders' solos proved technically advanced and highly melodic.
The title track from their debut album started the proceedings. A 12- bar melody with a complex line, rhythmically bop-ish, but melodically more abstract, recalled the writing of Lennie Tristano (referenced on their website, along with more familiar bop era influences).
'Mind Block', (titled because of difficulty in devising names for their compositions!) followed (another album track). The tune was cunningly arranged, with unison passages, short collective improvisation, and more. Duncan Eagles' virtuoso solo seemed to conjure up the sound of Tristano's long eighth note lines.
A relaxed tempo piece, 'Al A Parker' celebrated the great innovator. As well as a fine solo from Evan, the ensembles set up a variety of colours – for example. muted trumpet/guitar/tenor unison.
The band reprised Parker's 'Klactoveesedstene', complete with latin intro and ending. Kuba accompanied Alban's guitar solo effectively with cross rhythms, accents, and textures.
'Relaxin' at Sunny Blue' (based on 'When Sunny Gets Blue') was notable for a fine contribution from Chris Hyde-Harrison. He supplied rhythmic support on the theme, then moved to walking bass, before an engaging solo.
'Unsubscribed Playfulness', a ballad from the album, closed set one, A trumpet solo started gently, then built in intensity, complemented by more complex drum accompaniment.
'Stella by Artois', a chromatic melody based on the chords of the other Stella (by Starlight) started set two. Unusually, the first solo was taken by bass, with Kuba's brushes in support, and soft guitar chords.
We then heard 'Winter Pace' (the tricky 'Giant Steps', made more challenging by casting it as a minor theme). Did Alban's fluent guitar solo remind us of bop-era Barry Galbraith? (A final "that was hard!" from Evan was surprising – they seemed completely at home!)
Evan had been enjoying Buddy Collette's music and created a composition ('Mr Collette') inspired by the reed player's arrangements for small groups. Kuba punctuated the sweet harmonies beautifully.
Based on Cole Porter's standard, the fast 'Get Al in Town' (an album track) kicked off with three front line voices unison. As elsewhere, the balance and dynamics between all five seemed to make them all equal participants.
The latin feel of some bop tunes prompted Alban to write 'Doritos and Sombreros' (reminiscent of Parker's 'Barbados'). After solos from all, the theme concluded neatly with a drum coda.
Woody Shaw's 'The Moontrane' completed the show. Alban in particular improvised with shades of the composer's trademark sound, a little 'outside' the prevailing harmony.
A memorable evening, all highly talented musicians: only at the start of their careers, surely they will find many new venues to welcome them.
With grateful thanks to the Progress team (and of course to all the Jazz in Reading people) for their kind help in enabling us to continue to hear the best in jazz.
Review posted here by kind permission of Clive Downs
Photo by Zoë White Photography
---