Alex Hitchcock Quartet – May 2022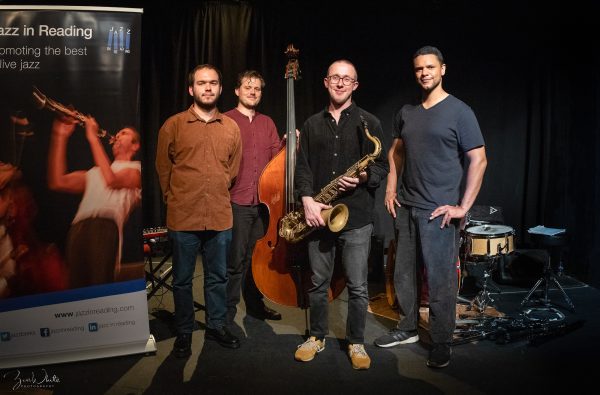 Alex Hitchcock tenor saxophone, Noah Stoneman keyboards, Joe Downard bass, Myele Manzanza drums
Alex Hitchcock was very much 'a new kid on the block' when he last performed on the Progress Theatre stage five years ago. Jazz at Progress regulars will remember that he made two appearances within a month of each other. First as a member of Tom Smith's innovative ensemble. Secondly, and most memorably, as the leader of an exciting quintet. His energy, inventive spirit, original voice as a composer and commanding presence as a soloist, along with his engaging personality, endeared him to the audience on that occasion. It was great to welcome him back on Friday 13 May.
Alex has moved on apace in the intervening years to establish himself as one of the leading musicians of his generation, a status acknowledged by the receipt of numerous awards, appearances at international festivals and a number of highly acclaimed and wide-ranging recording projects. Fortunately for us he remains at home in the quartet format and the company of three kindred spirits –  Joe Downard on bass, a long-term 'partner-in-crime' who was a member of 2017 quintet, Noah Stoneman on keyboard and the remarkable Myele Manzanza on drums. This formidable line-up combined their talents and skills to create an evening of cutting-edge jazz; sometimes hauntingly lyrical, often moving, occasionally challenging, totally breath-taking, utterly compelling and never far removed from the deepest roots of the jazz tradition.
Noah Stoneman's eloquent keyboard set the wistful and reflective mood that characterised the first half of the gig; four titles by Hitchcock – 'Spirits of Objects', 'Differentials', 'You are Here' and 'W. Sach' plus 'Lament' by Joe Downard. This almost uninterrupted flow of intense lyrical invention held one spellbound as each theme emerged with seeming spontaneity from one tune to the next; Hitchcock and Stoneman led the narrative, underpinned by Downard's economic bass and the restless rhythmic pulse of Manzanza's drums.
The lovely 'hanging in the air' quality in Hitchcock's playing and compositional style, which keeps you guessing about the direction the music might take, was well to the fore in his extended solo on 'To Love Itself' which opened the second set. His light, airy tone fully expressed the joyous spirit of the tune. 'Chrysalis' on the other hand explored darker territory in an explosion of free expression, held in check by Stoneman's delicate touch and Downard's mournful bass.
As the final notes of this frenzy faded away, the metaphorical spotlight fell on Hitchcock. The form of 'Body and Soul' gradually emerged from a beguiling out-of-tempo a cappella improvisation and with the sensitive support of the complete band, Hitchcock captured the majestic beauty of this timeless classic to perfection.
'Wideye', featuring brilliant interplay between Downard and Stoneman, saw Hitchcock in driving form on this spritely composition by Joe Downard, serving again as a powerful reminder of the awesome and well-rounded professional skills of these young musicians. Each is a composer in his own right and is being featured in turn as the throughout the current tour.
What treasures that holds in store! And what will Myele Manzanza bring to the party, I wonder? He is one of the most musically colourful jazz percussionists I can think of and clearly immersed in a culture of drumming that extends way beyond jazz influences. A tall, statuesque figure, constantly in motion, he brings a unique visual excitement to the band. None more so than in 'Hey, It's Me You're Talking To', Victor Lewis's knuckle-riding standard that brought the evening to a thrilling close.
Having exchanged 'note-for-note' phrases with Hitchcock he unleashed not so much a 'drum solo' in the usual sense, but what I can only describe as a 'ceremonial' expression of percussion artistry. Emotionally super-charged and rich in colour, texture and rhythm this 'wonder to behold' left the audience absolutely gobsmacked. What a climax to a magnificent evening!
As I left the auditorium one thought filled my mind; 'I must not wait another five years before I next listen to Alex Hitchcock in a live setting.'
As ever, our thanks to the Progress Front of House Team for their warm hospitality and the smooth running of the show and to Richard Saunders for the excellent sound and lighting.
Review posted here by kind permission of Trevor Bannister
Photo by Zoë White Photography
---