Clark Tracey Sextet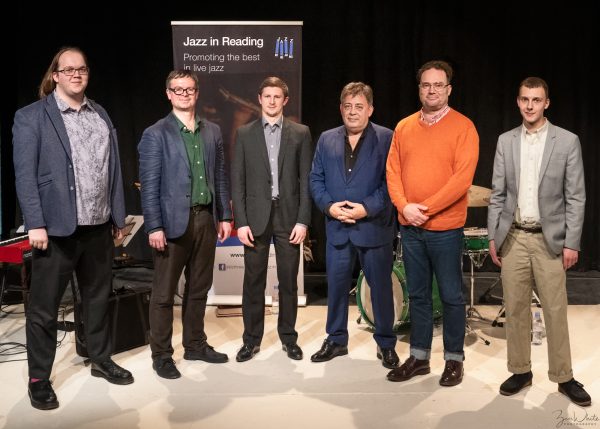 Progress Theatre, Reading, Friday 26 November 2021
Mark Armstrong trumpet, James Wade-Sired trombone, Tom Ridout alto & tenor saxophones, recorder, Gareth Williams keyboard & vocal, James Owston bass, Clark Tracey drums
A last-minute surge in ticket sales ensured a near full house for the penultimate gig in Clark Tracey's much delayed '60th Birthday Tour' at Reading's Progress Theatre on Friday 26 November. While any risks to life and limb from the anticipated Storm Arwen were strictly in the lap-of-the gods, the team at Progress has worked tirelessly to make the theatre as safe as possible from the threat of COVID. What's more, the spacious feel of the extended and freshly renovated bar area makes Progress an even more attractive, not to say comfortable, venue for world class jazz, without any loss in its welcoming atmosphere. And what better way to celebrate this new step in the theatre's illustrious history than with the powerhouse sextet led by Clark Tracey.
A medium tempo groove set the evening swinging and the toes tapping with Joey Defrancesco's arrangement of the Jerome Kern/Johnny Mercer 1942 romantic classic 'Dearly Beloved'. The full sound of the ensemble, led by Mark Armstrong on trumpet, taking a brief leave of absence from his role as Director of the National Youth Jazz Orchestra (NYJO) contrasted beautifully with the mellow tones and surprising delights of Gareth Williams' vocal.
As well as being one of the great drummers on the contemporary scene – the distinct 'snap' of his hi-hat cymbals coming together is alone something to behold – Clark Tracey's writing is full of challenge and excitement, a perfect launching pad for solo exploration. 'Remind Me in Three' exploded as a torrent of sound, highlighting the precocious talents of multi-award saxophonist Tom Ridout on tenor and the amazing nineteen-year-old James Wade-Sired on trombone. 'Ace Move', by comparison evoked a sense of polished spontaneity, a Basie-like feel of latent energy, set in motion by a sublime piece of storytelling from the bass of James Owston – another remarkable young talent.
Sadly, 'Caoineadh (Lament) for Cuchulainn', a feature for Tom Ridout on recorder, was marred by a troublesome sound loop, on this otherwise hauntingly beautiful Tracey dedication to his Irish Great- Grandmother, Mary Monaghan.
Ridout switched to alto for the closing number of the first set, giving a biting edge to a full-throttle work out on Herbie Hancock's composition 'Darts'. The seasoned experience of Tracey, Williams and Armstrong showed its hand with perfectly placed accents from their respective instruments to keep up the momentum and push the music to new heights of invention. Fabulous!
Harry 'Sweets' Edison is better known as a star of the early Count Basie Orchestra and for the uniquely economic trumpet style that he fashioned later in his career, than for his composing skills. More's the pity, for 'Kitty', from a 1962 collaboration with Ben Webster, was a striking demonstration of how a seemingly simple tune set to a relaxed swinging tempo can inspire great jazz. It was a true 'box of delights' with Mark Armstrong's growling trumpet and the intuitive interplay within the rhythm section amongst its many high spots.
Tom Ridout's 'Vega' captured the aura of the brightest star in the northern constellation of Lyra to perfect effect and confirmed that in the right hands, the humble recorder deserves its place as a jazz instrument. Gareth Williams' exquisite piano solo added its magic to this excursion into deep space.
About twenty-five years ago Clark Tracey composed a number specifically for his trombonist of that time, the great Mark Nightingale. The result was 'Mark Nightingale Sang',  a number which certainly expressed the spirit of its more famous counterpart even if it followed a different melodic pathway. On this occasion James Wade-Siren stepped into Mark's footsteps and showing a confidence and maturity way beyond his nineteen years, held the audience captive with a spellbinding solo that makes one wonder what this young man will accomplish in the future: a star in the making!
The final two numbers of the evening took us right back to the roots of hard bop with the  roaring 'Blakey-esque' 'One by One' from the pen of Wayne Shorter followed by Slide Hampton's 'New World'. The latter, a moving tribute to Slide, a trombonist and prolific writer and arranger who passed away at the age of eighty-nine on 18 November, featured the 'man himself', Clark Tracey, in a mesmerising drum solo – technically brilliant, dynamic, melodic, rhythmically super-charged, emotional – a tour de force that brought the gig to a close.
I understand that Clark proposes to disband this group once its touring programme is complete towards the end of this year and has a number of new projects up his sleeve to explore in the future. Though we shall regret its passing, we can only be thankful that it didn't fall victim to Lockdown and  for the opportunity to see it at a peak of its powers; an inter-generational band to remind us of what jazz is about and holding the promise of great things to come.
Our thanks also to the Front of House Team at Progress for their warm welcome, hospitality and attention to detail.
Review posted here by kind permission of Trevor Bannister
Photo by Zoë White Photography
Photo by Zoë White Photography
---