His 'n' Hers: Dave & Judith O'Higgins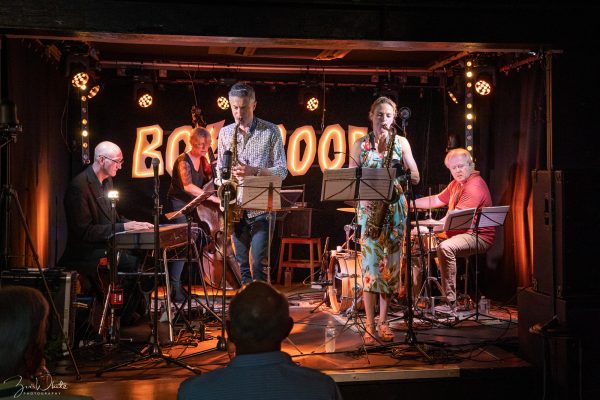 Livestream Jazz from the 'Boileroom', Guildford. Wednesday 15 June 2021
In collaboration with Guildford Jazz
Dave & Judith O'Higgins tenor saxophones, Graham Harvey keyboard, Marianne Windham bass and Sebastiaan de Krom drums
Yes folks, it's true, your ears didn't deceive you – that was the sound of genuine applause that you heard reverberating throughout the 'Boileroom', Guildford on the evening of Wednesday 15th June; the wildly clapping hands of 'a perfectly formed bijou audience', as Dave O'Higgins liked to describe it, enraptured by their first taste of 'live' jazz for the first time in 'how many months'.  What a lift it gave to the performers – the missing ingredient from the otherwise hugely successful season of 'Boileroom' 'Livestreams' that began way back in January; real people to nourish the mystical creative process we know as jazz. Wonderful!
And what better choice of band for the occasion than 'His n' Hers', the husband and wife team of tenor saxophonists Dave and Judith O'Higgins and their three 'buddies', Graham Harvey, Marianne Windham and Sebastiaan de Krom. This is a group in the true sense of the word, with everyone up for the challenge presented by a perfectly balanced set of jazz standards and O'Higgins' originals (Dave admits to coming up with the initial ideas, but credits Judith with shaping the melodic form), all of which are to be found on the 'His n' Hers' album recorded in the midst of Lockdown #1 last year, available in digital, CD and vinyl formats via https://ohig.bandcamp.com/album/his-n-hers
I'm not sure of exactly what sort of 'Hanky Panky' Dexter Gordon had in mind when he penned this jazz march, but it made a playful opener to the gig with Judith's muscular tenor well to the fore. She is a remarkably talented lady who combines her music with a career as a forensic pathologist, not to mention her accomplishments as a graphic artist – her design, with its nod towards the classic 'Avengers' TV series of the 1960s, graces "His 'n' Hers", an album which she also helped to engineer.
Who can forget the panic buying of early 2020 when hapless shoppers across the country searched in vain for rolls of precious toilet tissue? Dave and Judith chose to commemorate this desperate phenomena with 'Los Bandidos Bogarolles', which despite its 'Earthy' subject matter proved to be a delightful Latin flavoured number, based on the chord sequence of 'On Green Dolphin Street'.
'Save Your Love for Me' was famously recorded by vocalist Nancy Wilson with Cannonball Adderley in 1962. This interpretation swung effortlessly and featured the contrasting sounds of the tenor protagonists in both solo and ensemble mode, along with the lyrical invention of Graham Harvey at the keyboard – what a marvellous player he is!
As Dave explained, Dexter Gordon, who played with Louis Armstrong in his early career, straddled the eras of jazz from 'swing', through bebop, hardbop and beyond, and even embraced some of the innovations of John Coltrane. He was a true survivor who overcame difficulties in his homeland with a long sojourn in Europe and ultimately starred in the classic movie 'Round Midnight' – a story closely aligned to his own life and experience, though actually based upon pianist Bud Powell's life as an émigré in Paris.
Dave paid tribute to Dexter's majestic style, once described as 'excruciatingly enjoyable', with 'Soy Califa', familiar to 'Boileroom' regulars as one of the tunes that accompanies the opening credits to the livestream gigs. Sebastiaan de Krom and Marianne Windham kept the 'pots boiling' in the rhythm department and whipped up a carnival spirit for a wailing front line, dominated by the tremendous tension building presence of Dave O'Higgins and the momentum he generates with the big sound of his instrument.
'Fourth Dimension', another original from the creative team of O'Higgins,  took a step further out with a passionate evocation of the territory inhabited by John Coltrane.
Fran Landesman's ballad, 'Spring Can Really Hang You Up the Most' is a favourite amongst jazz musicians, but can its sardonic, bittersweet emotions ever have carried such a powerful message than now, in our times of COVID-19 inflicted frustration. Judith O' Higgins captured the mood and sentiments perfectly in her solo.
Following the darkly mysterious 'Theme for Doris' by Tina Brooks, a once promising Blue Note recording  artist who sadly fell into obscurity, the band returned to further reflect on 'Lockdown'. Thankfully jazz musicians are blessed with wit and good humour. They never lack perceptive imagination when it comes to tune titles or the ability to present sparkling 'new wine in old bottles'. Hence, 'I'll Remember April' gave birth to 'We'll Forget March'. Not the gloomy statement we might have expected but a joyful Latin excursion with a marvellous solo by Marianne Windham.
Inspired by the magic of West Indian cricket in its earlier days and fuelled by Sebastiaan's powerful drumming, 'Calypso Collapso' brought the evening to an exuberant close; a timely reminder that fortunes may have changed in the course of time but England have never lost their ability to fall apart at the crucial moment in a Test Series ie against New Zealand at Edgbaston as recently as 10th June!
And so, with an image of England's wickets flying through the air, possibly final gig in a magnificent season of Livestreams from the 'Boileroom' and a brilliant reaffirmation of 'Live' jazz drew to a close. No words can adequately express our thanks to Marianne Windham for her imagination, dedication and energy in making the project possible. She has kept jazz 'alive' for musicians and audiences alike throughout times of unprecedented challenge with a world-class innovation that will surely retain a complementary role to live performance in the future.
Thanks also to the Boileroom technical team of Dom and Beth and to Steve of Ultimate Stream for the outstanding quality of production, sound and lighting. And finally, thanks to the numerous jazz societies whose combined efforts helped to promote the events and create an  online audience approaching 2,000 over the course of seven events.
Let's raise a glass to all those involved and drink a toast to the resumption of 'Normal Service' in the very near future.
Here's a final word from Zoë White, Jazz in Reading's consummate house photographer: "I felt very lucky to attend the gig. It was great to be back behind the lens and to soak up the jazz vibe and bonhomie in person. Hugely enjoyable. I loved the atmosphere and the good-natured connection between Dave, the band and our 'perfectly formed 'bijou' audience'." 
Review posted here by kind permission of Trevor Bannister
Photo by Zoë White Photography
---