A Jazz in Reading concert at The Reading Fringe Festival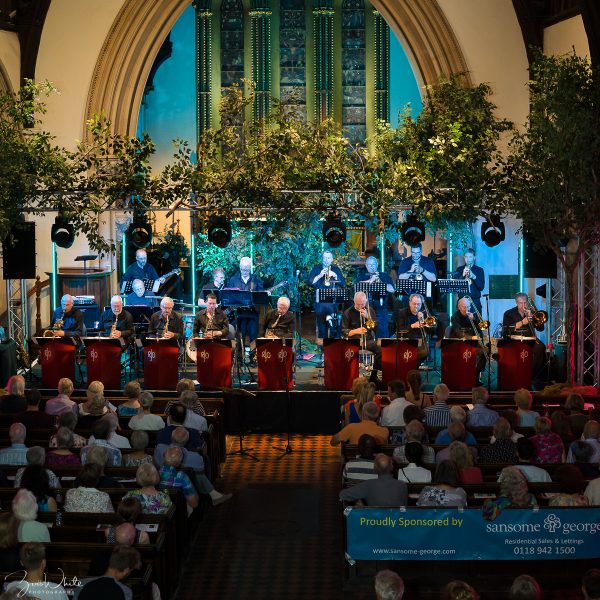 Tuesday 23 July 2019 at Reading Minster
The Remix Jazz Orchestra under the direction of Stuart Henderson and with special guests Simon Allen tenor saxophone and Fleur Stevenson vocals: David Cunningham, James Lowe, Chris Preddy, Stuart Henderson trumpets; Peter Phillips, Cliff Luke, Brian Haddock trombones; Steve Waters bass trombone; Brian Marrett clarinet and alto saxophone; Rod Kirton alto saxophone; Mike Booker tenor saxophone; Jim Philip baritone saxophone & bass clarinet; Adrian Sharon piano; Adrian Thoms guitar; John Deemer bass guitar & tuba; Dave Lambert drums.
The opening bars of Count Basie's 'All Of Me' simply enveloped the two-hundred plus audience who gathered in Reading Minster on Tuesday 23 July, with the warm glow of its immaculate presentation and relaxed, effortless swing. The perfect opening shot in an evening dedicated to 'The Evolution of the Big Band' as told in music by the 17-piece Remix Jazz Orchestra and the illuminating narrative of its Musical Director, Stuart Henderson – for big band jazz is a story not just of the music itself, but of colourful locations, intriguing plot-lines and larger than life characters.
None more so than Paul Whiteman, the self-styled 'King of Jazz' Paul Whiteman. 'Whispering' a loving recreation of a massive hit for Whiteman in 1920, featuring the 'oom-pah' tuba of John Deemer (playing in the lofty heights of the pulpit) and the swanee whistle of Stuart Henderson, evoked Whiteman's determination to rub the rough edges off the then new-fangled craze of 'jass' and transform the music into a 'respectable lady'.
Whiteman remained popular throughout the next two decades, but anyone searching for the 'real thing' needed to travel no further than New York's Roseland Ballroom where African-American pianist Fletcher Henderson had assembled a 'powerhouse rhythm machine' band whose instrumentation wouldn't have looked too different to that of the Remix Orchestra. Fletcher set the mould for all future big bands; top flight musicianship, written arrangements and scorching hot improvised solos! 'King Porter Stomp' was one of his most successful arrangements and with the brilliant Brian Marrett on clarinet, the Remix interpretation captured all the excitement of those pioneering days.
The muted trumpets and flawless saxophones of 'Stompin' at the Savoy' celebrated the diminutive drummer Chick Webb whose band held court to the Lindy-Hopping dancers of Harlem's Savoy Ballroom. He regularly 'cut' visiting bands, like those of Fletcher Henderson, in thrilling battles of the bands. Chick also introduced a shy teenage singer to the bandstand in 1934 … a certain Miss Ella Fitzgerald!
In the same year, clarinet virtuoso Benny Goodman, modelled his new band on that of Fletcher Henderson and employed Fletcher as an arranger. Over the next four years he scored a string of hit records, set the nation dancing to his radio broadcasts and national tours, and earned the accolade 'King of Swing'. The band was driven along by the drums of Gene Krupa, most famously at the historic Carnegie Hall concert of 1938, a mantle now taken up by Dave Lambert as he snapped the flag-waving 'Don't' Be That Way' into life, a feature for the full brassy tones of Peter Phillips on trombone.
Billie Holiday – 'Lady Day' – possessed the alchemist's gift of being able to transform lyrical dross into solid gold, by turns, expressing the joy of the human spirit and its vulnerability in equal measure. Guest vocalist, Fleur Stevenson captured those qualities perfectly with a beautiful interpretation of 'That Old Devil Called Love', supported by the lush, string-like background of the Remix Orchestra.
'Hawaiian War Chant' , on the other hand, a hit for Tommy Dorsey in 1941 and a feature in the movie 'Ship Ahoy', showcased the razzle-dazzle-showmanship beloved of swing fans – thundering tom-toms, a hand-clapping, head-swaying band, the trumpet section waving their derby mutes in swinging unison, a fiery tenor solo and to top it all, a mock dual between Dave Lambert and Stuart Henderson. Great fun!
Arguments raged throughout the 'swing era' as to whether Benny Goodman or Artie Shaw was the greatest clarinettist. Brian Marrett made his own claim to the title with an expressive and beautifully polished interpretation of 'Begin the Beguine'. Artie Shaw's classic hit of 1938 led us neatly into the instantly recognisable introduction to Glenn Miller's 'In The Mood', an anthem for the wartime years that never fails to set toes tapping, raise a smile, or even prompt a wistful tear to the eye. This fine version featured special guest Simon Allen and his fellow protagonist Mike Booker on tenor saxophones.
Chris Preddy, the youngest member of the Remix Orchestra, took the spotlight to evoke the sound and spirit of trumpet legend Harry James with a magnificent performance of the tear-jerking 'You Made Me Love You'.
While Harry James made a name for himself with his Hollywood-movie-star good looks and the extravagance of his playing, William 'Count 'Basie could sit almost unnoticed at his piano, and with one note teased from the keyboard, set his band alight. Taste and economy were his signature words, as Adrian Sharon demonstrated to perfect effect in his introduction to 'Satin Doll', more than ably supported by the superb rhythm section of Adrian Thoms, John Deemer and Dave Lambert.
Charlie Barnet's swinging 'Skyliner' brought a huge smile of delight to a nonagenarian gentleman in the audience. Not only did he buy the record when it was first released in 1944, but he saw the Barnet orchestra live in New York as a young trainee RAF pilot on a brief stop-over en route to a training base in the mid-west of America.
And to bring the first set to a close? What else but Stan Kenton's atmospheric 'Intermission Riff'.
The insistent call of Dave Lambert's drums summoned the 'congregation' for the second half of the concert. Excitement mounted as his solo grew in volume and momentum. When he reached a crescendo of sound, he released the tension, hit a familiar groove and launched the band into spectacular flight with 'Sing, Sing, Sing', the thrilling climax to Benny Goodman's Carnegie Hall concert, and no less exciting in this performance!
The next number brought a change in temperature and the distinctly 'cool' unison sound of four saxophonists – Brian Marrett, Simon Allen, Mike Booker and Jim Philip – playing 'as one', in a marvellous arrangement of 'Four Brothers', Jimmy Giuffre's tightly swinging composition for Woody Herman's band of 1947; known inevitably for ever after as the 'Four Brothers' Band.
The reappearance of Fleur Stevenson prompted a huge round of applause as she took centre-stage to sing 'When the Angels Sing'. Once a feature for Martha Tilton with the Benny Goodman band delivered the song to perfection, with a lovely sense of swing, crystal-clear diction and a vocal quality that filled the vast space of the Minster. However, 'When the Angels Sing' was never just a vocal feature. It's composer, trumpeter Ziggy Elman, added a flamboyant 'Fraulich' chorus, emulated on this occasion by maestro Stuart Henderson over the rolling snare drumming of Dave Lambert. Sensational!
The enduring spirit of Duke Ellington looms large in the story of big band jazz. He led an orchestra for more than fifty years and composed over one-thousand pieces, many of which have become standard items in the big band repertoire. 'Mood Indigo', featuring the resonant low tones of Brian Marrett's clarinet, presented Ellington at his most reflective; the imaginative lighting effects added greatly to the atmosphere. In contrast, the Remix Orchestra transformed 'Caravan' (forever associated with Ellington, but actually written by his band member Juan Tizol), originally conceived as an exotic camel ride across the gently undulating sand dunes of the desert, into a headlong flight into a desert storm, with Simon Allen's ferocious tenor setting the pace.
Ted Heath was Britain's foremost post-war bandleader, who also flew the flag with great success on his numerous tours of the States. He appeared in Reading on many occasions. On one such, at Reading Town Hall, a wild mob of female fans tried to pull star vocalist Denis Lotis off the stage. They took his bow tie, his handkerchief, socks and his shoes. They eventually threw back the shoes … but not the socks!
'Hot Toddy' was one of Ted's biggest hits, played here with the smooth precision of the Heath band, anchored by the gloriously fruity baritone saxophone of Jim Philip.
Johnny Dankworth was also a frequent visitor to Reading in his pre-TV/film writing days. The theme to 'Tomorrow's World' instantly conjured images of its enthusiastic presenters Raymond Baxter and James Burke introducing the next techno-wizardry that would 'undoubtedly' change the course of world history … and some of them probably did! Better still the Remix Orchestra played the entire tune, not just the 30 seconds worth that used to accompany the titles.
A sparkling version of 'The Lady Is A Tramp', with a witty scat chorus a la Ella Fitzgerald, rounded off Fleur Stevenson's contribution to the evening and added her name to the illustrious list of vocalists who have performed the Rodgers and Hart classic.
Changing tastes in popular music, the advent of rock n' roll and the arrival of the Beatles, almost sounded the death knell for big bands in the 1960s. But band leaders like Buddy Rich and Maynard Ferguson were not to be outdone. How could one resist the gospel-soaked funk of 'Mercy, Mercy, Mercy' or James Lowe's tour de force performance of spectacular trumpet pyrotechnics on 'MacArthur Park'. A high-voltage performance of Gordon Goodwin's 'Jazz Police' brought the story bang up-to-date and declared emphatically that there is bags of life and plenty of new territory yet to be explored in the ever-evolving story of big band jazz.
Musical Director, Stuart Henderson, is to be congratulated on devising such an original and wide-ranging programme that mixed familiar warhorses with all manner of surprises – old and new, and for his informative and good-humoured commentary. Oh, that school music lessons could have been as much fun as this!
As for the Remix Orchestra? What can one say? Will 'SUPERB' suffice?
Thanks also to Reading Fringe Festival and Jazz in Reading for promoting the event; the Reading Fringe Festival 'House' Team for the excellent quality of the sound and lighting and for manning the bar; Reading Minster for allowing the event to take place in such beautiful surroundings; Sansome & George: Residential Sales & Lettings for their generous sponsorship and finally, but by no means least, all those wonderful people who supported the event and demonstrated that there is a healthy appetite for 'LIVE' big band jazz in Reading.
Review posted here by kind permission of Trevor Bannister
Photo by Zoë White Photography
---