The Scott Willcox Ten-Piece Big Band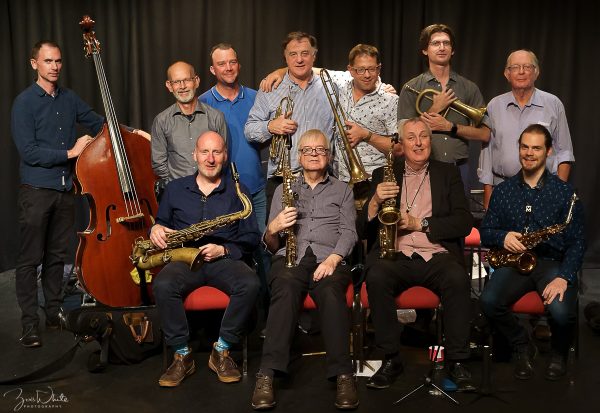 Friday 20 September Progress Theatre, Reading 
Scott Willcox directing, Andy Gibson trumpet & flugelhorn, Gabriel Garrick trumpet, flugelhorn & trombone, Martin Gladdish trombone, Julian Costello tenor saxophone, Pete Hurt tenor saxophone & flute, Bob McKay soprano, alto and baritone saxophones & clarinet, Samuel Eagles alto saxophone, Dave Frankel keyboards, Marcus Penrose bass & bass guitar, Gary Willcox drums
Scott Willcox and his ten-piece big band made a welcome return to Reading on Friday 20 September, after an interval of three years, to open a new season of Jazz at Progress with a jaunty arrangement of Carol King's smash hit 'I'm Into Something Good', featuring the rolling piano of Dave Frankel and the dazzling brass of Andy Gibson and Martin Gladdish. Though best known for his exuberant humour, risqué lyrics and hard driving stride piano, Fats Waller could also be a composer of great sensitivity as the band demonstrated to perfect effect with perhaps his most engaging composition, 'Jitterbug Waltz', drawing on all the instruments of the ensemble to produce a wonderful cascade of sound.
While 'Jitterbug Waltz' paid tribute to an early inspiration in Scott Willcox's musical career, the atmospheric 'La Gomera', a Canary Island dear to his heart, introduced us to a source of his own creative impulses.  His writing evoked the stunning contrast between the tranquillity of the island, its black-sanded beaches washed by the Atlantic Ocean and the potential violence of its volcanic origins. Great work here from Gary Willcox on percussion, the plaintive saxophones of Julian Costello and Bob McKay, and the fiery trumpets of Andy Gibson and Gabriel Garrick.
The continent of Africa on the other hand, is not a location that Scott has visited and so the brilliantly conceived 'African Dance' was very much an impression of how he imagined it might be. Rich in colour and rhythm, and with each instrument clamouring for attention, it was full of the joyful spirit that gave birth to jazz in the first place.
Dave Frankel's piano transported us from the vivid sunlight of Africa to the gentle breeze of Brazil in his elegant introduction to the delightful 'Ask me in Latin (Nolite a me)', in which the tonal variety achieved by using different instruments in combination was particularly effective.
Wilcox used a similar device in the intriguing 'Thinking About It' to create a seemingly infinite number of subtle variations on a basic theme.
'Song for a Special Friend' brought a complete change of mood with a deeply moving solo by Bob McKay on soprano saxophone and a coda of heart-wrenching emotion expressed by the trumpets of Andy Gibson and Gabriel Garrick. Brilliant!
'Slane', introduced by Marcus Penrose on bass and based on a traditional Irish folk song using the familiar hymnal tune of 'Lord of All Faithfulness', maintained the air of reflection. Bob McKay's soulful playing was once again to the fore, while Gabriel Garrick rounded things off beautifully on flugelhorn.
Gary Willcox's powerhouse drums set the pace for 'Bouncing Back', a challenging number in 5/4 time, featuring a wailing solo from Sam Eagles, which built to a glorious climax to bring the first set to an exhilarating close.
Gabriel Garrick took up the trombone, a new arrival in his instrumental armoury, to join forces with Martin Gladdish and the baritone sax of Bob McKay (transposing 'on sight' the original part written for a third trombone!) to open the second set with 'Can't Complain'; a number that builds and builds in gripping intensity and leaves you slightly breathless when it reaches its sudden conclusion.
Scott's approach to music is a far cry from that of Count Basie and yet 'Second Thoughts' had the feel of "Li'l Darlin'", a Neal Hefti arrangement from the classic album 'The Atomic Mr Basie', described by one writer as 'an object lesson in how to swing at a slow tempo' and by another as 'an exercise in how to play slow without falling apart'. The Willcox band held its nerve to successfully negotiate the tightrope walk thanks to the languid tenor of Pete Hurt, muted brass and delicate brushwork of Gary Willcox, only giving way to a shout of triumph with a spectacular flurry of high notes from Gabriel Garrick on the final step.
Playing both muted and open horn, trombonist Martin Gladdish took the solo spotlight on the Scott Willcox arrangement of 'Come Rain or Come Shine'. He held the audience enthralled as he drew every ounce of emotion from the Harold Arlen classic.
'Regular Fries' has proved to be a popular item on the menu since the earliest days of the Willcox Big Band, while Irving Berlin's 'Puttin' On the Ritz'', a number forever associated with the impeccable footwork of Fred Astaire, provided scope for plenty of musical high-jinks – piano a la Les Dawson from Dave Frankel, slurring saxophones, the earthiest growl trumpet you're likely to hear this side of New Orleans from Gabriel Garrick and a cheeky contribution from Pete Hurt on flute. 'Make Mine Mambo' with a declamatory statement from Martin Gladdish and searing alto solo from Sam Eagles, kept up the spirit of good fun, even if the title sounded as if it had been taken from a 1950's Hollywood 'B' movie.
The penultimate number 'Mixed Feelings' proved to be exactly that; a haunting and enigmatic composition that perfectly balanced the tension between uninhibited free expression and beautiful lyricism.
'All Change', the title track of Scott's most recent album, brought the evening to a showstopping close and literally brought each member of the band to the tip of his toes in order to meet the challenge of its rapid changes in pace and time. One could only gaze in awe and wonder at the fantastic quality of the musicianship. As one player said afterwards, 'Great music, but it's exhausting reading all those charts!'
The Scott Willcox Ten-Piece Big Band opened the new season of Jazz at Progress in splendid fashion and the theatre itself provided the perfect platform in terms of space, atmosphere and acoustics for the originality of Scott Willcox's writing, brought to life with jazz spirit by world-class jazz musicians.
As ever, our thanks to the Progress 'house team' whose warm hospitality and attention to detail ensure that the gigs always run so smoothly.
Review posted here by kind permission of Trevor Bannister.
Photo by Zoë White Photography 
---