Alan Barnes Octet: "A Jazz Christmas Carol"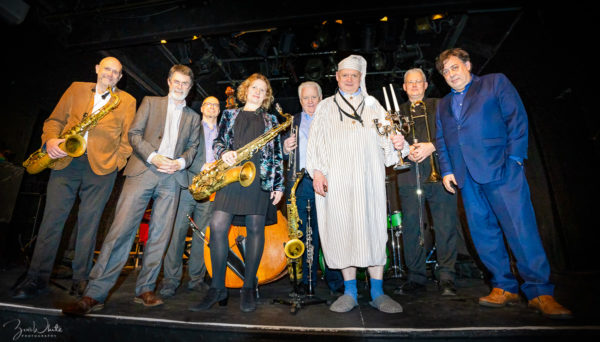 Progress Theatre, Reading, Friday 20 December 2019
Alan Barnes alto saxophone, clarinet, bass clarinet, composer, arranger
Bruce Adams trumpet, flugelhorn
Mark Nightingale trombone, arranger
Karen Sharp tenor saxophone, baritone saxophone, clarinet
Robert Fowler tenor saxophone, baritone saxophone, clarinet
David Newton keyboard
Simon Thorpe bass
Clark Tracey drums
Literature has often inspired jazz composers – John Dankworth brought us 'What the Dickens!',  Ellington wrote 'Such Sweet Thunder' to commemorate Shakespeare. Many compositions evoke characters – real or imagined; Benny Golson's 'Killer Joe' adds a spoken description of that 'hip-cat' on the original Jazztet recording. Alan Barnes added to the tradition with 'A Jazz Christmas Carol'.
Jazz in Reading offered a seasonal delight with his version of Dickens famous story (with a bonus – jazz versions of carols and traditional holiday songs). A prolific composer, arranger, and performer, Barnes narrated extracts of the tale before each section of the suite ( but with his trademark gags and contemporary comments on the text).
In Dickensian nightshirt and cap, Barnes entered the stage for the curtain raiser, a medium tempo 'God Rest Ye Merry Gentlemen', featuring a dazzling solo from Bruce Adams on trumpet.
Opening the suite itself, 'The Start of It' was a slow minor theme in an attractive arrangement. Clarinets alternated with trumpet and trombone, and the piece was introduced by bowed bass.
Scrooge's verdict on Christmas provides the theme for 'Bah Humbug'.  Karen Sharp's baritone voiced the quote, at times in unison with Simon Thorpe's bass. The first piece with several solos, we heard Robert Fowler on tenor, Bruce Adams' trumpet, and Alan Barnes on clarinet. (Switching between swing and latin, the arrangement recalled another Ellington work, the Latin American Suite).
Clark Tracey's drum intro to 'Marley's Ghost' conjured up the rattling of chains. The band created a menacing mood, as Mark Nightingale on muted trombone played a fine solo.
Scrooge's next visitation, 'The Ghost of Christmas Past (Portrait of Belle)' was dedicated to his one time fiancee. Karen Sharp joined the narration as Belle, before atmospheric solos from tenor, trombone and alto. Alan Barnes' alto solo included Hodges-like portamento, while the scoring for baritone sounded as expressive as Harry Carney.
'The Ghost of Christmas Present' materialised as a calypso, the distinctive rhythm introduced on drums. We heard an ingenious arrangement with key changes, call and response, changes of mood, as well as superb solo work. The sinister grandfather clock of the story rang out from David Newton's piano.
After a nod to 'Tiptoe Through the Tulips' (a hit for his namesake), we met 'Tiny Tim': a lovely, memorable melody, with a 'wrong' note. Karen Sharp played the poor child in this jazz waltz. A change of metre led into a solo from David Newton, then an ensemble with trumpet lead.
As Scrooge visits the graveyard to see the future, 'The Ghost of Christmas Yet to Come' saw the first outing of the evening for Alan Barnes sonorous bass clarinet. In an appropriately melancholy mood, the varied textures (bass clarinet with either bass, two clarinets, or drums) reminded us of Ellington's New Orleans Suite.
'The End of It' reprised the suite's themes through a 'redemptive' brass sound, echoing Scrooge's own change of heart. The baritone sax quoted 'Bah Humbug' to complete the medley.
Short solos from each of the band completed the suite's final selection, 'God Bless Everyone!', an upbeat, medium tempo number. Clark Tracey soloed with a 'Jingle Bells' quote, before the optimistic mood of key changes in the final choruses.
The Progress audience clearly much enjoyed Mark Nightingale's extended solo on his feature 'The Christmas Song'. We were also treated once more to Alan Barnes bass clarinet, both in scoring with two clarinets and muted trumpet, and reprising the theme.
A reading from the Bible – perhaps a first for Jazz in Reading – set the scene for 'We Three Kings' . Alan Barnes interpreted the gift of gold, Karen Sharp frankincense (or, according to the narrator, Frankenstein), and Robert Fowler myrrh. Over an arrangement in the spirit of Coltrane's 'My Favourite Things', a virtuoso alto solo segued into Karen Sharp's tenor, then Robert Fowler's baritone.
Following Charles Mingus' tradition of interpolating one song with another, the band's version of 'Santa Claus is Coming to Town' sneaked in 'Blue Monk' (surprisingly, a close fit).
Although Jazz in Reading has given us big and medium size bands before, rarely have we heard a band with such a variety of textures (exploiting of course, the band's multi-instrumentalists). Clarinets can sometimes sound awkward in a 'modern jazz' context, but here they worked as beautifully as they do in Ellington. Many combinations of brass and woodwind, as well as superb solos, vividly recreated the varied moods of Dickens' story.
Sincere thanks to the Progress Theatre for hosting, to all the Progress team for sound, lighting, and front of house, to our Jazz in Reading team, and the appreciative audience.
Review posted here by kind permission of Clive Downs
Photo by Zoë White Photography
---