Gigs
---
Tues 1 Nov | Equinox Quintet with Mike Gale | Mike Gale trumpet & flugelhorn, Peter Bingham tenor sax, John Clarke guitar, Derek Alford bass, and Paul Kaluza drums | Four Horseshoes pub, Sherfield-on-Loddon RG27 0EX | 8pm to 10.30pm | Four Horseshoes | No charge for admission (donations are welcomed)
---
Fri 11 Nov | Jazz at The Goring Community Jazz Club | Trish Elphinstone  saxophonist, Martin Pickett piano, Howard King bass, Mike Goff drums | Goring Community Centre, The Old School, Station Rd, RG8 9HB | 7:30 pm | £10 | Please book early to avoid disappointment – tickets here, from Inspiration Goring or cash or card on the door.
---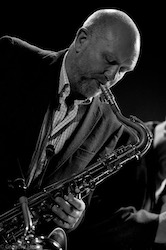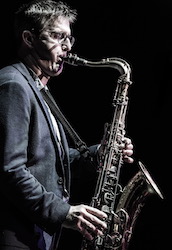 Tues 15 Nov | Mark Crooks tenor sax, Robert Fowler tenor sax, John Pearce piano, Marianne Windham double bass, George Double drums | Fleet Jazz Club, The Harlington,  Fleet, GU51 4BY | Doors and bar open from 7.15pm, performance 8pm | Tickets £20 available here or from the Box Office on 01252 811009 (or on the door, cash or card)
"From A to Z: The music of Al Cohn & Zoot Sims". Al Cohn and Zoot Sims were two of the finest and most popular tenor sax players in jazz . Musicians loved them and audiences flocked to hear them at their long engagements at the Half Note Jazz Club in New York. Al Cohn wrote the inventive arrangements for this joyous free-wheeling quintet, which they co-led through much of the 1950s and 1960s. In-demand tenor players Mark Crooks and Robert Fowler salute Al & Zoot tonight, with swinging, straight-ahead jazz at its best. Mark works in a wide variety of musical settings including jazz, big band, classical, shows and recording sessions on clarinet and saxophone. He is a member of the award-winning Back to Basie Orchestra and the celebrated John Wilson Orchestra. He has performed with artists ranging from Tony Bennett to Sir Simon Rattle, Lady Gaga to Dame Cleo Laine at venues from Ronnie Scotts in London to the Lincoln Centre in New York. Robert has worked with many bands including The Great British Jazz Band, The Syd Lawrence Orchestra, Redtenbacher's Funkestra, The BBC Big Band, the Humphrey Lyttelton Band, Alan Barnes' Octet, The Back to Basie Orchestra and Brian Ferry. He  has collaborated on soundtracks including for Baz Luhrman's 'Great Gatsby' and Sky TV's 'Babylon Berlin' series.
---
---