Gigs
---
Sat 1 Oct | P'Jam
 | Annie Parker flutes, Xav Riley guitar, Marianne Windham bass, Jim Wade drums | The Queens Head, 54 Christchurch Rd, Reading RG2 7AZ | Music from 8pm | Free entry.
P'Jam is a joyful quartet of musicians who simply enjoy playing jazz together 
in sometimes slightly unexpected and spontaneous ways. With a repertoire that
 spans Miles Davis to the Beatles, expect an evening of great music in good company!
---
Tues 4 Oct | Gala Night celebrating 10 years of Jazz at The Four Horseshoes, with Simon Allen Quartet | Simon Allen saxes, Gareth Williams piano, Laurence Cottle bass, and Jack Thomas drums | Four Horseshoes pub, Sherfield-on-Loddon RG27 0EX | 8pm to 10.30pm | Four Horseshoes | PLEASE NOTE THIS IS ADMISSION BY TICKET ONLY AND IS SOLD OUT.
---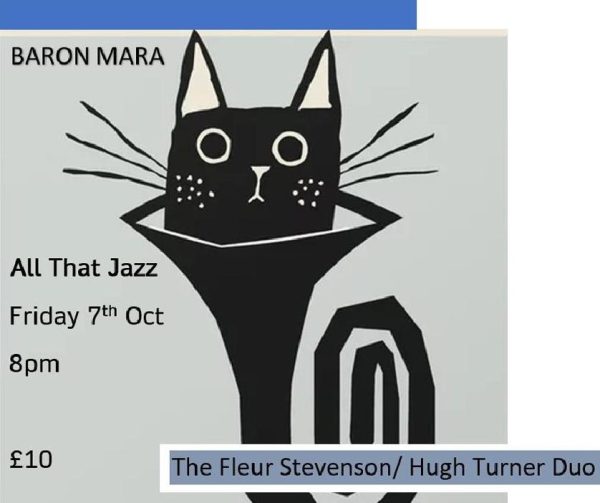 Fri 7 Oct | Baron Mara | Jonathan Judge saxes, Ruben Berrios keyboard, Howard King bass, Tony Lyons drums | Reading | The Rising Sun Arts Centre | 7.30pm | £10 on the door
Baron Mara will appear with the Fleur Stevenson-Hugh Turner Duo as part of a Big Untidy jazz night. More info
---
Fri 14 Oct | Jazz at The Goring Community Jazz Club | Sarah Jane Eveleigh vocals + guest , Nick Hill piano, Howard King bass, Mike Goff drums | Goring Community Centre, The Old School, Station Rd, RG8 9HB | 7:30 pm | £10 | Please book early to avoid disappointment – tickets here, from Inspiration Goring or cash or card on the door.
---
Sat 15 Oct | Woodley Theatre Presents Jazz @ Oakwood | 100 Years of Jazz Trumpet (from Buddy Bolden to Miles Davis and beyond…) | The Martin Hart Trio: Ken McCarthy piano, Andy Crowdy bass and Martin Hart drums featuring Stuart Henderson trumpet & flugelhorn | Oakwood Centre Centre, Woodley, RG5 4JZ | 7.45 | All tickets £12.00 available online at www.woodleytheatre.org or from the Box Office 07488 337 838
---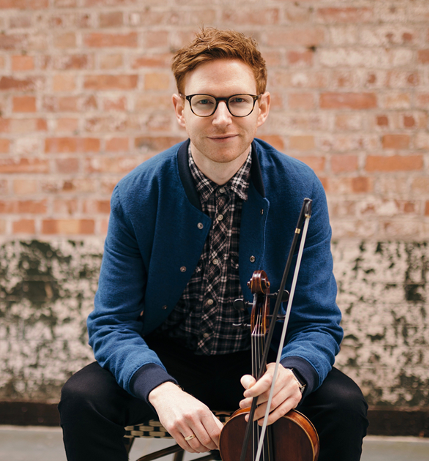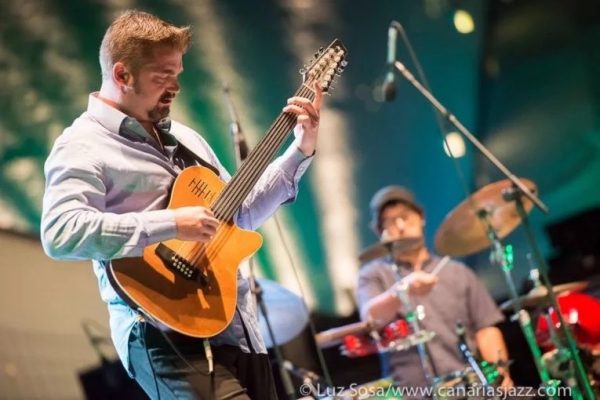 Tues 18 Oct | Richard Jones violin, Nicolas Meier guitar, Demi Garcia percussion, Marianne Windham bass | Fleet Jazz Club, The Harlington,  Fleet, GU51 4BY | Doors and bar open from 7.15pm, performance 8pm | Tickets £20 available here or from the Box Office on 01252 811009 (or on the door, cash or card)
In a change to our advertised schedule we are delighted to welcome jazz violinist Richard Jones for a fantastic evening of swinging standards and world music originals. With guitarist Nicolas Meier, percussionist Demi Garcia and Marianne Windham on double bass. From Swing to Tango, Bossa to Gypsy Jazz, all delivered with great style and virtuoso musicianship, it's a great night.
"Richard Jones imbues everything he plays with fire and energy and great depth of feeling" – London Jazz News
---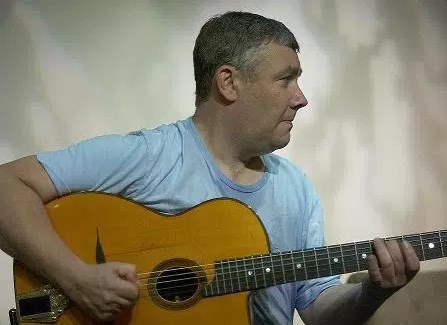 Tues 18 Oct | Gary Potter's "Hot Club" | Gary Potter guitar | Nils Solberg guitar | Mike Piggott violin | ​​​​​​​Andy Crowdy bass | Marlow Jazz Club. The Royal British Legion Hall SL7 1NT | 8.30pm | £10 | ​​​​​​​​​​​​​​The brilliant guitarist in the Django tradition and his All-Star group. Pay at the door but probably best to get a seat or table reserved – 01628 486571
---
Thurs 20 Oct | Nigel Price – Guitar, Vasilis Xenopoulos – Sax, backed by The Martin Hart Trio | 8:30pm | £10 | The Hedsor Social Club, Hedsor Rd, Bourne End, Bucks. SL8 5ES.  Please check https://jazzfromgeoff.blogspot.com for line-up changes, etc.
---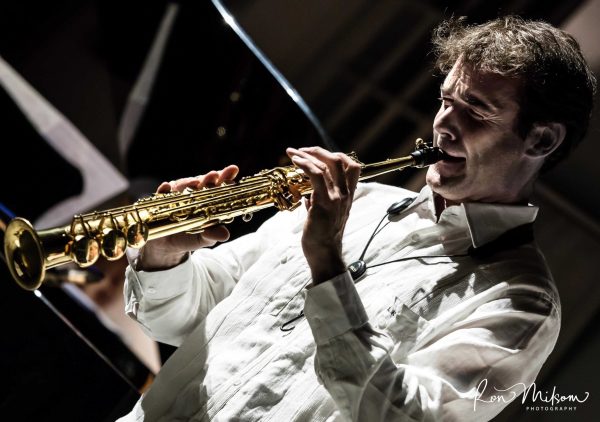 Fri 21 Oct  | Jazz at Progress: The Power Of Three | Tommaso Starace reeds, Jim Watson piano, Dave Chamberlain bass | Progress Theatre Reading | 7:30pm | £18.00 (£16.00 concessions, £9 under 16) plus maximum 5% booking fee | More info and tickets here
"Starace's melodious originals offer good blowing potential for alto and soprano solos delivered in a cleanly articulate post-bop style reminiscent of Phill Woods." Jack Massarik, Jazzwise
---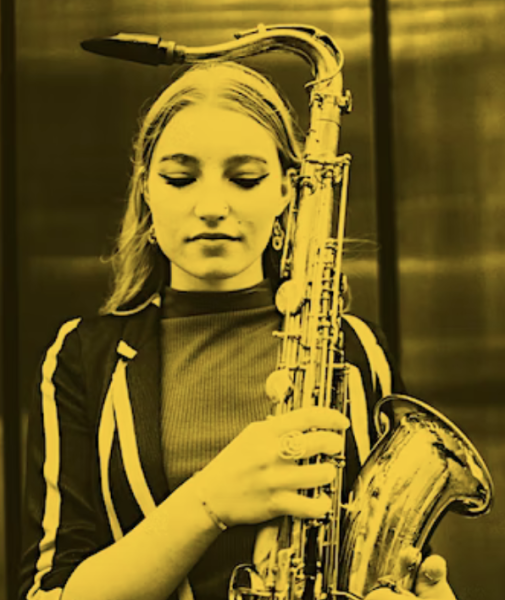 Fri 21 Oct | Emma Rawicz Quintet | Emma Rawicz saxophone, David Preston guitar, John Turville keyboard, Freddie Jenson bass and Asaf Sirkis drums | Benson Parish Hall, Sunnyside, Benson, Oxfordshire, OX10 6LZ | 19:30 to 22:00 | £16 – tickets here | Full bar selling a variety of soft and alcoholic drinks and snacks available.
Multi-award winning saxophonist and composer performs lilting Afro-Cuban grooves to hard-hitting modern jazz and funk. An all-star band will play music from her debut and upcoming album in a captivating performance. The range and depth of this talented performer and rising star is a must see for any jazz enthusiast!
---
Thurs 27 Oct | Johnny Thirkel – Trumpet, Mike Wills – Reeds, backed by The Martin Hart Trio | 8:30pm | £10 | The Hedsor Social Club, Hedsor Rd, Bourne End, Bucks. SL8 5ES.  Please check https://jazzfromgeoff.blogspot.com for line-up changes, etc.
---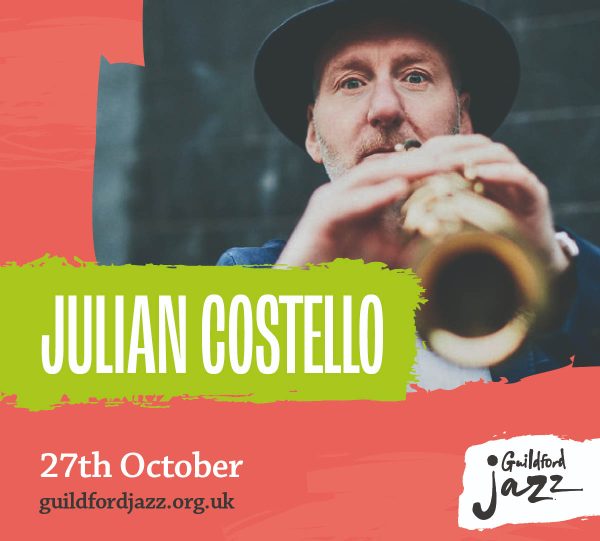 Thurs 27 Oct | Guildford Jazz at the Cricket Pavilion | Julian Costello saxes, Natalie Rozario cello and vocals, Stafanos Tsourelis guitar and oud, Sophie Alloway drums, Marianne Windham bass |  Woodbridge Road, Guildford GU1 4RP | food and drinks from 7.15 pm Jazz from 8.00 pm | Tickets £18 (discounts for members and students) from here
Internationally acclaimed saxophonist Julian Costello is bringing a new group to the club. Mixing jazz with a delicious world music element, they will be performing songs from diverse artists such as Sarah Vaughan and Jimi Hendrix and also original compositions from his albums on 33Jazz Records.
---
Sat 29 Oct | Steph Pirrie Quartet | Steph Pirrie vocals & trumpet, Phil Craddock piano, Barrie Griffin bass, Jim Wade drums | The Angel, Woolhampton RG7 5RT | Music from 8pm | Free entry. Call 0118 971 3827 to make dinner reservations
Steph Pirrie has performed as a vocalist with some of the UK's finest musicians and is currently studying jazz trumpet at the UK Jazz School working with some of our most admired educators, including Nick Weldon, David Lewis and Steve Waterman.
She began studying voice and classical trumpet aged 11. Her love of harmony, singing and groove-based music inspired her to become a jazz singer.
Steph is also an accredited vocal coach and conductor specialising in groups, acapella, backing vocals and choirs.
---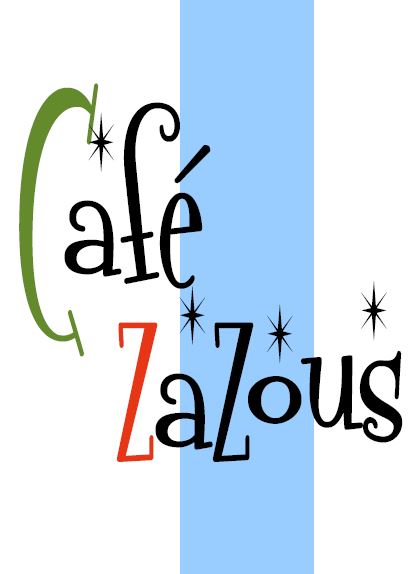 Sat 29 Oct | Cafe Zazous swing gypsy jazz quintet | HB more guitar | David Stamper guitar | Phil Berry double bass | David Ahmed guitar | Piotr Jordan violin | 8:30 – 11pm | The Retreat, 8 St John's St RG1 4EH | Donations gratefully received
---
Sat 29 Oct | Crowmarsh Jazz Club, Crowmarsh Crowmarsh Village Hall, Benson Lane, Crowmarsh Gifford, OX10 8ED | Bar and pizza available | Wallingford | Doors 6.45pm, show 7.30pm | £15: https://crowmarshjazz.co.uk
---