Gigs
---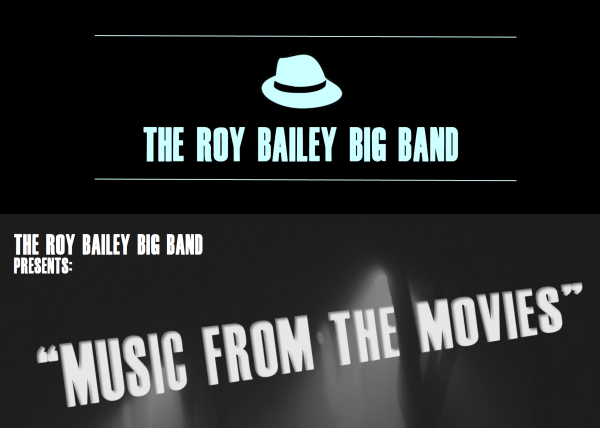 Thurs 1 Dec | Roy Bailey Big Band | Goring Village Hall, RG8 9AG | 7:45 pm (doors 7:25 pm) | £10 (£5 for U18) available now here and from Inspiration (Goring High Street) from 1 November.  More information available on our website | Bring your own drinks and nibbles.
The Roy Bailey Big Band is delighted to be returning to Goring Village Hall on Thursday 1 December.  This time, the band will bring you an evening of wonderful music from across eight decades of cinema!  From the golden age of Hollywood to action heroes, detectives, lawyers, 30-something singletons, secret-agents, monsters, nuns and more! The full big band sound will be interspersed by solo instrumental and vocal features. Swing, salsa, bossa, jazz waltzes and classic rock mixed with brooding film noir soundtracks for the small hours – we have it all. Do join us!
---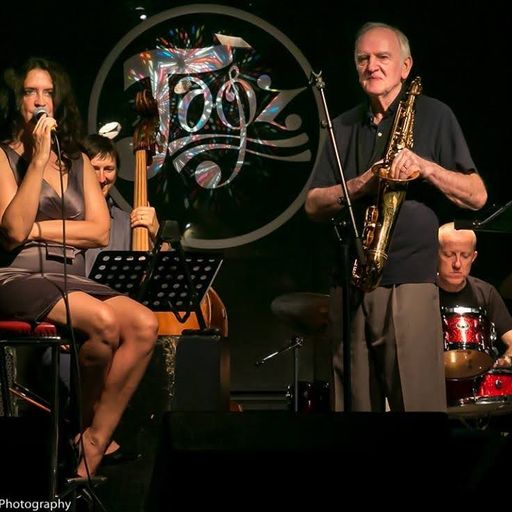 Fri 2 Dec | Bracknell Jazz | Esther Bennett Quartet with Duncan Lamont Jnr. | South Hill Park, Bracknell RG12 7PA | 7:30 pm | Tickets £16 (£8 under 18s) here
Saxophonist Duncan Lamont Jnr. will be celebrating the legacy of his illustrious father's song writing career together with Esther Bennett, one of the London Jazz scene's most highly respected jazz vocalists, pianist Terence Collie and bassist Richard Sadler. With songs recorded by Cleo Laine, Natalie Cole, George Shearing, Blossom Dearie and many others (not to mention the Mr Benn TV theme), Duncan Lamont Snr. was a giant of British jazz since the 1950s, often described as the new Cole Porter.  www.bracknelljazz.co.uk
---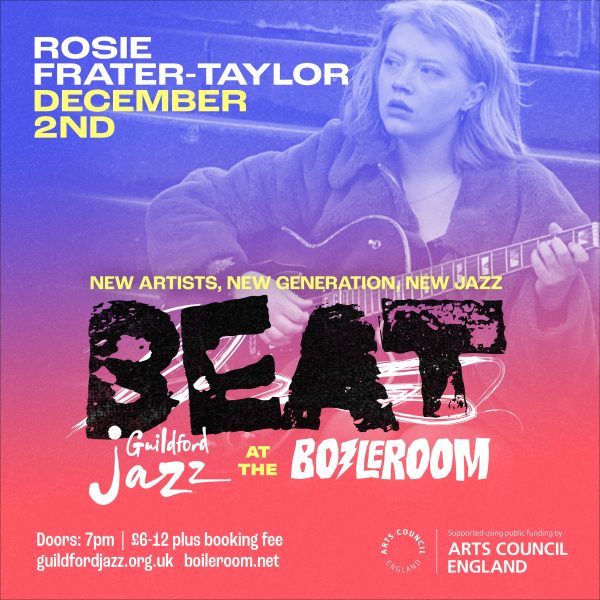 Fri 2 Dec | BEAT at the Boiler Room | Rosie Frater-Taylor | 13 Stoke Fields, Guildford GU1 4LS | Doors open 7pm, Support act 7.30 pm | Tickets £12 (discounts for members and students) from here
22-year-old singer, songwriter & guitarist Rosie Frater-Taylor blurs the lines between jazz, folk, pop & soul. Think Joni Mitchell meets George Benson, Lewis Taylor teams up with Emily King or a female version of John Mayer.
---
Sat 3 Dec | P'Jam
 | Annie Parker flutes, Phil Craddock piano, Lawrie Wright bass, Jim Wade drums | The Queens Head, 54 Christchurch Rd, Reading RG2 7AZ | Music from 8pm | Free entry.
P'Jam is a joyful quartet of musicians who simply enjoy playing jazz together 
in sometimes slightly unexpected and spontaneous ways. With a repertoire that
 spans Miles Davis to the Beatles, expect an evening of great music in good company!
---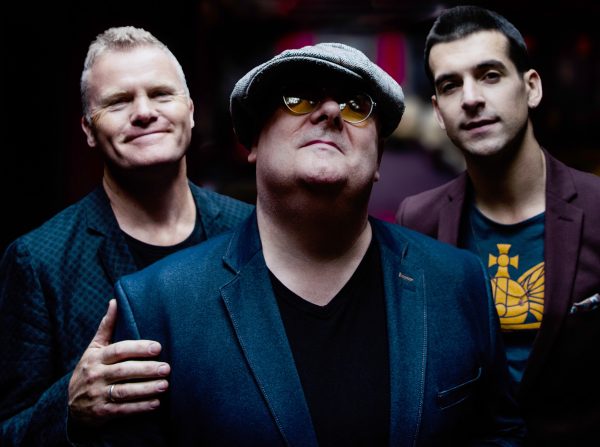 Tues 6 Dec | Ian Shaw vocals, Iain Ballamy sax, Jamie Safir piano | Fleet Jazz Club, The Harlington,  Fleet, GU51 4BY | Doors and bar open from 7.15pm, performance 8pm | Tickets £22 available here or from the Box Office on 01252 811009 (or on the door, cash or card)
An unmissable start to the Christmas Season! "What's New" – an exciting collaboration between three of the UK's leading jazz musicians in chamber format. Multi-award winning vocalist Ian Shaw, his contemporary the legendary saxophonist and composer Iain Bellamy and one of the finest young pianists of his generation Jamie Safir. Their interplay draws on the connection of Bellamy and Shaw who have known one another almost since the start of their careers. The music is about human connections – friendships, relationships, positive and otherwise – and plunders 80 years of popular song with new arrangements of classics by Bernstein, Bacharach/David, Legrand, Jobim and  Ellington. "Three great jazz voices entwining. Captivating." Robert Elms, BBC Radio London
---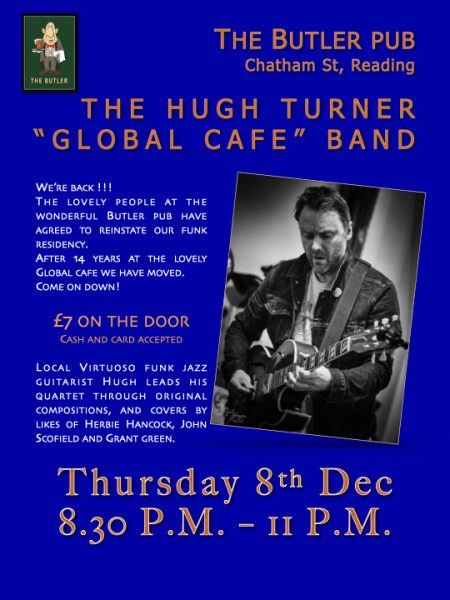 ---
Fri 9 Dec | Jazz at The Goring Community Jazz Club | Stuart Henderson trumpet and flugelhorn, Mike Wilkins saxophone, Nick Hill piano, Howard King bass, Mike Goff drums | Goring Community Centre, The Old School, Station Rd, RG8 9HB | 7:30 pm | £10 | Please book early to avoid disappointment – tickets here, from Inspiration Goring or cash or card on the door.
---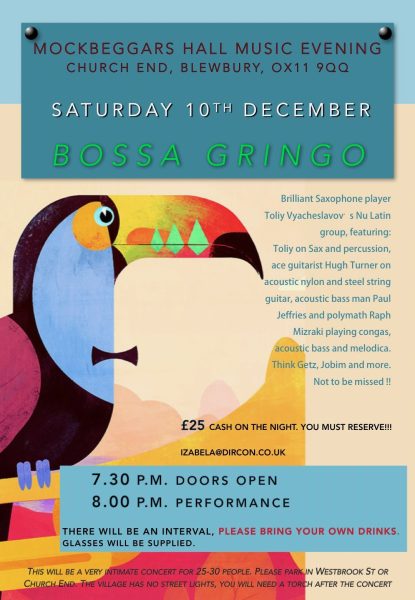 ---
Sun 11 Dec | Jazz Shots 4 + 1 | Nick Hill keys, Ottone Caretta saxes, Howard King bass, Ben Robins drums, Steve Foster vocals | The Rose and Crown, North Parade, Oxford, OX2 6LX | 7- 9pm | Free entry but booking seats is recommended – 01865 510551 | Part of Jazz Inn the Courtyard
---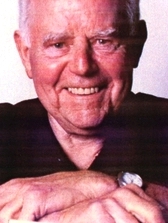 Tues 13 Dec | Marlow Jazz Club | Alan Grahame & His All-Stars | Alan Grahame vibes, Terry Hutchins guitar,  Ken McCarthy piano, Andy Crowdy bass, Martin Hart drums | Royal British Legion Hall SL7 1NT | 8.30pm | £10
​​​​​​​A  legend of popular music as well as jazz, the veteran vibes player will demonstrate the many styles of the vibes in jazz. Pay at the door but advance reservation is strongly advised. 01628 486571
---
Friday 16 December 2022 | Progress Theatre, Reading | 7: 30pm | £18.00 (£16.00 concessions, £9 under 16) plus maximum 5% booking fee.
Alan Barnes and Dave Newton – two out of the eight musicians who are playing tonight

Alan Barnes sax, clarinets, Bruce Adams trumpet
Mark Nightingale trombone, Robert Fowler sax, clarinet
Karen Sharp sax, clarinet, David Newton piano
Simon Thorpe bass, Clark Tracey drums
"Copperfield" – a new jazz suite from Alan Barnes, touring for the first time this year, takes the audience through the characters and scenes of 'David Copperfield'.  Readings from the original Dickens tell the story, and after each scene eight virtuoso musicians bring the characters and scenes to life, switching audiences from hilarity to pathos with a skill that would have done credit to Dickens himself!
---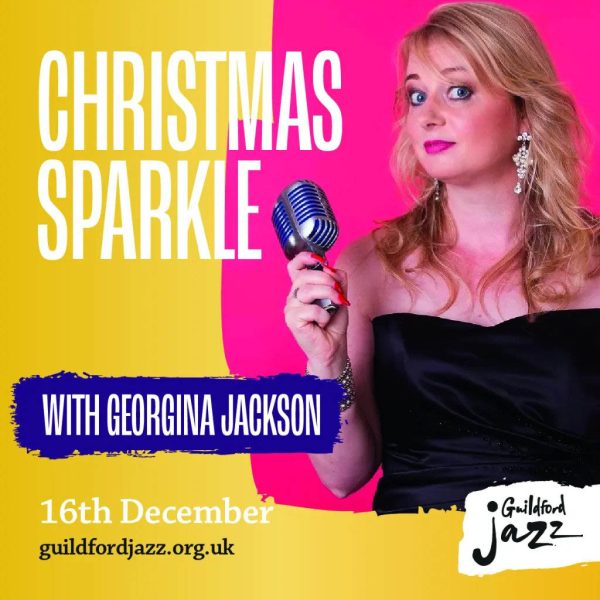 Fri 16 Dec | Guildford Jazz at St John's |  Georgina Jackson 'Christmas Sparkle' | St John's Street, Farncombe GU7 3EJ | Doors open 7.15pm, Jazz 8pm to 10.15pm | Bar on arrival and during the interval | Tickets £18 (discounts for members and students) from here
An evening of Christmas Sparkle with jazz vocalist and trumpeter Georgina Jackson. Georgina is widely acknowledged as the finest female lead trumpet player in the country. She is a regular vocalist with Ronnie Scott's Big Band and has fronted BBC broadcasts with the BBC Big Band and the BBC Concert Orchestra.  With Jim Watson on piano, Matt Home on drums and Guildford Jazz Anchor Marianne Windham on bass.
---