Jazz at Progress | Paz |

Buy tickets
Fri 21 June | Progress Theatre, Reading | 7:30pm | £18.00 (£16.00 concessions) plus maximum 5% booking fee.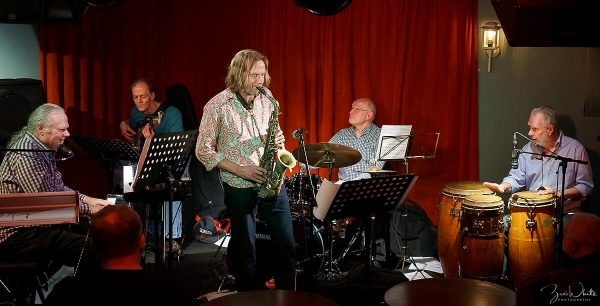 Photo: Zoë White Photography
Geoff Castle keyboards,  Matt Wates alto sax,  Dominic Grant guitar,  Rob Statham bass,  Chris Fletcher percussion,   Les Cirkel drums
Legendary latin-jazz-funk fusion outfit Paz, formed in 1971, has recorded eleven critically acclaimed albums, often topping the fusion charts. The band is led by keyboard player Geoff Castle, for many years a stalwart of the pioneering jazz/rock band Nucleus. Geoff has played and recorded with the likes of George Coleman, Ian Dury and Georgie Fame.
Fronting the line-up is acclaimed saxophonist Matt Wates, who Progress regulars will remember from his appearance with his sextet last October. The ensemble is completed by long-standing members Dominic Grant guitar, Rob Statham bass, Chris Fletcher percussion and Les Cirkel drums.
This is a band which has remained steadfastly resistant to being pigeonholed, incorporating a multitude of influences well before 'fusion' became fashionable; Paz's music stands the test of time magnificently.
"The UK's premier latin-fusion band, Paz play a lightly grooving, cheery and danceable music with loads of funk and flair" Time Out
Get a flavour of what's in store here:
---