… by Trevor Bannister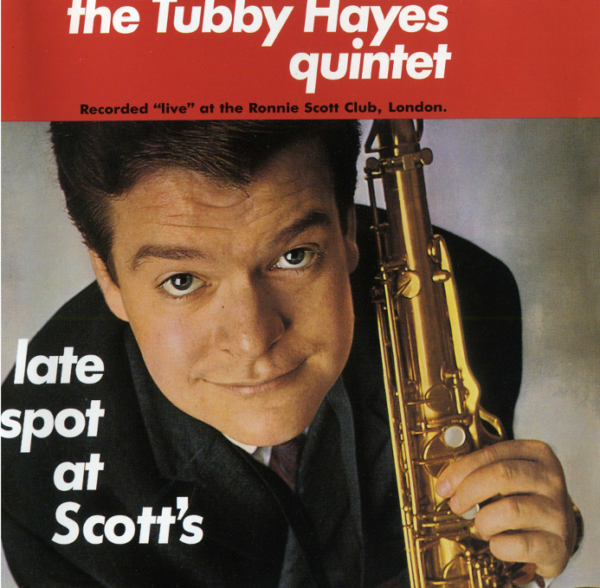 The late Ronnie Scott, 'Godfather' of British modern jazz, whose influence and musical legacy lives on in the internationally renowned London club which bears his name, probably spoke for many musicians and countless fans when he described his first encounter with the phenomenon that was Edward Brian 'Tubby' Hayes
A chubby young man who appeared to be about twelve (he was in fact fifteen) came on the stand with a tenor saxophone only a couple of sizes smaller than himself and asked if he could 'sit-in'. With rather patronising amusement I agreed. He then proceeded to scare the living daylights out of me. The conception, the spirit and fire, the confidence in one so young and inexperienced was absolutely astonishing.
Born on 30th January 1935, and a professional by the age of fifteen, it is not difficult to argue that Edward Brian 'Tubby' Hayes became the most complete jazz musician ever to emerge from the British Isles, and certainly one of the most hard-working. His tragically brief career ended on Friday 8th June 1973 when he died following heart surgery. He was thirty-eight years old.
An endlessly inventive improviser, equally gifted on the tenor saxophone, flute and vibes, Tubby led his first band at age twenty, mastered the arts of arranging and composition, recorded as a leader and first-call studio musician, and appeared at festivals and in several feature films. He hosted his own show on ITV and broadcast regularly, on both radio and TV for the BBC; his broadcast for BBC 2's innovative Jazz 625 from 1965 which can be viewed on Utube has received 71,264 hits to date.  He made ground-breaking visits to New York in 1961 and 1962 respectively (made possible by an exchange that brought American tenor sax star Zoot Sims to Ronnie Scott's), dominated the annual Melody Maker Jazz Polls in multiple categories from 1958 until 1969, and received one of the highest possible accolades when invited to deputise for an ailing Paul Gonsalves with the Duke Ellington Orchestra on a memorable evening at the Royal Festival Hall in February 1964.
Then as now, even a musician of such prodigious talent as Tubby could not live by jazz alone. It was necessary to join the ranks of a touring big band to make a living, and to make a star name for one-self as a soloist. In June 1953 the Melody Maker published a list of thirty-one such bands. They ranged in style from the polished swing of Ted Heath's colossus, to the rough-and-ready efforts of Mick Mulligan's Revivalist jazz band, via the 'all-girl' band of Grace Cole, the Latin-American Rhythms of Frank Denis, and the ballroom dancing 'Kings' Joe Loss and Ken Mackintosh.
Tubby was already a veteran of three years big band experience and a member of the Ambrose touring band when he made his first solo appearance in Reading. Billed as a 'well known tenor star', the eighteen-year old, newly married Hayes, guested with a local rhythm section, the Top Five & Their Music, at the Studio, Broad Street on 4th November 1953. The Studio, a school of dance by day, and available for hire at night, was tucked away at the end of Percy Place. This narrow passageway located between numbers 17 and 19 Broad Street, was later incorporated into the frontage of Marks & Spencer's. The Studio would become a familiar venue for Tubby over the course of the next decade in its various guises as Reading Rhythm Club and the Ace Club.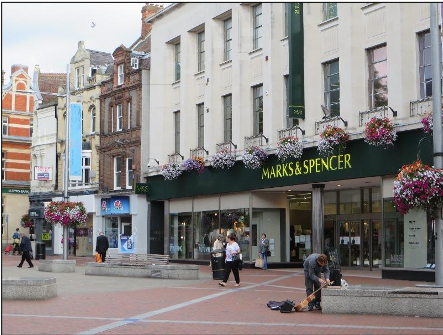 The Studio, Percy Place was located in a passageway off Broad Street, on the left-hand side of Marks & Spencer. It was absorbed by the extension of the store's frontage in the late 1960s.
Four days later, on 8th November, Tubby was back in Reading on the stage of the Palace in Cheapside, as a featured soloist with Ambrose himself.
Even the billing of 'Personal appearance of Britain's Ambassador of Music, Ambrose with his Orchestra' couldn't disguise the fact that to the young audiences who regularly filled the Edwardian auditorium of the Palace, Ambrose was 'old hat'. The upheaval of war, its aftermath, and inevitable changes in popular tastes wrought havoc on Ambrose's pride of place in the world of popular entertainment. His days of being invited to Buckingham Palace or Windsor Castle at the request of the Royal Family or enjoying long residencies in London's most fashionable night-spots to play for the rich and famous, were long gone. It was a cruel climate. By 1953 he was largely reduced to travelling Britain's pre-motorway road network on a worn-out bus, scuffling for work on a wearying one-nighter circuit of dance halls and variety theatres.
Nevertheless, the band could still muster several excellent young players like Tubby Hayes within its ranks, as the list given in Melody Maker Band Diary for June 1953 will testify:
Charlie Rowlands, Pete Pitterson and Jimmy Watson on trumpets; Charlie Messenger and Johnny Keating on trombones; Geoff Cole, Des Lumsden, Brian Wilson and Tubby Hayes on saxophones; Ken Moule on piano; Arthur Watts on bass; Allan Ganley on drums and vocalists Annette Scott, Derek Francis, Wally Carr, and Carmel Quinn.
The Ambrose Orchestra was no place for an ambitious young musician like Tubby Hayes. Within days of the Palace concert he had joined the Vic Lewis Orchestra. The Melody Maker Band Diary announced that Hayes's addition to the band was part of the 'sweeping … changes' and introduction of 'young blood' that Lewis had made ahead of his 'Tribute to Stan Kenton' tour, in which he planned to feature scores by Bill Russo and Bill Holman. One of Lewis's earliest dates on the 'Kenton Kick' tour was at the Palace on 20th December. The band recorded for Decca in January 1954, with Tubby playing both tenor and baritone saxophones. The results are available on Vocalion CDLF 8103 and will give some idea of the music played on the evening in Reading.
Tubby remained with Lewis until March 1954 and by his next appearance at the Studio on 10th June 1954, he was billed as a 'Star of the Jack Parnell Band', alongside trumpeter Jo Hunter. Once again, they were supported by the Top Five & Their Music.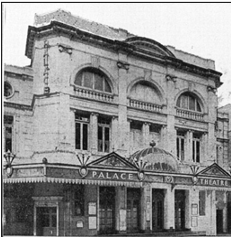 The Palace Variety Theatre, Cheapside, which presented big bands in Sunday evening concerts from 1937 to 1959.
Sunday evening big band concerts became a feature of the Palace Variety Theatre in 1937, a popular addition to the singers, acrobats, magicians and comedians who filled the stage on a twice-nightly billing from Monday to Saturday. The Palace also staged an annual pantomime, full-length plays, ballets and was sometimes even visited by a circus.  The Sunday concerts began on 14th May 1937 with Bernini & His Famous Blackpool Broadcasting Band. They continued on an intermittent basis throughout the war years and by 1952 had become a regular feature of the Palace programme, reaching a peak of popularity between 1955 and 1957.
An on-going dispute between the respective Musicians' Union of Britain and America, which had its origins in the early 1930's, prevented any free movement of musicians between the two countries unless they were billed as 'variety artists'. It was thus as a solo 'variety artist' that Teddy Wilson, 'piano star of the Benny Goodman Quartet' made a surprise and 'exclusive appearance in Reading direct from the USA' at an early evening performance on 20th September 1953, before rushing to London for a second concert at the Royal Albert Hall.
Using minimal wording, the block advertisements for the Palace Theatre on the Entertainments' Page of the Reading Standard, were sufficient to attract a youthful and enthusiastic audience to the Sunday evening concerts. Here is the 'Bill of Fare' for 1955:
January: Johnny Dankworth & His Orchestra with Cleo Laine and Frank Holder
6th February: Jack Parnell & His Orchestra
20th February: 'The Nation's No. 1 Tenor Saxophonist', 'Ronnie Scott & His Orchestra
6th March:  Vic Lewis & His Orchestra with Sylvia Drew, Dean Raymond and 'Rusty' Hurran
20th March: Sid Phillips & His Orchestra with Betty Miller & Jill Allen
3rd April: The Squadronaires directed by Ronnie Aldrich
17th April: Ken Mackintosh & His Orchestra
1st May: Johnny Dankworth & His Orchestra with Cleo Laine & Frank Holder
29th May: 'The Sensational' Eric Delaney & His Orchestra
19th May: 'A host of star musicians and featuring an ace drummer', the Kirchin Band
24th July: Ken Mackintosh & His Orchestra
7th August: Johnny Dankworth & His Orchestra 'with his singing stars'
21st August: Tony Crombie Orchestra with 'the sweet and lovely Annie Ross'
4th September: 'Mambo Time' with the Kirchin Band with Johnny Grant and featuring the 'ace drummer Basil Kirchin'
25th September: Jack Parnell & His Orchestra
16th October: 'Excitement in music – the big – the New Ronnie Scott Orchestra'' with Art Baxter, Lynda Russell and Steve Curtis
17th October: 'The Max Miller Show' (a week's residency) with trumpet star Nat Gonella
6th November: Ken Mackintosh & His Orchestra
13th November: 'The World's greatest blues and folk singer direct from America', Josh White: with Leslie 'Jiver' Hutchinson, Leslie Blake & His Radio Band
20th November: The New Tommy Whittle Orchestra with 'Europe's swingingest foursome' the Tony Kinsey Quartette
4th December: Eric Winstone & His Orchestra with the Roy Marsh Quintet, Colin Prince, Michael Holliday, June Marlow and the Stagecoachers
12th December: The Billy Cotton Band Show with Alan Breeze and Doreen Stephens (a week's residency)
The programme for 1956 followed a similar pattern, with the foremost band of the day, Ted Heath and His Music, making a welcome appearance on 26th August, with its triumvirate of star vocalists, Lita Roza, Dickie Valentine and Denis Lotis.
The bands of Heath, Dankworth, Phillips, Mackintosh, Winstone and later Eric Delaney, also played at other venues in Reading. They brought a touch of 'West End' glamour to the Town Hall, Olympia or Majestic Ballrooms where the leading local bands of the day, Don Turk and George Watkins normally held court.
Being a star singer in the heady days of the mid-1950s could be a perilous business as Denis Lotis recalls in Sheila Tracy's 'Talking Swing: The British Big Bands':
The fans in those days screamed their heads off. They never danced, just stood around the stand gaping at us. We were in Reading Town Hall and I was singing 'I'm in the Mood for Love' and they got me by the ankles and pulled me off the stage. It was like a tug of war as they were pulling me one way and Ted with his arms around my waist was pulling me onto the stand. They took my bow tie and my handkerchief, my shoes and socks, and I had to climb back onto the stage barefoot. They eventually threw my shoes up to me but kept the socks!
Working in a big band and making occasional guest appearances at jazz clubs formed the staple living for jazz musicians in the mid-1950s. A few, like Ronnie Scott and Johnny Dankworth stepped-up to become band leaders. Tubby Hayes was soon to follow them. He embarked on this new role with an eight-piece group on 31st March, only a few days after a visit to the Studio, now known as Reading Rhythm Club on 24th March 1955, where he played as a guest with the Top Five & Their Music.
Tubby's eight-piece band stayed in place until 1956 when he joined the 'all-star' modern jazz touring package, 'Jazz from London', set-up by the promoter Bix Curtis (to whom Hayes later dedicated a composition, 'The Serpent').
This package visited the Palace on 7th October 1956. Tubby was not listed in the personnel but knowing the 'fluid' nature of such presentations it is possible that he made the date, alongside Hank Shaw (trumpet), Keith Christie (trombone), Vic Ash (clarinet), Kathy Stobart, Jimmy Skidmore (tenor saxophones), Harry Klein (baritone saxophone), Dill Jones (piano), Cliff Lawrence (guitar), Lennie Bush (bass) and Allan Ganley (drums).
March 1957 proved to be a defining moment in Tubby's career. He joined forces with Ronnie Scott, and the formidable rhythm section of Terry Shannon on piano, Phil Bates bass and Bill Eyden on drums, to form the Jazz Couriers, without doubt the greatest British modern jazz unit of its day, and in many people's minds, ever! The band would eventually appear in Reading. Meanwhile Tubby's next solo gig took place at Reading Rhythm Club on 29th July 1957.
Colin Macrae, a young bass player newly de-mobbed from National Service in the RAF, and who later played with Reading's foremost modern jazz group, the Just Jazz Quintet, led by drummer Terry Renn, vividly remembers the gig and that Tubby was on the top of his form:
We booked him on his own one night to be backed by our rhythm section. I was not on bass this time; lucky for me as it turned out.
He was known to be averse to local backing and rejected the guitarist on the grounds that it would make the sound a bit muddy. Then he lulled us into a false sense of security by playing the first couple of tunes at a moderate speed. He introduced the third number, 'Fascinating Rhythm', and counted it in at about 300 beats per minute; the fastest tempo I have ever heard before or since.
After about eight bars, the bass player slipped into two/four time, the pianist stabbed the odd chord every couple of bars and the drummer resorted to tapping the top cymbal twice a bar.
This did not faze Tubby one bit. He blithely carried on, chorus after chorus (more or less on his own) until ending the song to great applause.
The rest of the session was played at a more leisurely tempo, to the relief of the band, and a good time was had by all.
At the end of the evening, he thanked the rhythm section, collected his money and swept out into the night. I remember him as being a very nice guy. There was nothing of the 'swanky super-star' about him
As the Studio lacked a license for alcohol, the volunteer organisers would stock up with crates of soft drinks from the local suppliers Tunbridge Jones, in nearby Castle Street, to sell at the interval. For those in need of stronger refreshment, such as musicians, it was customary to make haste across Broad Street to the welcoming Cheshire Cheese pub. It was on one such occasion that Tony Watts, a young jazz enthusiast, found himself standing at the bar next to a duffle-coated Tubby Hayes, who gladly accepted the offer of a pint of bitter and happily chatted until it was time to get back to 'business'.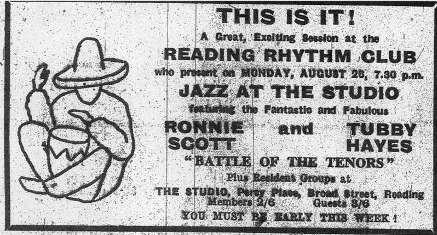 An advertisement in the Reading Standard heralded a 'Battle of The Tenors' featuring 'the Fantastic and Fabulous' Ronnie Scott and Tubby Hayes, in advance of their appearance at Reading Rhythm Club on Monday 26th August 1957. Whether they played as the Jazz Couriers, or as guests with a local rhythm section is unknown. Either way it must have been a great night.
Notwithstanding a break in operations for the first half of 1958, Reading Rhythm Club continued to present guest stars until 22nd December 1958, when the club closed its doors in style with the 'all star' Jazz Makers: Ronnie Ross, Art Ellefson, Stan Jones, Eddie Wasser and Allan Ganley.
Tubby's final solo appearance at the club took place on 17th November 1958, when he was supported by the Bryn Bridges Trio.
Lack of support prompted the closure of Reading Rhythm Club. And yet, one asks in astonishment, how could it be that the roster of top names listed below, failed to raise an audience for their music?
Trumpets: Dizzy Reece, Kenny Baker, Bert Courtley, Dickie Hawdon
Trombones: George Chisholm, Don Lusher, Keith Christie, Ken Wray
Clarinets: Dave Shepherd, Vic Ash
Saxophones: Tubby Hayes, Ronnie Scott, Johnny Dankworth, Joe Harriott, Don Rendell, Ronnie Ross, Kathy Stobart, Jimmy Skidmore, Art Ellefson
Piano: Stan Jones
Bass: Stan Wasser
Drums: Allan Ganley
That remains the $64,000 question of jazz, then and now! However, the brief life of Reading Rhythm Club is remembered with great affection. Colin Macrae, a man who booked some of the artists and who played bass with many of them, adds a telling footnote to this story as he looks back to the club's heyday from a distance of sixty years:
AFTERTHOUGHT: I remember the fees in those days as being £5 or £6 for guests, except for "superstars" like Kenny Baker or George Chisholm who charged double.
Many things have changed in the intervening years, but one fundamental truth has remained a constant: the musicians played for the love of the music, not for the money.
Elsewhere, interest in big bands was also declining, in line with the general fortunes of the Palace Variety Theatre. Barely audible above the adoring screams of a teenage audience, even the appearance of Cliff Richard and the stars of the ITV rock n' roll show 'Oh Boy', on 4th January 1959, couldn't halt the theatre's slide towards closure. Ken Mackintosh & His Orchestra played the last Sunday evening 'big band' session on 15th March. Amid conflicting rumours that it might be taken over by Reading Borough Council or even turned into a television studio, the Palace closed its doors for good later in 1960, to be demolished and redeveloped as an office block in 1961.
As Reading Rhythm Club had found to its cost, modern jazz was now in the midst of a fiercely competitive market of musical styles in which 'Trad' was ascending rapidly.  When Tubby Hayes next played Reading, with the Jazz Couriers at the University Rag Ball, held at the Oxford Ball Rooms. on 21st February 1959, it was on an unlikely double-bill opposite Graham Stewart's traditional band, the Seven. The Oxford boasted the unique feature of two halls; perhaps the bands occupied one each? Given the often-vehement hostility between the respective fans of modern and traditional jazz, this suggestion isn't at all far fetched.
Two years elapsed before Tubby made another appearance in Reading on 11th May 1961 with the quartet that he formed following the break-up of the Jazz Couriers in August 1959. He brought this band to the Studio, now renamed the Ace Club, with Terry Shannon on piano, Jeff Clyne bass and Bill Eyden drums,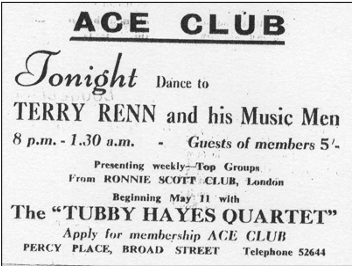 'Hayes Quartet Will Play the Ace' Peter Johns reported excitedly in his Jazz Note Book column in the Reading Standard on Friday 5th May 1961. However, given Reading's luke-warm interest in modern jazz, he tempered his enthusiasm with a degree of caution. Many people he had spoken to expressed the view that the gig 'was a big gamble'. Weekly 'trad' sessions at the New Reading Jazz Club, held each Tuesday evening at the Olympia Ballroom, regularly attracted audiences of over 300 and crowds of up to 1,000 would pack into the venue for big names such as Kenny Ball or Acker Bilk. Who would turn up to see Tubby Hayes, Peter Johns wondered, even if he was Britain's top-rated modern jazz stylist and destined shortly to visit New York?
Nevertheless, he wished David Sheldon, the Ace Club promoter, 'every success with the new venture' and his plans to present more stars from Ronnie Scott's at the club. Adding, 'This is going to be a date that modern fans will not want to miss, and I would like to make an appeal here for a few (and I know it will only be a few) trad fans to give Tubby a hearing. After all, if we take our jazz seriously, it is musicianship that we appreciate, not mere sound.'
Despite his misgivings, Peter Johns' reported the gig in the next week's Jazz Note Book as being a resounding success, though he declines to mention whether it managed to attract any 'turncoats' from the 'trad' brigade:
The Ace of the modern quartets, Tubby Hayes and his group, were on top of their form at the Ace Club, Reading on Thursday last week. As one member said to me, 'Doesn't this group ever have an off night?'
Tubby's tenor was well to the fore with magnificent runs, and the occasional sustained note. On the rarely played vibes, almost never in Reading, he was also the master, while Jeff Clyne's solos on bass brought a concert hall silence to the surroundings.
Tubby's payment for the evening? £30 (approximately £636.00 in 2017 values).
Tubby Returns to Reading declared the banner headline for Jazz Note Book on Friday 17th November:
The Ace Club in Percy Place have done it again. On November 30, Britain's versatile modern jazz musician, Tubby Hayes will be back to provide cool music for the connoisseurs. Congratulations to Dave Sheldon, manager of the club, for getting hold of this busy group for a return date.
Tubby, severely criticised by many, ardently admired by others, has finally found overall recognition after six years of hard work.
It needed the American jazz public to open our eyes. Some musicians have said that Tubby uses too many notes in his skilful improvisations, but his recent visit to the States proves how wrong they were. He was a star attraction in New York night spots and was highly praised by the critics.
Now Tubby returns to find himself boosted to his rightful position. Following 'Strictly for the Birds', the popular jazz programme on Southern ITV, Tubby started his own series, 'Tubby Plays Hayes' on Monday.
In the programme, Tubby featured his quartet with Jeff Clyne (bass), Terry Shannon (piano) and Bill Eyden (drums). The programme will be seen every Monday at 11pm.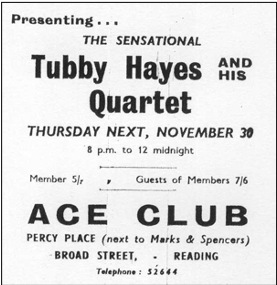 How must Tubby have felt, returning home from the ultimate triumph of his career so far – a two-week residency in September at the Half Note, one of New York's top jazz venues, to find himself back on the well-worn path of the British provincial club circuit? He may again be playing the Ace, but no doubt he would have wished that fate had dealt him a better hand?
He Blew – and How! Is how Peter Johns headed his reported of the gig in Jazz Note Book:
A tired but brilliant Tubby Hayes demonstrated to members of the Ace Club that he is Britain's top modern musician, when he took the stand at the club on Thursday.
It had been a long day for the group. During the interval, Tubby told me that he had been rehearsing (in Southampton) since 8am for his new Southern ITV show 'Tubby Plays Hayes.' 'Sometimes I wonder how I manage to blow at all,' he said.
Nevertheless, he did blow that evening – and how! Although some members of the audience were not as appreciative as they could have been, there were small groups scattered around the floor, who seemed to be lost in the music that came from Tubby's tenor and vibraphone.
From the fast to the softly swinging numbers, this jovial man excelled himself. He was backed by Terry Shannon (piano), Bill Eyden Drums and Jeff Klein (sic) (bass).
Before making the trip to Reading the quartet stopped at the Robinson Crusoe Club, where they spent most of their time playing table-tennis. The club's owner, Les Mason, has known Tubby since he was 14 years old. 'Who could have thought then,' said Les, 'that one day Tubby would be sitting on top of his profession?'
Colin Macrae recalls that Tubby also dropped-in for a cup of tea with fellow saxophonist Norman Hunt, then a member of Eric Winstone's Orchestra, who lived in a caravan on California Country Park (where the Robinson Crusoe Club was situated).
Possessed of almost 'super-human' stamina, the pace of Tubby's career didn't let-up for an instant over the next few years. In 1962 he made a second visit to New York and on a memorable occasion, 15th February 1964, deputised for Paul Gonsalves with Duke Ellington's Famous Orchestra at the Royal Festival Hall. His dominance of the British jazz scene was reflected in the annual Melody Maker Jazz Polls, of which the results for 1965 were a typical example:
1st        Musician of the Year, flute, tenor saxophone and vibes
3rd       Big band, small combo and arranger
4th       Composer
Moreover, he was voted No. 1 tenor saxophonist for an unbroken run of eleven years from 1958 to 1969!
***
And yet, despite these accomplishments, he was still playing provincial gigs for small fees, such as the date on a bleak Sunday night in February 1966 when he made an appearance at St Patrick's Hall, Reading University. I was fortunate to be there and here is my recollection of a very memorable evening:
Word of Tubby's appearance must have been passed to me via other jazz enthusiast friends at school, because I can't think of any other way I might have found out about it. I arrived early and on the promise of free entry helped to arrange the seating which took the form of PE benches. The audience faced one direction in the first half to watch a film about the Blues, then spun round at the interval to watch Tubby on a stage in the second. This novel arrangement worked quite well, but the benches were back-breakingly uncomfortable. By all accounts the University had refused to allow a full evening of jazz, insisting that it had to be 'diluted' with some other form of 'cultural' offering, hence the film.
Tubby blew a storm – tenor, flute and vibes – with the support of 'comrade-in-arms' Terry Shannon on piano.  Two local guys played bass and drums, just about managing to hold the breakneck tempos that Hayes was noted for. Then came a moment of madness.
Tubby introduced Joy Marshall, the wife of Peter King, the alto saxophonist in Tubby's big band, to sing a couple of numbers. The marriage was rumoured to be nothing more than a sham; an arrangement of convenience to secure Marshall, an American citizen, a permit to work in Britain and launch a career that had failed to take off in her native land. Meanwhile, she and Tubby were openly carrying on a tempestuous heroin fuelled affair, which on this occasion brought unexpected fire to the bandstand.
As I remember the incident, Joy Marshall was moving towards the climax of her act. Before she could finish, Tubby stepped forward, tenor in full shout, and cut her dead. There was a moment of 'daggers drawn' tension before Joy swept off the stage and disappeared. Tubby, meanwhile, continued playing, seemingly oblivious to the anger he'd just provoked.
I was in awe of his playing, but even to my naïve eighteen-year-old self, something was wrong. I had read accounts of the raw face of the jazz life, but they happened thousands of miles away in New York or Chicago, this was being played out  for real on a Sunday evening in the provincial slumber of Reading.
The next day at school, word passed round that a fracas had developed with a University porter after the gig.  According to which version of events you listened to: Tubby and company had either been chased off the premises by the police or had hurried away before they arrived.
Thanks to Simon Spillett, an excellent tenor saxophonist himself and biographer of Tubby Hayes, I can provide a postscript to this account of Tubby's gig at Reading University, reproduced here with his kind permission:
I think I can add a little something to your memory of seeing Tubby and Joy Marshall. I've spoken to a couple of people who were at Tubby's Reading Uni gig with Joy … It was, in fact, so memorable (as it transpired for all the wrong reasons) that Tubby later wrote about it in some personal notes, which I am revealing for the first time anywhere.
This was in the middle of a truly horrific time for Tubby, details of which have only recently been uncovered, and which form part of the updated and expanded paperback edition of 'The Long Shadow of the Little Giant'.
'Joy and I went together for a few days. Until we had a gig at Reading University. We all got drunk. Someone insulted Joy and I hit him. The police were called and we left in a hurry. Then Joy fell down the stairs in a transport café and the police were called again. When we got home Terry (Shannon) was unconscious. I had drunk a whole bottle of wine. Next day Joy threw me out.'
Tubby then goes on to describe a horrific few days in which he got into a fist fight with Ronnie Scott and attempted suicide.
Though I saw Tubby twice more before his untimely death in 1973, it is the gig at Reading University which is indelibly etched in my mind. I cannot help but think of Tubby whenever I pass near St Patrick's Hall in Northcourt Avenue. It was 'a warts and all' experience. We bore witness to his vulnerability and the flaws in his character at the same time as being blown away by the technical accomplishment and emotional power of his playing. He was at the top of his game; a musician of true world-class stature.
Even so, there were detractors around who would nod knowingly at the mention of Tubby's name and pass comment with something like, 'Ah yes, Tubby Hayes. Plays too many notes.' 'Yes,' one would reply. 'But what notes!'
Tubby made his final appearance in Reading as part of a 'Jazz Tete-A-Tete' touring package, organised by impresario Peter Burman, that visited Bulmershe Teachers Training College on 8th May 1967. In the absence of a review of the actual event, Reg Cooper's edited report of the tour's final night at Colston Hall, Bristol, published in Jazz Journal (June 1967) will give a flavour of what was on offer at Bulmershe:
Peter Burman is a brave man and dedicated to the promotion of modern jazz. Who else would have toured an Annie Ross/Mike Pyne/Tubby Hayes package in eleven days covering eight towns as far apart as Glasgow, Reading and Bristol … 'Everyone has had a ball,' he said. The audience was sparse, but as Peter said, 'It's big hall!'
The Mike Pyne trio opened with such varied items as 'Some Day You'll Be Sorry', Monk's 'Round Midnight' and 'Someday My Prince Will Come with the leader's pleasantly introspective piano.
The introduction of the delightful Miss Ross changed the whole atmosphere. Her magnificent stage presence and professional approach made a terrific impact. With her first number and friendly chatter she had the audience involved and sounding twice as large as it was … we are fortunate that she is living in Britain again.
Tubby Hayes Quartet played throughout the second half (the hard-working rhythm section were on stage for over two and a half hours). There is no doubt that Tubby is a great saxophone player and his technique is second to none, but in recent years he does 'go on a bit'. A fact pointed up by his gag about arriving at a club at seven in the morning in time to hear the end of Rollins' opening number. Was he sending himself up? His favourite 'Alone Together' was a tempestuous torrent of sound but the recently recorded 'Dedication to Joy' was more melodic and beautifully played. 'What Is This Thing Called Love' heavily featured Tony Lewin (sic), a remarkable drummer. There was only one flute solo (on 'Walkin') which was a pity as Tubby is very intriguing on this instrument. On one very important point the whole package got absolutely top marks – Communication. True, they had to offset the lack of a printed programme but Annie, Tubby and Peter all brought the audience into the show, with information about the tunes, the musicians and the tour. Promoters and jazzmen, please copy. No high-pressure compering, just taking the audience into the artist's confidence
It wasn't evident at the time, but Tubby's appearance at Bulmershe College closed a chapter in the story of jazz in Reading.  Modern jazz, at least in the form of visiting musicians, all-but disappeared from the local music scene. Almost two decades passed before a local enthusiast named Ian Hills, revived the spirit of the 'Studio days' in the mid-1980s and brought a roster of great names to play at a wine bar in Duke Street: Stan Tracey, Art Themen, Bobby Wellins and Dick Morrissey, together with many 'Young Turks' such as Clark Tracey, Guy Barker and Jamie Talbot who were fast making names for themselves at that time.
***
Cover Photograph: The cover photograph is taken from Tubby Hayes' 1962 recording 'Late Night at Scott's'. I found the LP in 1965 at reduced price in Hickies Music Shop, in Reading. Hickies was one of three record shops in Friar Street where it was possible to while away a very pleasant Saturday morning listening to records … and sometimes even buying one. Though in this instance I have a feeling that I found this one day on my way home from school; a case of popping in to see what might have come into stock since my last visit and taking great delight in finding this in the 'deleted' rack.
For some unaccountable reason I later swapped it for what proved to be a very indifferent album by John Coltrane. More fool me! In time Tubby's LPs became as rare as hen's teeth and able to command three-figure sums (at least) on the collector's market. I was eventually able to renew my acquaintanceship with some very fine music when the recording was issued as a CD by Universal in the 1990s, together with its companion album 'Down in the Village' – together they form the perfect starting point for anyone wishing to explore the musical heritage of Tubby Hayes.
My Thanks to Colin Macrae and Dr Tony Watts for sharing their personal memories of Tubby Hayes' visits to Reading; Tony Shoppee for access to his 'American Jazz Visitors to the UK (Plus a few "non-American" items of interest)'; and the staff of Reading Central Library for their patient assistance in guiding me through the archives of the Reading Standard.
The quotation by Ronnie Scott is taken from the sleeve notes of Down in the Village, Tubby Hayes, Quintet, Fontana 680 998 TL, (1963)/Universal Redial CD 558 184-2 (1996)
References
'Reading: The 1950s'; Stuart Hylton, Sutton Publishing, ISBN 0-7509-1463-7 (1997)
'Talking Swing: The British Big Bands': Sheila Tracy Mainstream Publishing. ISBN1-85158-963-5 (1997)
'The Long Shadow of the Little Giant: The Life, Work and Legacy of Tubby Hayes'; Simon Spillett: Equinox, ISBN 978-17819-173-8 (2015).
'Flying High: A Jazz Life and Beyond'. King, Peter: Northway. ISBN 978-09550908-9-9 (2011)
'Melody Maker Big Band Diaries 1926-1955' held by the National Jazz Archive and accessible here
'100% Proof: The Complete Tubby Hayes Discography': Names and Numbers (2015) by Simon Spillett and C. Tom Davis. This 240-page discography covers Hayes's recorded work from 1951 to 1973, including all known sessions (to date) for commercial release, radio broadcasts, private recordings, advertising jingles and film and TV work. It is available from Ray's Jazz at Foyles in Charing Cross Road, London or directly from Names and Numbers
Jazz Journal: Vol.20 No.5 (May 1967), Vol.20 No.6 (June 1967)
'Tubby Hayes: Man in a Hurry' (DVD) produced by Mark Baxter, directed by Lee Cogswell and released in 2015, charts the life and times of Tubby Hayes through rare archive film and exclusive interviews with people close to him during his lifetime.
© Trevor Bannister 14th May 2018