The Alex Hitchcock Quartet |

Buy tickets
Friday 13 May 2022 Progress Theatre, Reading | 7: 30pm | £18.00 (£16.00 concessions, £9 under 16) plus maximum 5% booking fee.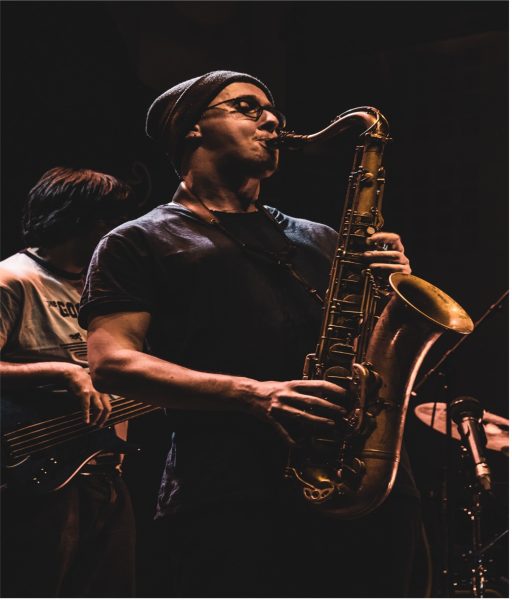 Alex Hitchcock tenor sax
Noah Stoneman piano
Joe Downard bass
Myele Manzanza drums
'An incredible saxophonist, with something very unique and original to say' – Walter Smith III
Since his first gig as leader for us at Progress in 2017, Alex Hitchcock is now regarded as one of the UK's most virtuosic jazz musicians. His quartet's burgeoning reputation on the international jazz stage, playing Alex's original compositions at 2018 Umbria Jazz Festival, as well as touring to Poland, Spain, Italy and Hungary and performances at legendary UK venues including Love Supreme Festival, the Royal Albert Hall and Ronnie Scott's.
Alex is adventurously creative as is proved by his latest Album Dream Band. A disc to be enjoyed at home, as explained in the excerpt below from a recent four star review by Hugh Morris in Jazzwise.
"Alex Hitchcock looks outside of himself on Dream Band, enlisting a quality cast of players who move slickly around the saxophonist. There's a lot of them; 15 in total over 12 tracks, and no one collaborator appears on more than half the record. The players fuse interestingly in their little units, and Hitchcock's compositions serve those combinations well. The result is an album full of strong contributions from musicians determined to impress; a bunch of pent-up ideas tumble forth energetically. It's a good record for piano talent,  with Noah Stoneman on great form."
Noah Stoneman on piano and Joe Downard on bass are regulars in the quartet, Joe appearing with Alex in 2017.
Myele Manzanza is a powerful drummer who has earned himself a reputation as a composer with vision, and a musician who is not afraid to experiment. He is now resident in the UK having moved from New Zealand about 12 years ago.  Myele only started playing drum kit at age 14 but had been hand drumming traditional African rhythms with his father Sam Manzanza from a young age. "Growing up music and rhythm was all around me and I understood it from a very early age. Through my father I learnt the language of the drum". Recently interviewed on the Jamie Cullum show. An interesting newcomer to the UK jazz scene.
---