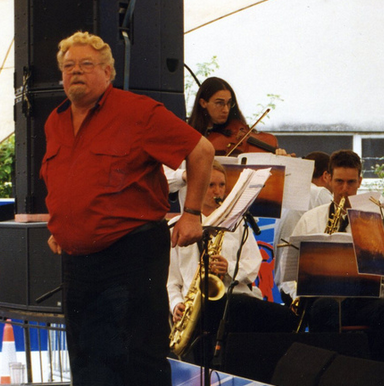 "Come on trombones, let's have some of your golden globules of sound," is just one of the lines which embodies the energy, strict focus and joy put into jazz rehearsals by Patrick Kelly, who has passed away aged 88. The enthusiasm for this particular big-band section is unsurprising: Patrick's own instrument was the trombone, and it became synonymous with his name and larger-than-life persona throughout his career.
Patrick grew up in Reading, the youngest of five children, and his early life was characterised more by his physicality than musicality: he helped his father (who was not a fan of music) with his furniture removal and house clearance business, and was keen on weightlifting and bodybuilding. When he did turn to music aged around 23, his Reading-based contemporaries were saxophonists Mauri Powell and Ken Turton, drummer Ron Hetherington, and the young trumpeter Derek Watkins, and Patrick later went on to play locally in Alan Grahame's big band and with Jim Hames at Skindles in Maidenhead.
Patrick was an accomplished musician in genres spanning jazz to opera and beyond. Roger Winslet first remembers Patrick's audition to Trinity College of Music as a mature student: "I remember him telling me that it was touch and go whether he'd impressed them … whether passion, determination and charm was enough to get in." Evidently it was, and he studied at both Trinity and the Royal College of Music, going on to perform in orchestras under the batons of Sir Adrian Boult, Sir Thomas Beecham, Sir Malcolm Sargent, Muir Mathieson and James Gaddarn.
Opera was a particular love of his – he was fascinated by its sounds, drama and sentiment. Patrick played Puccini (his abiding love) one-fingered on the piano and made up his own words to 'Un bel di vedremo' from Madame Butterfly, but would go on to play in the orchestra at the Royal Opera House, accompanying opera singers such as Maria Callas and ballet dancers including Margot Fonteyn and Rudolph Nureyev.
Musicals were another great part of Patrick's career, and he worked on many West End shows. He played in the pit for Judy Garland and had memories of Sammy Davis Jr, whose famous glass eye caused some laughs – Patrick told a story of a stage hand dropping something, perhaps as a hint that he wanted to go home, and Sammy Davis Jr crying "Oh, I thought my eye had dropped out!", a phrase oft-quoted by Patrick!
Despite his achievements in the classical world, jazz was the area in which Patrick found he could express himself best. He played a hugely resonant, orchestrally-suited King trombone with astonishing agility. Rose Kelly, Patrick's wife remembers a particular musical duel with Patrick and another musician on a valve trombone – the call and response gave Patrick room to excel, and his technique was matchless.
He adored the life of auditions, performing, composing and arranging, and threw himself into Archer Street's unique vibe, then the key place for musicians to congregate. The original Ronnie Scott's in Gerrard Street was his Mecca – he would always arrive to gigs early so as not to miss anything. He saw J.J. Johnson, Ella Fitzgerald, Sarah Vaughan, the Count Basie Orchestra and Duke Ellington at the club and formed some incredible memories. On one occasion, he asked a lone person crossing the stage who he assumed to be a janitor when the programme would be starting – it turned out to be iconic trombonist Frank Rosolino!
Patrick combined his lifelong love of music with a passionate energy for bringing the best out of young musicians. In 1975, he founded the Berkshire Youth Jazz Orchestra, later called Pendulum, which was created as a place to inspire young people to play jazz, and became known as a 'prep college' for young jazz musicians.
Patrick used his many contacts in the music world to commission original pieces for the band, often providing opportunities for talented up-and-coming composers and arrangers to showcase their work. Nikki Iles remembers writing her first big band chart for one of Patrick's commissions, and credits him with having the "faith [which] ignited something in me that twenty years later is coming to fruition in my own big band". These commissioned works (by Nikki, Ben Castle, Steve Waterman, Clark Tracey and others, as well as old friends Ken Wheeler, Don Weller and Peter King) were recorded on the album Pendulum, which was nominated as the UK's Jazz CD of the year.
The band would go on to become one of the most well-respected youth jazz ensembles in the country, playing at events such as the Montreux and Brecon Jazz Festivals. Patrick's support was instrumental in kickstarting and furthering the careers of multiple jazz musicians and arrangers who have gone on to excel in their field – Steve Waterman, Simon Allen, Dave Arch, Adam Goldsmith and Pete Billington, to name a few, and he also started a long-running concert series at Norden Farm in Maidenhead where members of Pendulum were given the chance to share the stage with the likes of Alan Barnes, Art Themen, Mark Nightingale et al.
Patrick held the band to high standards; he would growl, he would curse, he would keep time in rehearsals with a drumstick on a chair (getting through a number of drumsticks along the way!); and was known for his not always complimentary comments in rehearsals (after one less-than-successful rendition of a tune, he told the band "that sounded like a fire in a pet shop", and his description of a baritone player having a sound "like a hippopotamus wading through a sea of mud" became immortal in the band circle).
However, he ultimately treated each young musician as a fellow performer, providing a challenging but accommodating place to play. He loved working with young people and said of working with them that the raw energy and creativity they can bring to music is equal to any technical ability.
Patrick is survived by his wife Rose, and his four children, Tracie, Lance, Dorian and Rebecca.
Donations in memory of Patrick to The Royal Society of Musicians (of GB) can be made at A.B. Walker of Reading
Andy Crowdy