John Horler – A Tribute to Bill Evans |

Buy tickets
Friday 4 March 2022 Progress Theatre, Reading | 7: 30pm | £18.00 (£16.00 concessions) plus maximum 5% booking fee.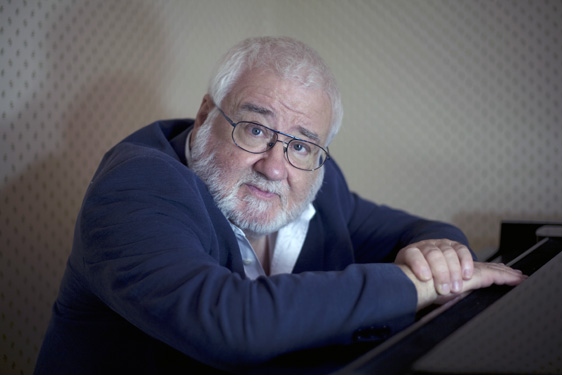 John Horler piano | Alec Dankworth bass| Ronnie Jones drums
Jazz at Progress will mark the sixtieth anniversary of Bill Evans' seminal album 'Sunday at the Village Vanguard' with 'A Tribute to Bill Evans' led by John Horler, one of Britain's most acclaimed and cherished pianists.
John will pay homage to the man, the music and the magic of the ground breaking Bill Evans Trio accompanied by long-time associate Alec Dankworth on bass and drummer Ronnie Jones.
Bill Evans made an indelible impression on John Horler when he saw him play 'live' in London for the first time. Evans' unique ability to weld the music of European composers Debussy, Ravel and Brahms into his own very special jazz language, inspired John to become a jazz musician. "Even today," John says, "Bill is still the most influential figure in my playing … in an inspirational way."
John's credentials as a musician are as impeccable as they are diverse. He started studying at the Royal Academy of Music at the precocious age of 16, at a time when jazz was still regarded as the 'Devil's Music' in academic circles. His route to success was through pub gigs and appearances on BBC's Jazz Club, funded by work as a successful session musician. As his reputation grew he found himself increasingly supporting American visitors of the stature of Bob Brookmeyer, Clark Terry, Zoot Sims, Al Cohn, Art Farmer, Pepper Adams, Bud Shank and Shorty Rogers, and most memorably, working with Chet Baker.
On the domestic scene John has worked closely in recent years with Tony Coe, Alan Barnes, Simon Spillett and the late-Peter King. For twenty years he was first-call pianist for Sir John Dankworth and Dame Cleo Laine.
"Jazz and classical idioms live happily side by side in the benign and often surprising world of pianist and composer John Horler. It's best not to try second-guessing him, just wait and enjoy what emerges. He  does what only the very best can do: he creates a version that is completely his own while also conveying the essence of the original".  Dave Gelly (The Guardian, 15 July 2018).
August 2021 saw the release of 'Dancing in the Dark' (Gearbox CD/vinyl GB1567), a duet album between John Horler and Tony Coe, recorded live at the 2007 Appleby Jazz Festival. Read John Fordham's interview with the protagonists.
Don't miss this unique opportunity to see and hear the extraordinary talent of John Horler; jazz at its very best interpreted by a world-class master of the art.
---
Jazz in Reading would like to thank Hickies Music Store, Reading & Tiverton
for the hire of the Yamaha upright piano
---