Jazz at Progress | Leon Greening Trio plus guest Alex Garnett |

Buy tickets
Friday 28 April 2023 | Progress Theatre, Reading | 7: 30pm | £18.00 (£16.00 concessions, £9 under 16) plus maximum 5% booking fee.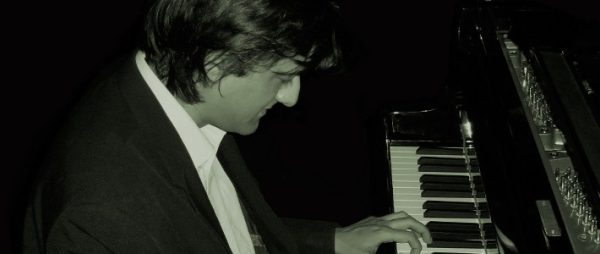 Leon Greening piano
Alex Garnett sax
Adam King bass
Steve Brown drums
Leon Greening studied piano at Leeds College of Music and the Guildhall. His extraordinary solos, inspired by the likes of Wynton Kelly, Bobby Timmons and Bud Powell, keep the audience on the edge of their seats and mark him out as one of the finest pianists this country has ever produced. His hard swinging style has made him a favourite on the UK Jazz circuit for well over a decade, and his intense performances have not only encouraged a loyal following but high praise from critics:
"One of the most swinging bands on the jazz planet" – Ronnie Scott's Jazz Club promotion
"Leon Greening….epitomises the assured confidence of a new generation.'" – Jazz Journal
"Listening to Leon Greening's playing is like hearing a history of post-Bop piano…authentic and yet personal echoes of (all the greats)…" – Clark Tracey
Alex Garnett has been one of the leading saxophonists in the UK and Europe for over two decades, instantly recognised by his dark, husky sound. A versatile musician and first call sideman, he has enjoyed success as both a jazz artist, composer and arranger, and an in demand session, studio and commercial saxophonist, having racked up countless recording credits along the way and has performed in over 30 countries worldwide.
Bassist Adam King as a youngster started on the saxophone before moving to bass guitar and finally to the double bass on which he gained a 1st class honours degree in BA Jazz. Since then he has become one of the most in demand bassists playing with some of the most prolific musicians on the UK and international jazz scene and often playing at London's top jazz establishments.
Steve Brown, always smiling, always swinging, and drummer with the Scott Hamilton quartet since 2000, studied in New York in the early 1990s. Subsequently working in the Far East and Europe where he was a finalist in the European Jazz Competition in Germany, he moved back to the UK in 1996 where he has become one of the most sought-after drummers in the country, and brings to any band a sense of relaxation and good humour.
Listen to Leon's hard swinging action in this clip (with Adam King):
… and to Alex Garnett here (with Leon and Adam):
---