Friday 31 January | Progress Theatre, Reading | 7:30pm |
£16.00 (£14.00 concessions) plus maximum 5% booking fee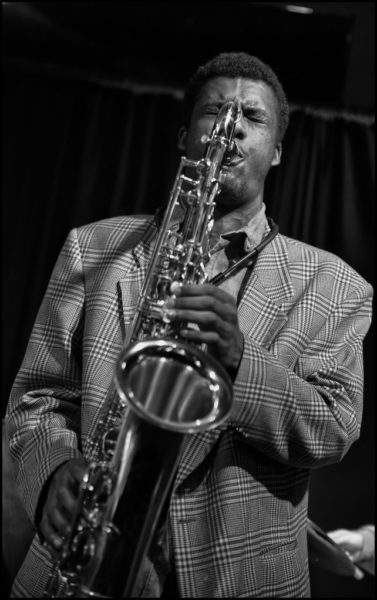 Tenor saxophonist Xhosa Cole, BBC Young Jazz Musician 2018, brings together an all-star quartet featuring some of finest talent based in the UK. Alongside fellow finalist and bass player James Owston, powerhouse drummer Jim Bashford and Canadian, now UK resident, trumpet virtuoso Jay Phelps, this band embodies the spirit of the bebop and hard bop greats.
Jazz legend Iain Bellamy, one of the judges at the 2018 BBC Young Jazz Musician of the Year competition, wrote of Xhosa's performance,  'So heartfelt, sincere and communicative that it's easy to see he has a deep and genuine love of the tradition that gave us such a convincing performance'.
Inspired by the great music of Sonny Rollins, Clifford Brown and Gigi Gryce this band lights up the stage with all the charisma, passion, edge, chemistry and spontaneity reminiscent of this great era.  They feature contemporary takes on standards as well as original works from members of the band.
Jay Phelps hit the scene in the UK as a founder of Empirical when still a student at Trinity with his fellow band members. Leaving after a few years to follow his own creative urges, Jay is proving to be one of the UK's innovative and exciting jazz trumpeters and composers. Not one to have toured regularly, this is a great opportunity to enjoy Jay's artistry.
James Owston from the Forest of Dean in Gloucestershire, has played bass guitar since school and recently graduated at the Royal Birmingham Conservatoire. In January 2018, James began playing with the new Clark Tracey Quintet, alongside a number of former BBC Young Jazz Musician finalists, releasing a debut recording 'No Doubt'.
Jim Bashford was initially self taught and had fourteen years experience playing drums in many different genres before studying on the Birmingham Conservatoire Bmusic (Hons.) jazz course. He is now a member of over twenty different ensembles and tours widely over the UK and rest of the EU
Again an opportunity for jazz enthusiasts in Reading to experience new voices expressing themselves, playing the music they love.
---